Lauki Rice Recipe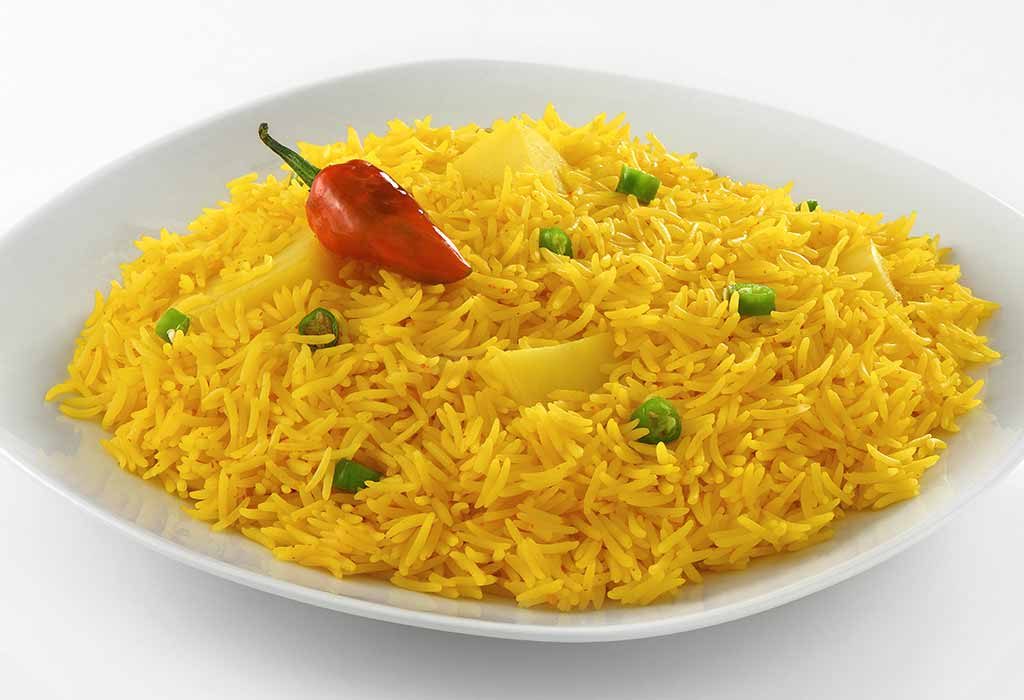 In this Article
If you're finding it a challenge to introduce vegetables in your child's diet, lauki or bottle gourd is a healthy option to sneak it into your staple rice diet. Commonly called 'doodhi' or opo squash, lauki is a mild vegetable that can be prepared in a versatile way. Lauki rice is an Indian recipe that is highly nutritious and easy to digest. The mild flavor of bottle gourd mixed with rice makes a wholesome meal idea for lunch or dinner. Easy to cook, this comforting dish can be introduced between 6-8 months for weaning babies. Read on to find out how to make lauki rice most easily and serve a perfect dish that your child will finish in a jiffy.
Cooking Time
| | |
| --- | --- |
| Type | Time (hh:mm:ss) |
| Preparation Time | 00:10:00 |
| Cook Time | 00:15:00 |
| Total Time | 00:25:00 |
Cooking Method
Gas Stove
Type of Meal
Vegetarian
Suitable For
Babies above 7 months of age
Meal Schedule
Lunch or dinner
Recipe Type
Main Dish
Ingredients
| | |
| --- | --- |
| Type | Quantity |
| Bottle Guard | 3 Cups |
| Par Boiled Rice | 1 Cup |
| Onion | 1 Cup |
| Salt | As Per Taste |
| Ghee/Oil | 2 Tsp |
| Ginger Garlic Paste | 1 Tsp |
| Coriander Powder/Mint Leaves | 1 Tsp |
| Turmeric Powder | ¼ Tsp |
| Coriander Leaves | 2 Tbsp. |
| Cumin seeds | 1 Tsp |
| Cloves | 3 |
| Cinnamon | ½ Inch Stick |
| Black peppercorns | 3-4 |
| Curry Leaves | A sprig |
Instructions
The step by step directions given here with specific instructions will help you to make the yummiest lauki rice dish.
Wash rice and soak it for 20 minutes in clean water. Drain out the water and set aside.
Peel the skin of the bottle gourd and grate it well. Take out the seeds if possible.
Heat ghee in a pressure cooker. Add cumin seeds and let it splutter. Add whole spices like cloves, cinnamon, and peppercorns.
Sauté for a few seconds and add onions and curry leaves.
As the onions turn translucent, add turmeric powder and salt.
Throw in the bottle gourd and soaked rice. Mix it well.
Add 2 cups of water. When the water starts boiling, close the lid of the cooker.
Cook it on low heat while allowing the rice to be cooked. Lift the lid and mix it again.
Continue to cook for some more time till the rice becomes fluffy. Garnish with finely chopped coriander leaves.
Serve hot with any delectable gravy or raita.
Recipe Tips
This simple lauki rice recipe can be made spicier by using green chilies.
Add green peas, chopped carrots or sweet corns with lauki to make it more colorful and nutritious.
Using basmati rice adds an aromatic flavor to this dish while brown rice can be a healthier alternative than white rice as it is high in fiber and gluten-free.
This homemade lauki rice baby food recipe can be made tangier by adding dry mango powder or amchur.
Adjust the spice level if serving to your kid.
You can add coconut milk for adding a nice sweet taste to the pulao.
This lauki rice dish can be an integral part of a balanced diet for your baby.
Nutrition Information (Per 1 Serving)
| | |
| --- | --- |
| Type | Value |
| Bottle Gourd | (1 Cup) |
| Calories | 22 kCal |
| Carbohydrates | 5.4 grams |
| Protein | 0.9 grams |
| Sodium | 2.9 mg |
| Potassium | 248 mg |
| Vitamin C | 21% |
| Calcium | 2.7% |
| Iron | 2% |
| Rice | (1 Cup) |
| Calories | 242 kCal |
| Carbohydrates | 53.4 grams |
| Protein | 4.4 grams |
Health Benefits
Let us consider the health benefits associated with this lauki rice dish that can be safely included in your child's diet more than once a week.
Bottle gourd is rich in fiber which treats constipation. It is beneficial for treating urinary tract infections by removing toxins from the body.
The water content in bottle gourds keeps your child hydrated and keeps them energized all day.
Bottle gourd contains essential minerals and antioxidants that prevent heart ailments in babies. Even cold, cough and asthma symptoms can be reduced significantly with the inclusion of bottle gourd in your child's meal.
Rice is an excellent source of carbohydrates. It boosts energy levels, manages blood sugar levels, protects against dysentery and any chronic disease. Its high mineral level protects the body from cancer.
Brown rice improves digestion and low-fat content which helps obese babies to lose weight.
Buying Guide
This buying guide is to be kept in mind when you step out for purchasing the ingredients needed for making lauki rice.
Visit an organic store to pick veggies that are free from pesticides and insecticides.
Check the age of the rice before buying. Look carefully for any stones or weevils in rice.
Buy rice from a trusted store. Pay attention to its texture and color before buying.
Branded or organic ghee is better as it is free from adulteration.
Homemade lauki rice for babies can make a soothing one-pot meal for kids when they are ill or on a hot summer day. Start with a small quantity and increase the amount until your baby gets accustomed to the new food. This delicious lauki rice dish prepared with a mother's love will surely remain etched in your child's memory forever.