Cookbooks for Kids – 10 Delightful Recipe Books For Your Junior Chef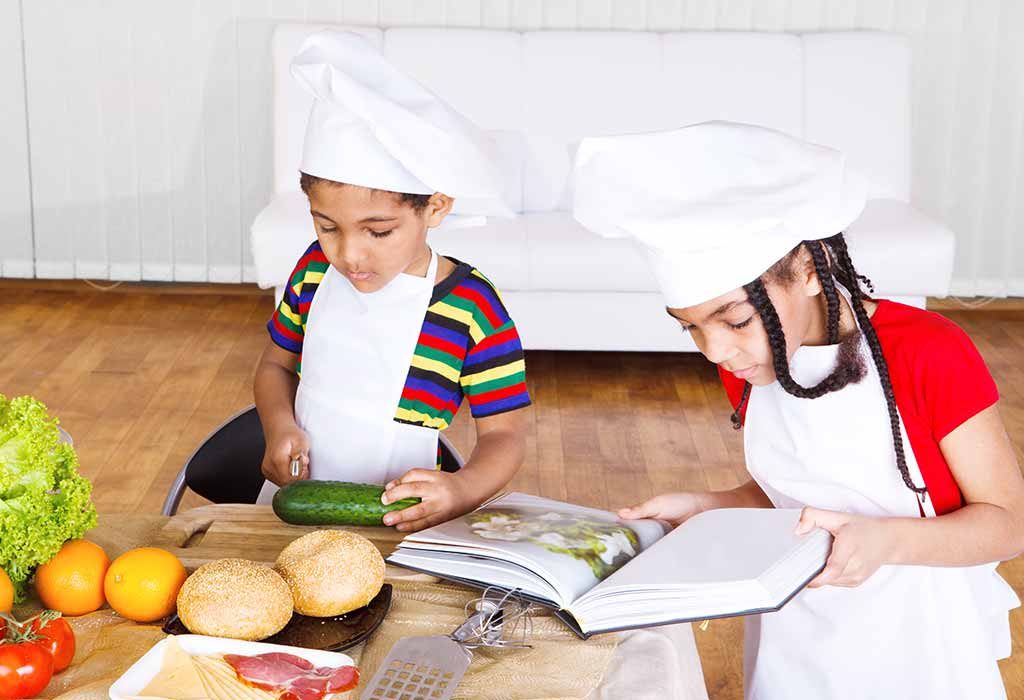 In this Article
If your little one shows an interest in cooking, you should encourage him because cooking is an awesome life skill. Whether your little one is a master chef or can hardly boil an egg, you should do your bit to get him comfortable in the kitchen. Do you want to know how you can do that? By getting cookbooks for your child! By gifting a cookbook to your child, you give him a taste of ownership in the kitchen, which can boost his confidence and help him explore his senses. A good recipe book can get your child interested in cooking, and you never know, he might take it up as a hobby or profession. We bring some healthy cookbooks for your little one to get him started. Trust us, these books are perfect for kids with little experience!
Best Kid-Friendly Cookbooks
By giving your child a cookbook (or more), you give him the liberty to trust his skills and experiment. A good cookbook that has pictures of mouth-watering dishes in it can instantly catch your child's attention and urge him to learn a new recipe. But we know you can't give him your own cookbook that has challenging recipes in it. If you're looking for a beginner level cookbook for your little one to get him started, we've got you covered! Here are the ten best kid-friendly cookbooks that you can choose from.
1. Cooking Class: 57 Fun Recipes Kids Will Love To Make (and Eat!)
Author Name – Deanna F. Cook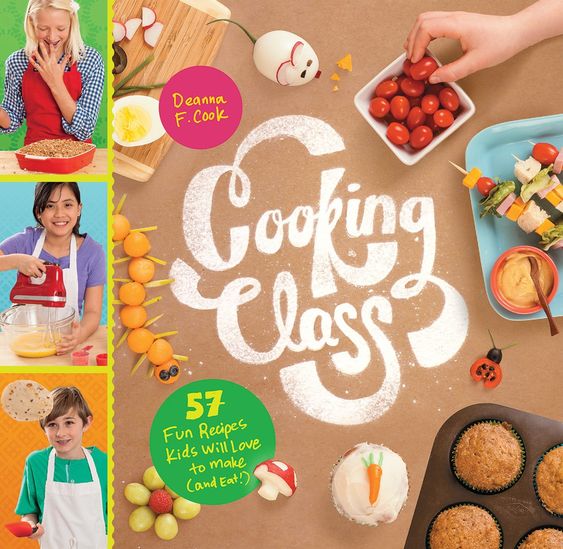 Source: https://in.pinterest.com/pin/779545016732158407/
Why it is great – The book has been designed in a great way to make it more fun and interesting for the little minds. This book has a wide range of recipes that can be easily understood by the kids. The recipe cards, labels, and game cards in this book make it more exciting for kids. It not only features amazing recipes but also tries to teach the imaginative presentation of the food. This book explains the basic cooking recipes in a child-friendly tone and has recipes of foods that are a favourite among kids. From applesauce to French toast to pizza, your child will love this book. It is a complete children's cookbook that you can get for your child.
2. The Cookbook for Kids (Williams-Sonoma): Great Recipes for Kids Who Love To Cook
Author Name – Lisa Atwood
Why it is great – This cookbook contains more than 60 yummy recipes which your child can make effortlessly. This book features very simple recipes and the quality pictures in it make the dishes look even more tempting. The gorgeous photography is a plus point in this book as the uncomplicated and colourful illustrations of the recipe attracts kids very much. Along with teaching the recipes, this book also inspires creativity and teaches the basics of healthy eating skills to kids.
3. The Forest Feast For Kids: Colorful Vegetarian Recipes That Are Simple To Make
Author Name – Erin Gleeson
Source: https://in.pinterest.com/pin/ATSNS3wjjIu8psr8CDfS860vRwlBNr_WdKRxxHAQqOC96BwUYV3n98U/
Why it is great – This is a vegetarian cookbook for kids. The author of this book is a popular food blogger, and the New York Times best selling authors for children's cookbooks. What your pique your child's interest in this book are the beautifully illustrated recipes. Your child will love the hand-drawn letters, attracting pictures and amazing illustrations. Though the dishes are simple, they are elegant enough to be served at an adult dinner party. The best thing about the recipes in this book is that they rarely have more than three steps, which makes them simple enough for kids.
4. The Unofficial Harry Potter Cookbook: From Cauldron Cakes To Knickerbocker Glory
Author Name – Dinah Bucholz
Why it is great – The recipes in this book will surely get your 'Harry Potter'-loving kid interested, even if they are not that easy to make. This cookbook is just what you need for your little Harry Potter fan, to get him to step in the kitchen. This book features more than 150 recipes along with rich descriptions of the holiday feasts. It is considered one of the best kids' dessert cookbooks and here's a secret – this book has the recipe of Harry's favourite dessert too. With this book in his hand, your child can turn ordinary recipes into magical culinary masterpieces!
5. Pretend Soup And Other Real Recipes
Author Name – Mollie Katzen, Ann Henderson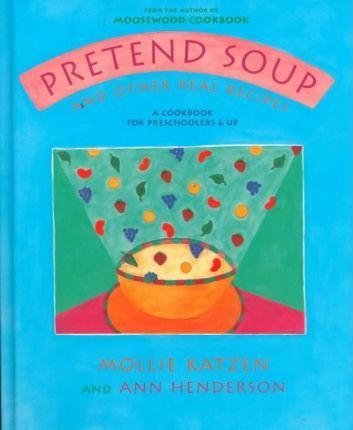 Source: https://in.pinterest.com/pin/560838959840130403/
Why it is great – This can be the best choice for your kid's first cookbook. This book was first published in 1994 and it has been 25 years and still, this book is famous among parents and children. It is a vegetarian cookbook. The Newyork Times calls this book "the gold standard for children's cookbooks". All the recipes are designed carefully and home-tested. Parents can only serve as a guide or helper and with the help of this book, your child will try out some amazing wholesome recipes in the most creative ways.
6. Super Foods for Super Kids Cookbook
Author Name – Noelle Martin
Why it is great – It's difficult to add healthy ingredients in your child's diet, don't you think? If you struggle to get your child to eat healthy, you should consider this book for him. The main aim of this cookbook is to teach kids that eating healthy can be yummy too. It contains 50 recipes for yummy snacks, treats, and meals with easy-to-read instructions. The recipes are classified into five different categories, which include breakfast, lunch, dinner, snacks, and dessert. This will make your child eat all the healthy and nutritious food required for his physical and mental growth and development.
7. The Silver Spoon For Children
Author Name – Amanda Grant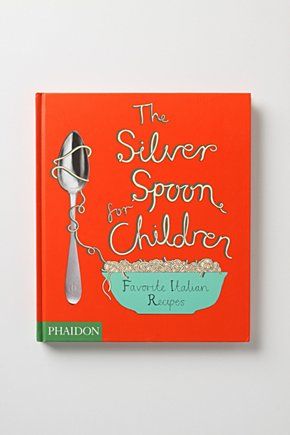 Source: https://in.pinterest.com/pin/57983913922110627/
Why it is great – Pick up this book to teach your child some delicious Italian recipes! This book features illustrated step-by-step instructions that are easy to understand by the kids. To make it more interesting, it has colourful photographs of finished dishes for every recipe. Each step is described in a detailed way, with hand-drawn illustrations. It contains more than 40 easy, quick, wholesome and authentic Italian recipes that can be made by kids under parental guidance, of course.
8. Kid Chef Junior: My First Kids Cookbook
Author Name – Anjali Shah
Why it is great – This is an amazing cookbook that will help your child gain the confidence he needs to cook good food. Children are naturally curious and eager to learn cooking. This book can help your child develop an interest in cooking from an early age. This book comprises of wholesome and nutritious meals, which your child will love to make and eat. The cookbook has pictures of each recipe that help kids choose what to cook according to their interest. Allow your budding chef to learn more with this amazing cookbook.
9. The International Cookbook For Kids
Author Name- Matthew Locricchio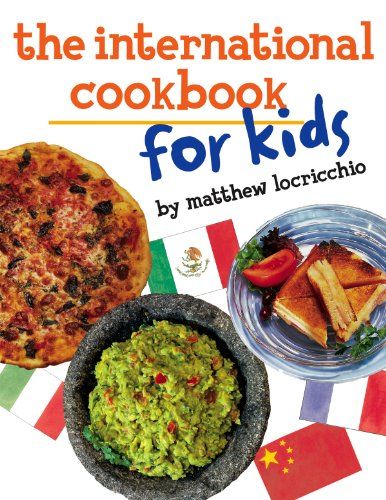 Source: https://in.pinterest.com/pin/564498134546633513/
Why it is great – With the help of this book, you can introduce your child to foods of different cultures and places. This book features over 60 kid-friendly recipes from Italy, France, China, and Mexico. Each recipe is illustrated with colourful pictures. The recipes explained are very simple to understand. From appetizers to desserts, your child will find everything in this book. This book also has a safety section that discusses basic kitchen precautions. You and your child are going to love this book!
10. Baking
Author Name- Jess and Laura Tilli
Why it is great – It is a fantastic kids' baking cookbook with 30 recipes that your little one can try. It features beautiful pictures and step-by-step instructions of the baked foods that will get your child interested. Assist your child while he tries out the delicious recipes given in this book.
Handing your kid a cookbook and giving them their own set of cooking tools that will inspire him to try something new every day. This will allow him to think out of the box. However, make sure your child cooks under your guidance. Keep an eye on his while he cooks and help him if needed. Let him cook for his loved ones and appreciate him when he cooks something, as this will encourage him to keep trying new recipes.
Also Read:
Easy Recipes That Kids Can Make
Delicious Baking Recipe Ideas for kids
Healthy and Easy Vegetarian Recipes for Kids