Is Using Baby Lotion on Newborns Safe?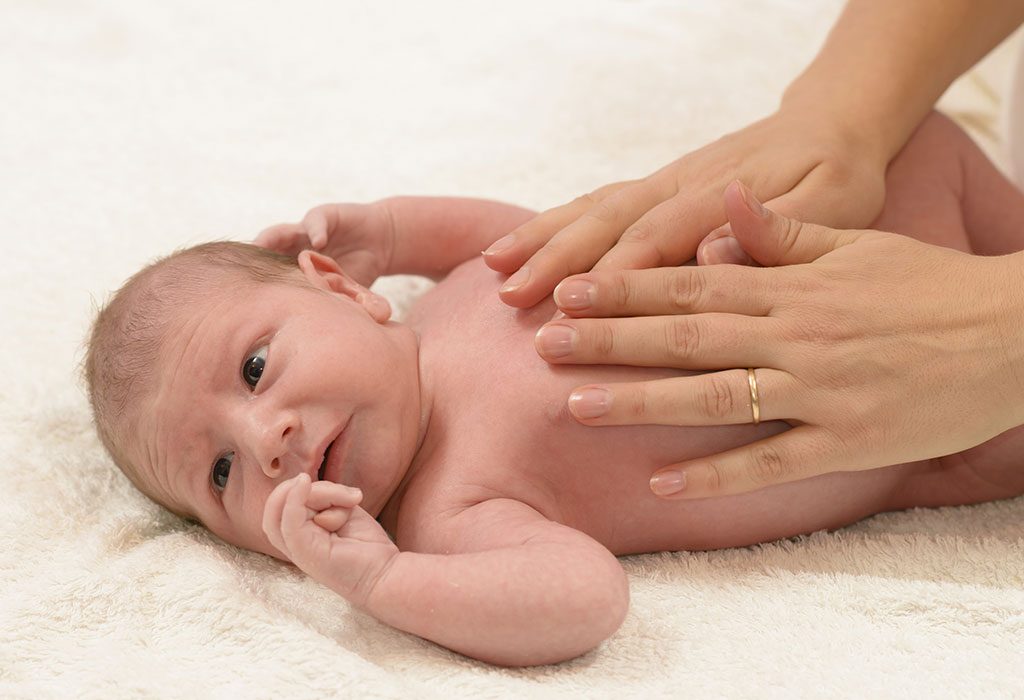 Once you welcome your newborn into the world, caring for the little one becomes a top priority. A question many first-time mothers have is about skincare for newborns. Newborns have delicate skin that is vulnerable to irritation and dryness. Although newborn skin does not require additional moisturisation very often, the skin does get dry after baths and may require a small amount of moisturiser to replenish the natural skin oils lost due to bathing or dry air. Hence, it is safe to use lotion to protect your little one's skin.
Video : Is Baby Lotion Safe for Newborn Babies?
When Can You Start Putting Lotion on a Newborn Baby?
Newborn babies have a covering over their skin called 'vernix'. This is a waxy layer of protection that covered their body in the womb to protect their skin from the amniotic fluid. This layer starts peeling off in the first few weeks after birth, giving the appearance of dry, flaky skin. The skin below this layer is moist enough and does not need extra moisturisation.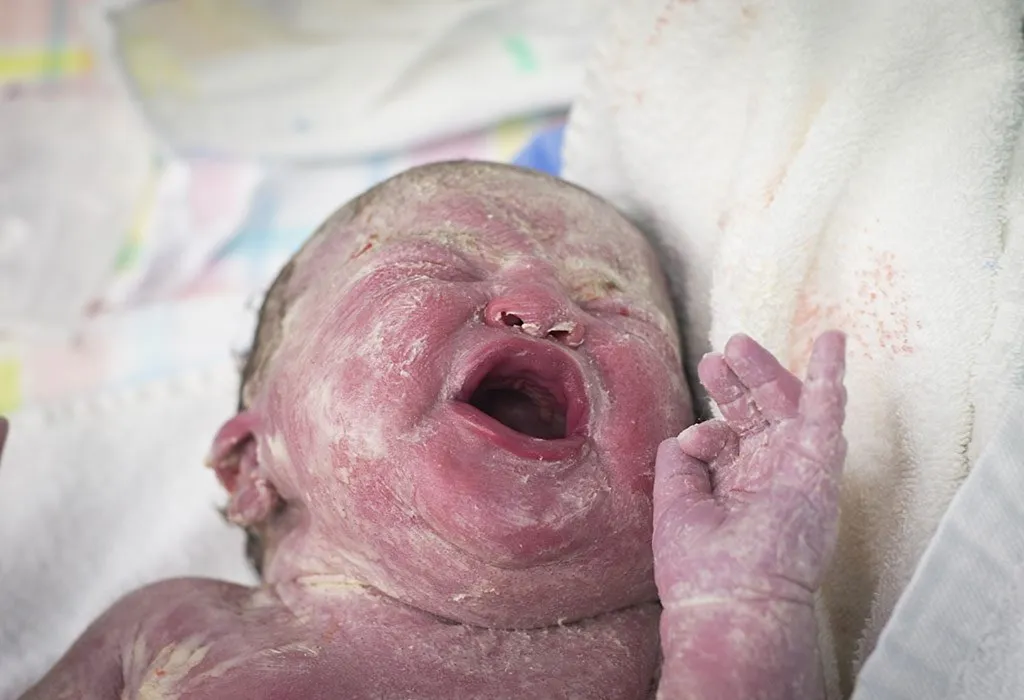 However, you can use a moisturiser if the baby seems to have very dry skin, especially around the ankles, elbows and hands. It is safe to use petroleum jelly, olive oil or Vitamin A-D cream to help with the appearance of the skin when the vernix is peeling off. If you want to use store-bought moisturiser, it is best to use a mild, fragrance-free one or one that has been recommended by your newborn's paediatrician.
Why Does a Newborn Baby's Skin Need Lotion?
A newborn baby's skin is actually quite moist under the outermost layer. However, it does need lotion or a moisturiser as it can become dry when exposed to dry air in the room and also, after a bath. It is best not to bathe your newborn baby more than thrice a week, as this can strip the baby's delicate skin of all the oils that keep the skin soft and supple.
The baby's skin is sensitive and prone to irritation and eczema. Hence, you may need to use lotion or moisturiser to soothe skin irritation and combat baby eczema.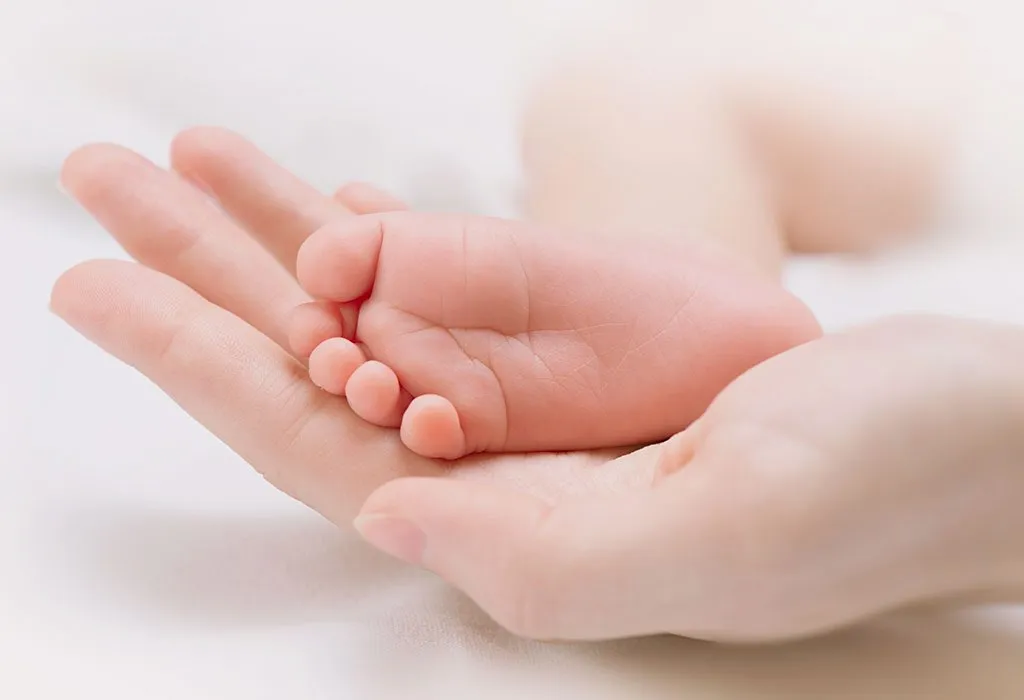 You can use lotions that are mild and fragrance-free to keep your newborn's skin from becoming too dry. You can also use olive oil or petroleum jelly if you do not wish to use commercially available baby creams and lotions.
Tips to Apply Baby Lotion on Newborns
Here are some tips on how to use baby lotion on newborns:
1. Apply Lotion After Bath
Baths can dry the baby's skin, so apply a fragrance-free, gentle lotion. Clean your hands thoroughly. Take a small amount and spread it on the palms and fingers of your hands. Gently massage the baby's body such that the lotion spreads evenly all over.
2. Use Lotion on Areas That Look Dry
Apply lotion to areas of the baby's body that appear very dry such as the ankles, elbows, and hands.
3. Avoid Using More than One Product
Do not use more than one product on your baby as the chemicals in commercially manufactured lotions can harm the delicate newborn skin. Choose one that has been recommended by your paediatrician and continue with it.
Safety Measures to Take While Applying Lotion
Here are some safety tips to follow while applying lotion on your newborn:
Choose a mild lotion, free of harmful chemicals.
Clean your hands thoroughly before applying lotion on your baby's body.
Make sure you do not have sharp nails, as you could scratch the baby's skin when you apply the lotion.
Avoid using several baby products as this can harm the newborn's skin.
Wash new clothes before the baby wears them to reduce the risk of skin irritations or allergies.
Do not bathe your baby more than thrice a week, as it strips the baby's skin of natural moisture.
How to Choose the Best Lotion for Your Newborn
To find out what is the best lotion for newborn baby, follow these tips:
Pick a mild and gentle lotion that is free of perfume, colours, parabens, phthalates, phenoxyethanol, preservatives, and organically extracted plant oils.
Choose a lotion that is doctor-recommended, rather than buying one at a store.
If you prefer not to buy lotion, you can use olive oil, petroleum jelly or doctor-recommended vitamin A-D cream.
Use a lotion that is hypoallergenic on your baby's skin to avoid any allergic reactions.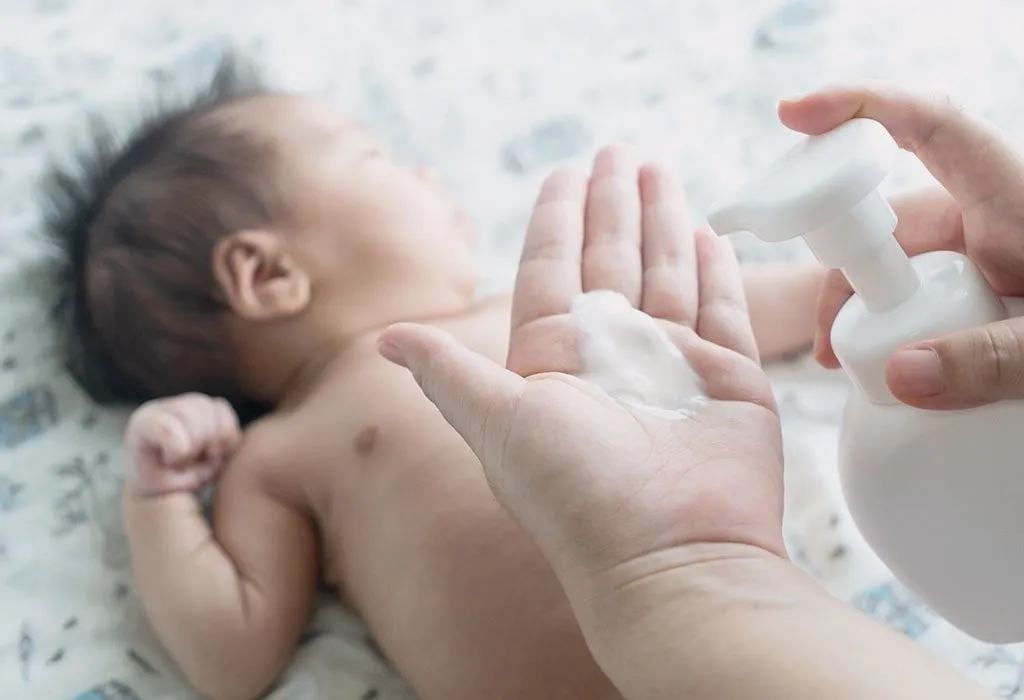 When to Consult a Doctor?
If your baby has very dry, itchy, peeling skin along with redness, it could be eczema, and you should see a paediatrician right away. Baby eczema is usually seen on the hands, face, and back of the knees. You should also consult a doctor if the baby continues to have very dry skin despite using a moisturiser.
Although your baby's skin is moist enough and does not require lotion, it is not really unsafe to use a gentle lotion. Consult a doctor before using any new product on your baby.
Also Read: Baby Skin Care Tips