Is It Safe to Do Hair Rebonding or Perming During Pregnancy?
It is normal to get bored of the same old hairstyle? We constantly want to revamp our hairstyle to feel good about ourselves and to look good, of course. A woman's hair is her crowning glory. Hairstyling goes way back in time and given the recent trend, hair rebonding, for those who like super sleek straight hair, and hair perming, for those who like curly locks, are a rage. However, both hair rebonding and hair perming are chemical processes, hence pregnant women are often dubious before getting it done in pregnancy.
Pregnancy is a delicate phase, and everything you do affects your unborn child. So any step should be taken, bearing your little one in mind. It is wise to question everything you do when you are pregnant because you are responsible not just for yourself but for your baby, too. Let's find out if hair rebonding and perming is good for your baby or not.
Can You Rebond Your Hair in Pregnancy?
Rebonding is a hairstyling process that straightens your hair – permanently. Chemicals, as well as heat, is used to break and relax the natural cells in your hair. First, your hair is washed clean with shampoo, and conditioned with a hair conditioner. Then it is blow-dried. A thick coat of a chemical hair relaxant is then applied along the entire length of your hair. This is left on your hair for about half an hour to an hour. Your hair will then be washed and blow-dried again. The process does not end here. Keratin lotion, a cream that moisturises, manages frizz and de-tangles your hair is applied and then your hair is straightened. A neutraliser is then applied to your hair for about half an hour and then washed off. Finally, hair serum is applied, and then the hair is straightened with a hair straightener again. This is the entire process of hair rebonding. As you can see, it involves a lot of chemicals. The relaxants and creams that are used in this process are strong enough to alter the structure of your hair to make it look straight.
Pros
One of the reasons women opt for hair rebonding is because it looks great! Shiny straight hair is a preference also because it is easier to maintain, as opposed to curly hair.
Getting a new look during pregnancy is good. You need to pamper yourself during this phase.
Cons
We've covered the pros of hair rebonding during pregnancy. Here are the cons:
Hair rebonding, as mentioned above, is a chemical process that involves heat as well. While many argue that this is only done along the length of your hair, the chemicals may come in contact with your scalp as well. This, in turn, paves the way for the chemicals to enter your bloodstream, and eventually reach your baby through the placenta.
Most of these hair relaxants contain a chemical that is called Lye. Lye can cause skin irritations and rashes. During pregnancy, your skin is extremely sensitive, so staying away from these chemicals is a good idea.
These chemical relaxants and lotions also have a very strong smell, sometimes enough to give away fumes as well. This can irritate your respiratory tract, and cause you to feel nauseated.
Your hormones are all over the place during pregnancy. This can get even worse if your body comes in contact with foreign bodies like the hair relaxants.
Things to Keep in Mind
Consult your doctor first. Your doctor can conduct a test to see if you are allergic to any of the products that hair rebonding requires.
Go to a reputed salon that uses good quality products.
Do a background check on the products as well, see if the content of lye is a lot, ask your hairstylist for an alternative if that is the case.
Ask a friend or two about it. Consult a friend who has gone ahead with hair rebonding during pregnancy. Every body type is different, and what worked for her might not work for you, but it is always better to ask someone who has done this before.
Can You Perm Your Hair When Pregnant?
Like hair rebonding, hair perming involves a lot of chemical processes and the application of heat as well. Hair perming is done to permanently curl or make your hair wavy, by altering the structure of your hair using relaxants and heat. Hair perming is done along the length of the hair, but like hair rebonding, the chemical relaxants and lotions that are used in the process can affect you and your baby.
Why Hair Perming During Pregnancy is a Bad Idea
Pregnancy is a very delicate phase. Everything you do can affect your baby, so you need to think twice before going ahead with anything. The same goes for hair perming. This is a chemical process. Coming in contact with chemicals is not the wisest decision at this stage in your life. Also, due to hormonal changes, your hair might not respond the same way it usually does. There have been situations where pregnant women who go for hair perming end up getting frizzy hair, because of the way their hair react to the chemical relaxants and lotions. In addition to this, the chemicals are strong enough to emit fumes that can irritate your eyes, skin, and respiratory tract.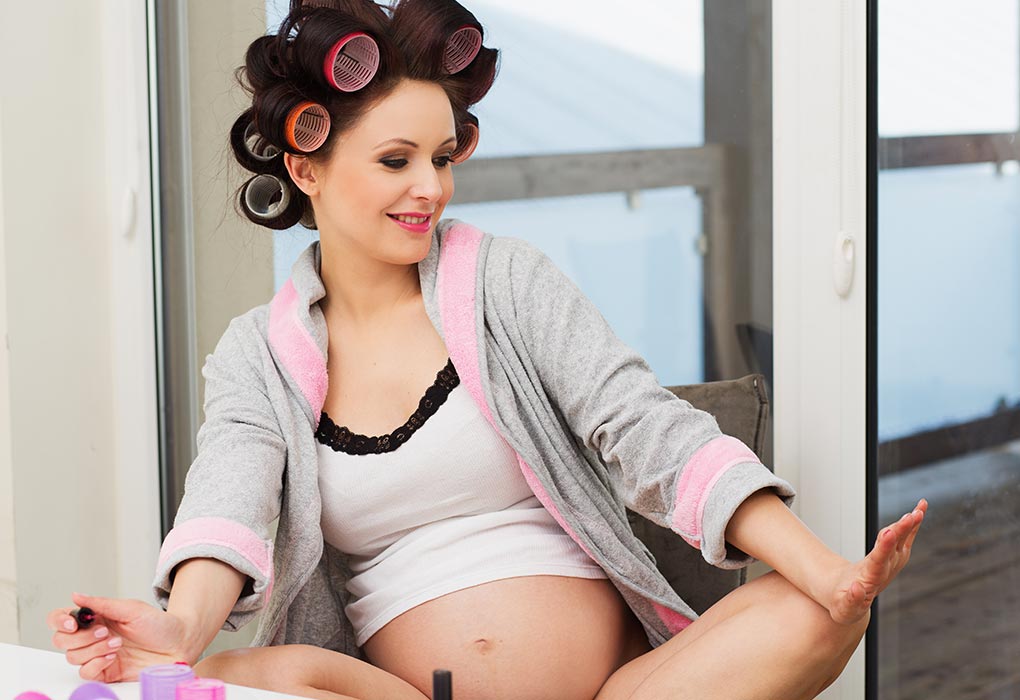 Alternatives for Hair Perming in Pregnancy
Hair perming during pregnancy is not really advisable, but you can still enjoy a complete hair makeover by opting for hairstyling treatments like hair dyeing. Hair dyes have been tested and proved to be quite harmless during pregnancy – just make sure you use mild hair colours and those of good quality. Consult your doctor as well as the hairstylist before doing so. Another alternative to chemical hair dye is vegetable hair dye. This is a more organic and natural option. Instead of getting hair permed or rebounded in pregnancy, consider getting a new haircut. Try a new style that can accentuate the cut of your face. A haircut will leave your feeling great, and make your hair healthier as well. Indulge in a good hair spa treatment, as this can help soothe and relax you, and regenerate the growth of your hair.
Being pregnant does not mean you need to forego your beauty regime. In fact, you need to pamper yourself all the more during this phase. However, a few hairstyling methods can be hazardous for you and your baby, so consider your options before you go ahead with anything. Also, always consult your doctor and hairstylist. Most of all, keep in mind that you don't need hazardous methods to make you look beautiful, it is simply not worth it.
Also Read: Natural Ways for Hair Care during Pregnancy
?>