Is Elderberry Safe During Pregnancy?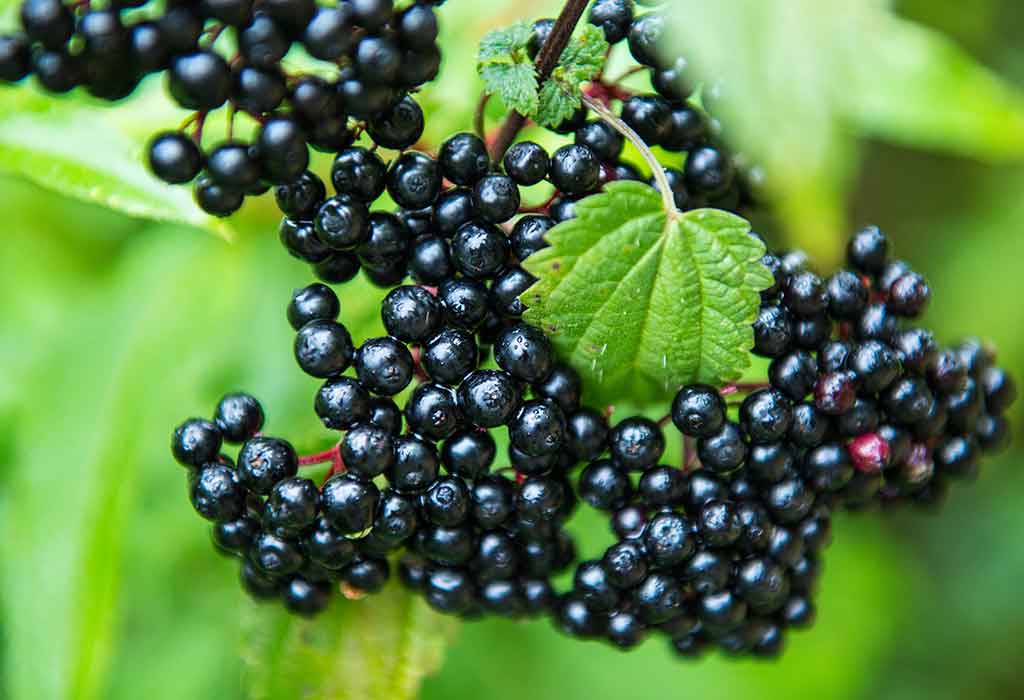 Elderberries are generally considered safe during pregnancy. However, there isn't enough data, study, and research available to specify any adverse side effects of consuming Elderberry during pregnancy. Every individual's body reacts differently, and many people do not even experience any side effects. It is generally available as teas, tablets, and extracts to treat the common cold, flu, constipation, and many other symptoms.
US Department of Agriculture guidelines warn that berries need to be cooked before they can be eaten. Raw elderberries are harmful as they have toxins, hence cooking removes the toxicity of the berries as the unripe berries are toxic and should be strictly avoided. So, if you want to include an elderberry syrup pregnancy dish in your diet, do so after consulting your physician.
Can You Eat Elderberry While Pregnant?
Elderberries are generally believed to be safe for consumption during pregnancy, and the ripened ones can be eaten in moderation. You can consider turning to Elderberry to cure commonly occurring health issues like cold and flu rather than consuming conventional medicines when pregnant. However, there is no tangible and quantifiable data, study, and research to prove the side effects, reactions on other drugs and food nutrients when a pregnant woman consumes cooked or commercially available elderberry supplements.
All studies and research performed are small in numbers. Hence, more detailed and larger studies must be conducted. Consult your doctor first to know if you are ok to take Elderberry while pregnant! Upon receiving your doctor's confirmation to try Elderberry for your symptoms, you can buy fresh ripened or dried elderberries and try the DIY recipes mentioned in this article. For example, you could try Elderberry syrup during pregnancy.
Health Benefits of Eating Elderberry During Pregnancy
Elderberries are usually a good source of vitamins, flavonoids, and amino acids, which help maintain good health and prevent diseases.
1. Immunity Booster
Elderberries fight cold and flu. The presence of vitamin C, antibacterial and antiviral properties boost the immune system. They also increase the production of cytokines, which further boosts the immunity system.
2. Improves Heart Health
Elderberries are an excellent source of fiber. They help remove bad cholesterol and increase good cholesterol levels in the body. Additionally, the presence of fiber improves heart health and acts as a protection against cardiovascular disease.
3. Heals Upper Respiratory Infections
Elderberries help in soothing inflammation and irritation in the respiratory tract. The presence of rich bioflavonoids clears out excessive phlegm or mucus and improves better respiration. Elderberries also help in healing strep-throat, bronchitis, cold, and cough.
4. Improves and Toughen Bone Health
Elderberries are used as herbal medicine to provide relief from joint pains, arthritis, etc. Anthocyanins make it an excellent source of antioxidants and anti-inflammatory to heal soreness in joints and reduce tissue damage from oxidative stress.
5. Improves Eye Vision
The multiple benefits of anthocyanins abundantly available in elderberries have nutraceuticals that aid in maintaining eye vision. It helps improve night vision by offering protection for eyesight.
6. Nutritional Value
Elderberries are wholesomely nutritious. Besides having antioxidants, they are a rich source of proteins, carbohydrates, phytosterols, fatty acids, and many vitamins and minerals. These promote the overall wellbeing and good health of an individual.
7. Neuroprotective
The dark and black-purpled colored elderberries are an excellent source of compounds anthocyanins that help protect the nerves and the brain.
Healthy Recipes Using Elderberry For Pregnant Women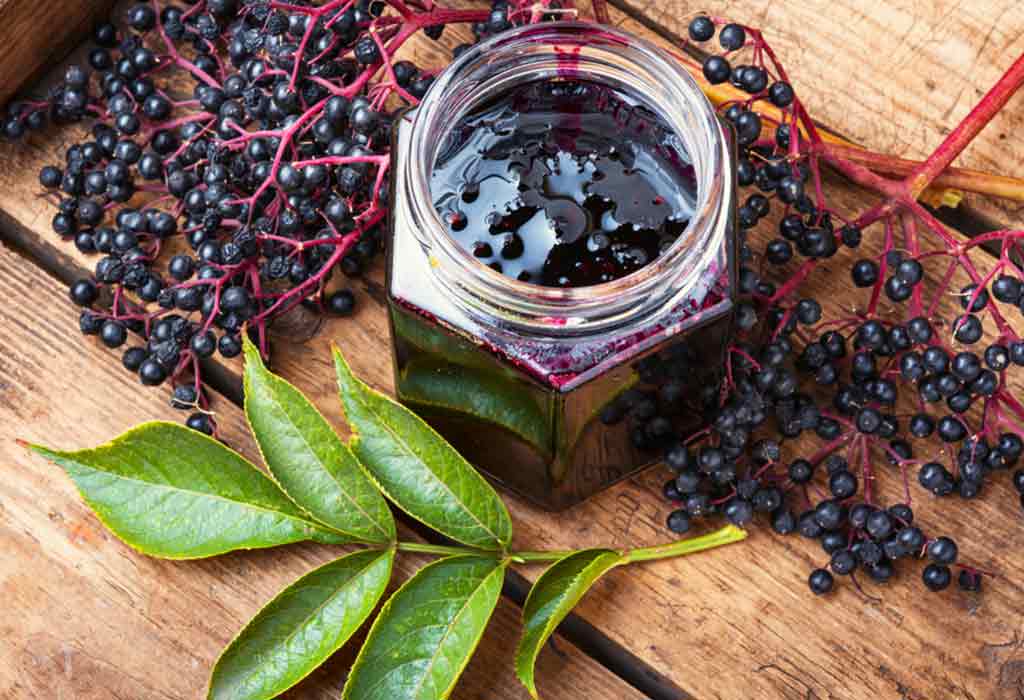 Elderberry has for long been cultivated for its use in wine, jams, juices. However, its therapeutic benefits stand out. Here are some recipes to consume elderberries in different forms that can be cooked easily at home to reap the benefits. Do consult your doctor before you choose to consume them to suit your dietary requirements. You can also ask the doctor if Elderberry tea is safe during pregnancy.
1. Elderberry Jam
Ingredients
Instructions
Take a pan and put elderberries and lemon juice in it and cook it on medium heat.
Once the juice begins to run and boil, simmer the heat and cook it for 20 minutes.
Now add sugar to the mix and continuously stir until it dissolves. Boil it at 105 °C to reach its set point.
Take a sterilized jar or container to store the jam. Tightly close the lid and keep it in an excellent place to store.
Savor the jam as you like it.
2. Elderberry Gummies
Ingredients
Elderberry Syrup- 1 cup
Gelatin (unflavored) – 4 tablespoons
Instructions
Take a pan and mix elderberry syrup and gelatin.
Keep the pan over low flame and continuously whisk or give it a good stir until the gelatin completely dissolves.
Now transfer the mixture into silicone molds and refrigerate until it solidifies. It will generally take 30-45 minutes to solidify.
After it solidifies, you can remove the gummies from the mold and store them in an airtight jar.
Keep a couple of gummies if necessary.
3. Homemade Elderberry Syrup
Ingredients
(Note: You can alternately use one teaspoon each of fresh ginger and dried cloves if you do not have the essential oils handy.)
Instructions
Take a pan and add elderberries, cinnamon, clove oil, ginger oil, and bring it to a boil.
Now decrease the flame/heat and simmer until the liquid has reduced by half. This would take about 45 minutes.
Now take the pan off the heat and let it cool. After that, drain the liquid using a filter.
Press and squeeze all liquid out of the berries
Now add honey and mix it well.
Store the syrup in an airtight glass container in the refrigerator.
Once refrigerated, you can use the syrup for up to two months.
Side Effects of Eating Elderberry When Pregnant
Ripe and cooked Elderberry, when consumed in moderation, is considered safe. However, overconsumption has some side effects as below:
Elderberries can cause stomach ache, diarrhea, abdominal cramp because of their laxative effect
Parts of the elderberry plant, like the roots, bark, leaves, and stems, have a poisonous substance known as glycoside and cyanogenic.
Unripe elderberries have alkaloids, hydrocyanic acid, and sambucine, which cause vomiting and nausea. It is also green and is astringent, which causes toxicity.
It is hard to ignore the numerous medicinal benefits of Elderberry, considering its medicinal purposes and use for thousands of years. However, due to the lack of enough study, research the use becomes relatively questionable. Hence taking the advice of your doctor or health consultant is extremely important before you begin consuming elderberries.
Also Read:
Consuming Oranges during Pregnancy
Consuming Saffron When Pregnant
Consuming Walnuts in Pregnancy