Is it Safe to Eat Sweets Excessively During Pregnancy?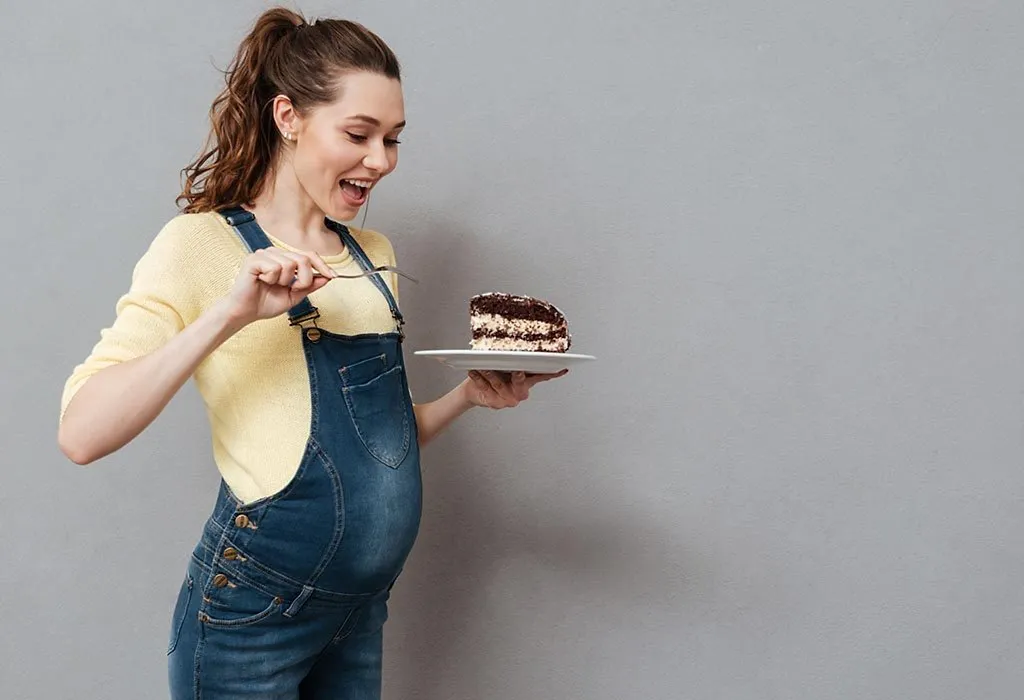 Sweets and sugary foods are enjoyed by all and are hard to give up, but one needs to take a little extra care with regards to eating sweets during pregnancy. Eating too many sweets during pregnancy can have an adverse impact on the growth of the baby. Plus extra sugar in the body can lead to unnecessary weight gain, increase in insulin and glucose levels, and nutrient deficiency in a pregnant woman. For a pregnancy to be healthy, a little weight gain is normal and necessary, but gaining a lot can lead to back pain and dental problems. If you are pregnant and have a sweet tooth – you must think twice before reaching for a second helping of your favourite gulab jamuns or kaju katlis. Read on to know why eating too many sweets may not be exactly great for your health.
Effects of Eating Too Many Sweets During Pregnancy
It is always a good idea to avoid sugary items, but even more so during pregnancy. If you are expecting a child, keep your sweet consumption to a minimum because it can affect your health and your baby's health. The possible side effects of eating sugary items excessively are given below.
1. Weight Gain
A large amount of sweet consumption is linked to unnecessary weight gain. Eating foods that are high in calories like cookies, pastries, mithais, halwas, and cakes can lead to excessive weight gain during pregnancy. Even cold drinks and sweetened beverages can become the potential cause of weight gain, which can lead to complications like back pain, dental problems, and even gestational diabetes at times.
2. Increased Sucrose Level in Blood
Eating too many sweets during pregnancy can increase sucrose levels in the blood. The main source of sucrose in the diet is sweetened foods and beverages. The wisest option during pregnancy would be avoiding sucrose-containing foods, with the exception of fruits, in order to prevent the increase in blood sugar levels after meals.
3. Weight Issues in the Baby
Eating sweets and sugary items excessively during pregnancy can affect the baby's health negatively. A newborn is at a higher risk of diabetes and metabolic syndrome if his mother consumes too many sweets while carrying him. The birth weight of the baby may also get adversely affected. Overindulgence in sweets can sometimes result in premature birth with an increased risk of early birth-related complications. A baby may also be born overweight if his mother consumes too many sweets while pregnancy. And he may also be at the risk of heart disease and various allergies in future.
4. Baby's Cognitive Abilities May Get Affected
Loading up on sugary items during pregnancy can put a baby at the risk of asthma and it may also affect his cognitive abilities. As per a study published in the American Journal of Preventive Medicine, consumption of sugar and soda by a pregnant woman can affect her child's memory and learning.
Ideal Sweet Intake for Pregnant Ladies
The average daily intake for women is 100 calories per day (25 grams or 6 teaspoons). It seems like a reasonable amount for ladies who are healthy, lean, and active. Soft drinks, baked goods, and processed foods should have no place in the diet in case if one is overweight or obese during pregnancy. So stick to real, single-ingredient foods and avoid processed foods which are high in sugar and refined carbohydrates.
Now that you are aware of the ill effects of consuming too much sugar during pregnancy, the sweets lover in you must be wondering if you can use artificial sweeteners during pregnancy. So let's find that out too!
Are Artificial Sweeteners Safe During Pregnancy?
Pregnant women are always concerned about their diet and nutrition during pregnancy. Sweeteners can be categorized as nutritive (containing calories) and non – nutritive (without calories). Natural sweeteners or sugar is always the best option for pregnant ladies. But artificial sweeteners are not, especially when used in excess. All expectant ladies should avoid including saccharin in their pregnancy diet as its use may increase a baby's chances of developing bladder cancer. Artificial sweeteners or 'table top' sweetener is deemed safe during pregnancy and lactation but it should be taken in moderate amounts. However, nutritive sweeteners (sugars) such as sucrose, dextrose, honey, corn sugar, fructose, and maltose can be consumed during pregnancy in moderate quantities.
Healthy Dessert Recipes You Can Try During Pregnancy
If you want to enjoy some healthy desserts during pregnancy, try out the ones we have suggested below. Note: Make these desserts at home using fresh ingredients.
1. Moist Carrot Cake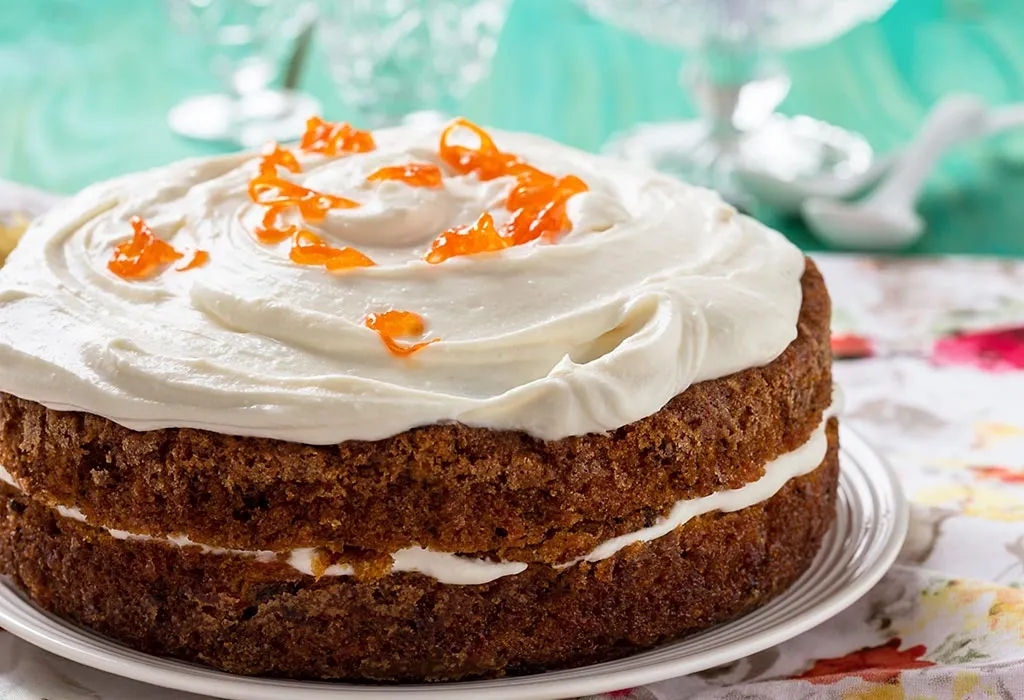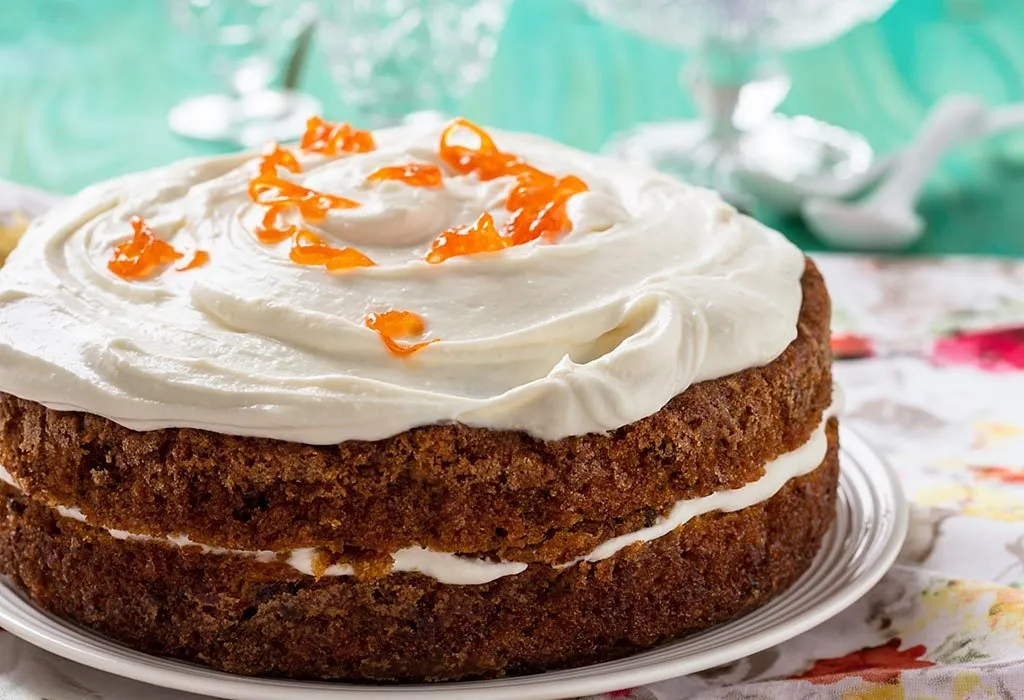 A moist carrot cake is a very healthy dessert recipe which can be made quickly and easily. Make it at home, but don't indulge. If you've sweet cravings, have a small portion of it.
Ingredients
¼ cup carrots finely grated
2 eggs
¼ cup plain yoghurt
2 cups almond flour
1 cup sweetener of your choice
2 teaspoon baking powder
3 tablespoons sunflower oil
3 tablespoons butter
4 ounces of cream cheese (softened)
Sweetener to taste
½ teaspoon vanilla
Method
Beat the eggs with vanilla, yoghurt, and oil.
Take another bowl and combine the baking powder, sweetener, and flour. Transfer it to the egg mixture, and mix well. Add in the grated carrots too.
Take a cake pan and grease it with a little amount of oil in it and pour the mixture into it. Bake at 350°F (175°C) for about 40 minutes. Check by inserting a toothpick – it should come out clean. Allow it to cool.
Combine the butter, sweetener, cream cheese and vanilla and beat until it becomes smooth. The icing thus prepared is to be spread on the cake.
2. Makhana Kheer

Makhanas (lotus seeds) are rich in protein and calcium. Makhanas or fox nuts are combined with low-fat milk to make a creamy and delicious kheer. Here's how you can make delicious makhana kheer.
Ingredients
1 cup of makhanas
1 tsp of ghee
4 1/2 cups of low-fat milk
1 tbsp of sugar
A few strands of saffron or kesar
¼ tsp of jaiphal powder
Method
Take a deep non-stick pan and heat the ghee. Add the makhanas and sauté them on a low flame for 2 to 3 minutes or until they turn crispy.
Blend the makhanas to obtain a coarse mixture.
Next, boil the milk in a deep non-stick pan. Add the coarsely crushed makhanas and sugar.
Cook on a medium flame for 120 seconds, stirring occasionally.
Add the saffron and nutmeg powder and mix well.
Serve immediately.
3. Lapsi

It is made of broken wheat and is light enough to be eaten after a heavy meal. It is a sumptuous dessert which will provide you with energy, protein, and iron.
Ingredients
½ cup of broken wheat (dalia)
½ cup of jaggery
3 tbsp of pure ghee
2 tbsp of almond slivers
½ tsp of cardamom powder
3 tbsp of warm milk
Method
Heat the ghee in a pan. Fry the broken wheat until it turns golden brown.
In another pan, heat one and a half cup of water.
Next, add this water to the pan with broken wheat, and cook it well.
When the wheat is nearly cooked, add in the sugar, cardamom powder, and almond slivers and mix well.
Cook over a low flame until the ghee separates.
Allow it to cool then add the milk and heat again. Serve hot.
4. Custard Kheer

Custard kheer tastes delicious and can be made in no time. You can add fruits and nuts to enhance its taste. Here goes the recipe –
Ingredients
1-litre milk
4 tbsp of rice (pre-soaked)
2 tbsp of vanilla custard powder
8 tbsp of sugar
1 tsp of sliced almonds
1 tsp diced pistachios
Method
Spread the pre-soaked and drained rice on a cloth and let it dry.
Boil the milk in a pan.
Roast the dried rice and grind it coarsely.
Add ½ cup milk to it and mix it well.
Add the mixture to the boiling milk and cook on a low flame.
Take the vanilla-flavoured custard powder and add ½ cup of milk to it.
Now add the custard and milk mixture stirring continuously.
Sprinkle the almonds and pistachios. Refrigerate it and serve chilled.
How to Manage Sweet Cravings During Pregnancy
It's hard to give up sugar and sweets, and even more so when you are pregnant and have sugar cravings. But during pregnancy, you will have to learn to manage your sweet cravings for a healthy pregnancy. And here's how you can do just that!
Maintain your blood sugar levels: Have smaller meals as this will help you maintain your blood sugar levels and avoid the need to have excess sugar. Eating in small amounts will release sugar slowly in your body and helps maintain sugar levels.

Avoid processed foods: Avoid gulping processed foods and aerated drinks, as processed foods have copious amounts of sugar.

Drink plenty of water: By drinking plenty of water, you can fill up your belly, curbing the urge to eat. Drinking water will also keep you hydrated, which is necessary during pregnancy.

Meditate and exercise: Try yoga to divert your attention away from those sweet cravings. You can also meditate – think about the good stuff and healthy stuff during pregnancy – it will motivate you to opt for only good things that benefit your pregnancy.
Healthy Alternatives to Sweets
If you want to enjoy some sweets during pregnancy yet not compromise with the healthy factor, we suggest that you opt for the below sweets which are healthier alternatives to usual sweets.
While it is common to crave for sweets during pregnancy, it is best avoided. It is safer and better to eat sweets in moderate amounts during pregnancy to avoid the risk of gestational diabetes. The adverse effects might make you regret for a lifetime. There are some healthy desserts which can be tried to satiate the craving. So, go for healthier alternatives and have a stress-free pregnancy.
References and Resources:
Also Read: Healthy Breakfast for Pregnancy – Foods to Eat and Avoid