Choosing Comfortable Footwear During Pregnancy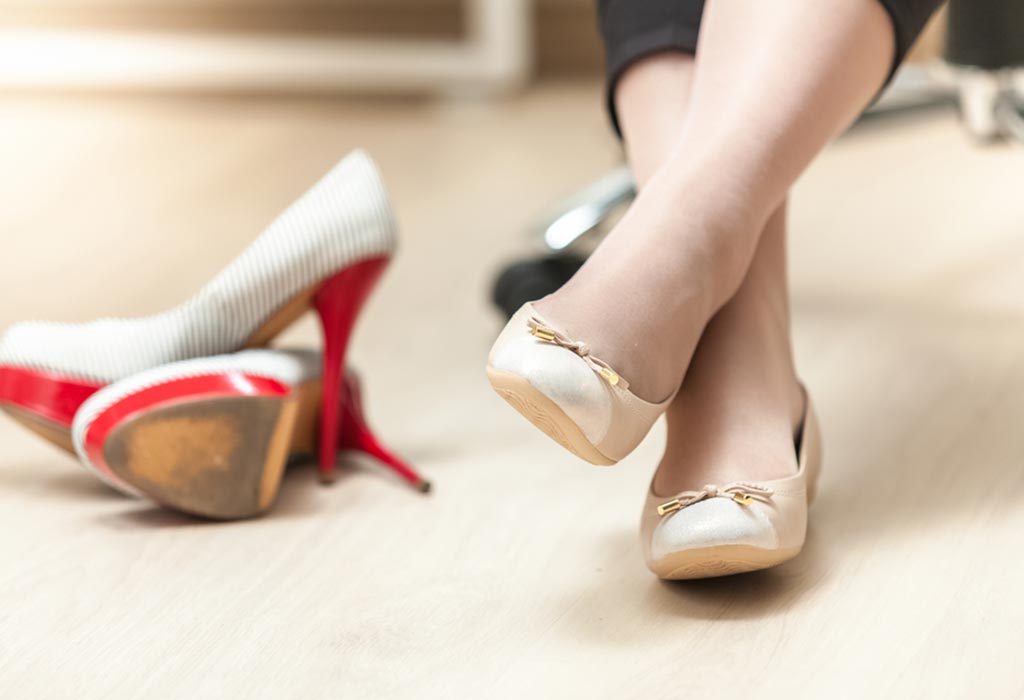 There are many changes that your body undergoes in pregnancy, and one such change is gaining weight. The extra weight tends to make your feet to swell and ache. The best thing that you can do for your feet in pregnancy is to wear comfortable footwear. Know everything about the importance of comfortable footwear in pregnancy in the following article.
Why is It Important to Wear Right Footwear in Pregnancy?
The importance of the right footwear in pregnancy cannot be undermined. As your body grows and changes shape, your centre of gravity changes too. This not only affects the way you walk, but it also affects your back, ankles and feet. Therefore, it is imperative to opt for comfortable footwear in pregnancy to prevent the following pregnancy symptoms:
Swelling of Feet and Legs
As your uterus grows in pregnancy the pressure around the pelvic area increases. This increased pressure in the pelvic region slows down the blood flow. Thus, this leads to an accumulation of fluid or swelling around your feet and ankles. Therefore, it becomes very important to wear comfortable footwear.
The slow blood flow or circulation in pregnancy may also cause varicose veins in pregnancy. As the blood pools in the veins, the veins widen up and bulges out from the skin. These prominent veins look purple or blue in colour. These protruding veins may make your legs feel painful and heavy. Some women may experience itching or burning on the skin.
Sprain or Trauma to the Ligament
There is an increased risk of sprains or trauma to the ligament in pregnancy. This happens because of the improved flexibility of the collagen due to increased levels of relaxin hormones. The flexible collagen helps the pelvic region in becoming more flexible for the upcoming delivery. These changes in the pelvic region make the ligaments more susceptible to traumas and sprains.
As your weight increases in pregnancy, the arched portion of the heel flattens and starts touching the ground. This makes your footsteps to roll inwards. This movement of the feet puts pressure on the plantar fascia ligament and may lead to heel pain in pregnancy. Therefore, you may be required to wear footwear that provides support and cushion to your footbed and helps you maintain balance at the same time.
Qualities of Maternity Footwear
Happy feet in pregnancy means a happier you. Therefore you must pay heed to the following qualities of maternity shoes:
It is advised to buy footwear that is a size or half bigger than your actual size. This is because your feet may swell up in pregnancy making your actual shoe size uncomfortable for you. Therefore, a bigger shoe will make your feet feel more comfortable and relaxed.
It is recommended to opt for shoes which have good arch and ankle support. The shoes with good support will not only provide comfort, and it will also reduce the joint pains and aches that you may experience during pregnancy.
The best kind of shoes to opt for in pregnancy are slip-on shoes. These shoes can be easily worn even after you start off with your third trimester, which can make bending a real big task. You may easily slip into your shoes without even bending and your baby bump causing any hindrance.
Can You Wear High Heels During Pregnancy?
No, it is not a good idea to wear high heels during pregnancy. As you grow bigger and gain more weight, your body's centre of gravity changes. The changed centre of gravity may make you walk less steadily. The loosed ligaments in pregnancy may lead to instability of muscles and joints. Thus, all these changes in your body may make you more susceptible to falls if you wear heels. Any kind of fall in pregnancy may not only be fatal for the would-be-mommy but it can dangerous for her unborn baby as well. Therefore, it is not wise to wear heels during pregnancy.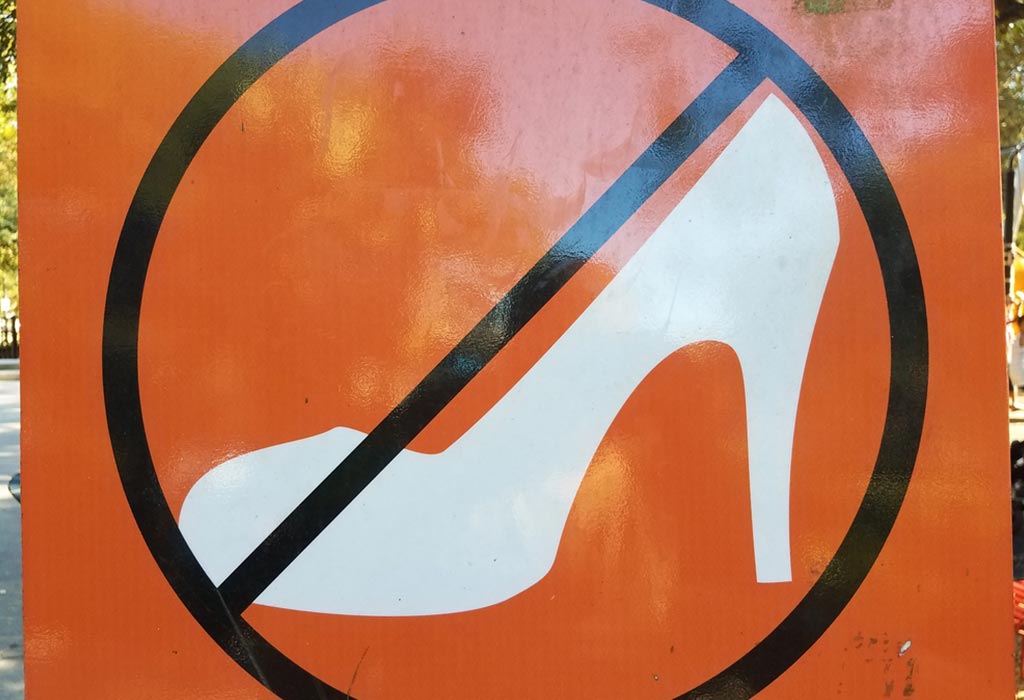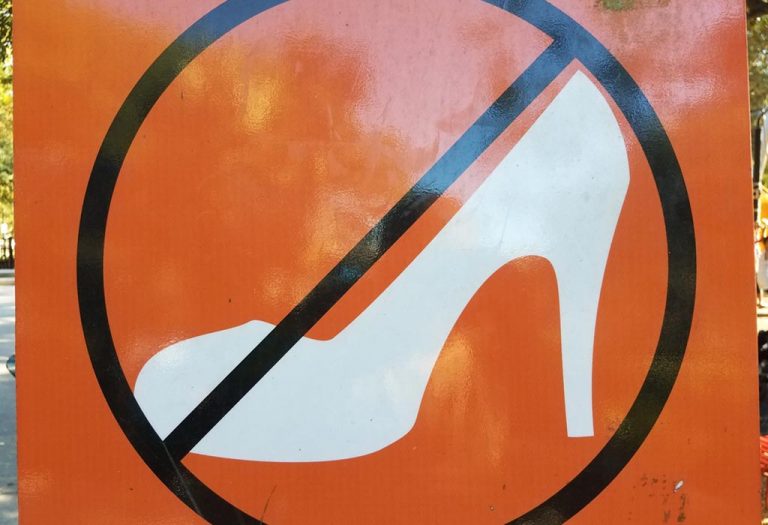 Tips for Selecting Pregnancy Shoes
It is best to opt for flat footwear, but if you cannot wear flats, then it is recommended to opt for wide and low heels.
Do not buy footwear with more than two inches of heels and make sure the heel of the shoe is not pointy.
Low-wide heels support your feet and help to distribute your bodyweight equally. It also helps in reducing pain and saves you from tripping.
If you are unable to find the right kind of arch support for your feet, you may wear insoles in your regular shoes to give support to your feet.
Try to get a pair of footwear that allows your feet to breathe and does not make your feet sweat. Shoes with mesh or canvas shoes are very good options.
Buy shoes or footwear which has a wider toe area rather than clinched or narrow area that pinches your toes.
It is a good idea to get a pair of loafers, which are not only smart and trendy but also provide extreme comfort to the feet.
If you wish to keep it casual and simple, then you may opt for flat sandals. Sandals allow your feet to breathe too.
If you wish to go for walks or on a shopping date with your friends, then it will be a good idea to slip into a pair of sneakers for ultimate comfort and support.
Best Shoes to Wear in Pregnancy
We have the following recommendation when it comes to choosing footwear during pregnancy:
Wear Flat Shoes: Flat shoes are not only extremely comfortable, but they also provide you with good control over your body's increased size too. You may choose the ones which provide optimum arch and ankle support to your feet.
Flip-flops or Sandals: These are ideal for both summer and winter seasons. You may wear socks with them in winters to make your feet feel cosy. These can be slipped on easily without making causing much strain on your tummy. You can wear them at home or even while going out.
Types of Pregnancy Footwear
Following are some of the shoes for pregnant women that you should buy to provide extreme comfort and to pamper your feet:
Sports Shoes: You are required to do basic exercises and walking in pregnancy, and for that, it will be a good idea to invest in a good pair of sports shoes or sneakers.
Work Shoes: If you are working women, it is no longer advisable to wear high heels. Therefore, you should buy a comfortable pair of work shoes that provide comfort to your feet while you work.
Casual Shoes: Get yourself a good gripping pair of casual footwear that you can wear at home as well while running your daily household chores.
Sandals: If you stay in a place where the weather is hot and humid then buying a pair of flat sandals will a wise thing to do. They will not only be airy, but they will also provide good comfort to your feet as well. Sandals are also one of the best shoes for swollen feet.
Winter Boots: If you are in a place which has extreme winters, then it is recommended to buy a good pair of flat winter boots. It is recommended that you choose a pair that can be worn easily and has good ankle support.
Flip-Flops: These are extremely good for rainy weathers and can be worn at home too. Buy a good quality pair which is lightweight and has a good grip.
It is very important to choose the right pair of maternity footwear that will sail through your nine months of pregnancy comfortably. Your doctor may also guide you in case you are not able to decide about your maternity footwear.
Also Read: Feet Pain during Pregnancy
?>