Things You Should Know While Travelling By Train During Pregnancy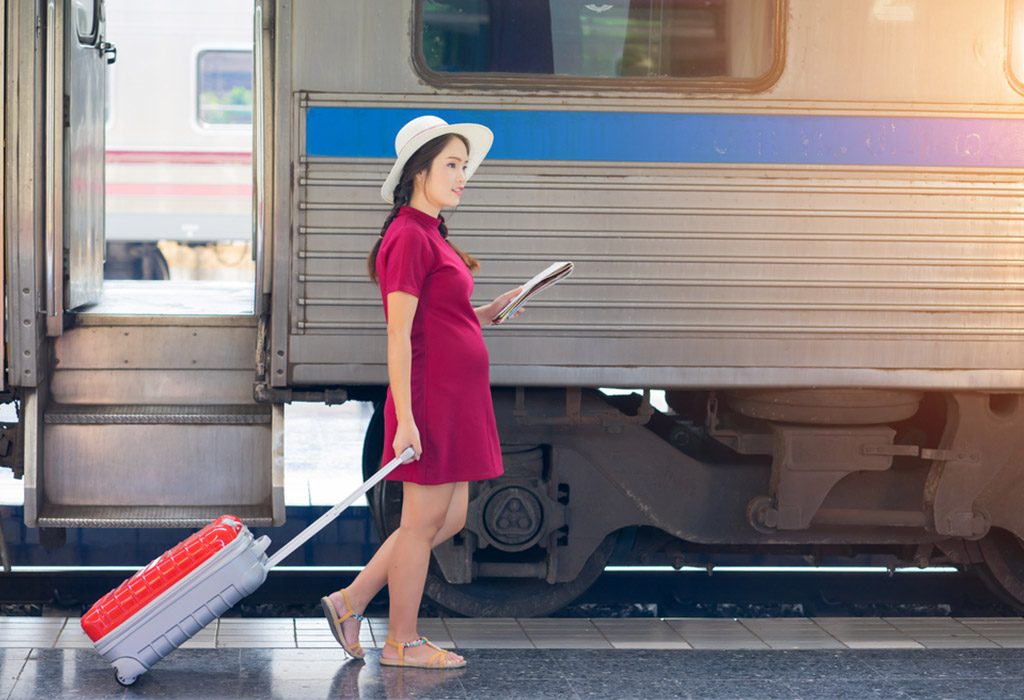 Pregnancy necessitates a lot of changes in a woman's life, and even the simplest activity needs to be reconsidered. Travelling when pregnant is a subject of much discussion, and most women prefer to avoid it altogether. Yet, if you must, it helps to weigh the different options to assess which is best suited. Read on to consider the pros and cons of train travel during pregnancy and to help decide if it should be your preferred mode of transport.
How Safe is Train Travel During Pregnancy?
Train travel can be quite safe for those who have a normal and healthy pregnancy devoid of any complications or issues. In the case of those who may be suffering from any health issues such as high blood pressure or high sugar levels or any other complications, it is better to check with the doctor about the dos and don'ts of train travel. More so, they may evaluate your condition and then either allow or prevent you from travelling.
Morning sickness is a common issue amongst most pregnant women, especially during the first trimester. In such a case, it is better to wait and travel during the second trimester as by then, train movements or any odour in the train may not make you nauseous.
Pros And Cons Of Train Journey For Pregnant Women
Train travel is quite safe during pregnancy for most women who do not have any serious health issues. Here are some pros and cons you should be aware of before you undertake a train journey.
Pros:
Travelling by train means steady movement of the train, the wheels clacking against the tracks and a chance to enjoy the beautiful scenery outside.
Train travel means more comfort as compared to bus, car or plane. There is enough space to allow more movement. You can sit comfortably, or even lay down if you feel tired.
You get to enjoy your time while you are travelling by train. Just enjoy the beautiful nature as it passes by, take a nap, read a book or watch a movie or listen to music on your phone.
Even if it is a simple train, there will be restrooms, which make your travel more relaxed. And if it is a luxurious train, then you can be assured of taken good care of and a chance to enjoy a great trip with best amenities and great food.
Also, no traffic means you reach your destination faster and there is less pollution to take in while travelling by train as compared to road travel.
Cons:
There can be cons depending on which kind of train you take.
If it is a train with not many amenities or if it is crowded, then train travel can be quite inconvenient. If there is no AC compartment, then there will be more discomfort.
The kind of seats you get can also be a con if they are faced backwards, which may aggravate or trigger morning sickness.
Depending on how long you are into your pregnancy, boarding the train can be difficult.
Tips to Make Your Journey By Train Comfortable
Book a comfortable train and a more comfortable seat. If you can, get an air-conditioned compartment, that can ensure convenient travel.
Though many trains provide pillows and blankets, it will be better to carry your own because your pillows can ensure better comfort. Also, during pregnancy, it is better that you use your own blankets rather than the railways'.
Of course, if it is an overnight trip, then you will have a sleeping compartment, but even if it is a full-day trip, consider getting a sleeping coach, so that you can lie down a little or take rest at regular intervals.
Another point that goes without saying is that you will need to take the lower berth.
Do not take seats near the bathroom or the door to avoid crowds, pushing, and nausea due to odour
Try to sit comfortably, keep your legs stretched.
Take a walk every hour so that you do not get cramps or uneasiness. Walks also help in better blood circulation. This can prevent the risk of blood clots.
When you are asleep, ensure that your position is comfortable and, if possible, rest your legs in an elevated position.
Wear comfortable clothing. Opt for comfortable shoes as well, as they ensure that blood circulation is not obstructed.
Ensure that you take seats that face the direction of the train so that you do not feel any discomfort.
Carry enough tissues and anti-bacterial wipes/ sprays, with you, so that you when you use the restroom, you can wipe off the seat first to avoid urinary tract infections.
It is advisable to use the restroom when the train halts. If the pregnancy is advanced, take someone along to stay out just in case of any emergency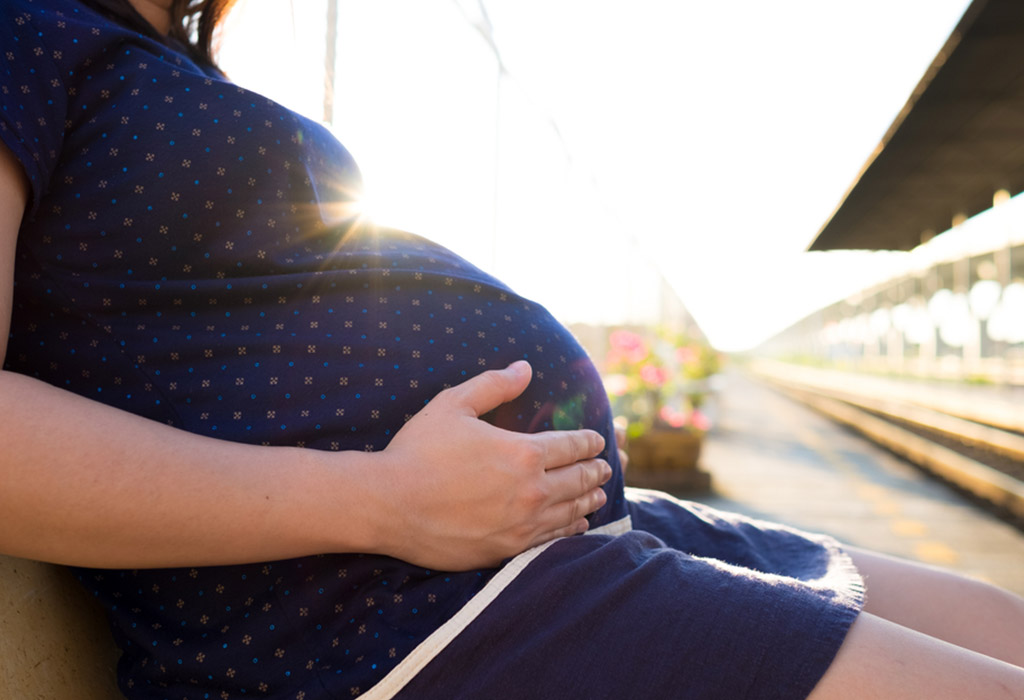 Precautions to Take While Travelling By Train
Try to have company, preferably your spouse or any family member or a friend. In case, travelling alone is unavoidable, ensure that you are prepared for the solo trip. Do not carry too many bags. Since you should not lift heavy bags, carry a suitcase with wheels so that you can carry it if a porter is not available.
Arrive a little early so that you have enough time to be ready and board comfortably. It is better to find the exact departure time of the train, so that you do not reach too much in advance and have to wait uncomfortably at the railway station.
Lock your baggage, so that you can safely go to the restroom without any fear of someone stealing your belongings or adulterating any food.
Stay away from any crowds. If there is a rush by the train door, stay away from the crowds to ensure you don't get pushed or injured accidentally.
In case you have to walk a distance to the platform or cross any bridge, it will be better to have a porter or someone carry your luggage.
In addition to the medicines that you are taking, carry medicines for colds, headaches or any infections, after due checking with your doctor.
Keep your phone fully charged always. Carry a power bank with you.
Keep your medical file with you. You should save your doctor's number in your phone under 'My doctor' or 'My Gynaec', so that if there is an emergency, the person with you or your fellow passenger can call them up and ask for advice.
It is better if you do not accept food or drinks from strangers. Just say a polite 'no'.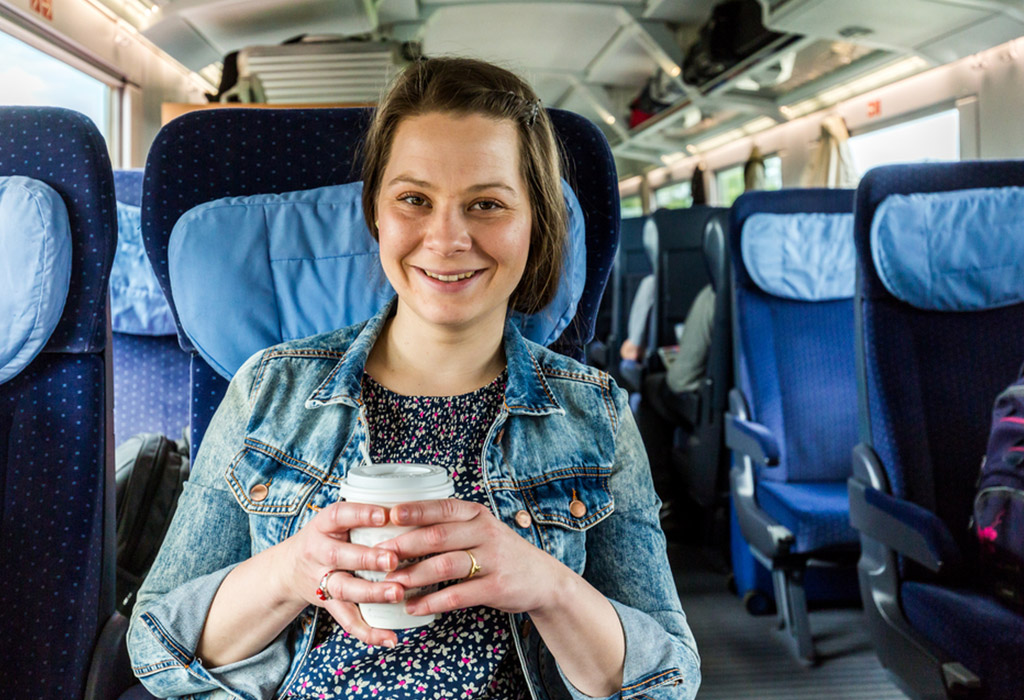 Precautions Regarding Food and Drink While Travelling By Train in Pregnancy
It is best to carry your own food and water when travelling by train travel during the first trimester of pregnancy. With water, you can depend on bottled water, but ensure that the seal is well in place.
Don't get off any station to buy anything, as the street vendors may not be hygenic. In addition, you may feel the rush to get back on the train in time, which could lead to untimely accidents. Instead, if you require any packaged food, you can buy it from vendors who are passing through the train or at the window.
Carry chocolates, protein bars or any other snacks with you so that you can munch on them whenever you feel hungry.
If it is short train travel during pregnancy in the third trimester, your home food may last for the whole trip, but if it is a long journey, then you may have to rely on the train food. In that case, check with them and buy well-cooked and hot meals.
Avoid salad, curd or any other food that may not be cooked, as they can get spoilt fast and easily.
Drink lots of water to stay fresh and hydrated. Avoid coffee and tea if possible and if not, then limit the intake. Aerated drinks are a strict no-no.
If you are buying any packaged food, then ensure that you check the expiry dates first.
Train travel for most pregnant women can be hassle-free and fun if you have the proper guidance and support. Prepare in advance and meet your doctor before you set out for an enjoyable trip.
Also Read: Travelling By Car During Pregnancy