How to Set Up a Perfect Homework Station for Kids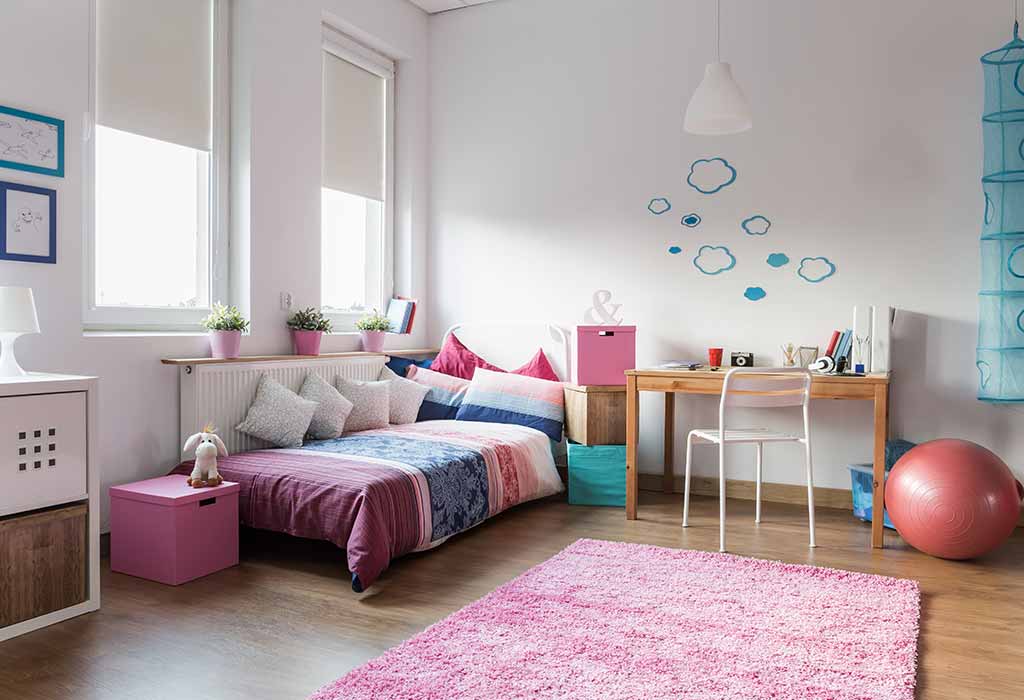 If your child has recently started school, the one thing they must be bringing back home other than empty tiffin must be homework. The daily drudgery of homework can begin as early as kindergarten, and let's face it, getting kids to stay put and do their homework is no easy task. Getting your child to do homework while they run away to get supplies or notebooks. Homework can be as stressful for parents as for kids, but one thing that would make things a little less stressful (by keeping distraction away) is a homework station! A homework station can teach your child how to be organised and focus on things that need attention.
What Is a Homework Station and Why Is It Needed?
A homework station is a specially designed and designated place for children for studying or for completing their homework and assignments. A homework station provides a comfortable place to a child where they can easily do their homework with all the supplies in one place.
There are numerous benefits of homework station for both kids as well as for parents. For kids, they will get a specified place where they can peacefully carry out their studies with all their supplies handy. Also, it helps them learn more effectively as having a homework station increases the focus for the children in the long run as they think this place is the proper place to study. For parents, they will not have to search every item for kids, from books to bags to pens and pencils in the whole house as they will have a designated place to stay.
Best Homework Station Ideas For Kids
If you are fully convinced of the idea of the homework station desk, you must be wondering what type of homework station should you choose for your child to maximise their productivity. But choosing a homework station is not that easy as it may seem. There are multiple things you will need to consider when you are thinking of setting up a homework station for your child, such as whether or not there is enough space, which corner of the house will be good for them, and whether or not your child will like sitting in a particular corner. It is also important to choose the desk height according to your child's reach, and you must add a suitable chair that will support their back as well.
Now, let's explore some ideas in homework stations. Listed below are some homework table ideas that you will like and are likely to choose from for your child.
1. Corner Shelf
If you have a corner in your child's room that's vacant, and you think would be appropriate to set up a homework station for your child, that go ahead and use that corner to install a shelf that will act as a table for your child to study and finish their homework. You can add more shelves at the corner walls for decorating their prizes or arranging their belongings as well.
2. Family Workstation
If you want to spend more time with your children, here's an idea that you will like for their homework station. How about you convert your workstation into a family workstation so that both you and your kids can share it and do your respective work? While you do your work, your child can complete their homework. Sounds great, no? You can set up your child's desk near your and your partner's desk to help them with their assignments and carry out your work at the same time.
3. Computer Study Table
If your child is in middle age school, they are likely to need a computer to help with their projects, assignments, and Homeworks. You can set up a desk with a common computer and add more tables to help children have their separate homework station where they can study and use the desktop.
4. Hall-cum Study Room
If your living room is big enough, you can create a divider in it and set up a desk and chair near the wall of the divider. You can add a shelf near the desk for your child's belongings, and you can also keep an eye on them while you work on something else.
5. Desk Between Cupboards
If you have a small area between your cupboards, we have got a great idea for homework space. By adding a floating desk supporting the cupboards and one or two shelves above, you can turn an unused space into the most brilliant homework station for your child. You can ask your child what colour they would prefer, and place a study lamp on the desk for the perfect look.
6. Simple Shelf Homework Desk
For a minimalist look, convert any small area of your living room into a simple shelf desk. Install a cost-effective shelf-like desk, and keep a pen or pencil holder on it and a table lamp. Your child will have the perfect little homework station to study and finish their homework.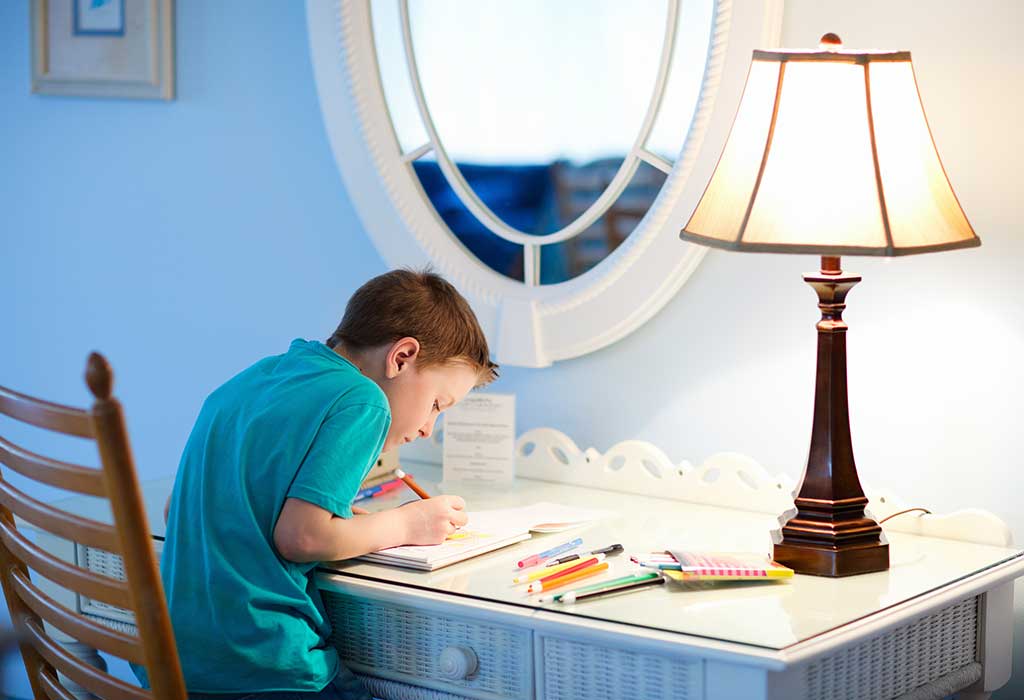 7. Window Area Desk
Set up your child's mini desk with a chair near the window to ensure they get fresh air while they study and to keep them entertained in case they want to look outside and see birds and the outside world. Looking out and taking in nature will refresh their mind and eyes.
8. Creative Desk
Set up a desk and chair in your child's room after asking your child where they would like it. Let them decide and then ask them to make paintings and other craft items and paste them on the wall. It will keep them creative and focused on their homework and studies.
9. Row Homework Desk
If you have two or more children, you can set up a row office-like desk in their room. The table should be big enough to accommodate the supplies and belongings of both kids and they should not argue for space while you are under the impression that they are studying.
10. Closet Homework Desk
If you are planning to deck up your child's room, you can add a closet like a homework desk. A desk that appears like a closet with doors and inside lights would surely be loved by your little one. You can keep a chair that can go under the desk and forms a door.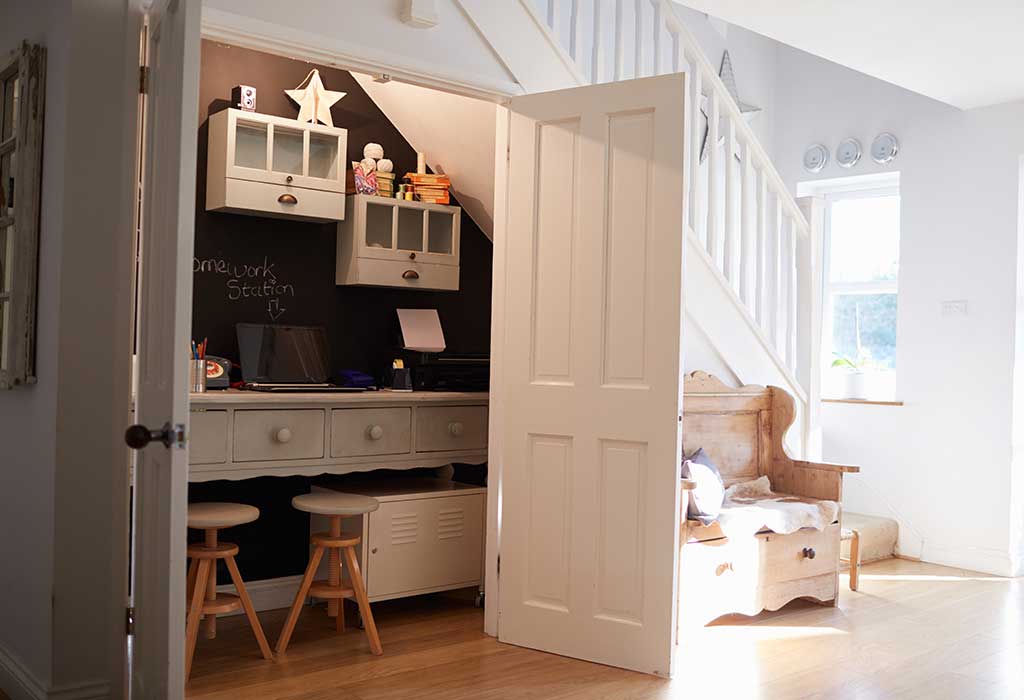 11. Hanging Desk
If your house is not big enough, you could go for a hanging desk to set up a homework station for your child. A hanging desk requires less area and your creativity.
12. Bright and Colourful Desk
If your child likes funky and bright colours, you can set up a colourful homework station for them in their room. You can also add fabrics on the wall that allow them to pin their paintings or some important information there.
13. Wall-mounted Homework Space
A foldable desk makes for a great homework station for small apartments. This is a form of shelve that can be opened like a desk. Your child can organize their belongings on the shelf and start working on their homework by opening the shelf.
14. Mobile Homework Table
If your child does not like to sit in one place while studying and explores different areas of the house, you can set up a mobile homework station for your child.
15. Bunk Bed With Homework Space
If your child's room isn't spacious enough or if you want to save space, you can get a loft bed with a study table underneath for your child. Your little one is sure to enjoy studying in this kind of setting.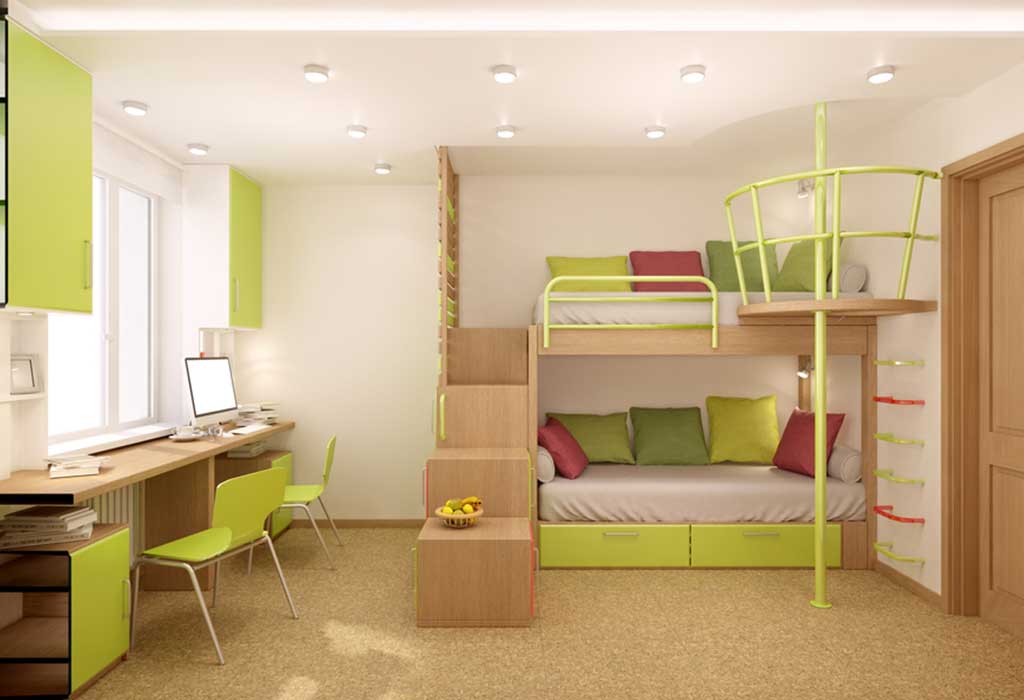 16. Dual Homework Desk
If you have two kids, you can set up a homework station for them with a divider in dividing shelf in between, so that they don't fight over space. You can organize their supplies on both sides and ask them to finish their homework on their respective homework stations.
17. Shelf Homework Desk
If you have sufficient area in your home to accommodate a big shelf for the children's room, you can bring a shelf homework desk. A shelf that has a desk on one side and cupboards and shelves on another side would work well. It provides children ease of access to all their stuff and they can concentrate on their studies.
18. Beside Kitchen Table
You can also think of adding a homework desk beside your kitchen table. If you want to help your child with their homework and see if they are doing it right, a desk in the kitchen can be a good idea. You can add some bulletin boards or whiteboards for their use. You can keep various jars to let the child keep their stuff in those. Let them arrange and organise all their belongings in one place.
19. DIY Homework Station
Make some DIY homework desk area for your kids, adding some funky and crazy items your child likes. For example, you can paste the blocks for the letters here and there, add some games like crafts, and cool stuff around on the shelves to make it more attractive and cute. Your little one will like it so much that they will want to continue studying.
20. The All-rounder Homework Station
If you are looking for the best homework station idea for your child that not only provides the place for doing homework but to be the witness of all hard work, fun, and creativity, you can create an all-rounder homework desk at a corner of the children's room or the living room. You can add small shelves for books at one side of the corner while adding a board and various cup holders on the other side of the corner to help the child keep their items there. You can also add a little bit of creativity and add some baskets under the table for the children to keep their games nearby.
21. DIY Homework Desk Organizer
If you do not want your child to be stuck in one place, you can also make a DIY homework table organizer. With the table organizer, your child can easily move with all their supplies and do their homework anywhere in the house without having to carry around each and everything. They can pick up their organizer, and they are ready to go.
A homework station can get your child interested in their homework. You can decide whether or not you want one for your child after discussing it with your partner. However, due to multiple benefits of having a homework station and its effectiveness in increasing the child's productivity, it is worth considering. It need not be a big setup, but it should give positive vibes so that your child is encouraged to study.
Also Read:
Should Kids Have Homework
Study Room Ideas for Children
How to Help Children Finish their Holiday Homework
?>