How to Keep Baby Warm in Winter – Tips and Tricks
Winters have already crept in, and no one wants to stay all cooped up inside the house. Everyone, even newborns and toddlers, needs fresh air. However, it is tricky to maintain a balance between keeping the baby warm in winters and not to layer him so much that he/she starts feeling hot. So, let's find out some wonderful ways to make sure that your newborn isn't uncomfortable during winters and stays warm and healthy.
Video: How to Keep Your Baby Warm During Winter – Tips and Tricks
Keeping Baby Warm in Winter at Night
Unlike adults, babies (especially under 2 years of age) are not capable of regulating their body temperature. At the onset of winters, you'd notice how the baby's hands and legs go cold and would want to do something immediately to keep them warm. It is quite important to cover them comfortably while sleeping at night to maintain a body temperature that is just right for them. But, some studies have shown that extra layers of clothing increase the risk of Sudden Infant Death Syndrome (SIDS).
Although keeping the baby warm in winter while sleeping is vital, there are certain key factors to be kept in mind so as to minimise the risk of SIDS. Let's take a look at what you could do to keep your baby warm.
What You Can Do to Keep Your Baby Warm at Night
As mentioned earlier, babies cannot regulate their body temperature. Parents need to maintain it by dressing the baby up in warm clothing and adjusting the room temperature. Here's how you can keep your baby warm at night so that he/she can sleep comfortably.
The ideal range for your baby's room temperature should be between 20-20 degrees Celcius.
The best way to keep your baby warm while sleeping in winter is to dress him in a footed sleepsuit to keep his legs and toes warm too. If your baby's room is at the colder end of the scale, put a vest underneath the sleepsuit.
Use a good moisturiser that is rich in butter and milk cream to avoid dryness and itching that could occur due to the extra clothing and cold weather.
Keep your windows shut if it is extremely cold outside, but make sure that your baby's room stays ventilated too. You can use a room heater or humidifier as and when needed to keep the space, and your baby, warm and comfortable at night.
If you think that one-piece suits are not enough for your infant, swaddle him in a soft blanket for a comfortable and restful sleep at nights. In case he kicks off the blanket, you can put him in a sleeping bag.
In addition, carriers are a great way to use your body heat to add extra cosiness to the baby in the cold winters.
A fitted cotton sheet and a soft, comfy blanket can keep the baby warm in bed. In addition, some extra layers of the blanket can be added or removed depending upon the room temperature. Alternatively, a baby sleeping bag or sleep-sack are the best options to keep a squirmy baby warm and cosy at night.
Placing a hot water bag or heating pad in the bed for some time before letting the baby sleep will add some warmth to the cold sheets. It also keeps the baby's crib warm and comfortable to sleep in.
If your baby is not a big fan of blankets, keep his hands and legs warm with mittens and socks.
Safety Tip
Don't cover your baby's head while sleeping in bed or anywhere indoors. This may cause overheating because an excessive amount of heat is produced through the baby's head. Once your baby falls asleep, check if he is sweaty, flushed or breathing rapidly. Lower down the temperature of his room or just remove his swaddle or cap.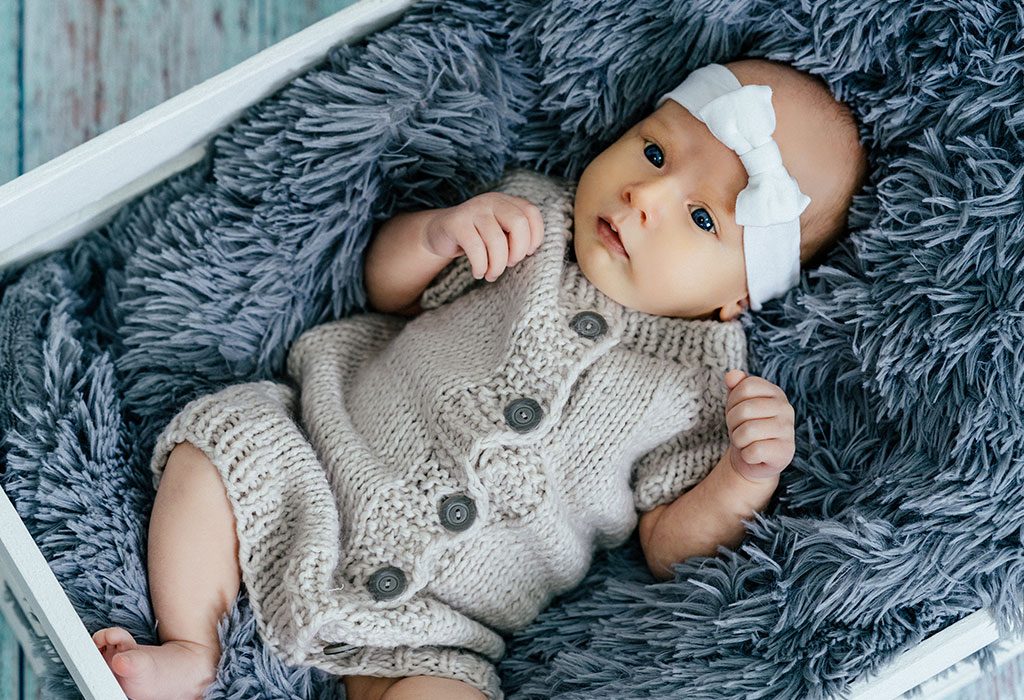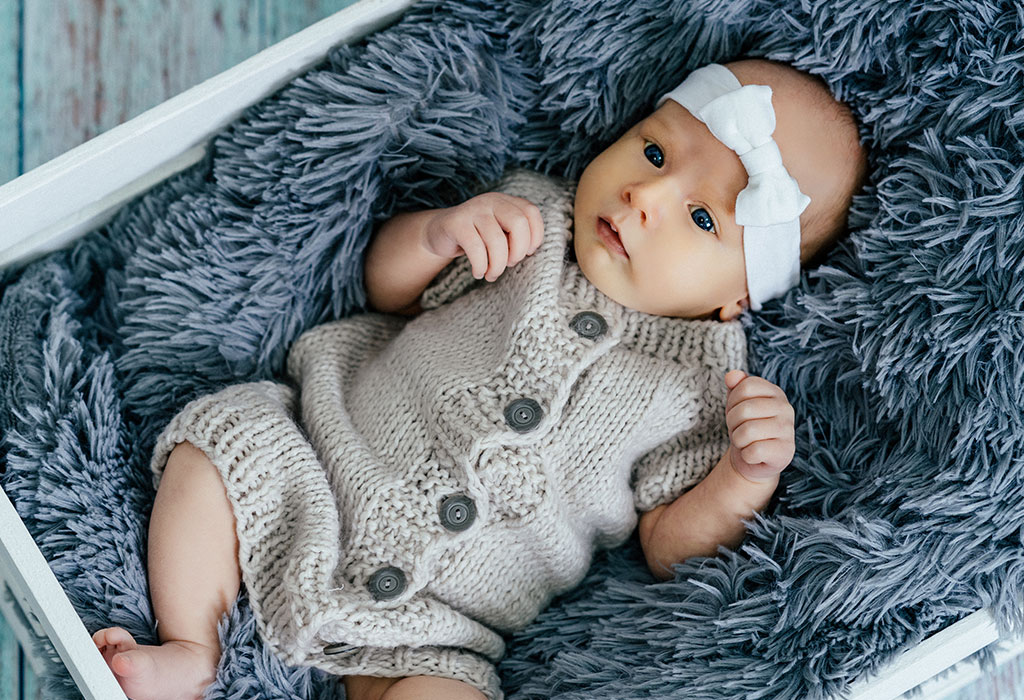 Dressing the Baby for Outdoors During Winter
While heading out in the crisp, cold weather with your little one, just adopt the rule of thumb that babies need an extra layer of clothing than you do. From cosy clothes and coats to heaters and humidifiers, there are a lot of things to consider before leaving the house with your baby. Here are some tips and tricks you need to know to keep your baby warm outdoors.
What You Can Do to Keep Your Baby Warm Outdoors
Always dress your baby with thin bottom layers of clothing to trap the heat in between. Start with a soft cotton onesie, add a long-sleeved t-shirt and leggings. And, if it is extremely cold outside, you can layer him up with a snowsuit.
Dress your baby in soft and breathable layers of fabric.
A hat is one important accessory for your little one that can help protect his ear from the bitter winter winds.
A baby's hand is a good indication to know his body temperature. So, keep your baby's hands warm by putting mittens (for a newborn) or tucking them inside the blanket (for toddlers).
Newborns, especially preemies, can be given Kangaroo care while travelling outside. It is a therapy where the baby is placed directly on his parents' skin, which is enough to keep him warm and cosy when
Safety Tips
Always make sure that your baby is dry from the inside because a little moisture due to damp clothing can cause hypothermia, even if it is over 40 degrees F outside.
To keep your baby warm during winters, a car seat is a big matter of concern because bulky fabrics like coats cause hindrance in providing a snug fit on the straps.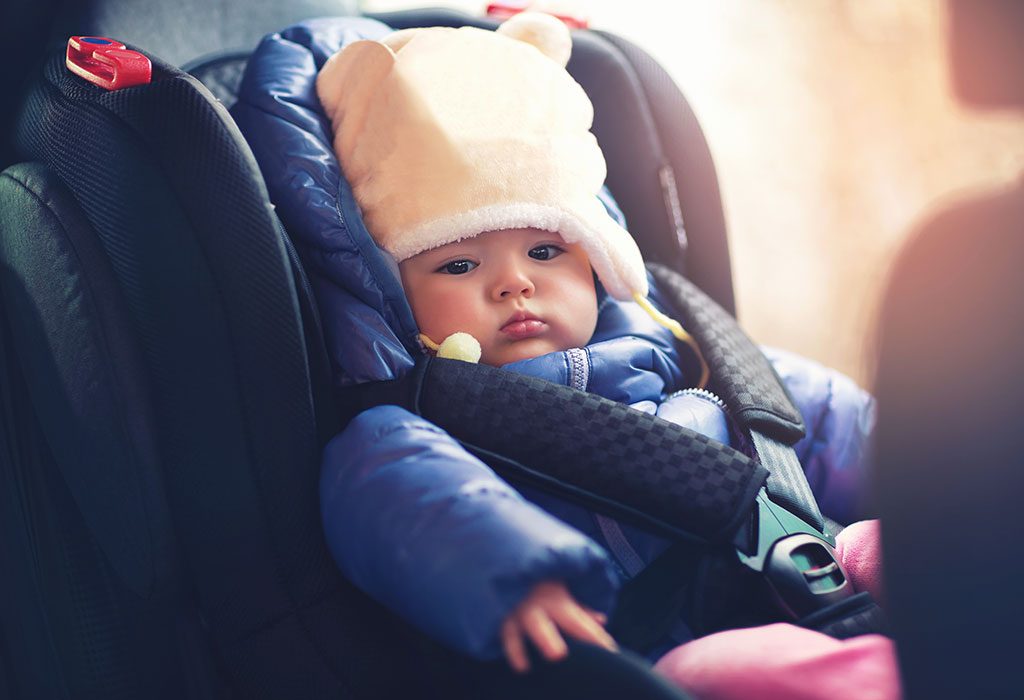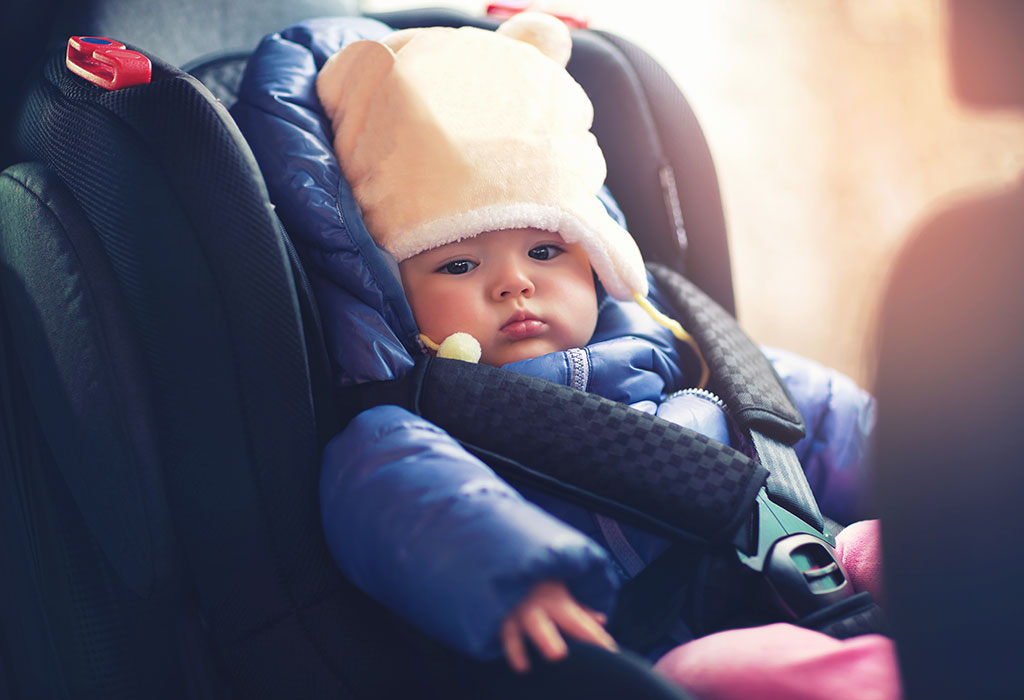 Keeping Babies Warm and Safe While Staying Out in Cold for Long
Staying out with your baby in the cold for long hours may be a bit scary for new mommies, but a few safety precautions can limit its vulnerable effects. So, to keep your baby safe and comfortable when it's breezy cold outside, follow these simple tips.
What You Can Do to Keep Your Baby Warm For Long Hours When Outdoor
Dress your tiny one in such a way that you can adjust the layers of clothes according to his needs. The bottom layers should be snug like cotton t-shirts and pants, followed by a jacket, hat and mittens. For additional warmth, you can carry blankets or muslin cloths.
Wear your baby in a carrier to add some extra cosiness in the cold weather.
You have to be very careful while carrying the baby in a stroller because the abundance of a blanket covering can compromise the airflow to your baby inside the stroller. Otherwise, you can put a jacket, cap, mittens and booties to keep your baby warm and try to walk in the direction of the wind so that the baby is not hit by the chilly wind directly.
Safety Tip
There is no need to put an extra sweater on your baby when a baby carrier is used.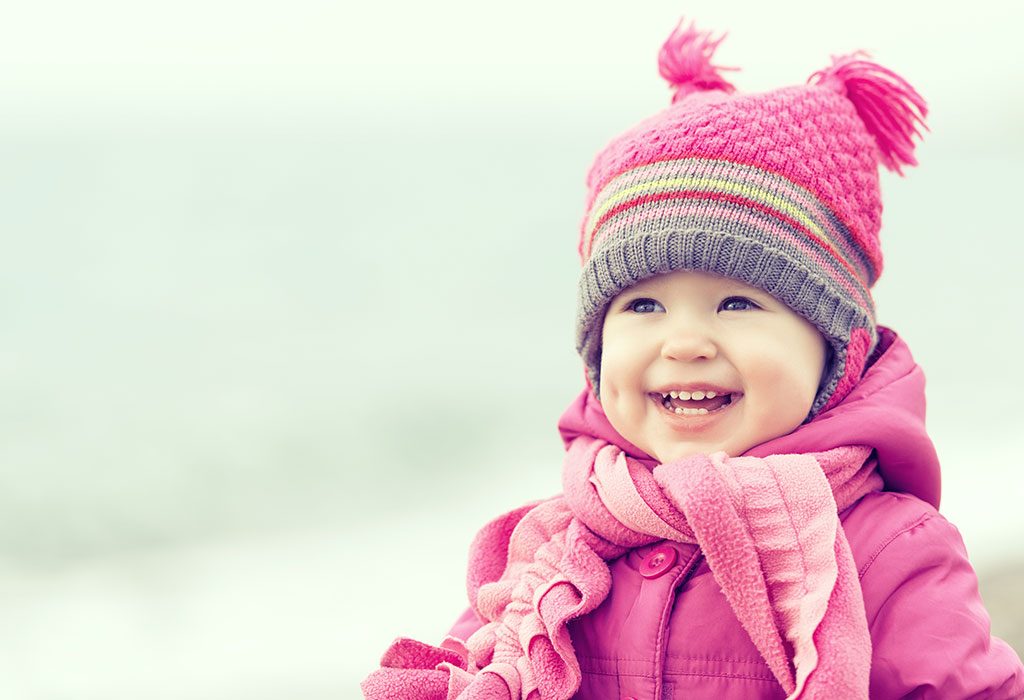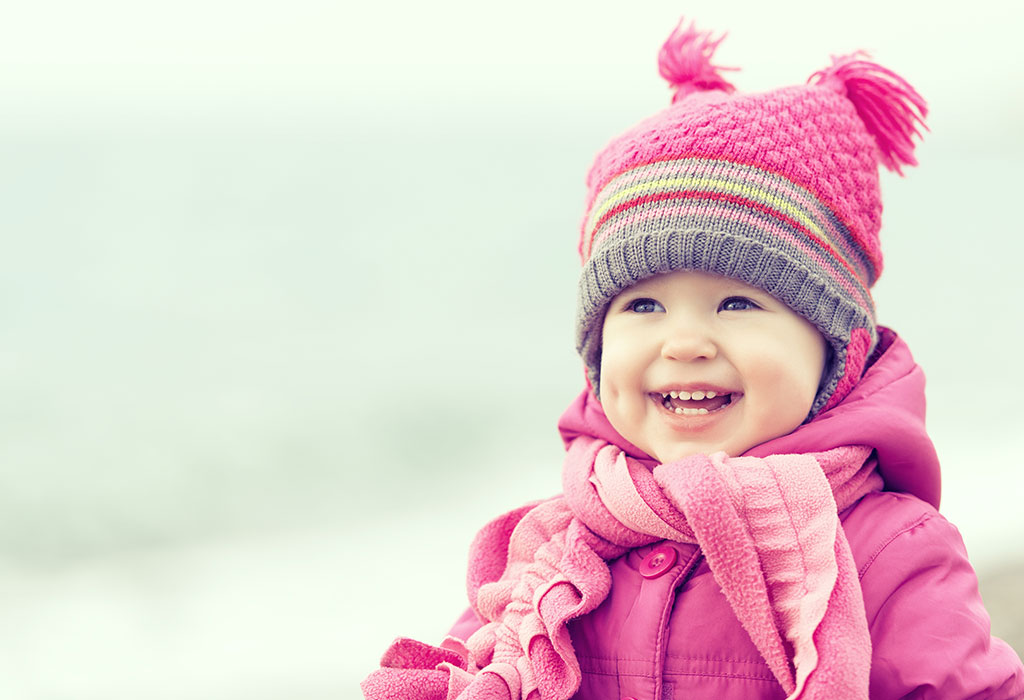 Keeping Baby's Skin from Getting Too Dry
The cold weather, lack of humidity and recirculated air can all lead to dry and itchy skin. A few precautions can help you to keep your baby's skin clean and moisturised.
What You Can Do to Keep Your Baby's Skin from Getting Too Dry During Winter
Did you know that water can also dry out your baby's skin? Yes, they don't need to be washed daily, especially in the winters. Use lukewarm water (not too hot) and don't let him soak in the bathtub for long.
Studies have shown that soaps can be allergenic to some babies. So, try to use mild, hypoallergenic cleansers that are free of dyes and fragrances.
Moisturise your baby's skin after every bath with gentle, hypoallergenic baby lotion.
Before stepping out of the house, apply some unscented emollient on your baby's face and lips to protect him from harsh winds.
Safety Tip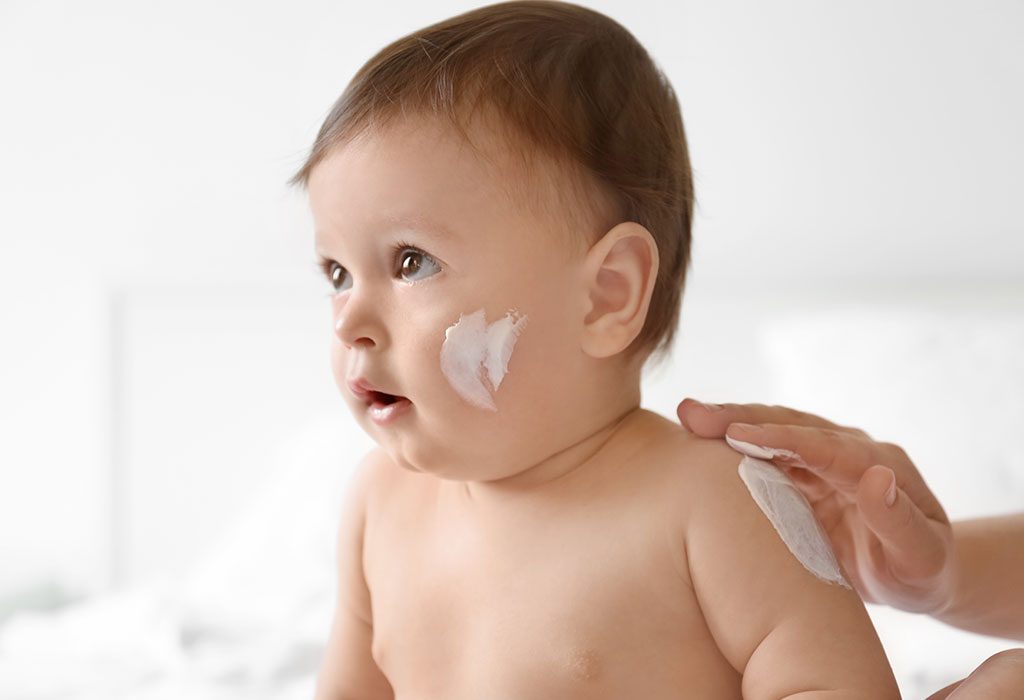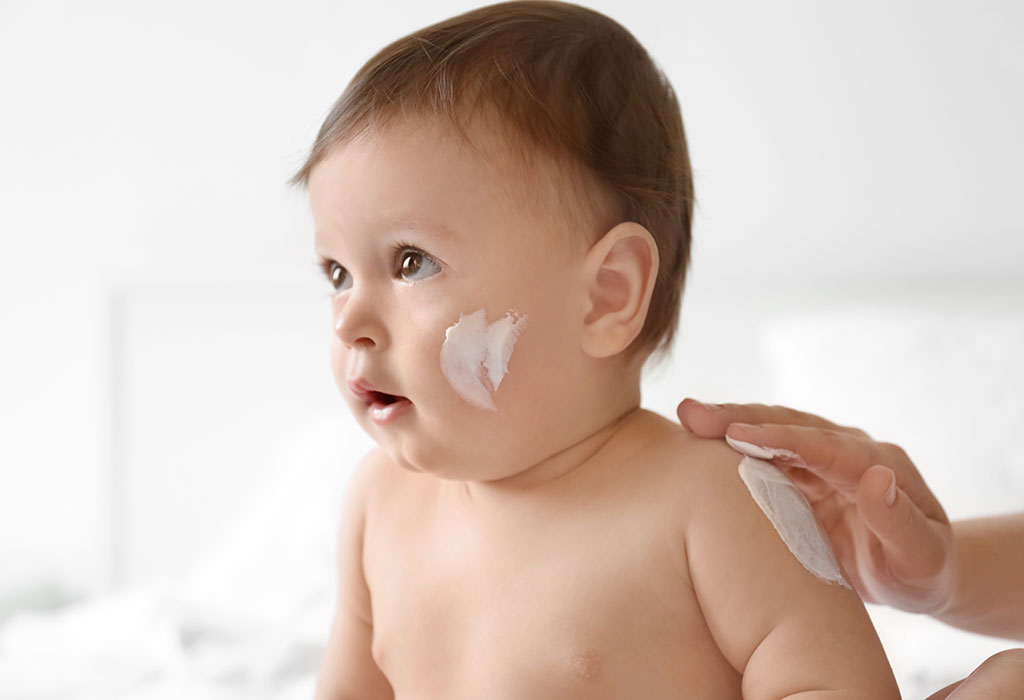 What Should Parents Avoid Doing When Keeping Their Babies Warm in Cold Weather
Babies, especially newborns, are more susceptible to cold, and they can't even tell you when they are feeling cold or hot. It is actually your job to make sure that the baby stays warm and comfortable. Below are some precautionary things to be kept in mind when keeping your babies warm during winter:
Don't overcompensate the baby's surroundings by keeping the room temperature too high or putting him in too many layers, because overheating increases the risk of SIDS.
Excessive wrapping up of your baby may hinder the breathing process. Avoid using long scarves around the baby's neck or face; instead, shield him from the breezy winds with the help of a stroller or car seat canopy.
Avoid layering up your baby with heavy blankets because he will not be able to shift the blanket on his own, which may lead to suffocation.
Don't cover the baby's face, or shield him from getting exposed to direct sunlight, especially if he is less than a year because it can obstruct his breathing.
Avoid keeping your baby covered in layers for too long when not required! If the temperature drops down beyond freezing and you get back inside some cosy place, make sure that you start removing extra layers from him as required.
Don't let your baby wear fluffy winter jackets while being in the car seat, because that can compress and leave too much space in between the baby and harness for an easy movement in case of an accident.
If signs of frostbite are triggered in any case, don't rub the frozen areas instead apply a warm washcloth to his nose, lips or ears. Remove the wet clothing after a few minutes and cover your baby with a warm blanket.
Ensure that your baby's room meets all safety standards. Be very careful while using space heaters as they can cause fire burns and carbon monoxide poisoning.
Avoid using mattresses made of soft and lightweight materials, as it not only puts your baby at risk of smothering hazard but can also increase the chance of getting sick due to the cold air trapped in the mattress.
Use of hot water bottle or electric blanket is a big no for babies under 2 years of age, because unlike adults, they cannot regulate their body temperature.
While keeping a baby warm in chilly winters is one of the most challenging tasks, a little knowledge can help you and your baby to maintain consistent body temperature in wintertime, especially during nights. Don't stress yourself over the cold, just make sure that you have dressed the baby enough to keep him warm and that he is not exposed to cold for more than half a minute at a time. However, believe your guts and follow above-mentioned tips and tricks to tackle up the crackling winters and keep our baby warm during the season.
Also Read:
How to Take Care of Baby during Winter
Tips for Dressing Your Baby in Cold Weather
How to Make Your Baby Sleep in Winter
?>