Homemade Bubble Solution Recipe for Kids
If you want to keep your child engrossed in an activity for hours together, which is easy as well as fun, bubbles are the most appropriate and wise choice. In fact, making bubble solution at home is one of the most exciting and engaging activities for most kids. A homemade bubble solution never runs out of supply. Even if your kids spill them all over your place, you will always have enough to keep them busy. So, how do you make a bubble solution with your kid? Read on to know more.
Basic DIY Bubble Solution for Kids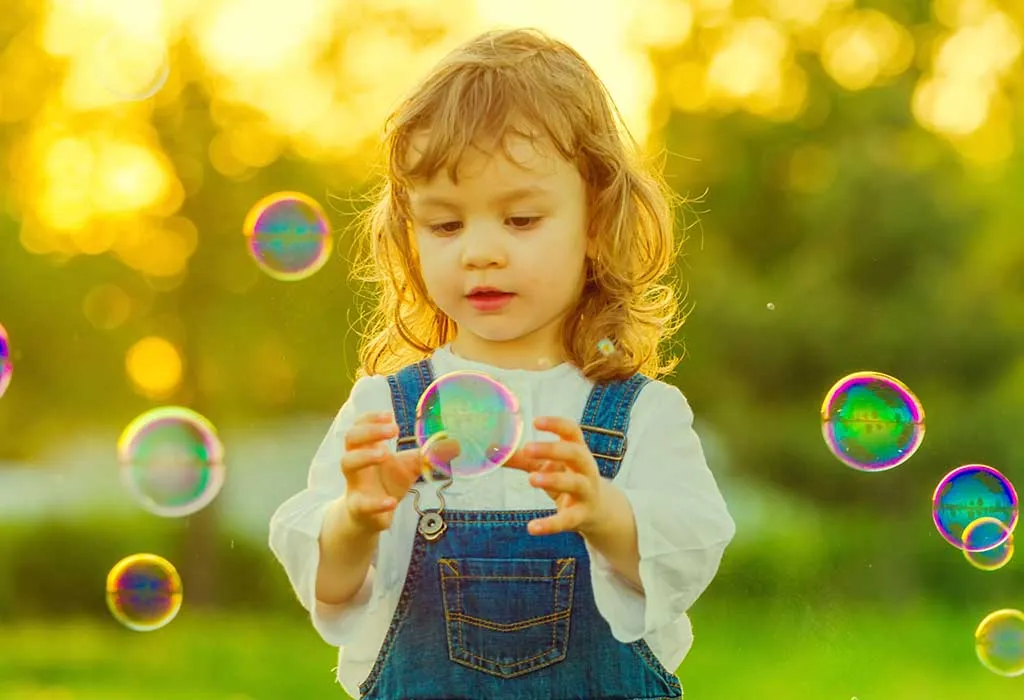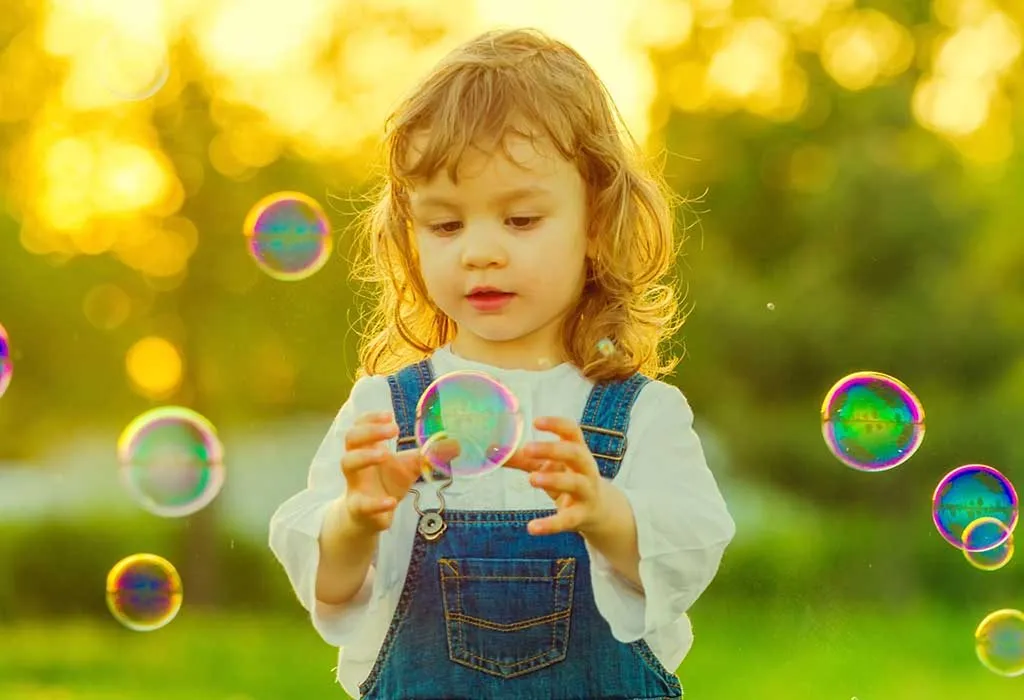 Ingredients
4 cups warm water.
1/2 cup sugar.
1/2 cup dish soap.
Instructions
Take 4 cups of warm water and whisk it with sugar. Continue until the sugar gets dissolved.
Now, add the dish soap. Continue whisking until it combines with the sugar solution.
You have to wait patiently while it sits. You should plan this step ahead so that you can allow enough time to combine the solution properly. Keeping them overnight gives the best results. But keeping it for a couple of hours also suffices.
Now, your DIY bubble mixture is ready for your kid to blow the bubble.
You can also add some drops of glycerine to this solution. That makes the process easy and helps the kids blow bigger bubbles.
Coloured Bubble Solution for Children
Regular bubbles are always easy to make. But kids most definitely have more fun with coloured bubbles. Making coloured bubbles with home ingredients is super easy.
Ingredients
1 cup granulated soap or soap powder.
1-quart warm water.
Liquid food colouring.
Instructions
Take a cup of warm water.
Add the granulated soap or soap powder to it.
Whisk the soap until it dissolves in the warm water.
Now, mix the food colouring so that you can achieve the desired colour.
This coloured bubble can turn out to be ruthless on your decks, patios, and cars. So, do not blow it inside the house. It rather safe to blow it outside.
Homemade Bubble Solution Games for Kids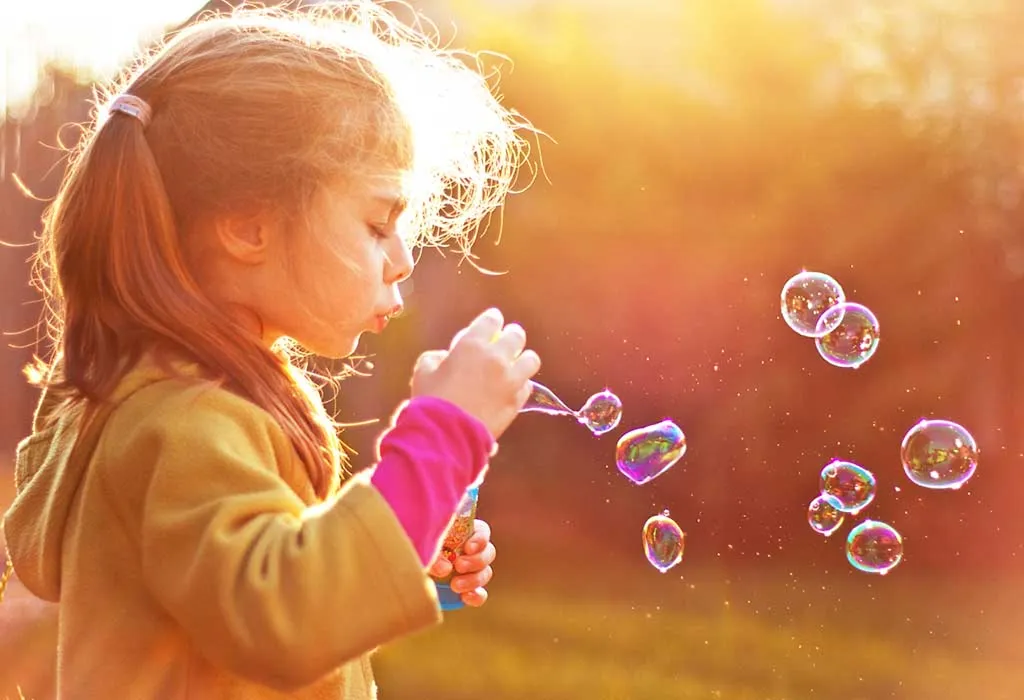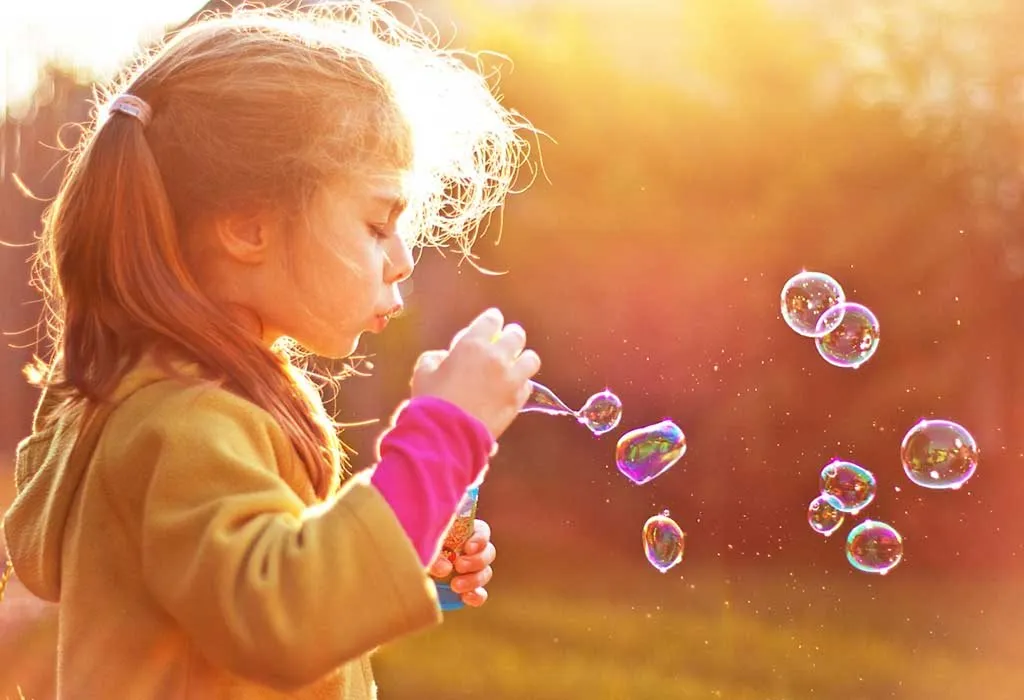 Bubbles are not only a blow and laugh activity, but kids enjoy a lot of games based on them.
A very popular game that kids play is the bubble-blowing competition. The aim of this game is blowing the largest bubble. You can also twist it to add more fun. For example, see who can produce the most bubbles at one go.
If you want your kid to be active and more disciplined through games, you can arrange a bubble race. It is a very active bubble game. The best thing is that it has a simple gameplay that keeps the kids occupied for long. To start the game, you have to make the children stand in a line like they do when they are starting a race. That will be the starting line of this race. Now, you take a long ribbon and mark a finishing line at a reasonable distance. Do not set the finishing line too far, as it is a bubble race. Now you ask all the children to blow a bubble. The aim of the game is to simply send the bubbles over the finish line. The first child whose bubble crosses the finish line is the winner of the game. This game is perfect for picnics or birthday parties.
Another game that could be interesting for kids is bubbles passing. This is a game that is a kid's version of passing the pillow. For this game, you can make the kids sit together in a tight-knit circle. Now, each of the kids has their bubbles ready in his hand. Now, the first kid who starts blowing the bubble will blow it over to the next kid who will again blow the bubble to the next kid. This process will continue until the bubble pops. The kid that pops the bubble will then come to the centre of the circle and sing a song or dance to a song. This is a fun mix of games and cultural activities to keep kids of different ages occupied.
Fun bubble games are definitely a winner at any party or picnic. You can ask your kid to make a bubble wand from regular ingredients like straws, cookie cutters, plastic slotted spoons, etc. If you have a pet at home, this activity can keep both your kid and the pet busy. As a parent, it becomes easy for you to keep your children busy and at the same time, it is an inexpensive activity. So, go ahead and have fun with your little one with various bubble activities. You can also invite your kids' friends over for a wholesome bubble party!
Also Read:
DIY Kinetic Sand Recipes for Children
Indoor and Outdoor Physical Activities for Children
Easy Creative Activities for Children