How to Make Leaf Rubbing Art for Kids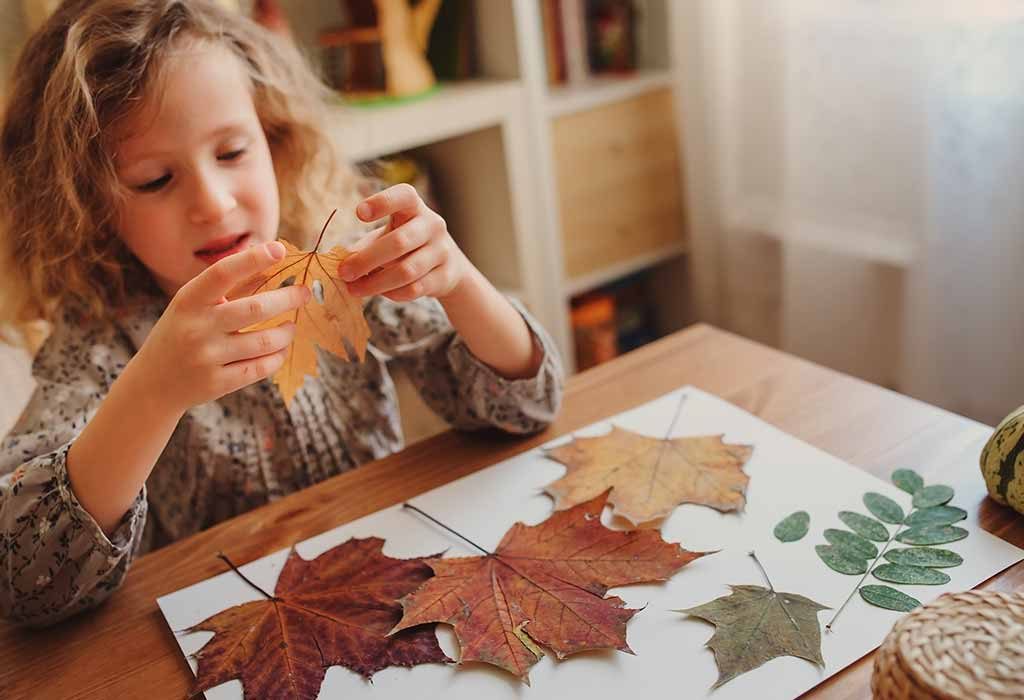 Nature is always fascinating for everyone. It is an inspiration for all kinds of arts and crafts. Teaching your kids an activity that uses leaves to make a beautiful craft is both interesting and informative for them. Leaf rubbing art is one such craft that is easy and encourages your kid to use leaves and colours in numerous ways to make beautiful artworks. Your kids will have lots of fun creating these leaf rubbing arts and will memorialise the beauty of leaves with their creativity.
Leaf Rubbing Craft for Children
Leaf rubbing craft is easy to make for a kid of any age. Just a few basic things are required to make this craft in a few simple steps. Find below the materials needed and instructions to make leaf rubbing craft; follow them to teach your kid how to make leaf rubbing art.
Materials Needed
Leaves- fresh or dry

2 sheets of white or any coloured paper (preferably thin)

Colour pencils or crayons or oil pastels

Hard surface

Paper tape
Instructions
Ask your child to collect fallen leaves of any shape or size he likes. Just ensure they are slightly dry and not wet. Newly fallen leaves and flatter, dry leaves work best for leaf rubbing craft.

Place a sheet of paper on a hard surface and place one or more leaves on it. Make sure the veiny side of the leaf or leaves are facing up.

Place another sheet over it, so the leaves are sandwiched between two sheets of paper. Hold the sheets firmly and secure them with the help of paper tape, so that they don't move when your kid makes the leaf rubbing craft.

Let your kid choose the colours he wants to work with. Coloured pencils, crayons, or oil pastels are good. They can even first start with a normal pencil and then use colours on it or rub it with mixed colours. Oil pastels and crayons are a bit softer and give a more vibrant colour.

Peel the wrapper off the crayons or oil pastels so that your kid can rub them properly.

Now, tell your kid to gently rub the crayon or pastel or pencil over the top paper sheet. At first, you need to guide them where to rub, so that they can get the leaf shape with veins properly on the top sheet. They can use different colours for different leaves or for the same leaf.

When done, gently remove the paper tape and then remove the top paper sheet.

Your kid's crayon leaf rubbing art is ready.
In What Ways Can Leaf Rubbing Art Be Used?
This leaf rubbing activity can be used in various ways. Find below the various ways to use this leaf rubbing craft.
Greeting card

Gift wrap

Fall leaf wreath

Table placemat

Napkin rings

Picture frame

Wall art

Name tags

Party accents
Leaf rubbing craft is easy and enjoyable for kids of any age. This simple craft requires very few things and your kids can make them in whatever design they like. Simple fallen or fresh leaves with a few colours are sufficient to occupy your kid in this craft activity for hours. So, take your kids outside and let them choose the leaves they like from plants or fallen on the ground and create their own artwork.
Also Read:
Simple Paper Crafts for Children
Unicorn Crafts and Activities for Children
Pine Cone Crafts for Children