5 Best DIY Kinetic Sand Recipes for Kids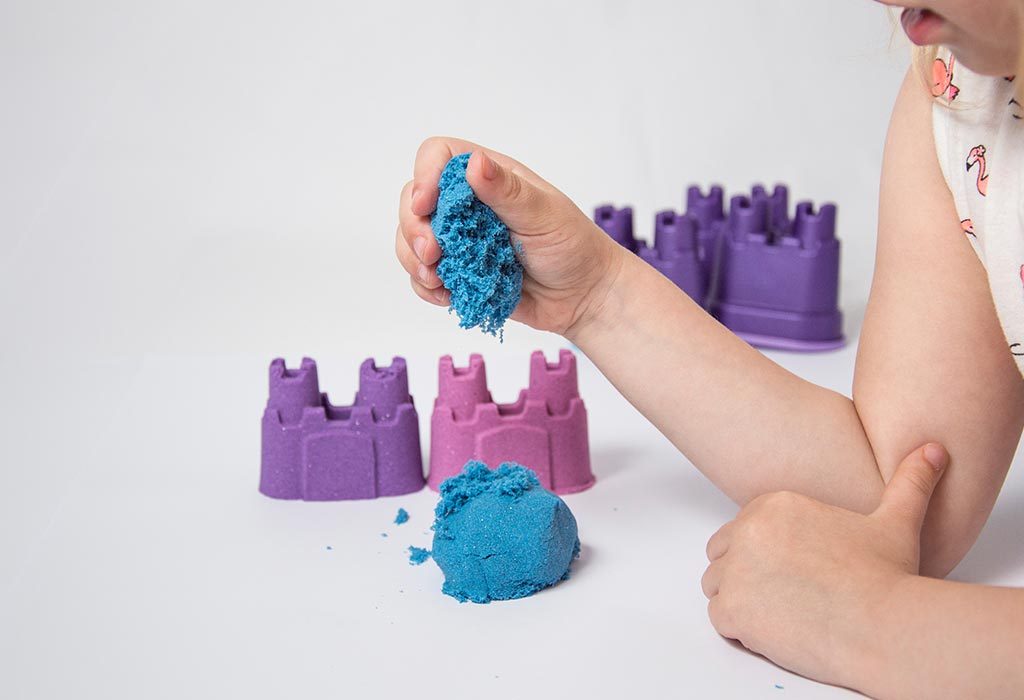 In this Article
Sensory play is always a big hit with kids. Kids simply love playing with things that they can touch and mess about with. Sand, mud and play dough are some very popular things that kids and toddlers love to play with. There are several recipes to make edible play dough, moon sand and slime at home. All of these sensory materials are something that kids love.
Sensory play builds nerve connections in the brain and helps toddlers learn to complete complex learning tasks with ease. It is a great soother for frustrated and anxious children and helps kids learn most of the sensory attributes- hard, soft, sticky, dry, hot and cold.
Sand play is something that will keep your children engaged for hours and if you can make it at home then you do not have to head to the beach on a warm, sunny day. You could just make some and hand it over for you to relax in your patio decks and watch them play while sipping your drink!
Making kinetic sand is a great sensory play activity that can get both adults and kids involved. By being a part of the manufacturing process, kids turn on their scientist bulbs and practice various skills of pouring, measuring and mixing. This gives them the confidence to be independent and capable. You will love the way the process unfolds.
If you love kinetic sand and the way it feels then why not try making some kinetic sand at home (the DIY kind)? Kids love sand play and it works magically for kids of all ages. Once you make it, you can get your kids to use a fork, knife to slice them, use cookie cutters or moulds to shape them or simply fill crates to build sandcastles. There are tons of ways to make kinetic sand so try whichever method works well for you.
What Is Kinetic Sand?
Kinetic sand is nothing but sand which has other additional ingredients that make it soft and crumbly. It feels just like beach sand and also holds its shape when squeezed into a mould. Homemade kinetic sand can prove to be a boon when kids are bored and can be just sent to the backyard with them to play with for hours. It is not too wet or dry and can be used by the tiniest hands. What's more! It can be coloured and scented for added appeal and stimulation. Store-bought kinetic sand is not edible and so is not the homemade ones. Real kinetic sand is made with dimethicone which gives the ability to stick to itself.
Easy Kinetic Sand Recipe Ideas for Kids
We bring to you 5 best kinetic sand recipes that you can add to your bag of sensory recipes. You will never run short of something fun to whip up to get your kids all energised! All the recipes need store-bought sand (finer the grain the better). Most play stores with outdoor play equipment have sand available in bags that you can buy. You could buy them and store them in a cool dry place like your garage.
1. Basic Kinetic Sand
A simple recipe that includes basic ingredients like liquid soap, binding agent and water- it is a step-by-step process to your first sand making process. All you need to make kinetic sand is sand and a mixing agent that binds it well. This simple recipe is foolproof. You could try making a small batch first and then make larger batches to store for the future. The sand that you use needs to be free of all moisture. So it would help if you dry out the sand before embarking on making this recipe.
What You Will Need
Large container for mixing and storage.
5-7 cups of play sand (finer grain).
1-1.5 cups cornstarch.
½ tablespoon of dishwashing soap.
Water.
A few drops of tea tree (melaleuca oil).
How to Make It
This kinetic sand recipe using cornstarch needs completely dry sand. Sprinkle 1 cup corn-starch on an even layer over the sand.
Mix this mixture well with your finger. Pinch cornstarch clumps well with fingers and mix with sand.
Now add the remaining ingredients and the remaining cornstarch.
Now add the tea tree oil to lend that antibacterial property that prevents the sand and cornstarch from going bad.
You can always add some sand/cornstarch/water /soap if you think the mixture is dry. Store in an air-tight container.
2. Kinetic Sand With Liquid Starch
Cheaper, less messy and easy to clean, this is another simple recipe to create and keep kids engaged. This may not be the perfect recipe but the slime will help. Do not add all the slime and if it still does not work, try different grain sizes of sand. Slime is what acts as the binding agent here and adding small portions of it slowly will bring the right consistency.
What You Will Need
2 lbs (pounds) of ultra-fine sand.
1 bottle of 5 oz clear glue.
1 cup of liquid starch.
How to Make It
Bake the sand at 120 degrees for about 45 minutes. This is to get rid of all the moisture out of the sand as possible.
Take a bowl and pour the glue and liquid starch into it. Mix well.
Make sure the slime created is runny. If it is too stiff, then add some more liquid starch slowly and mix until you get a runny consistency.
Now take the sand in a container. Add the slime, a spoonful at a time until you reach the consistency where it can be molded and is crumbly.
3. Coloured Kinetic Sand
If you are going to make large batches then save your food dyes and coloring. The color of the sand will inspire kids to get their thinking caps on and let their imagination run wild. Colored sand is a welcome change for kids as the color just attracts them and gets them to play with it for hours together.
What You Will Need
3-5 cups of fine white sand.
2 tablespoons of corn starch.
1 cup of water.
A few tablespoons of dishwashing soap.
A few drops of food coloring of your choice.
How to Make It
If your sand is damp, then bake it at 120 degrees for 30 minutes and make sure it is cooled before pouring into a mixing bowl.
Now add the corn starch with the sand. Give it a good mix. Make sure the corn starch and sand integrate well.
Now in another cup, measure 1 cup of water and add 1 teaspoon of dishwashing soap. Mix it well until you see bubbles appear on the surface.
Add a few drops of food coloring to this soapy solution.
Gently pour this solution into the sand mixture. You need to aim for a thick milkshake kind of consistency. So pour the solution carefully. Keep mixing the sand with one hand while pouring the solution with another.
Package in air-tight containers if you wish to save it.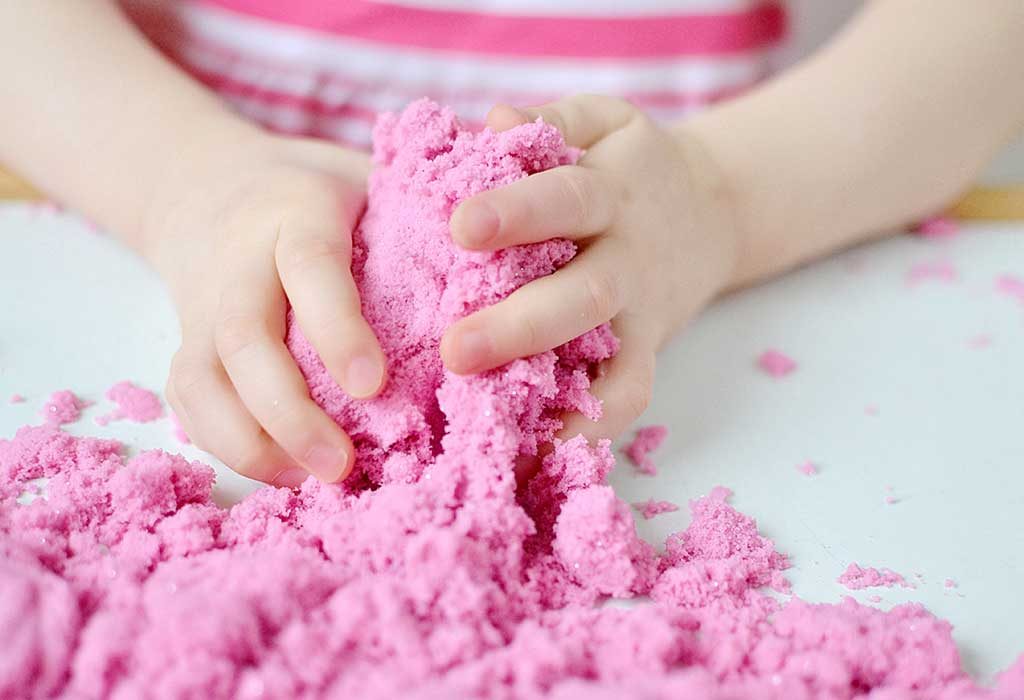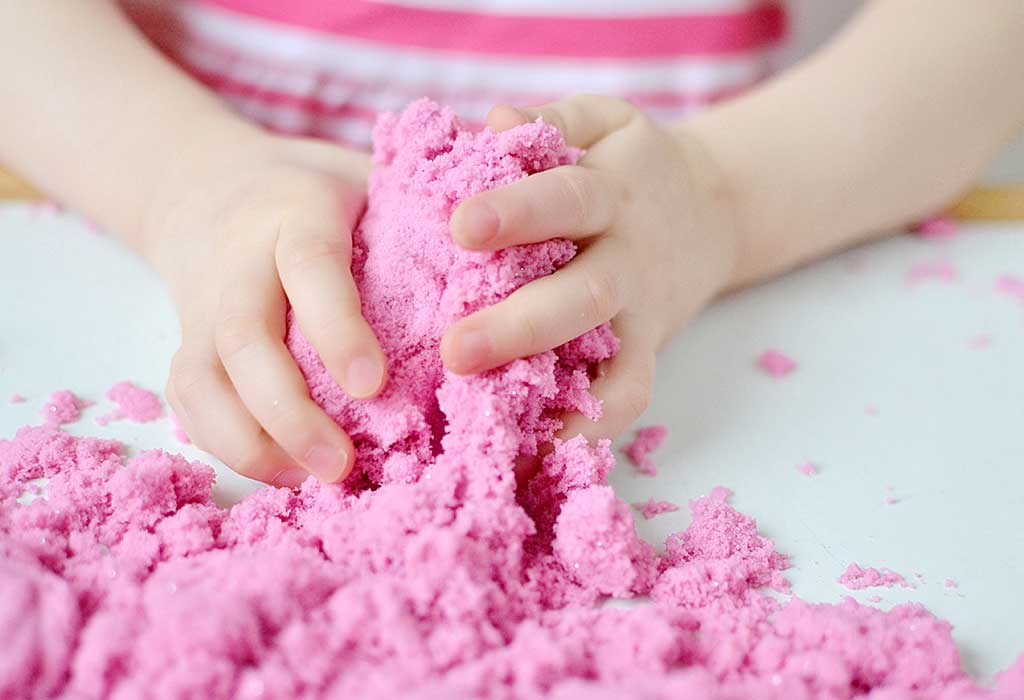 4. Moldable Play Sand Recipe
This DIY kinetic sand with flour has a wonderful texture and does not stick to the hands. It feels like it is wet when it is not! The best part is once you are done, you can just put the lid in the container and use it for months. Make this one if you want soft, malleable sand and something that can be shaped without much effort.
What You Will Need
5 cups of play sand.
3 cups of all-purpose flour.
1 cup of vegetable oil.
How to Make It
Take a huge and large plastic bin if you have one. A large container will also help.
Combine all the ingredients into the container you wish to make it in.
Mix well until the lumps disappear.
If you feel the sand does not seem moldable then add some oil. Add only about ¼ cup of oil at a time.
When it reaches the right consistency, just play with it as much as you want. Once done you can store it in an air-tight container.
5. Shaving Cream Sand Foam
Each recipe to make kinetic sand is different and this one with shaving cream is an interesting experiment to try. It is very mouldable and great to build sandcastles. It has great texture when it is foamy. What more, it takes only two ingredients to make it! It is not necessarily the most mouldable and soft one but great for an exciting sensory experience because of the foam.
What You Will Need
3 cups of play sand.
1 can of shaving cream ( approximately 250 grams).
How to Make It
Take a large container to mix the ingredients.
Add the shaving cream to the sand. Mix it well together.
As you mix the foam and lather, they will slowly begin to disappear. Once it goes away, it can be used to mold shapes and build castles.
Add more shaving cream if your kid wants it to be foamy.
Sensory play is the most ideal and simple way to engage children with their senses. Playing outside in nature, with colors helps to integrate their senses and thinking. More movement, sound, smell and feel contributes to their learning experience. Summers are a great time to stay outdoors for children. Apart from the paddling pool and garden equipment, kids love to play with sand- irrespective of whether it is at the beach or sand in a sandbox. Sand is a great affordable kind of sand play. Kinetic sand is the answer to all your woes if you cannot head to a beach one summer. Something that looks like regular sand and also available in different colors. Mimicking the properties of a regular sand, it can be spread, molded and shaped into any desired form. Since it does not stick to any material or surface, it is a great alternative regular sand that will take ages to cleanout. So go ahead and engage in some creative fun with your child by making kinetic sand and experience the pleasures of the beach in your backyard!
Also Read:
Waste Material Craft Ideas for Children
Indoor & Outdoor Physical Activities for Children
Exciting Creative Activities for Children