#HealthInATiffin Lemon Rice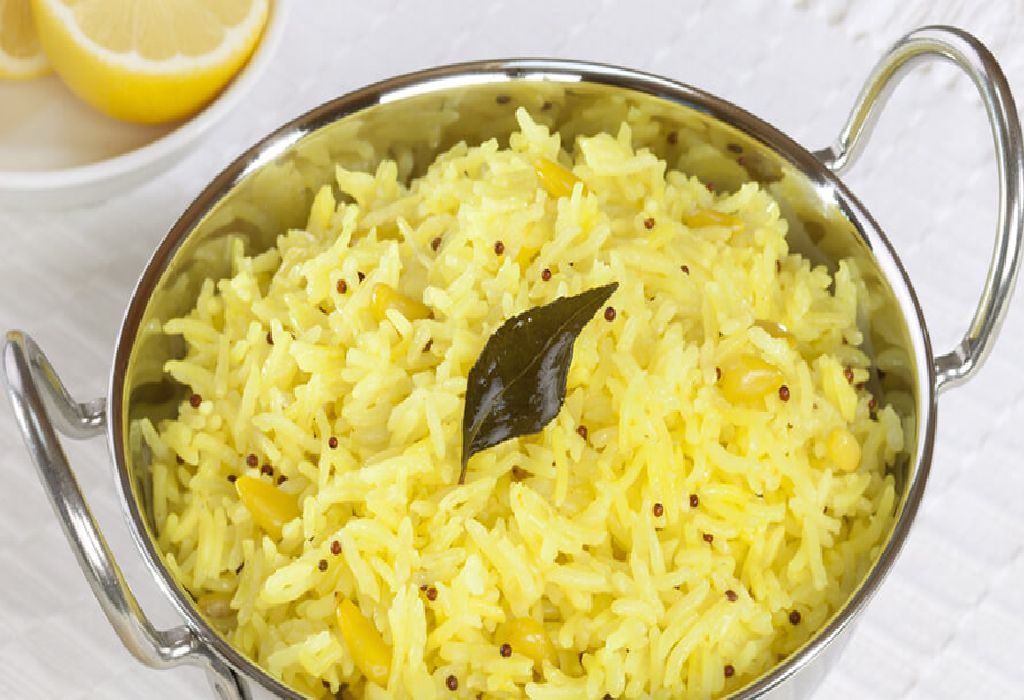 In this Article
Lemon rice can be served at breakfast, dinner, lunch and even can be packed in a lunchbox. The main ingredients for this dish are rice, onion, peanuts and lemon juice. This is an easy dish to prepare and takes around 30 minutes to cook.
| | | |
| --- | --- | --- |
| Serves | Preparation Time | Cooking Time |
| 4 People | 10 Minutes | 30 Minutes |
Ingredients
250 g rice uncooked rice (Basmati rice or any other rice can be used)
70 g raw peanuts
1 tsp (teaspoon) mustard seeds
1 tsp urad dal
1 tbsp (tablespoon) chana dal
2 whole green chillies chopped (you can even split the chilies into half)
2 tsps lemon juice
1 large onion chopped
250 ml water
2 tsps oil
1 tsp turmeric powder
2 tbsps coriander leaves (optional)
2 tbsps coconut grated (optional)
1 tsp salt to taste
Method
Step 1
Wash rice and cook it in a pressure cooker (if you are using cups, use the same cup for rice and water), handi or rice cooker.
Step 2
Chop onions and chili and keep it aside.
Step 3
In a kadai, heat oil and add mustard seeds till they crackle.
Step 4
Add peanuts to the oil and roast them.
Step 5
Add chana dal and urad dal to the oil and saute till it turns golden brown.
Step 6
Add chopped onions and chilies and saute until the onions turn golden brown. Add turmeric powder. Now keep this mix aside.
Step 7
When the rice is cooked, mix the onion mixture with the rice.
Step 8
Add lemon juice to taste, salt and a little oil (if necessary) while mixing.
Step 9
While serving add grated coconuts and coriander leaves (optional).
Step 10
You can increase chillies or add some freshly ground pepper powder, if you prefer spicier rice.