Fun Color Songs for Kids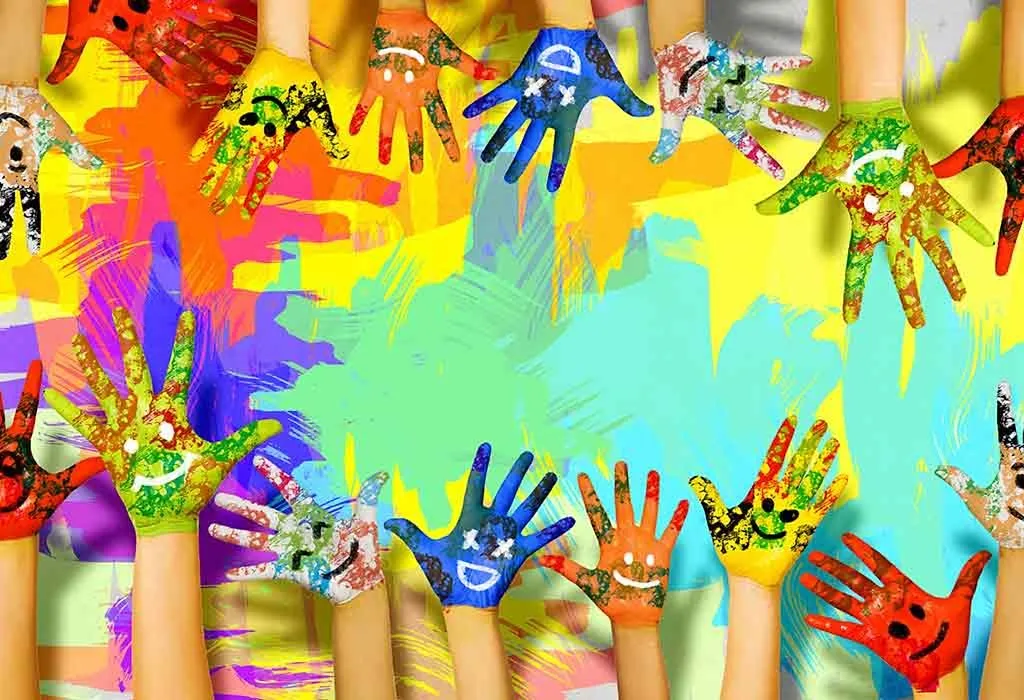 In this Article
Songs with catchy tunes can be an instrumental tool in your child's learning and development. If you want to teach your kid to identify colors, songs about color are a great way to do it. Songs are catchy and fun and will help them learn in an easy and fun way. Here is a fun set of colors songs, rhymes and poems. You can even use puppets or other props like scarves to help your kids with color recognition.
Beautiful Songs Related to Colors for Children
Here are some songs with color names and YouTube videos for the same so you can play them at school or at home and reinforce learning about colors.
1. Twinkle, Twinkle Rainbow Star
This is a really fun color song that you can sing with activities.
About the Song:
This song is sung to the same tune as twinkle, twinkle little stars. You can use colorful stars as props and keep changing the color each time you sing while your child identifies the color you are singing about.
2. Rock Your Body to the Colors
Dance to this fun color song with your little ones.
About the Song:
This is a song by Jack Hartman and the video comes with an easy choreography for your kids. The song also includes other colors apart from the basic primary colors. Do the choreography with the little ones and give them an enjoyable learning experience!
3. Color Cars
Color Cars is one of the favorite color songs for toddlers.
About the Song:
This fun and easy song can be sung with colored car props that the kids can try to identify.
4. Color Sharks
All kids absolutely love adorable baby sharks!
About the Song:
This song is great for toddlers who can't talk much yet as they can participate in the singing by saying "do do do" while they hold colored shark props.
5. Color Robot
Kids love robots!
About the Song:
This song by Harry Kindergarten is great for color identification as well as objects. The video has images of objects along with their label and lyrics for the song.
6. What's Your Favorite Color
This cute and interactive song can be sung with any kind of props.
About the Song:
The song goes through all the basic colors and has a few repetitions that are great for participation.
7. What Color Is It?
This fun song is one of the best color songs for kindergarten as it will help engage kids.
About the Song:
The song is written by Jack Hartman and the video has images of common objects whose color kids can identify. The name of the color and object are also displayed.
8. What Color Are You Wearing?
This is another engaging and fun color song for preschool.
About the Song:
This song can be sung to different tunes like twinkle, twinkle little stars. Kids can learn color identification by looking at the clothes they are wearing.
9. Colors All Around
This engaging colors song can be mixed with a range of different activities.
About the Song:
This is again a song by Jack Hartman that can be used to teach color recognition to kids with fun activities.
10. Treetop Family Rainbow Song
This is a sweet and melodious song.
About the Song:
This sweet color song by Super Simple Songs is calm and lists out the different colors in a rainbow.
Make color recognition easy and fun with these upbeat songs along with activities and props!
Also Read:
Action Songs for Kids
Party Songs for Children
Good Morning Songs for Children