Forward Jumping in Toddlers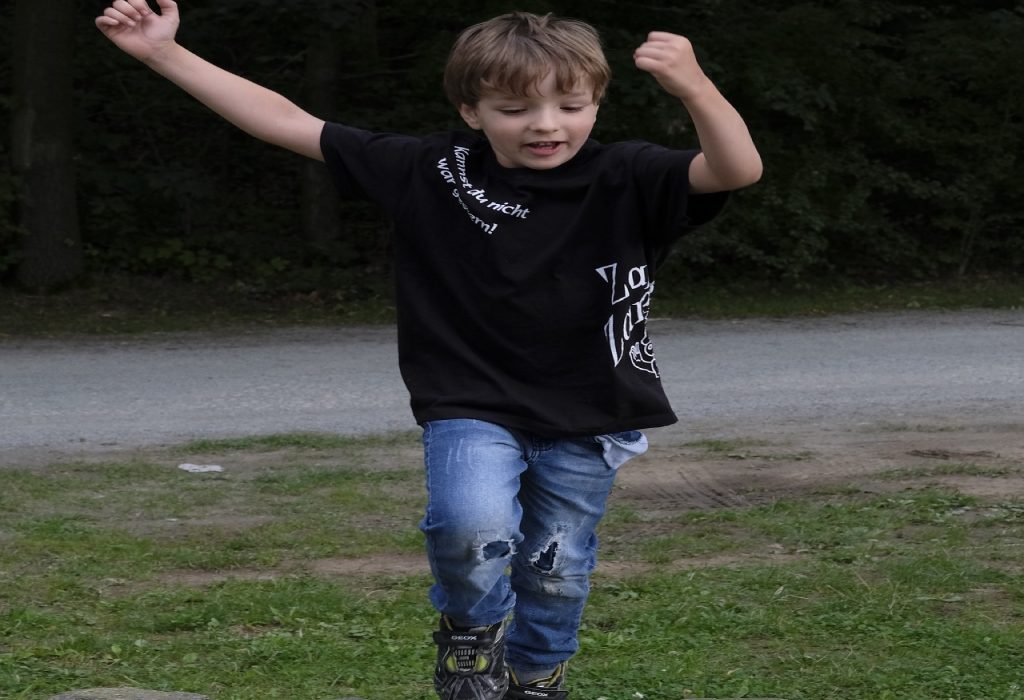 When your toddler starts to jump, teach her new ways to go about it. There are a number of jumping activities for toddlers to engage in. Creating an activity space is essential to ensure she doesn't get hurt. One thing you can be assured of, she will enjoy the activity!
Jumping is a gross motor skill that's involved in most games toddlers play. As a parent, you must allow your little one to explore different jumps. Give her the space to choose the one she likes best. Here are some of the different ways she can jump, and develop her muscles and balance.
Different Ways to Jump for Toddlers
1. Line Jumping
Making jumping fun for your toddler is necessary. A good way to start is to come up with fun jumping games. You can try the line jumping game with your little one. Use tape to create lines on the floor(each should be one foot apart). Ask your little one to cross all the lines. This forward jumping task will have your toddler jumping for joy.
2. Hopscotch
Which toddler hasn't played an abridged version of hopscotch? Draw the boxes(not too far apart though) and instruct your little one on ways to complete the hurdle successfully. You might even want to give a demonstration. Not only will your little one stand firm on her feet, both of you will get time to bond. ||
3. Follow the Leader
After explaining to toddlers parts of a good jump, the 'Follow the Leader' game should be a fun game. You can involve your toddler's friends in the game as well. Ask them to imitate everything you do. You can start by walking, then jumping on both feet, then on one foot and so on. They may find it a little difficult to keep pace initially; however, they will pick up in time. This exercise will make your little one sturdy on her feet.
Toddler Jumping Milestone: The Benefits
When your little one gets into the practice of jumping, it will lengthen and strengthen muscles, improving her flexibility.
Your little one will stand to benefit from jumping. It will help strengthen bone density and muscles, safeguarding her from fractures. Since little ones are prone to a few nasty falls, jumping will ensure a fall doesn't hamper your toddler all that much.
Jumping also helps in coordination and balance. Asking your little one to jump in one place will improve her centre of gravity. When she grows up a little, you can always get her a trampoline for practice.
Jumping helps improve posture. While the exercise improves balance, regular jumping will give your little one a good gait. Encouraging toddlers to do different jumps is also great fun, besides being a test for your child's coordination skills.
While jumping can be a fun activity, ensuring your toddler's safety is of utmost importance. Keep a tab on her at all times when she is engaged in different jumping games for toddlers. Also, give her time to get accustomed to the new activity. If she gets tired, allow her to rest.