If your baby is moving around in the womb, it's a good sign as it tells you that your baby is developing just fine. A baby starts moving around in the belly at around 14 weeks. And their first movements are usually called 'quickening' or 'fluttering'.
A baby can settle into many different positions throughout the pregnancy and it's alright. But it is only when you have reached your third and final trimester that the position of your baby in your womb will matter the most. The position that your baby takes at the end of the gestation period will most likely be how your baby will make its appearance into the world. Out of all the different positions that your baby can settle into, the cephalic position at 36 weeks is considered the best position. Read on to know more about it.
What is Cephalic Position?
A baby is in the cephalic position when he is in a head-down position. This is the best position for them to come out in. In case of a 'cephalic presentation', the chances of a smooth delivery are higher. This position is where your baby's head has positioned itself close to the birth canal, and the feet and bottom are up. This is the best position for your baby to be in for safe and healthy delivery.
Your doctor will begin to keep an eye on the position of your baby at around 34 weeks to 36 weeks. The closer you get to your due date, the more important it is that your baby takes the cephalic position. If your baby is not in this position, your doctor will try gentle nudges to get your baby in the right position.
Types of Cephalic Position
Though it is pretty straightforward, the cephalic position actually has two types, which are explained below:
1. Cephalic Occiput Anterior
Most babies settle in this position. Out of all the babies who settle in cephalic position, 95% of them will settle this way. This is when a baby is in the head-down position but is facing the mother's back. This is the preferred position as the baby is able to slide out more easily than in any other position.
2. Cephalic Occiput Posterior
In this position, the baby is in the head-down position but the baby's face is turned towards the mother's belly. This type of cephalic presentation is not the best position for delivery as the baby's head could get stuck owing to its wide position. Almost 5% of the babies in cephalic presentation settle into this position. Babies who come out in this position are said to come out 'sunny side up'.
When Does a Foetus Get Into the Cephalic Position?
When a foetus is moving into the cephalic position, it is known as 'head engagement'. The baby stars getting into this position in the third trimester, between the 32nd and the 36th weeks, to be precise. When the head engagement begins, the foetus starts moving down into the pelvic canal. At this stage, very little of the baby is felt in the abdomen, but more is felt moving downward into the pelvic canal in preparation for birth.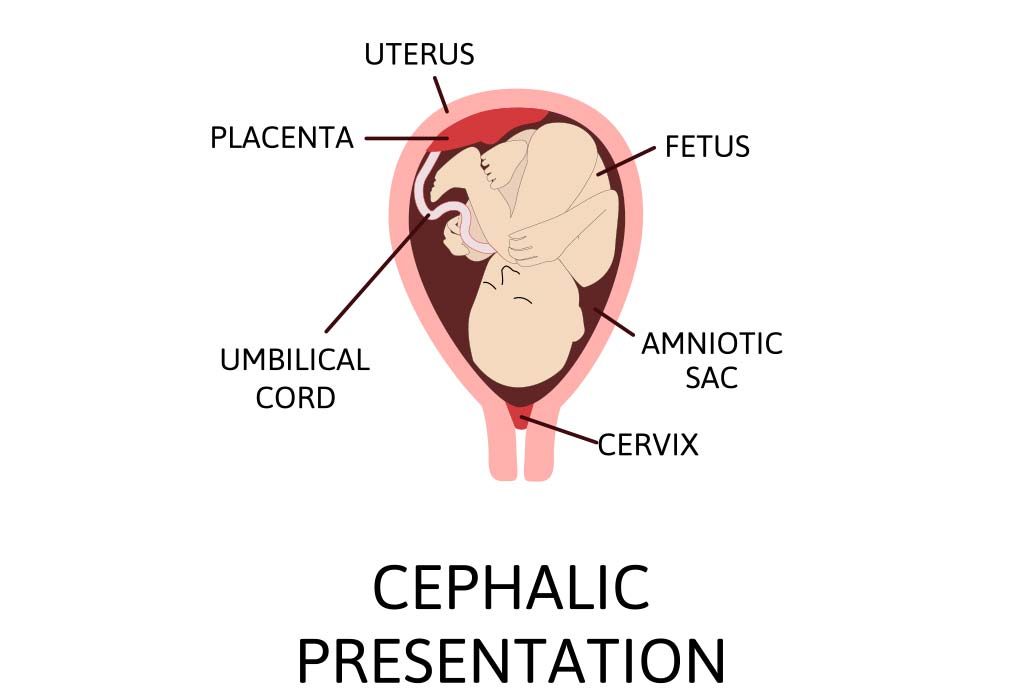 How Do You Know If Baby Is In Cephalic Position?
You may think that in order to find out if your baby has a cephalic presentation, an ultrasound is your only option. This is not always the case. You can actually find out the position of your baby just by touching and feeling their movements.
By rubbing your hand on your belly, you might be able to feel their position. If your baby is in the cephalic position, you might feel their kicks in the upper stomach. Whereas, if the baby is in the breech position, you might feel their kicks in the lower stomach.
Even in the cephalic position, it may be possible to tell if your baby is in the anterior position or in the posterior position. When your baby is in the anterior position, they may be facing your back. You may be able to feel your baby move underneath your ribs. It is likely that your belly button will also pop out.
When your baby is in the posterior position, you will usually feel your baby start to kick you in your stomach. When your baby has its back pressed up against your back, your stomach may not look rounded out, but flat instead.
Mothers whose placentas have attached in the front, something known as anterior placenta, you may not be able to feel the movements of your baby as well as you might like to.
How to Turn a Breech Baby into Cephalic Position
Breech babies can make things complicated. Both the mother and the baby will face some problems. A breech baby is positioned head-up and bottom down. In order to deliver the baby, the birth canal needs to open a lot wider than it has to in the cephalic position. Besides this, your baby can get an arm or leg entangled while coming out.
If your baby is in the breech position, there are some things that you can do to encourage the baby to get into the cephalic position. There are a few exercises that could help such as pelvic tilts, swimming, spending a bit of time upside down, and belly dancing are a few ways you can try yourself to get your baby into the head-down position.
If this is not working either, your doctor will try an ECV (External Cephalic Version). Here, your doctor will be hands-on, applying some gentle, but firm pressure to your tummy. In order to reach a cephalic position, the baby will need to be rolled into a bottom's up position. This technique is successful around 50% of the time. When this happens, you will be able to have a normal vaginal delivery.
Though it sounds simple enough to get the fetal presentation into cephalic, there are some risks involved with ECV. If your doctor notices your baby's heart rate starts to become problematic, the doctor will stop the procedure right away.
Most babies get into the cephalic position on their own. This is the most ideal situation as there will be little to no complications during normal vaginal labour. There are different cephalic positions, but these should not cause a lot of issues. If your baby is in any other position, you may need C-Section. Keep yourself updated on the smallest of progress during your pregnancy so that you are aware of everything that is going on. Go for regular check-ups as your doctor will be able to help you in case a complication arises.
Also Read:
When The Head Of Baby Turns Down in Pregnancy
Transverse Lie Position in Pregnancy
Belly Mapping