Famous Preschool Graduation Poems to Make the Day Memorable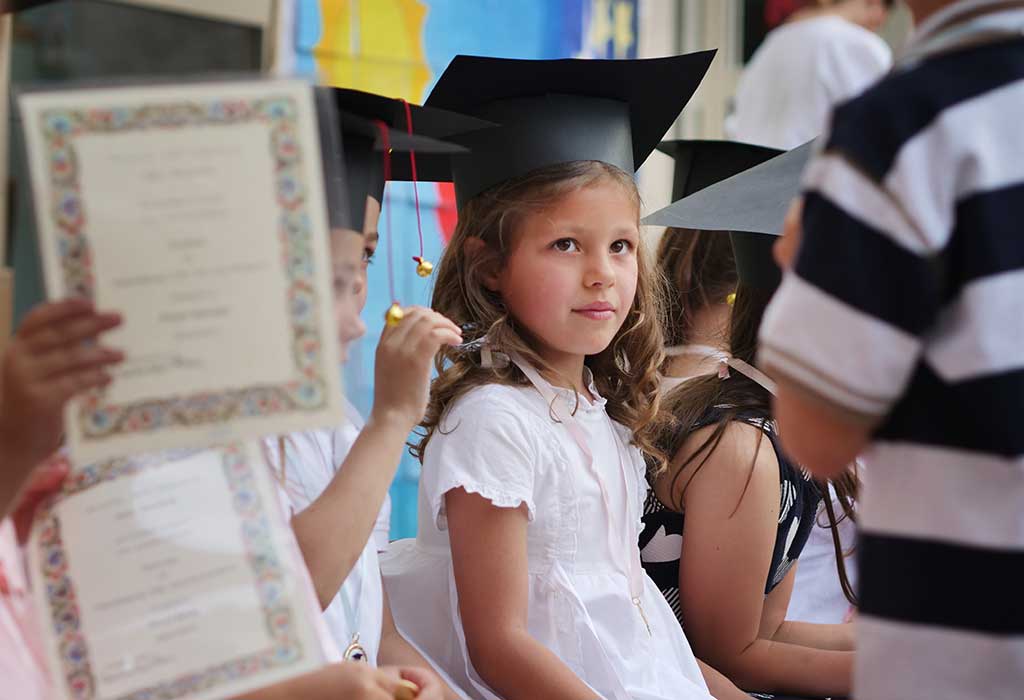 In this Article
Preschool gives children a head start in their early learning. The preschool graduation ceremony signifies the transition of your child from preschool into kindergarten as she begins her elementary education. The same goes for kindergarten graduation; it signifies your child is moving up the educational ladder. Thus, these are special moments in the lives of both parents and their children that call for celebration. And, what better way can there be to make this day memorable than by reciting a graduation poem for kids. Here are some poems fit for your little one graduating from preschool.
Best Graduation Poems for Pre-schoolers
Recognising any kind of academic achievement gives children an innate feeling of pride and accomplishment. From the tassel dangling from the graduation cap, convocational gowns to hearing the ceremonial music of "Pomp and Circumstance" for the first time, graduation assigns relevance to the importance of 'school'. It is a platform for praise that aids in inspiring children to embark on their learning journey so that they can develop a lifelong positive association with the school.
Most often, these ceremonies involve special recognition or conversations with a teacher to know what unique characteristics or traits define your child. This is a valuable moment of self-assessment that can contribute towards building your child's positive social and emotional development. Occasions for such ceremonies are marked by families of wards getting invited and graduation certificate getting distributed. These are followed by capturing pictures, exchanging gifts and congratulatory flowers, and at times, a post-event party.
Teachers, too, guide the budding singers and dancers to put together a cultural extravaganza for this ceremony showcasing their talent to an audience held in rapt attention. This mesmerising show is finally concluded with children walking up to the stage to render the eternal compositions of the preschool goodbye poems that convey their feelings of gratitude for teachers, parents, and school for all their care, love, and support. It is indeed heart-warming to see teary-eyed parents and teachers applaud the kids receive their first scrolls of merit on the stage. Preschool graduation poems from teachers are an acknowledgement of the kid's efforts as they move forward to yet another new beginning in the different chapters of their lives. Here are some of the best graduation poem for kids that would help your child to build their self-confidence and develop a sense of identity.
1. ABCDEFG
ABCDEFG,
Graduation day is finally here, yippee!
HIJKLMNOP,
We've learned our numbers and alphabets ABC's.
QRSTUV,
We've also learned good manners and how to sit quietly.
WXY and Z,
We're just as proud and happy as we can be!
2. Your Preschool Year Is Officially Complete
You're a graduate now, isn't that neat?
You've learned so many things throughout the year,
And you're ready for Kindergarten, have no fear.
Your lifetime of learning has only just begun,
Great things are in store for you and much more fun.
Remember the good friends that you made here and so many memories filled with cheer.
I can only imagine the wonderful things you'll do,
So congratulations, my dear student. I'm so proud of you!
3. One Letter, Two Letters
One Letter, Two Letters,
Three numbers, Four,
We learned so much but still got to explore!
One teacher, two teachers,
Three lessons, four,
we'll miss them all when we move next door!
One day, two days,
Three days, four,
We're not pre-schoolers anymore!
From pre-K to K,
From there to here,
Goodbye preschool, thank you all for a great year!
4. Like the Little Hermit Crab, You've Outgrown Your Shell
Like the little hermit crab, you've outgrown your shell,
And now you're ready to say goodbye. I can tell.
You've learned a lot of things, and as you proceed to open the next door,
You'll have new friends and a new school to explore.
Knowing and teaching you have been a real pleasure,
Memories of you, I will always treasure.
5. If every single graduate
If every single graduate,
Were as special as you are,
The world would surely be a better place,
And every one a star.
In the real world, though,
You sure stand out of the crowd,
For your extraordinary traits,
Those uncommon things about you,
That everybody appreciates.
So congratulations, my dear graduate!
We wish you all the very best.
We know as you cross all hurdles,
And meet life's new challenges,
You'll ace each and every test!
6. My next level student,
My next level student,
You are a bright and shining star!
Preschool was only the beginning,
Now off to Kindergarten you are!
But, no matter the grades you pass,
You'll remain close to my heart, so you'll never be far.
7. Graduation Time Is Here,
Graduation time is here,
So, it's time to say 'good-bye',
We'll see you all again next year,
There's no reason for you to cry,
Cause, a fun new year of learning greater things,
We're really going to try,
To make you proud and happy too,
Cause you're the apple of our eye.
8. Rewind back your memory to the first day of preschool,
Rewind back your memory to the first day of preschool,
When you knew no one, and they didn't know you.
You made your first friend, and then made a few more,
And suddenly you had friends by the score.
You listened to stories and learned to sing songs,
You learned how to sit still as the year moved along.
You learned all the shapes and colour names,
And letters and numbers, and how to play games.
And now the year has come to an end,
Time to say goodbye to all of your friends.
It's time to say goodbye to your teachers too,
As officially, you've graduated from preschool.
9. Now I know my ABC's,
Colours, shapes, and days.
I sang some songs and learned some poems,
And rhymes, and fingerplays.
I played outside on sunny days,
And inside when it rained.
My little hands and little feet,
Were busy every day.
My Teacher was (teacher's name),
I kept her on her toes,
She tied my shoes, combed my hair,
And even wiped my nose.
But now it's time to say "good-bye",
To all my preschool friends.
School is over, summer's here,
But learning never ends!
10. You're a special kid
You're a special kid, and I wanted you to know,
How much I enjoyed teaching you
How fast the years did go!
So, please come back to visit me
As through the grades, you grow.
Try hard to concentrate and learn all that you can,
For there is so much in this world to know!
The one thing I tried to teach you,
To last your whole life through,
Remember child, that you are very SPECIAL,
And there is no one else like you!
Graduation enables the child's parents and teachers to reflect on how much their child has grown and achieved in this time. Easing children into the transition to school has a huge benefit in their future learning experiences. Recognising this step of growth is important for kids as we engage them in a way that is meaningful to them. There are critics who question the significance of preschool and kindergarten graduation ceremonies that may focus on pomp and show. However, modern pedagogy suggests that children should feel that they make a difference, and even small achievements need to be recognised in order to condition the child to keep trying till they reach their goal. Kids, too, treasure these delightful and inspirational preschool poems as keepsakes that form a vital part of their childhood memories.
Also Read:
Best Funny Poems For Kids
Lovely Spring Poems For Kids
Short English Poems for Kids to Recite and Memorise