Essay On Diwali in English – Long & Short Essay For Students And Children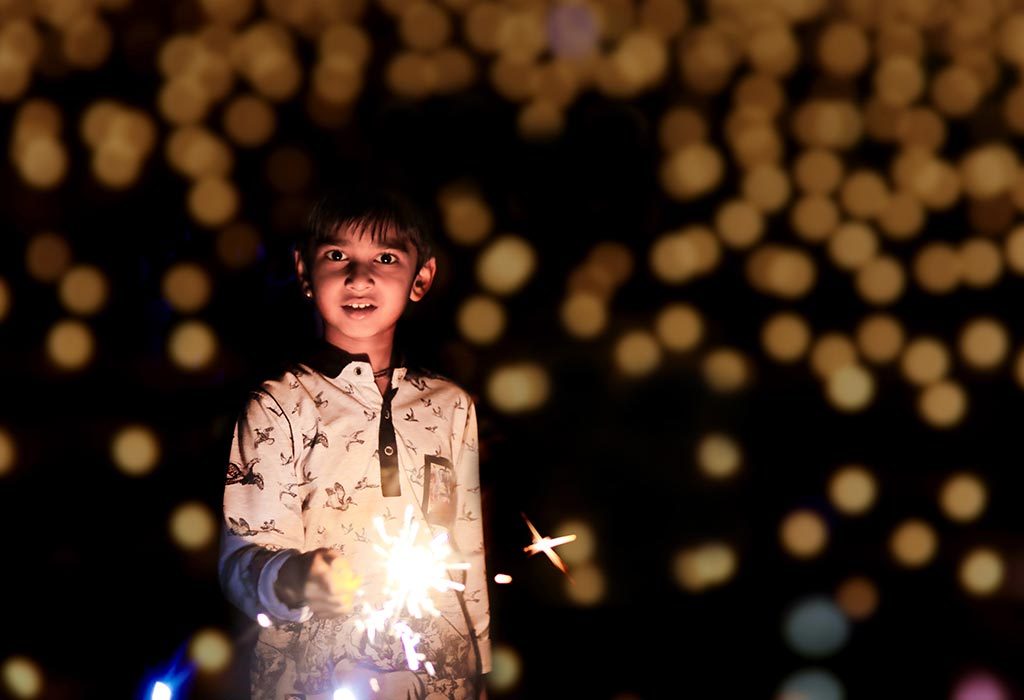 Diwali, also known as Deepavali, is a wonderful, festive time for Indians. Traditionally a Hindu festival that celebrates the victory of good over evil, Diwali has now become a national Indian festival that is commemorated in every household of all communities and religions.Diwali presents a hoard of creative opportunities for both kids and adults. Be it making paper lanterns, drawing beautiful rangolis, cooking delicious dishes, or making and writing cards and wishes, there's something for everyone, especially your little one!
Your child's school may take this festive period as a chance to set a Diwali essay for students and children. Or if you're living with a bunch of energetic little kiddos, you can organize a writing activity that revolves around Diwali in English. It will keep them happy and occupied, and have them use their boundless imagination and growing knowledge. Let's dive into how kids can write an essay on Diwali in english!
10 Lines on Diwali for Kids
Read through these ten lines on Diwali in English that are easy for kids to understand and recreate. For more insights here are few lines on diwali joyous festival, let's explore further!
Diwali is the Festival of Lights.
It is also called Deepavali.
It is celebrated by Indians all over the world, and by Hindus in countries like Sri Lanka, Malaysia, Singapore, Fiji, and Guyana.
Though traditionally a Hindu festival, it is now celebrated nationally in India by people of all religions.
Diwali is historically associated with the victory of good over evil, when Lord Ram defeated the demon king Ravan, and came back home to Ayodhya.
The festival is called Diwali or Deepavali because it signifies the rows of lamps that the people of Ayodhya lit for the return of Lord Ram.
The festive period lasts for five days.
Laxmi Pujan is the main day of Diwali, when Laxmi, the Goddess of wealth and prosperity, is worshipped.
In the present day, Diwali is usually celebrated by lighting diyas, drawing rangolis, cooking traditional snacks and desserts at home, and exchanging gifts and wishes with family members.
It is a period of love, light, joy, and unity for many families.
Paragraph on Diwali
The following short paragraph on Diwali is no more than 150 words, and can inspire a Diwali essay for 2nd class students:
Diwali, the Festival of Lights, is a nationally-celebrated festival in India. It is traditionally a Hindu festival, but today, Indians of all religions come together to celebrate this popular festival. Historically, Diwali was commemorated when Lord Ram came back home to Ayodhya after defeating the demon king Ravan, and the people of Ayodhya lit rows of lamps for his return. Now, many households light diyas, lanterns, and lights in their homes. Other Diwali rituals include cleaning the house, preparing homemade snacks and sweets, drawing colourful rangolis, and buying and wearing new clothes. Laxmi Pujan is the main day of Diwali, on which families come together to worship the Goddess Laxmi. After that, family members exchange gifts and wishes, and sit down together for a home-cooked meal. It is a wonderful time for many households, as Diwali brings love, light, and unity.
Short Essay on Diwali in English in 150 Words
Diwali, often referred to as the Festival of Lights. This short essay on diwali in 150 words will take you on a delightful journey to explore the magic of Diwali from a child's perspective.
Diwali, also known as the Festival of Lights, is a super fun time for kids like us! It usually comes around when the leaves start falling, and the air gets a bit nippy. Diwali is special because it's like a huge sparkle-fest! Houses get dressed up with tiny, twinkling lamps called diyas. They make everything look like a fairy tale!
We also get to make colourful designs called rangolis at our doorstep. Different people celebrate Diwali for different reasons. Some say it's when a brave hero named Lord Rama comes back home after a big adventure. Others believe it's a day to remember a wise teacher named Guru Hargobind Ji.
During Diwali, we eat lots of yummy sweets, exchange cool presents, and light up the night with awesome fireworks that paint the sky with various colours. It's like a grand celebration where everyone is smiling and having a blast! Diwali teaches us to be kind, share our joys, and be thankful for all the good things we have. It's a time for love, laughter, and spreading happiness with friends and family!
Long Essay on Diwali
Check out this long Diwali Festival essay in English to understand how to incorporate essay writing guidelines into your storytelling.
For many households in India, the word "Diwali" is associated with lights, traditional foods, and family gatherings. Every Diwali, we look back on previous years and recall with fondness how we put up the same lights in the windows and the balconies, what clothes and dresses we wore, what sweets we had prepared and loved, and how our cousins and relatives had come to celebrate the Festival of Lights with us.
Diwali is a festive period that is precious to Indians in India and around the world, and to Hindus in different countries like Sri Lanka, Malaysia, and Singapore. The word Diwali or Deepavali signifies the rows of lamps and lights that the people of Ayodhya had lit in honour of the return of Lord Ram after his victory over the demon king Ravan. Thus, Diwali is historically and traditionally a Hindu festival. However, for a long time, it has been celebrated by Indians of all religious groups and communities. Now, it is the national festival of India.
The festival of Diwali lasts for a total of five days. Each day has its own importance and significance. The first day is celebrated as Dhanteras, when family members clean the house together, throw out or donate old objects and clothes, and shop for new clothes or jewellery. The second day is Naraka Chaturdashi, which symbolizes the slaying of the demon Narakasura by the Goddess Kali. It is on this day that diyas, lanterns, and lamps are lit, and rangolis are drawn. However, some households do this a few days prior as well.
The third day is Laxmi Pujan, which is the main day of Diwali. On this day, Laxmi, the Goddess of wealth and prosperity, is worshipped. Families come together for the prayers and a home-cooked spread. The fourth day is Govardhan Pujan, and it signifies the way Lord Krishna saved his devotees from devastating floods and rains. Finally, the last day of this five-day festive period is Bhai Dooj, when brothers visit their married sisters, who pray for their prosperity, and share a meal together. Family and friends exchange gifts during these days.
Food and festivities go hand in hand. Diwali is a time of lots of snacks and sweets, which are either bought from popular stores, or made at home. A typical Diwali food plate consists of different types of laddoos and pedhas, fried snacks, and dry-fruit trail mixes. Fresh fruits, vegetables, lentils, and grains make up the main meals of the days. It is tradition for families to eat together, as it supports the theme of unity and joy around Diwali.
Nowadays, the celebration of this five-day festival differs among households. Some families choose to celebrate all five days, while some only observe the days of Naraka Chaturdashi, Laxmi Pujan, and Bhai Dooj. A few others only practice Laxmi Pujan, but keep their diyas and lights on for the entire festive period. Our country is very diverse, and so there is bound to be a difference in how our festivals are celebrated.
Another trend that is taking place is the practice of an eco-friendly Diwali. This means that there is limited or no bursting of firecrackers, and there is usage of organic and non-toxic rangoli paints and powders. Family members and friends also gift each other plants, saplings, and seeds, instead of clothes or other objects.
The festive days of Diwali are a well-loved time for Indian families, and every year, we look forward to them eagerly. We enjoy putting up lights together as a family, eating sweets, buying new clothes, and meeting our cousins, aunts, and uncles!
Essay on Eco Friendly Diwali or Green Diwali
The following eco friendly diwali essay can help kids write an essay on Deepavali around an environmental theme, which will definitely impress both teachers and relatives!
Diwali is a well-loved festive period for Indian families. It is a time when family members come together to clean the house, light diyas, and make creative rangolis. It is also the time when lots of crackers are lit and burst, toxic paints and rangoli colours are used, and plastic waste is generated. Due to the worsening environmental conditions in our country and around the world, it is our duty to celebrate our festivals in a manner that is eco-friendly and not harmful to our natural surroundings.
Firstly, we should not light and burst firecrackers, as they release smoke and harmful chemicals into the atmosphere. Even though they look very pretty, their chemicals cause air pollution, and their bursts cause noise pollution. Both of these have adverse effects on animals, trees, children, senior citizens, and even buildings.
Secondly, we should use biodegradable earthen diyas, and organic powders and paints, so that they won't pollute the soil and water, or harm the skin of humans and animals. For gifts, we can exchange plants and seeds with friends and family, and encourage each other to follow an eco-friendly lifestyle for a happy and pollution-free Diwali.
Important Tips for Kids to Write Diwali Essay
There are certain basic tips that apply to most kinds of essay writing for kids. Help your child follow these guidelines to structure and write a classic Diwali festival essay
1. Do your research
Thorough research is the first step to writing a good essay! Help your child research the topic of Diwali on the Internet, in books and magazines, and through personal stories and experiences.
2. Create a structure
An essay, or a story, usually has a distinct beginning, middle, and end. In other words, there must be an introduction, a main body of content, and a conclusion. The introduction and conclusion are usually one paragraph each, while the main body has about two to three paragraphs, detailing various points of information.
3. Have a strong introduction
Your introduction determines how the rest of your essay is perceived. A strong start to your story will immediately captivate your reader, and set the pace for the rest of the essay. Don't be afraid to take your time to come up with a good introduction to your wonderful story. You can open with a personal anecdote or a few historical facts.
4. Talk about how Diwali is celebrated
This is the most important part of the essay, which will be incorporated in the middle, or main body. In two to three paragraphs, you can talk about why Diwali is celebrated, how different households, communities, and religious groups in our country celebrate the festivities, what the days, customs, and rituals are, and what importance they hold.
5. Add some points about an eco-friendly Diwali
Environmental care during festive periods is now a major factor to be addressed. You can talk about using organic rangoli powders, sustainable lights, earthen diyas, and non-toxic paint. You can also write about why we should not light firecrackers, and the adverse effect of air and noise pollution on the Earth.
6. Put in a personal touch
To make your essay solid and strong, adding personal touches always helps! You can put in a few lines about how you and your family celebrate Diwali, your favourite foods, meeting and playing with your cousins, or perhaps even an interesting incident that occurred during the festive season.
7. Keep it short and sweet
In other words, don't ramble on, as that can get tedious to read, and also to write! Write your essay to the point, and eliminate unnecessary details to make it crisp and a delight to read.
Diwali celebration essay writing for kids is a wonderful activity to keep them engaged and occupied, while also helping them to strengthen their writing skills, imagination and creativity, and overall cognitive abilities. Have fun together this festive season!
Also Read:
Amazing Diwali Gift Ideas for Kids
Significant Facts About Diwali for Kids
Fun-Filled Diwali Activities and Games for Kids