Significant Facts About Diwali for Kids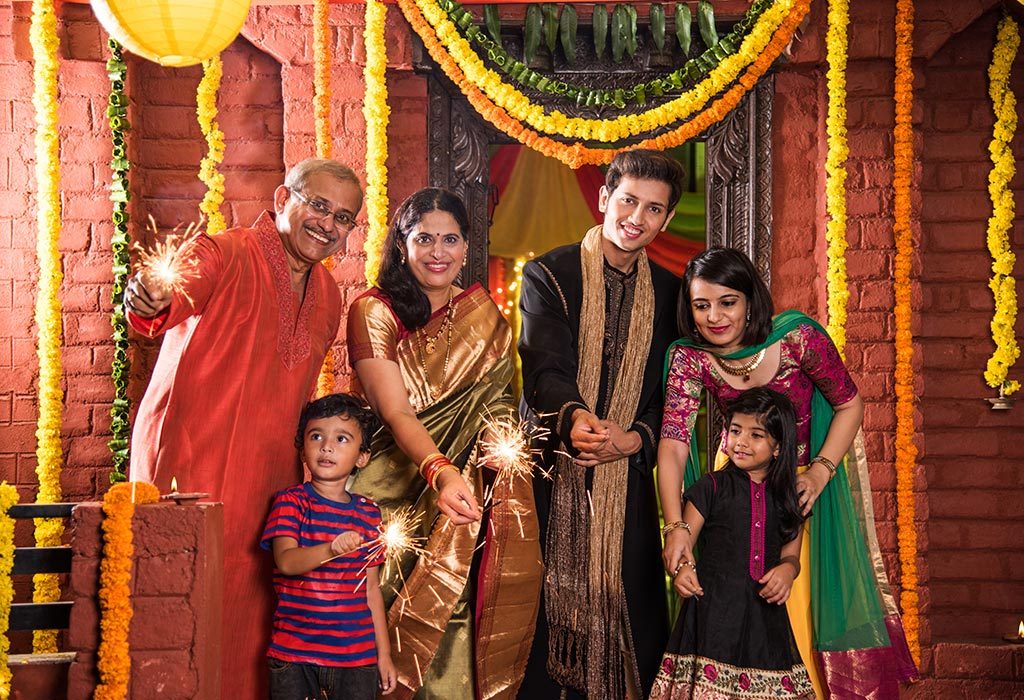 Diwali is the most celebrated festival in North India. Diwali, the festival of lights, is celebrated with great fervour and enthusiasm in almost all parts of the country. Children love celebrating this festival, and why won't they? They get to burst fire-crackers, play games, and enjoy with their friends. But as parents, you must tell them about the significance or the importance of this Hindu festival. Read this article and learn how you can acquaint your kid's brain with the rich history and culture of our country in interesting ways.
Why Is Diwali Celebrated?
Children may love to know about mythological characters and their stories. What better way to teach your kid about the rich and vibrant culture and tradition by narrating different Diwali stories to them. Following are some stories to explain the history of Diwali to kids:
1. Lord Rama's Return
Diwali is celebrated to honour Lord Rama's return from exile. Lord Rama was the eldest son of King Dashrath and was married to Sita. The king decided to hand over the kingdom to his eldest son. This decision of the king enraged the queen Kaikeyi, and she conspired and asked King Dashrath to send Lord Rama for exile for 14 years. Lord Rama left with Sita and his brother Laxman. They suffered many ordeals in those 14 years and the biggest being Sita's abduction by the king Ravana. Rama defeated and killed Ravana and returned to Ayodhya after fourteen years of exile. People celebrated Rama's return by lighting 'diyas' and bursting crackers, and since then, this day is celebrated to commemorate Rama's return.
2. Goddess Laxmi's Story
The story of the birth of Goddess Laxmi begins with the meeting of Sage Durvasa and Lord Indra. Sage Durvasa offers a garland of flowers to Lord Indra, who places it on the forehand of his elephant, Airavat. But the elephant throws it on the Earth. Sage Durvasa gets angry and curses Lord Indra that his kingdom will be ruined the way the garland got destroyed. Lord Indra returns to his capital Amravati, only to find that everything was getting destroyed there. Gods were getting weak and demons were invading them. After losing, the Gods went to Lord Vishnu, who suggested that if they wanted 'Amrit' or immortality portion to restore their power back, the oceans be churned. Then began the churning of the ocean. From this churning process, appeared Goddess Laxmi on a Lotus. Goddess was raised from the ocean on the 'new moon day', and she accepted Lord Vishnu as her consort the same day. Many Hindu cultures celebrate Diwali to celebrate the union of Goddess Laxmi and Lord Vishu.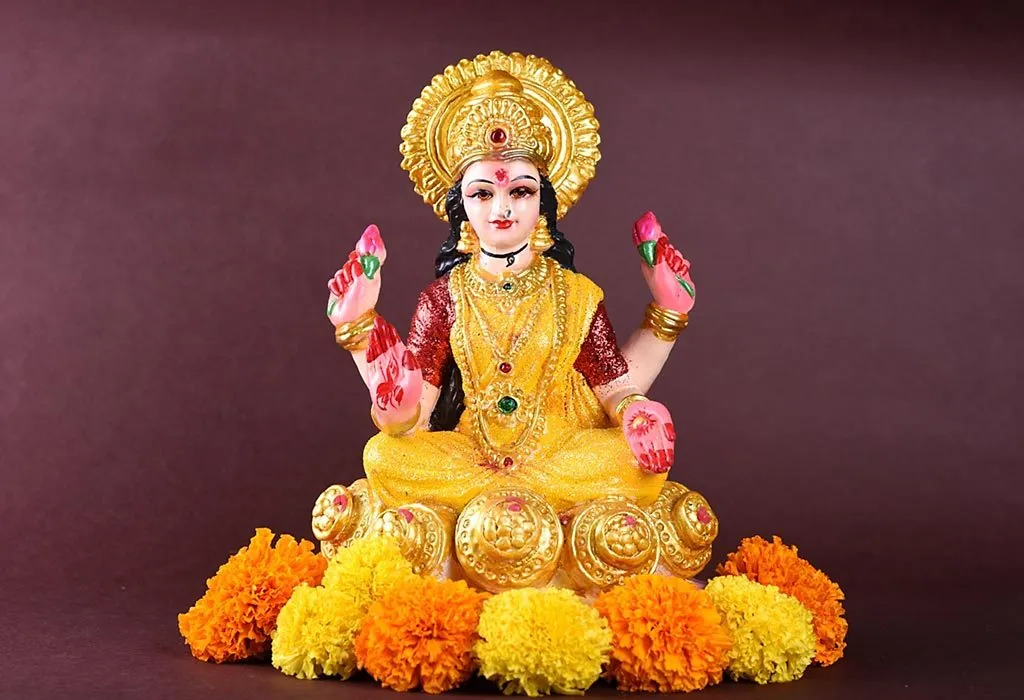 3. To Celebrate the Return of Pandavas
As per one of the cultural beliefs, Diwali is also celebrated to honour the return of Pandavas from 13 years of exile. Pandavas were the five royal prince, who lost their kingdom to the Kauravas in the game of dice and were exiled for 13 years. They returned to Hastinapur on 'Kartik Amavasya', and people celebrated their joyous return by lighting lamps and diyas.
4. The Story of Narasimha and Hiranyakashipu
This story marks the celebration of Diwali in most regions of southern India. Hiranyakashipu is given a gift by Lord Brahma after doing rigours penance, which made him almost immortal. This is because he could neither be killed by a man nor by an animal, not during the day nor during the night, neither inside nor outside and many such difficult conditions. This made the king a tyrant, and his atrocities became unbearable. Narasimha was the reincarnated avatar of Lord Vishnu, who was half man and half animal. And it was neither day nor the night. It was twilight, Narasimha killed the king defying all odds and thus the victory over evil was celebrated in the form of Diwali.
5. Cattle Worshipping
In the villages of India, people worship their farms and cattle because they help them support their life. Rather they think cattle to be the reincarnated avatar of Goddess Laxmi. When their farms are laden with crops and cattle are flourishing, they celebrate this festival by worshipping cows.
The above-mentioned are some of the famous stories and beliefs associated with the celebration of Diwali that you can share with your little kid and ignite his interest in learning about the importance and significance of this festival.
What Do the "5 Days of Diwali" Signify?
Diwali is not a one-day affair. This festival spans over 5 days. Sharing sweets, spreading love, and bursting crackers is not only limited to the day of Diwali, but it starts two days prior to Diwali and goes on up to two days after Diwali. Here's what 5 days of Diwali signify:
1st Day of Celebration – Dhanteras
The first day of this 5-day festival is known as Dhanteras. On this day Goddess Laxmi is worshipped for prosperity. People believe that on this auspicious day one should buy gold, silver, a house, a car or anything that they desire, to honour the Goddess. People decorate their houses and go out shopping for valuables.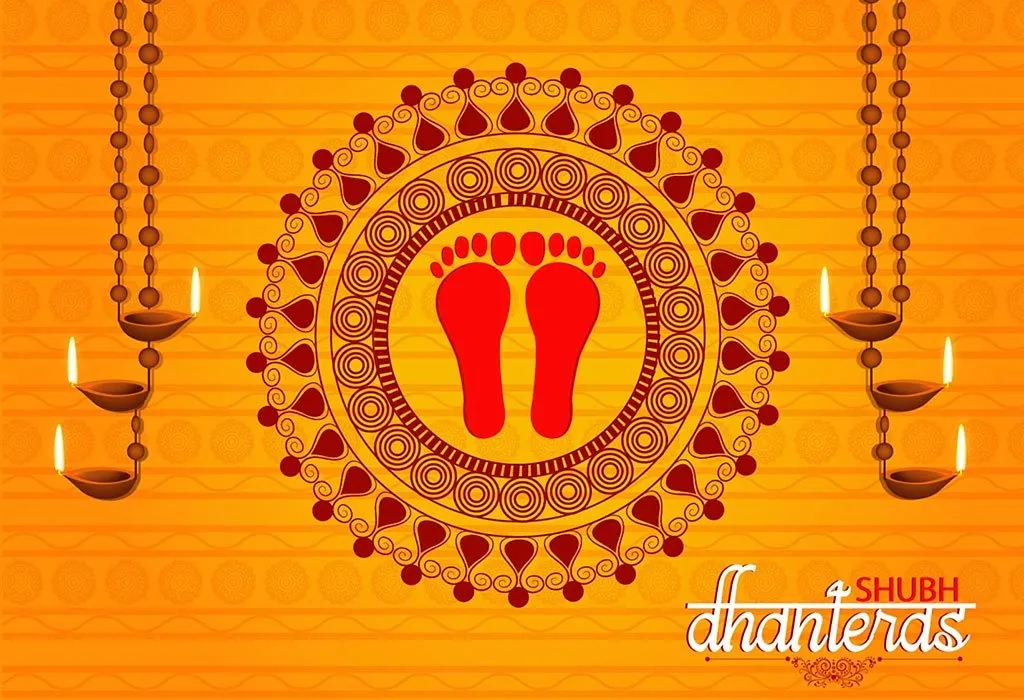 2nd Day of Celebration – Roop Chaturdashi or Choti Diwali
This day is important as people celebrate the joyous victory of Lord Krishna and Satyabhama over demon Narakasura. In order to channelize positive energy, people wake up early and take a bath with fragrant oils. People light earthen lamps and recite prayers.
3rd Day of Celebration – Diwali or Laxmi Pooja
This day is the most important day of the 5-day celebration as people celebrate Diwali on this day. People decorate their house with diyas, flowers, and rangoli. Sweets are distributed among friends and family. People worship Goddess Laxmi and Lord Ganesha on this day and pray for happiness and prosperity.
4th Day of Celebration – Govardhan Pooja
The fourth day of this five-day festival marks the celebration of Govardhan Pooja. According to the one of the folklore, Lord Krishna lifted the Govardhan Mountain to save the villagers from the debacle of rain caused by Lord Indra. People make miniature mountains and worship these mountains for the safety and protection of their families.
5th Day of Celebration – Bhai Dooj
The last day of this 5-day-long festival ends with the celebration of a brother-sister bond. It is believed that after killing the demon Narakasura, Lord Krishna visited his sister. The sister rejoiced the victory of her brother by adorning a 'Tilak' on Lord Krishna's forehead. On this auspicious day, brothers and sisters unite and celebrate the pious bond. Sisters pray for their brother's long life and brothers give gifts to their sisters.
How Is Diwali Celebrated?
India is known for its varied culture and traditions; however, Diwali is one such festival that is celebrated with full festive gaiety and fervour all over the country. This is how people celebrate this beautiful festival of lights:
1. By Lighting Diyas
Lighting of diyas and candles is one of the most important traditions associated with Diwali. The lighting of diyas symbolises removing darkness from the world. Thus when people light diyas, they pray to God to remove all kinds of negativity, ill-feelings, or darkness from their lives. Another belief state, that because Diwali falls on the night of new moon and there is darkness all around, lighting diyas will help Goddess Laxmi find her way through to your homes.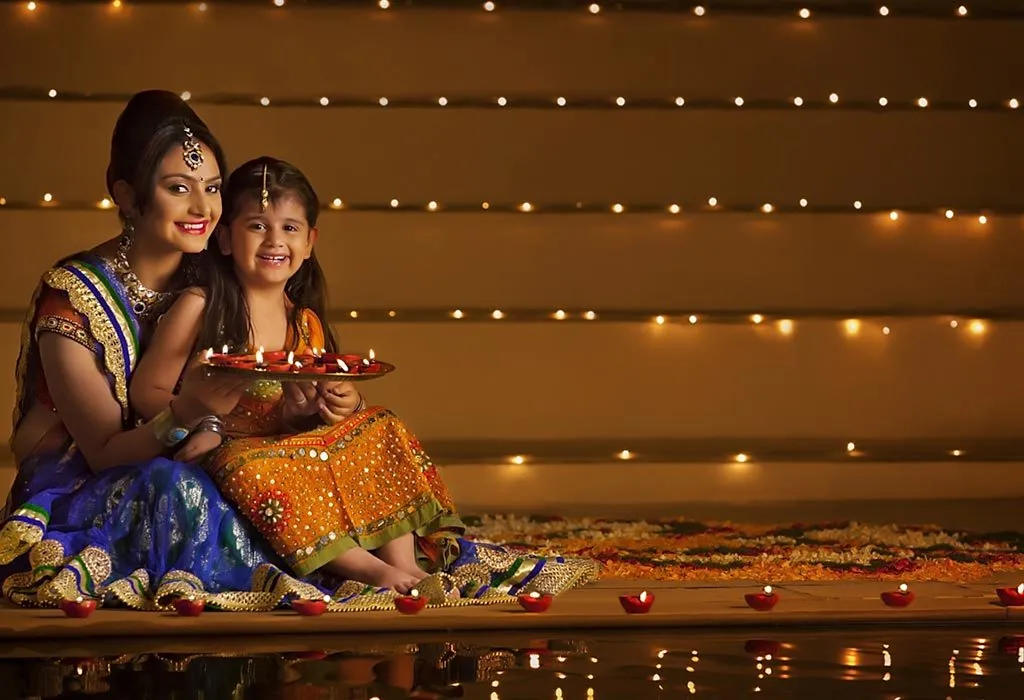 2. By Worshipping Goddess Laxmi
Worshipping Goddess Laxmi is one of the most important aspects of Diwali. It is a famous Hindu belief that by worshipping Goddess Laxmi one would be bestowed with all the prosperity and wealth that one wishes for. At sunset, all the family members assemble and pray before the Goddess Laxmi to seek her blessings.
3. By Distributing Sweets
Every Indian festival is incomplete without eating and sharing sweets, and there is no exception on Diwali, too. People visit their family and friends and take sweets and gifts for them. Sweets symbolise sweetness in the relations, and when you share sweets with your near and dear ones, you wish and hope that the same kind of sweetness remains in your relationships.
4. By Bursting Crackers
The Diwali celebration for kids is incomplete without bursting crackers. Just like everything else crackers too hold significance and that is to keep the negativity or anything evil away from your life. You must make sure that you procure crackers which are environment-friendly as bursting crackers can lead to lot pollution, which is harmful.
5. By Making Rangoli
Many households across the country adorn the entrance or the prayer room of their house with colourful patterns and colours, also known as Rangoli. This is a way of welcoming Goddess Laxmi to their humble abode. People also make these patterns to welcome their guests. Flowers, rice flour, and other kinds of colours available in the market are used to make these beautiful patterns.
6. By Worshipping Cattle
Many people in the villages in the southern part of the country worship their cattle. This is because according to the belief, cattle are reincarnated avatar of Goddess Laxmi for them.
Which Countries Other Than India Celebrate Diwali?
India has the second-highest population in the world, and many neighbouring countries have abundant Indian population such as Singapore, Nepal, Sri Lanka, and a few others. All these countries have an official holiday on Deepavali, too.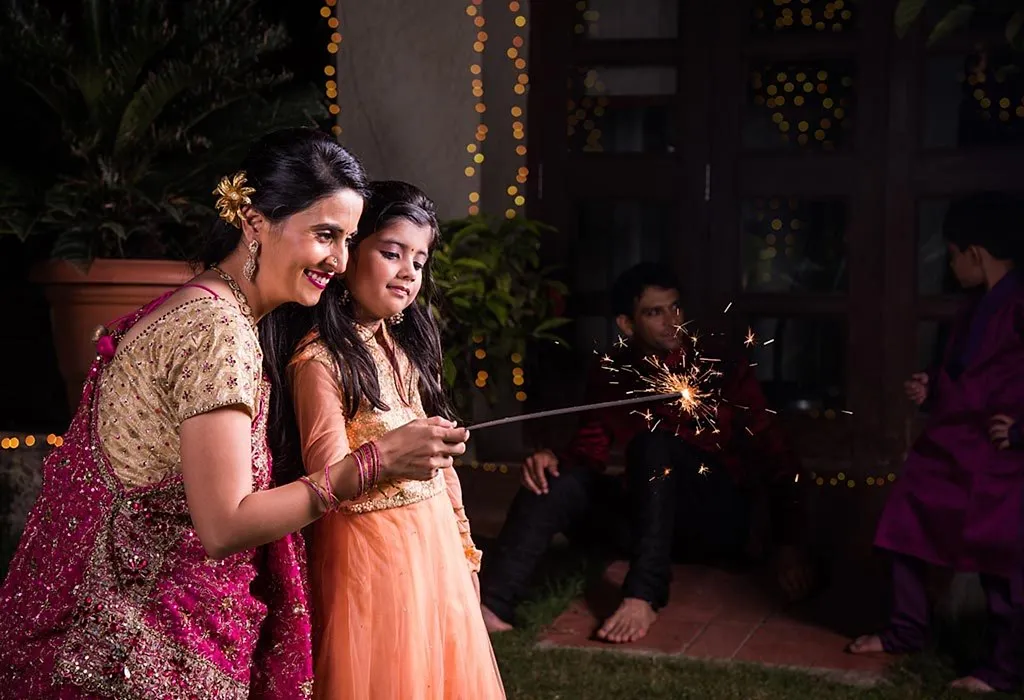 Tips to Make Diwali a Safe Occasion for Kids
Diwali is a festival that you celebrate with your loved ones. However, you may have to be careful with your kids when it comes to handling 'diyas' and crackers. Festivals are enjoyed best when they are celebrated in a safe and healthy manner. Here is some Diwali information for kids that you may like to share with your little ones:
You must never leave your kids unattended when they are bursting crackers. Make sure at all times they are accompanied by an adult, or they are under adult supervision.
Mishaps are bound to happen, especially when it comes to dealing with firecrackers. Therefore, you must keep a first aid kit handy to deal with any kind of emergencies.
Fill a bucket full of water and keep it near by when you burst firecrackers. You may use this in case of any fire mishap, or you may also use this to discard burnt firecrackers.
Ensure there are no flammable objects lying in the close vicinity of where you plan to burst crackers.
Make sure you make your kids wear fitted cotton clothes, and there are no loose ends.
Do not allow your kid to immediately go near a firecracker that may not burst as sometimes it may take time to burst, and it may lead to injuries.
Do not let your kid burst crackers inside the house. Always go to open spaces to burst crackers.
While bursting crackers such as 'chakries' or 'anar', make sure you place them on an even surface to avoid mishaps.
Do not let your kids handle matchstick or firecrackers. Make sure you assist your child.
If someone else is bursting the firecracker, make sure you let them finish before you light your cracker.
Encourage your kids to wear closed-toe shoes while bursting crackers to protect their feet from any potential sparks or debris.
Instruct your children to never point firecrackers at people, animals, or objects, and to always aim them towards the sky or an open space.
Emphasize the importance of not throwing firecrackers at others, as this can lead to accidents and injuries.
Advise your kids to wash their hands thoroughly after handling firecrackers to remove any residue or chemicals.
Celebrate Diwali, the festival of lights with joy, zeal, and love. But also share the importance of this pious five-day festival with your kids. And have a fun-filled and a prosperous Diwali with your loved ones.
Also Read: Creative Diwali Card Ideas for Children
?>