How to Keep Your Baby Cool and Hydrated in Summers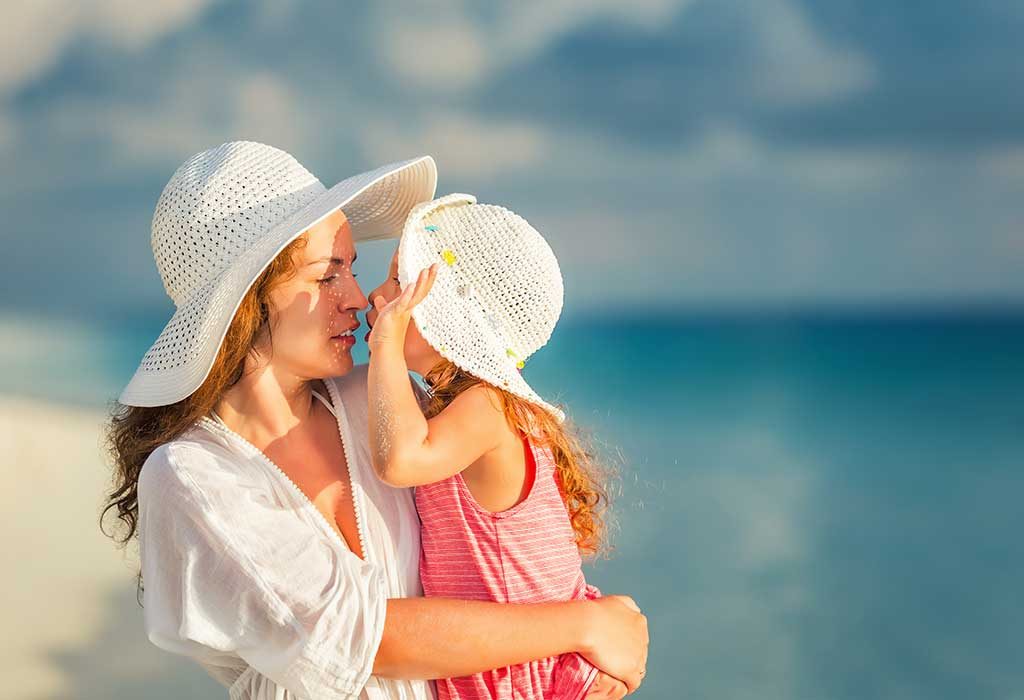 I get a lot of new mothers who keep on asking me how to keep their babies cool and hydrated during the harsh summers especially when they can't give water to their babies who are below 6 months of age. So I have made a list of things you can do to keep your babies happy and hydrated this summer.
Kids Below 6 Months of Age
Please avoid taking your below 6 months baby out in the sun as much as possible. Also if it is not possible to avoid travelling with your baby then please choose the time of early morning or evening.
If you need to travel with your baby then please choose a good brand sunscreen and applied very lightly on the baby.
If you are taking your baby out then please make sure to cover your baby with full clothes but please choose a very breathable material to avoid excessive sweating and always make sure that your baby wears wide brimmed hat.
Breastfeed baby on demand as during summers baby will require more of breastfeed to compensate for the loss of water. Similarly for the bottle feed don't be alarmed if your baby will require more of feed.
Even in summers don't use cold water for bathing your baby, room temperature water is fine. Also if possible try giving your baby a sponge bath at least two times a day specially at night apart from the regular bath of morning.
No matter how convenient disposable diaper please try to use cloth diapers as much as possible during summers and even if you are using disposable ones don't forget to give your baby some breathing time in between diaper change to prevent any rashes.
Place the baby's crib or bassinet in the cool part of the house to ensure that baby doesn't get heat stroke from summer heat.
Since before 6 months of age most of the babies are purely dependent on breastfeed mothers should remember to drink plenty of water to ensure that mum as well as baby keep well hydrated.
Kids Above 6 Months of Age
Do keep your babies inside from the peak time of summer heat that is from 11 a.m. to 3 p.m. and if you baby has to go out at that time please make sure to carry an umbrella.
While your baby's out in summers don't forget to cover him properly in sunscreen to prevent sunburn. Even if your baby is going out for swimming or waterplay please apply a waterproof sunscreen.
For babies above 6 months old apart from water try giving them fruit juices coconut water homemade frozen lollies and lots of fruits and salad to keep the hydration level up.
Get an inflatable pool for babies to enjoy in water during summers but never leave your baby unattended in water anytime.
Try including food items like ragi, barley, bajra, coriander, fennel and turmeric as they have cooling nature which helps baby to maintain our body temperature during summers.
General Ideas and Tips
Keep your child's room very well ventilated and cool using fans or AC but make sure that your baby is never in the direct flow of air.
Use very simple and breathable material nightwear for babies but if your baby is sleeping in AC then please make sure to use a full sleeve night suit.
You can definitely give your baby a massage during summers. In fact a proper baby massage is very necessary no matter the season but please be careful in choosing light oils like olive and coconut during summers. Also make sure to wash off the oil properly so as to to prevent clogging of pores.
Try using cotton or other breathable materials and bedsheets and avoid using synthetic material as they give off heat which make sleeping uncomfortable.
Never ever leave your baby in a car as car tends to heat up easily and can cause your baby to fall sick. Even with the AC on never leave your baby in cars alone.
If you are going for outing try taking your baby to well ventilated and cool places which are less crowded.
Buy a cover for your car seat and prams as their plastic and metal parts can get heat up with the sun heat and can cause burns.
Even for babywearing choose the slings which are made of light and breathable material.
For applying powder just put some powder on your hand and then apply it on your babies skin folds to prevent rashes and over applying of powder which can cause clogging of pores.
Summer brings with it problem of mosquitoes and bugs never forget to cover your babies with good mosquito repellent before going out. Also dress babies in full sleeve clothes to prevent mosquito bites.
Disclaimer: The views, opinions and positions (including content in any form) expressed within this post are those of the author alone. The accuracy, completeness and validity of any statements made within this article are not guaranteed. We accept no liability for any errors, omissions or representations. The responsibility for intellectual property rights of this content rests with the author and any liability with regards to infringement of intellectual property rights remains with him/her.