Food Chart for 9 Month Old Baby with Complete Schedule and Guide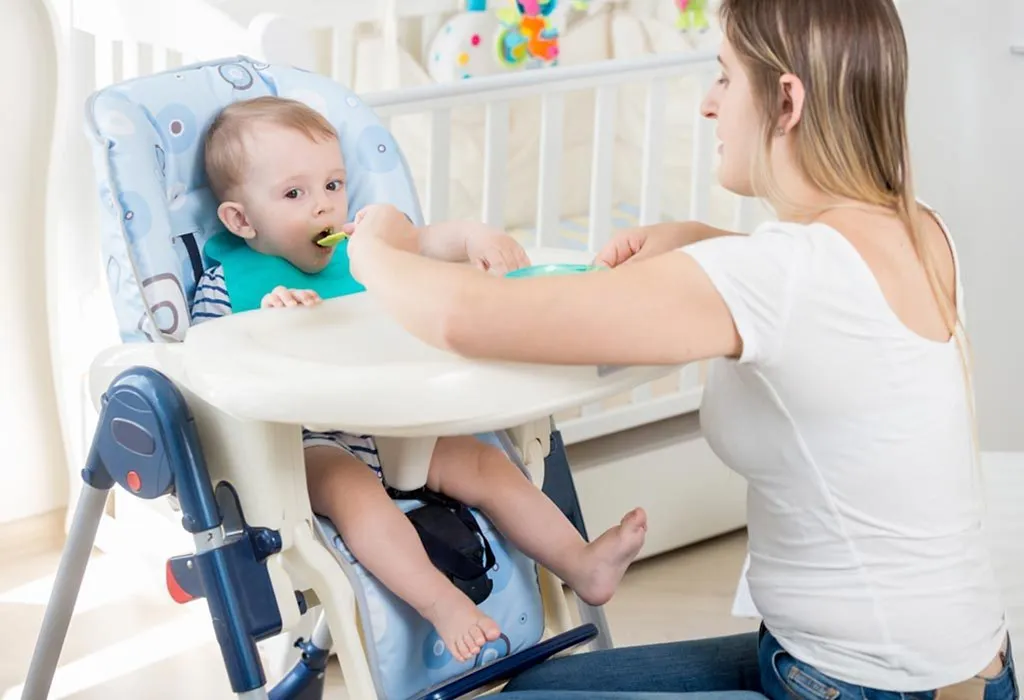 In this Article
Food chart for a 9-month-old baby is usually considered to be restricted to those boring options. By this time, you and your baby are tired of the fussy feeding time and teething issues. So now, you can put all those thoughts to an end with this food chart for your 9-month baby.
Meal Plan
At this stage, your baby is comfortable with semi-solids and has started a proper 3 meals diet. It can't be forgotten that breastfeed or formula feed is equally important to provide essential nutrients to your baby for the initial 1st year, as they play an important role in this food chart for a 9-month-old baby. Apart from this, creating an interest in the food chart you prepare is also very important. Else, it will be a boring activity for your baby rather than an enjoyable meal time.
Variety
In this food chart for 9 months old baby, we are going to concentrate on the variety of foods you can feed your 9 months old. Variety plays a major role in any food chart. So to begin with, you need to keep in mind not to repeat the fruits and vegetables over and over in a week. Monotony in a food chart for your 9-month-old baby will result in your baby neglecting food. Even when you notice your baby likes something, try not to repeat it else your little one will stop eating it completely.
Small quantities with Frequent Intervals
Food chart for your 9-month-old completely relies on how well you fit in different foods in it. If you feed large quantities, it won't be liked by your 9-month-old baby. You should always aim for feeding less however, at regular intervals. It will ensure your baby gets all the essential nutrients at frequent intervals.
Meal Time = Fun time
Always keep in mind that food chart for a 9-month-old baby won't be effective until you put in additional efforts. You need to be creative during mealtime. Mealtime should be a fun activity where you not only feed your baby but also bond with your little one. Food chart for 9-month-old must include storytelling with proper expressions and innovative games. The best way to make mealtime fun will be to take your child to a garden, or you can lay a mat on the floor in the living room with toys laid around and then feed your little one.
No to Purees
There is a stage for pureed meals, however, when making a food chart for a 9-month-old baby, purees is a big No. Your baby now has teeth and it's best to give him some work and practice chewing. However, this doesn't mean that you cannot use puree at all. Foods like chapattis can be blended with pulses so that they are easy to chew.
Popsicle Treat
If your 9-month-old is teething, it's important to include something to soothe his sore gums. So, in this food chart for your 9-month-old baby, add some homemade popsicles. All you have to do is make a puree of the seasonal fruits and turn them into popsicles. You may also express breast milk and turn it into popsicles which will work as an amazing natural healer.
What to Include in the Meal Plan for a 9-month-old baby
Your 9-month-old needs nutrition for healthy growth. So, the food chart for a 9-month-old baby should include all key nutrients like protein, calcium, iron and fibre. You can vary your options during the week from the food chart for a 9 months old baby listed below.
1. Early Morning
Start the day with breastmilk or formula feed as this includes all the essential nutrients required for your baby's growth.
2. Breakfast
Breakfast being the most important meal of the day, it's best to concentrate on a protein-rich diet for your 9-month-old. You can include options like moong dal chilla, plain dosa and upma.
3. Mid-morning
As this is a time to snack in before lunchtime, you can go ahead with fibre-rich options that keep your 9-month-old baby full till lunch. Try rice cereal, spinach soup and papaya puree.
4. Lunch
Lunch being another important meal of the day in the food chart of your 9-month-old baby, it should comprise of carbohydrates with options like curd rice, soya khichdi and milky bread stew.
5. Evening
For evening time, it's best to stock up on some fibre and calcium for your 9-month-old baby with simple options like soups, apple slices, makhana kheer.
6. Dinner
Dinner is the last meal of the day and is really important too. The food chart of your 9-month-old baby should include nutritious options like atta sheera, nutritious porridge and aloo paranthas. These will be rich in fiber and will be filling for your 9-month-old keeping him full for a longer duration.
7. Late Night
This meal is to make your baby sleep peacefully. Breastfeed or formula feed will complete the day of your 9-month-old baby.
You can always play around with these options listed in the food chart of your 9-month-old baby and swap them within the meals.
Disclaimer: The views, opinions and positions (including content in any form) expressed within this post are those of the author alone. The accuracy, completeness and validity of any statements made within this article are not guaranteed. We accept no liability for any errors, omissions or representations. The responsibility for intellectual property rights of this content rests with the author and any liability with regards to infringement of intellectual property rights remains with him/her.