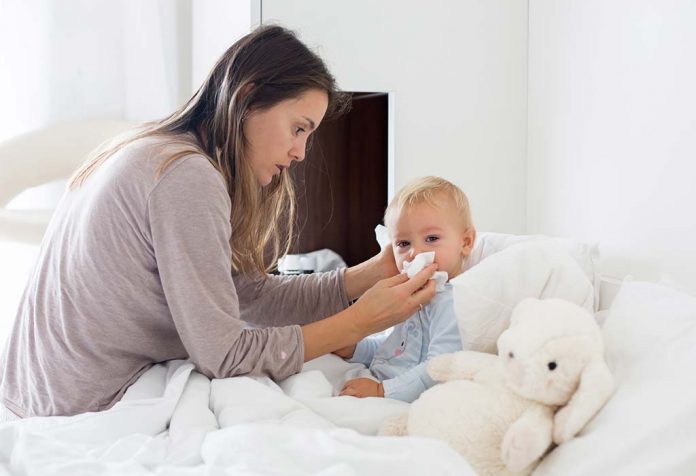 Last Updated on
Kids are a bundle of joy, but there are days when they are unwell, and we turn worried and start thinking about if we should visit the doctor or not. Most of the times the health issues will be minor, and can be successfully managed at home with proper care and a few home remedies. What are those health issues, and how can we cure them? What are those little home remedies which we can follow? Read below!
Gas/bloating/colic pain:
This is a very common problem experienced by most kids. In babies below 6 months of age, you should compulsorily make a habit of burping them after every feed, be it direct feeding or formula feeding. Burping infants is a must. You can pat the back, or gently massage it, holding them upright. No matter if you hear the burp sound or not, it helps to release all the trapped gas inside, making them calmer and fuss-free.
Always keep the medicine drops available for colic/gas handy. Infants usually cry a lot when they are colicky. Just give a few drops of the medicine as prescribed by your physician to settle them calmly.
Once they start solids by the age of 6 months, there is no need of burping, as they turn active with lot of movements. Still, if you feel they are bloated, help them with a gentle pat on their back or a light belly massage. If needed, give medicine. For older babies, you can add a pinch of jeera or cinnamon powder to their food preparation, which helps in the digestion process.
2. Spit up and projectile vomiting:
These two are also very common problems. "Spit up" means infants spitting out a small of amount of milk, which is totally normal. It mostly happens when the baby's belly is full and the only way is to put some portion out.
Projectile vomiting is usually seen in a bit older babies. This too happens when they are completely full. Sometimes when they are on solids and eat in a hurry or gulp larger amounts too fast, it occurs.
Once they vomit, everything is out. Give few sips of water to drink. Give your routine food after some time. No need of any kind of medicine.
3. Constipation:
This is very common. Usually when the babies feed too much, or take less of fibre, they experience constipation. Younger infants who are exclusively breastfed can go without passing stools for maximum 5 days, too, which is totally normal. When the stool is very hard to pass and of very little amount, then it shows that the baby is constipated. How to avoid it? Read below!
See that your baby is hydrated well. If not breastfeeding, feed the formula milk in the required amount properly. The amount of water and the powder should be always proportionate. In older babies who are fed solids, always include ghee or butter in their diet, which is very essential for the smooth formation of faeces. Add fibre-rich foods in their diet. When constipated take a bit of castor oil or ghee and just apply on their belly button and around the anus. Massage the belly gently. Do the cycling moment of the legs in them. If you are giving iron drops and calcium syrup, stop for a while and start later. Rice, sweet potato, lentils, fruits like bananas, apples, and musk melon are bulk producing foods, and are great for constipation.
4. Prickly heat/Rashes/diaper rashes:
Diaper rashes are very common because of the continuous usage of diapers. Rashes in the private area is also common in chubby babies, because of more friction between the skin. Due to more fat and muscles, there will be less gap between the thighs and wherever there are folds in the body parts.
You can apply coconut or pure almond oil before every diaper change. Look for rash creams which contain zinc in it. Use chemical free water wipes.
Prickly heat and rashes are one more problem which is irritating for babies. Skip soaps and any fragranced lotions if applying. Use milk cream, ghee or fine gram flour while bathing. Apply calamine lotion to soothe the area or overall after bath.
5. Slight cold and cough in babies above 6 months:
Sometimes babies may have light, runny nose, bit of cough and appear dull. You can give this home remedy: Take 1 or two leaves of Indian mint plant. It's very common everywhere. Its leaves are succulent and have a medicinal smell. Extract the juice, about 1/2 tsp. Add a pinch of jaggery to it and give this twice a day. You can also heat up its leaves a bit, or the betel leaves, and place it on your baby's chest. Do it a couple of times. Still if the symptoms persist for more than 2 days with fever, then consult your doctor.
6. Teething process:
Teething process is very difficult for a baby. The symptoms come on and off, stay for a few days, and vanish. May start as early as 4 months, too. Babies in this phase experience irritation, pain in the gums, excessive drooling and loss of appetite. Until the tooth erupts the symptoms appear and go. What you can do is give a gentle massage to the gums with clean fingers. Give them teethers to chew. If not eating solids, give more amount of milk to compensate. Sometimes may pass stools too in little amounts, like 5 to 6 times a day with greenish colour. It's normal. If the stool is more watery, runny with foul smell, then consult your doctor.
Note: all the mentioned ailments above should only be treated at home when they are mild and do not last more than 2 or 3 days. You can exclude the teething process as the symptoms wont hamper the kids' activities.
Consult the doctor if you see the below symptoms:
Fever
Rashes which are spreading and increasing
Loss of appetite for more days
Loose watery stools with foul smell and mucous, passing more than 5 times a day
Excessive crying and if the belly is too hard to touch
Constipation more than 5 days
The Indian mint plant is also called Mexican mint, patta ajwain in Hindi, and dodda pattre in Kannada. It is strongly flavoured, and even used in dishes.
Disclaimer: The views, opinions and positions (including content in any form) expressed within this post are those of the author alone. The accuracy, completeness and validity of any statements made within this article are not guaranteed. We accept no liability for any errors, omissions or representations. The responsibility for intellectual property rights of this content rests with the author and any liability with regards to infringement of intellectual property rights remains with him/her.