All About Diapers! Is It Safe for Your Baby or Not?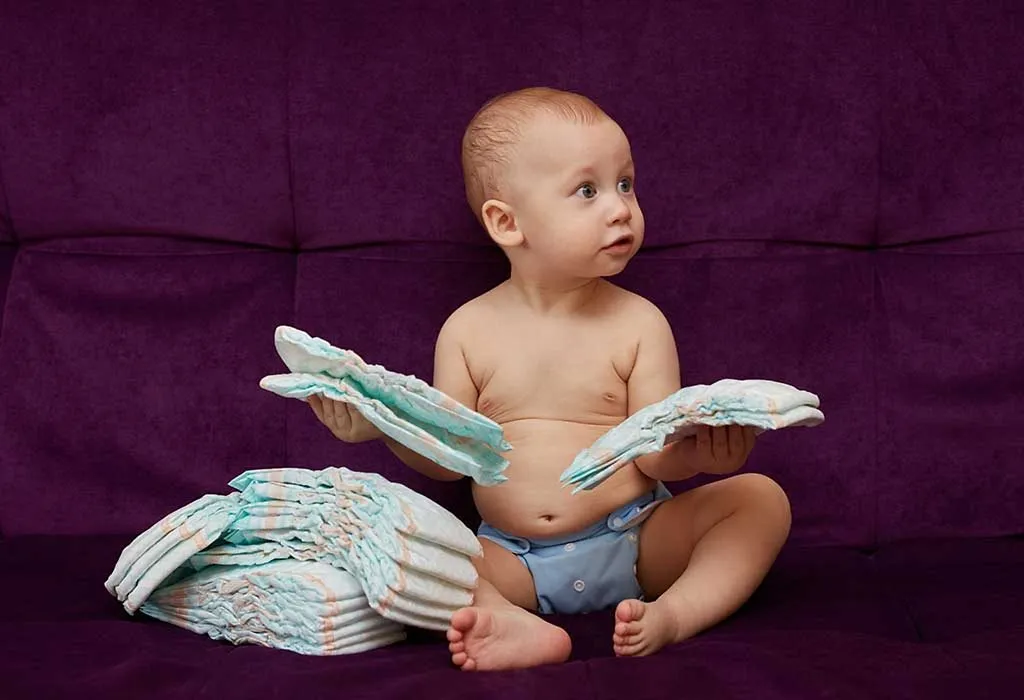 "Is diaper safe or not?"A question in every mommies mind either she is expecting a child or a mommy of newborn. Different people have different reviews regarding this. Elders usually keep diapers in unsafe category. According to them nowadays mommies using diapers for there convenience.They even think that wearing diapers can widen his legs and can cause infertility too.This is wrong.According to modern mommies they know what is best for their babies. Diapers are very much convenient for working ladies as they know they have to keep there child to maid in this way they can't trust baby sitters .
Diapers are made of breathable material which are specially designed for newborns and it's totally safe. Diapers used with proper precautions will never harm at all.
Cloth Diapers v/s Disposable Diapers
Generally new mommies get confused between cloth diapers and disposable diapers.Both have it's own advantage and disadvantage.
1. Cloth Diapers
Advantages
One of major advantage of cloth diapers is that it's cheaper than disposable diapers.No need to buy bulk.just wash well and reuse again.It also makes toilet training easier for child
Disadvantage
it is more time consuming then disposable diapers.If baby spoiled it first you have to wash it immediately then put another diaper which is much time consuming.
2. Disposable Diapers
Advantages
It consumes less time.just take it off, roll it and throw it in dustbin. It is easy to carry a baby in disposable diapers without worrying about pee or poop.
Disadvantage
Damaged or soiled disposable diapers can cause pollution and it's non bio-degradable.
Things to Keep in Mind while Diapering a Baby
Keep an eye on babies skin while changing diapers .Some babies have sensitive skin so check if there is any rash on diaper area
It is important to change diapers frequently.Must change diapers after every 3 to 4 hours. Keeping baby in wet diapers can increase chances of catching cold.
If baby poop in diaper then it's important to change diapers immediately
Always keep extra diapers in bag or purse to make your outing easy
How to Make Baby Wear a Diaper
Open diaper and keep it under your baby,lift his legs and feet gently.Back part of diaper should be about level with babies bellybutton
Bring front part of diaper up between babies legs and also into his belly
Stick tape from both sides carefully .it should not be very tight or loose.
How to Choose a Diaper Size
For new born babies you can try two sizes either extra small or small.As baby grow weight increases go with size according to weight as mention on every pack of diaper. Always go for lil loose diaper to avoid rashes .
Rash Free Diapers
Diapers used with proper precautions will never harm at all. Tips to prevent rashes
Before diapering a baby always apply coconut oil first.
When you remove diaper first clean it with water then apply oil then make him wear diaper.
Always choose a little big size or loose to prevent baby from rashes.
Change diapers frequently. Dont keep baby in spoiled diaper otherwise it can cause rashes
Disclaimer: The views, opinions and positions (including content in any form) expressed within this post are those of the author alone. The accuracy, completeness and validity of any statements made within this article are not guaranteed. We accept no liability for any errors, omissions or representations. The responsibility for intellectual property rights of this content rests with the author and any liability with regards to infringement of intellectual property rights remains with him/her.