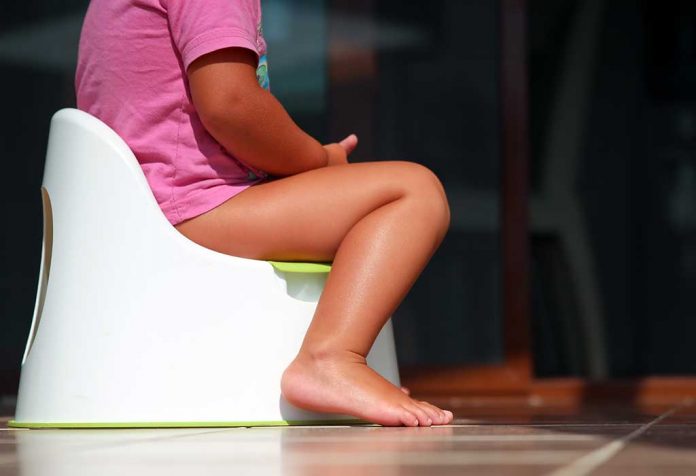 Last Updated on
First of all –Yes, new moms or 'to be mom' readers. There is a thing called potty training –
If you get it right your life can be quite easy, but get it wrong and it's messy!
Every mom has a dilemma of how and by when she should start potty and toilet training of her kid. There is no thumb rule for this as every kid is different. But I want to share a few ideas which might help new moms about how to deal with potty training. Every new mom is scared and feels gross of the idea of cleaning the kid and changing diapers all the time. I give credit to my mom's advice that helped me in completing the potty training of my kid when he completed one year. I have never kept my kid in diaper except when going out and in the night. So as soon as my kid started sitting (around 4.5 months old), I bought a small potty seat. It had some train music coming out of it, so he was very fascinated by the music and its bright colour. Whenever I feel that my kid wants to poop, I made him sit over it, waited patiently, talked to him, and sang poems to him. In the beginning, he was not comfortable as he didn't know what to do after sitting on it. But if you make this a daily habit, the kid will soon realise the use of a potty seat. Sometimes it was a fake call too, but I did this every time he signals to poop. After some time, when he started to crawl and made me understand things, he crawled to the potty seat to let me know he wants to poop. Soon by 11 months, he was fully potty trained.
Few key takeaways from my experience which can be useful for everyone:
You need to understand the kid's signs from the beginning regarding when they want to poop and pee. As you give importance to their signs (which can be any sound or distress face), they will soon recognise how they can relate the urge, to making signs and will help them in signalling you as they grow.
Be patient – as with everything else to do with the kids. You need to sit patiently with the kid on the potty seat, make them comfortable, tell them about its use, sing poems to comfort them.
I used to take the potty seat out of the bathroom every time as he didn't like the enclosed space of the bathroom while pooping. Also, it helped me sit comfortably while I had to wait.
Try to buy an interesting potty seat which has some sound, colours or cartoons on it and which has a small size for sitting and if you want to start very early, there are few potty
seats available in the market with a small area to sit. They will not feel comfortable if it is very wide and they have the risk of falling into it – so buying a proper and correct fit seat is critical.
Potty training should start as early as possible when you feel your kid is ready to understand. Since the learning capacity of a kid is very high in the beginning and as they grow, they get stubborn and resist change, and they have all types of distractions in their mind at a later stage. But never force or put pressure on them if they are not ready. Try after few days, they might accept it. But never get disheartened and stop practising it. The sooner you teach them, the faster they learn.
Never feel gross of the term 'potty' while cleaning them. Make your child understand why peeing and pooping is good for them.
Always make them wash their hands after they are cleaned. This will help them in continuing with this habit as they grow.
Toilet Training
I have also been training my son to use the toilet right from the beginning. I would take him to the bathroom every hour or depending on his schedule as soon as he wakes up from his
sleep, and as he signals, he wanted to pee or poop.
Soon he got the habit of signalling me when he wanted to go to the toilet. The important thing I learnt is never to ignore baby signals. This will really help them in informing you as they grow. Even if the kid is wearing a diaper and if he tells you that he wants to go to the toilet, take him to the bathroom (if it's available) to do it. Never ignore and tell them to do it in their diaper.
Night Training
My kid has started telling me that he wants to go to the toilet since he was nine months old. On his first birthday, he was fully potty and toilet trained except at night. I felt it too early to start night training, so I waited for another 4-5 months. Night training was again a tricky task as I had to wake up in the night multiple times to check him if he is wet and when he couldn't feel it, to tell me. And also the clothes and bed are going to get messy – so better get some mattress covers before you start this. His sleep is going to be disturbed at night, and he'll be cranky in the day. So you have to be patient for those months. I would make him use the toilet before sleeping and talk to him in bed that he needs to tell me at night if he wants to poop. Don't make the kids drink many liquids just before sleeping while starting this process.
After every 2 hours, I would check him if he is wet and ask softly in his sleep if he wants to pee or poop. He sometimes replied that he did want to. Many times we found it wet, so I had to change his clothes at night. I didn't put dry sheets below him as I didn't want him to feel conscious / differently from us before sleeping. After a few days or a month, he started telling me in his sleep that he wanted to pee, but he would speak in such low tones that I had to be fairly vigilant full night.
After 2-3 months, he was fully trained. We stopped using diapers while going out too but we had to remind him multiple times that 'you are not wearing a diaper and you have to inform us if you want to go to the toilet'.
When he started going to playschool, I had to make him wear a diaper again during school
hours, as he may feel uncomfortable telling anyone at school that he wants to go to the toilet. I didn't want him to feel uncomfortable in school before he settled down there. But after a few days, he disliked the idea of wearing a diaper, and I could proudly say that my efforts did not go in vain. The diapers have now gone out of his life since he turned two years old.
This is my experience of the efforts I put in my kid's potty training. Hope you guys find at least some of the points helpful!
Disclaimer: The views, opinions and positions (including content in any form) expressed within this post are those of the author alone. The accuracy, completeness and validity of any statements made within this article are not guaranteed. We accept no liability for any errors, omissions or representations. The responsibility for intellectual property rights of this content rests with the author and any liability with regards to infringement of intellectual property rights remains with him/her.