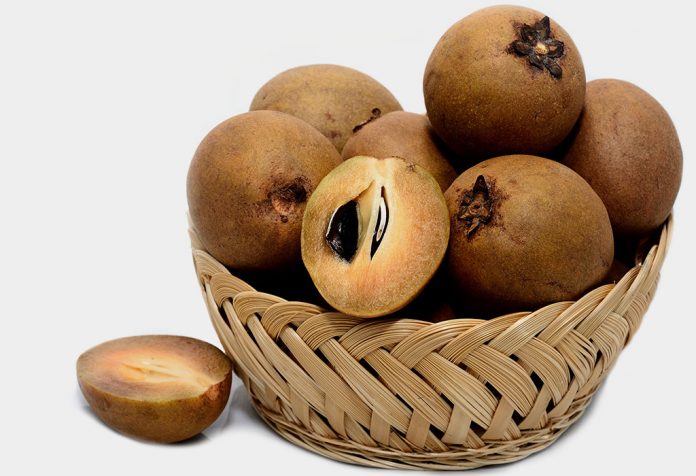 Sapota is also known by the name sapodilla. It is called as "Chikoo" in the Indian subcontinent and is a widely popular fruit enjoyed by everyone. It is mostly brown in colour and is soft and pulpy. It consists of sugars such as fructose and sucrose.
Chikoo has been popular since time immemorial, but the question that bothers many parents is if it can be given to their babies. But no need to worry, as the following guide will help you know everything about this super fruit.
Is Chikoo Good for Infants?
Chikoo has many health benefits associated with it. It strengthens the immune system and eases the bowel movements. And, yes it is even safe for infants, as it does not lead to any allergic reactions. You can introduce chikoo to your infant once he is 6-months-old and rest assured your little one will relish its taste.
When Can You Introduce Sapota in Babies' Diet?
You can introduce sapota in your babies' diet once he turns 6 or 8 months old. This is the safest period to include sapota in your infant's diet plan. It is usually recommended for its rich taste and nutritional values it holds.
Nutritional Value of Chikoo
Chikoo is a highly nutritional fruit. Know its nutritional value:
| | | |
| --- | --- | --- |
| NUTRITION CONSTITUENT | Nutritional Value | Percentage of RDA |
| | 83 Kcal | 4% |
| | 1.10 g | 3.5% |
| | 19.96 g | 15% |
| | 5.3 g | 14% |
| | 0.44 g | <1% |
| | 0 mg | 0% |
| VITAMINS | | |
| | 0.200 mg | 1% |
| | 0.020 mg | 1.5% |
| | 0.058 mg | 5% |
| | 60 IU | 2% |
| | 14.7 mg | 24.5% |
| | 0.037 | 3% |
| | 14 µg | 3.5% |
| ELECTROLYTES | | |
| | 12 mg | 1% |
| | 193 mg | 4% |
| MINERALS | | |
| | 21 mg | 2% |
| | 12 mg | 3% |
| | 0.086 mg | 9% |
| | 0.10 mg | 1% |
| | 0.6 µg | 1% |
| | 12 mg | 2% |
| | 0.80 mg | 10% |
Source: The following chart gives an insight into the nutritional value of sapota. These values are based on a study conducted by the United States Department of Agriculture.
Amazing Health Benefits of Chikoo Fruit for Babies
Babies love anything that tastes sweet. Sapota or chikoo is one of them, but along with its rich taste, there are some amazing health benefits that make it a good choice for babies. Read on, to find out how chikoo is beneficial for babies:
1. Improved Digestion
Sapodilla for babies is highly recommended as it is rich in fibre content. Eating sapota improves digestion in kids and treats constipation. You can give sapodilla to your little one. Sprinkle it with a pinch of salt if your baby is suffering from constipation.
2. Improved Physical and Mental Growth
Chikoo is found to be a rich source of vitamins such as vitamin A, C, and B6. Vitamin C, in particular, boosts immunity and vitamin A improves eyesight. Vitamin B6 helps in brain development, controls haemoglobin levels. It even helps with the production of RBCs. So, a small fruit can be very healthy for your baby.
3. Cures Cold and Cough
Sapota contains expectorant properties which makes it good from the medicinal point of view. Sapota, when served to babies, can provide relief from congestion and clogging in the chest.
4. Reduces Inflammation
Sapota is obviously good for the health but the leaves of sapota tree also offer amazing health benefits. The leaves of sapota have anti-inflammatory properties; all you need to do is boil a bunch of sapota leaves for about 10 minutes and serve the boiled liquid to your little one once it cools.
5. Provides Energy
Sapota is a good source of minerals like potassium, iron, calcium, and copper. Not only minerals but sopata is also a good source of vitamins like folate and niacin. The combination of all these minerals and vitamins helps in providing the required energy and strength to your kids.
6. Acts as an Antioxidant
Sapota or chikoo is found to be a good source of antioxidants. These antioxidants are necessary for infants as these help in preventing cell damage. The free radicals that are produced during metabolism are counteracted effectively with the help of antioxidants.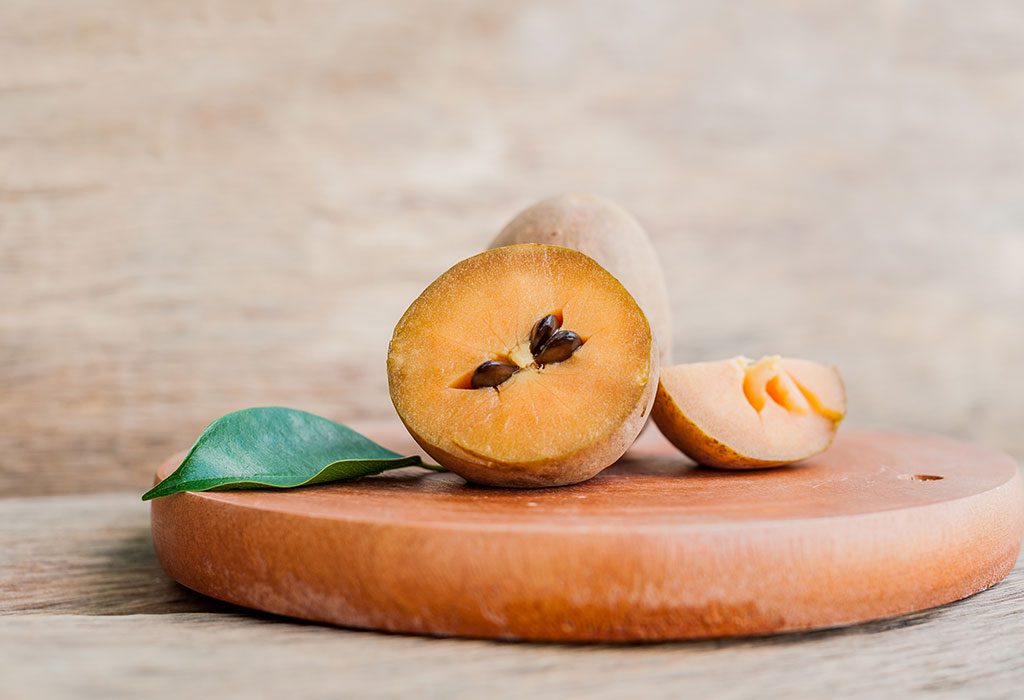 Precautions to Be Taken while Introducing Chikoo to Infants
Though sapota is found to be beneficial for kids, certain precautions should be kept in mind while serving this sweet and nutritious food.
Serve peeled sapota to your kids which does not contain any seeds.
If your baby's teeth are not developed, it is better to crush sapota's inner soft portion and then serve the formed liquid puree for better digestion
Prefer only serving ripened sapota to your little ones as it will be easy to swallow and digest it.
Do not serve rotten chikoo to your kids, i.e. if it is pressed or has a foul odour. Only fresh sapota should be preferred that has a solid outer surface.
Do not serve raw sapota to your baby as it may lead to irritation in the throat or even problems in breathing.
It is recommended to store sapota fruit in a cold and dry place.
Serve sapota to your kids in limited quantity as an excess of it can lead to difficulty in digestion.
Are There Any Side Effects of Chikoo in Babies?
Chikoo or sapota holds rich nutritional values. But looking at its negative side, it also can lead to certain side effects, such as:
Overeating sapota can lead to weight gain.
Overeating can also lead to indigestion and abdominal pain.
Eating raw sapota can lead to throat irritation, breathing problems, or even ulcers.
Easy to Make Chikoo Recipes for Babies
Chikoo should always be served as a puree or in other liquid forms to babies. And, keeping that in consideration, some amazing sapota recipes are suggested. These will not only taste good but also provide the intended health benefits:
1. Chikoo Milkshake for Babies
This protein drink is recommended for babies. It will not only taste good but will also boost immunity and aid in brain development.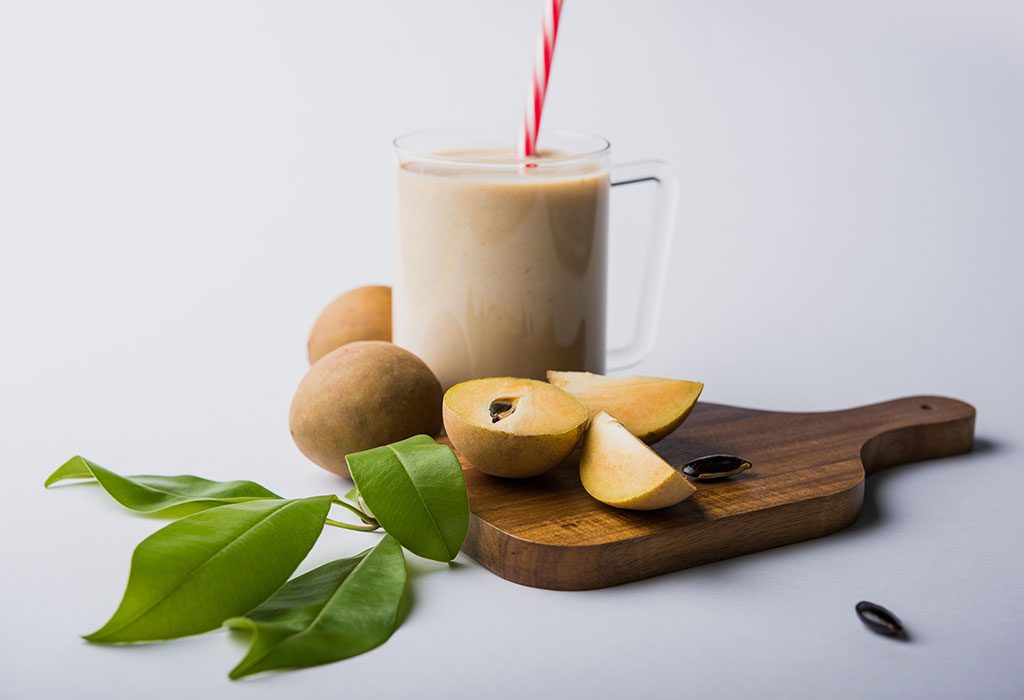 Ingredients
1 ½ cup milk
2 fresh and ripe chikoo
1 tablespoon sugar
½ cup finely chopped cashew nuts
2 ice cubes
How to Prepare
Mix all the ingredients together except ice and blend them till it forms a smooth paste.
Pour in a glass and add the ice cubes.
Serve it chilled to your kid.
2. Chikoo Puree for Babies
Chikoo puree can be made easily and does not require much efforts. Serving sapota puree to your baby is often recommended if your baby's teeth are not developed yet.
Ingredients
How to Prepare

Cut the chikoo from the middle into two equal parts.
Take out the seeds from it.
Mash the chikoo with the help of a spoon, or you could also blend it.
Add breast milk or normal milk so that it easily melts in the mouth of your baby.
Sapota or chikoo is one of the best fruits that can be served to your baby for its good taste and nutritional value. Now that you know everything about this miracle fruit, never hesitate to serve it to your kids and don't forget to follow the mentioned precautions.
Also Read: Banana Puree for Baby