Broken Wheat Upma With Grated Carrot Recipe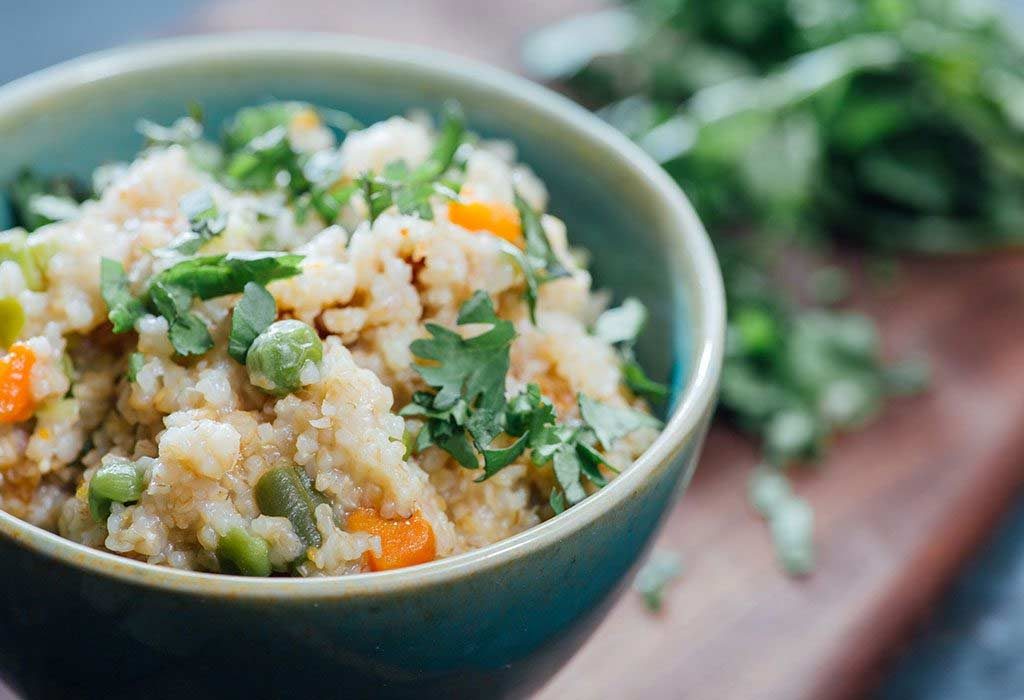 In this Article
Broken wheat is a wholesome meal option for your baby as you begin weaning her. This super-nutritious and healthy meal option can be made sweet or savoury as per your baby's liking. Read on to learn the super-healthy, homemade broken wheat upma with grated carrot baby food recipe that is highly nutritious, packed with the goodness of protein and can be whipped up as a main meal option for breakfast, lunch or dinner!
Cooking Time:
| | |
| --- | --- |
| Type | Time (hh:mm:ss) |
| Preparation Time | 00:10:00 |
| Cook Time | 00:10:00 |
| Total Time | 00:20:00 |
Cooking Method: Gas/ Stovetop
Type of Meal: Vegetarian
Great/Suitable For (Optional): Toddlers over 18 months of age
Meal Schedule: Breakfast, lunch or dinner
Recipe Type: Main dish
Ingredients:
| | |
| --- | --- |
| Type | Quantity / volume |
| Broken wheat or dalia | ¼ cup |
| Carrots (grated) | ½ cup |
| Water | ½ cup |
| Ghee | 1 teaspoon |
| Turmeric powder | ¼ teaspoon |
| Mustard seeds | ¼ teaspoon |
| Curry leaves | 6-7 |
| Salt | As per taste |
Instructions:
Here are the directions for making broken wheat upma with grated carrots:
Wash and grate the carrots and pressure cook with a few spoons of water for two to three whistles.
Take the cooked carrots in a strainer, run them under cold water and keep aside.
Take the same pressure cooker, put broken wheat and water. Cook on high flame for three to four whistles. Then, cook on low flame for a couple of more minutes.
Take a pan, add ghee. Once the ghee heats up, add mustard seeds and curry leaves and let them splutter.
Add turmeric powder and mix well.
Add the cooked carrots and the cooked broken wheat and mix well.
Add salt and mix well.
The upma is ready. Feed it to your baby with some curd when it cools down.
Recipe Tips:
Make sure the broken wheat is cooked properly as undercooked broken wheat may become difficult for your baby to eat and digest.
You can add potato, cauliflower, peas, and other such vegetables to make the recipe healthier and tastier.
You can adjust the consistency of the dish by adding more water or mixing it with some curd just before feeding your baby.
Soaking broken wheat for sometime before cooking not only reduces the cooking time, but it will ensure a better texture to the dish too.
Moong dal can be added for an added punch of protein to the dish.
Nutrition Information (Serving Per 100 Grams):
| | |
| --- | --- |
| Type | Value |
| Carbohydrates | 30 g |
| Protein | 10 g |
| Fats | 5 g |
| Sodium | 170 mg |
| Potassium | 400 mg |
| Fibre | 10 g |
| Sugar | 3 g |
| Vitamin A | 8 mg |
| Vitamin C | 7 mg |
| Calcium | 40 mg |
| Iron | 3 mg |
Health Benefits:
Here are some health benefits of broken wheat upma with grated carrot for toddlers:
Broken wheat is easily digestible and thus keeps your baby's intestines health. It also helps reduce the chances of digestion-related issues.
Loaded with carbohydrates, broken wheat not only provides much-needed energy to your toddler, but it also keeps your baby feeling fuller or satiated for longer.
Feeding broken wheat indirectly helps in maintaining the oral health of your baby because it requires extensive chewing, which in turn helps in improving blood circulation in the gums and also keeps dental caries at bay!
Carrots are rich in flavonoids that help in transporting oxygen to various parts of the body and flushing out toxins.
Beta-carotene and Vitamin A in carrots help in developing good eyesight in babies.
Buying Guide:
Make sure you keep in mind these pointers when you shop for ingredients for this recipe for your baby:
Always buy seasonal carrots or vegetables that are in season. Cold storage veggies and fruits are not as good as fresh produce.
Ensure that you pick up finely ground broken wheat for your baby as the coarser ones may get difficult to swallow and even digest. However, do not pick refined broken wheat as too much processing reduces the nutrition content of wheat.
Now that you know how to make broken wheat upma with grated carrots, try this incredibly nutritious recipe at home. Your toddler is sure to love it!
?>