Boiled Channa Chaat Recipe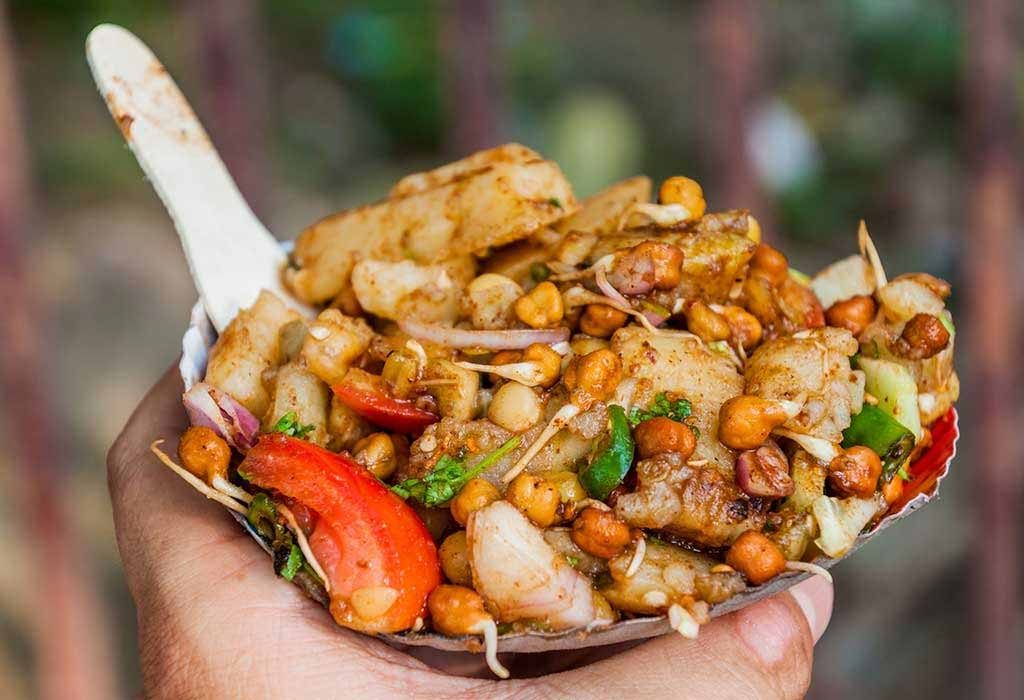 In this Article
Channa or chickpeas are the most popular and oldest legumes on earth. Channa is high in proteins and fibres. Boiled Channa Chaat for babies is soft, tasty, and delicious. Also, this chaat can be a great starter and you can serve it either warm or chilled. You can make this chana chaat using Kabuli chana or Kala channa.
Cooking Time
| | |
| --- | --- |
| Type | Time (hh:mm:ss) |
| Preparation Time | 00:05:00 |
| Cook Time | 00:20:00 |
| Total Time | 00:25:00 |
Cooking Method
Gas Stove
Type of Meal
Vegetarian
Suitable For
Any baby over 14 months of age
Meal Schedule
For breakfast or mid-morning snack, an after-school snack, and an evening snack.
Recipe Type
Main Dish
Ingredients
| | |
| --- | --- |
| Ingredients | Quantity and Volume |
| Channa or Chickpea | 1 small cup |
| Onion | 1 pc |
| Tomato | 1 pc |
| Butter | 2-3 Tsp |
| Potatoes | 1 pc |
| Coriander Leaves | 5-6 pc |
| Salt | 1 Tsp |
| Lemon Juice | ½ Tsp |
Instructions
If you are wondering how to make Boiled Channa Chaat, here it is! It's very simple and easy to prepare. Below are the detailed step by step directions to prepare Boiled Channa Chaat.
Firstly, Wash the dry chickpeas and soak them in water overnight or for 6-8 hours.
Drain the water, and add the soaked chickpeas into a pressure cooker.
Add water in the cooker so that they are well soaked.
Pressure cook for 3-4 whistles or make sure the chickpeas are cooked properly.
Turn off the gas flame and drain the cooked chickpeas after the pressure cooker cools down.
Now add the butter in another pan and melt the butter in medium heat.
Chop the onions, tomatoes and potatoes in small pieces and put all of them in the pan.
Now cook the onions, tomatoes and potatoes for a minute or two, add the salt.
Add the boiled Chickpea in the pan and now mix them well.
For garnish, sprinkle the lemon juice and coriander leaves on the Chaat.
Boiled Channa Chaat is ready to eat. It can be served in both hot and cold ways.
Store them in the refrigerator during the summers and serve the chaat cold.
Recipe Tips
Keep the below-mentioned points in your mind before you start preparing the healthy and simple Boiled Channa Chaat recipe for your baby.
Finely chop the onion, tomatoes and potatoes.
Soak the Channa or Chickpeas overnight in filtered water.
Use filtered clean water for boiling the Carrot and Sweet Potatoes. (optional)
Add the salt and other ingredients as per the baby's taste.
Wash your hands properly before cooking and make sure the utensils used should also be properly cleaned.
Make sure the Channa is boiled properly as half-boiled Channa will be difficult to swallow for babies.
If you find that your baby is unable to chew and swallow, then you can also mash the Channa.
If you pre-prepare and store boiled chickpeas, then the chaat can be made within five minutes.
Add the lemon juice and salt according to the baby's likes or dislikes.
Nutrition Information (Per 100 Grams)
| | |
| --- | --- |
| Nutrient | Value |
| Energy | 147 kCal |
| Protein | 6.1g |
| Carbohydrates | 18.1g |
| Fibre | 3.2g |
| Fat | 5.6g |
| Cholesterol | 15 mg |
| Vitamin A | 610 mg |
| Vitamin B1 (Thiamine) | 0.2 mg |
| Vitamin B2 (Riboflavin) | 0.2 mg |
| Vitamin B3 (Niacin) | 2.1 mg |
| Vitamin C | 32.1 mg |
| Vitamin E | 0.2 mg |
| Folic Acid (Vitamin B9) | 15.1 mcg |
| Calcium | 59.3 mg |
| Iron | 1 mg |
| Magnesium | 14.1 mg |
| Sodium | 106.3 mg |
| Potassium | 394 mg |
| Zinc | 0.2 mg |
Health Benefits
Below are the health benefits of home-made Boiled Channa Chaat baby food recipe.
Chickpeas or Channa are good sources of iron, zinc, folate, protein, manganese and calcium.
High nutrient Channa, enhances the babies immune system.
The amount of Iron prevents weakness and prevents anaemia.
It is easy to digest and makes babies stomach feel light.
It consists of a good source of polyunsaturated fats which acts as a laxative.
It also benefits in building up strong bones.
It also results in hair growth and makes the body function properly.
Buying Guide
Buy organic Channa or ChickPea.
Buy fresh tomato, potato, coriander leaves and onion.
Make sure the packaging of the Channa is sealed well.
Check the Channa properly so that there are no insects in it.
Check the expiry date of the Channa or Chickpea before buying it.
Prefer fine and good quality of Salt.
Our babies are very special to us, and when it comes to food and nutrition, they deserve the best. So, avoid packaged food and give your baby a bowl of delicious, and nutrient-rich Boiled Channa Chaat at home.