Best Toys for 4 Months Old Baby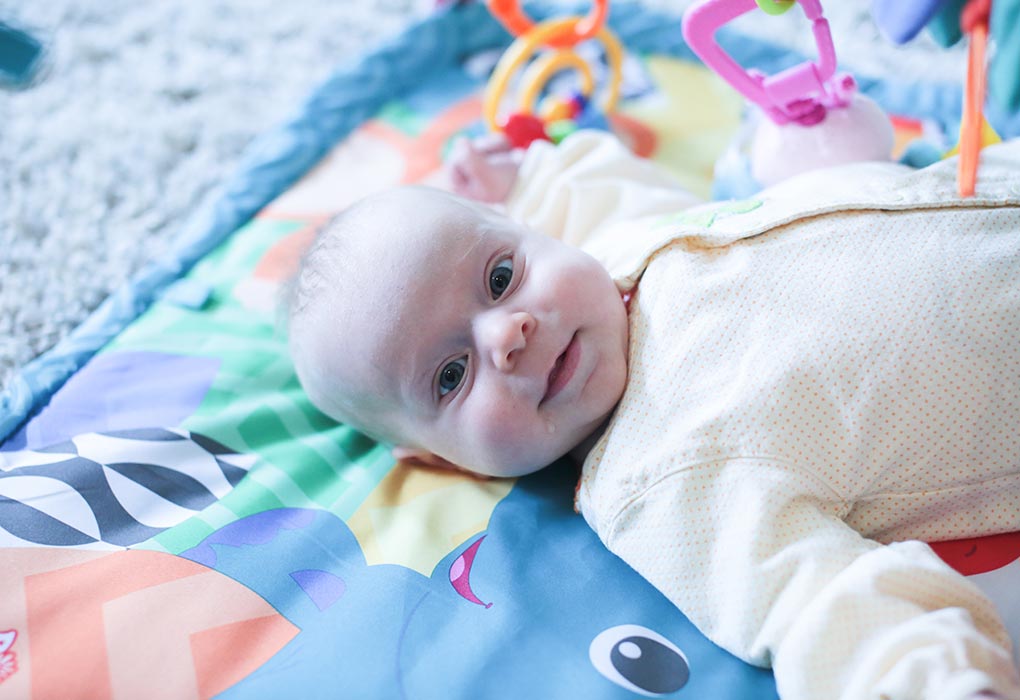 Apart from having to learn how to care for a baby physically, you will also have to help the child develop her skills and elemental abilities.
But what can you actually do to help in that manner, at such young ages? In this scenario, age-appropriate toys for 4-month-old babies can help a long way. With toys, the baby can have fun and also improve various aspects of her development. Of course, you will have to choose the right 4-month baby toys, and this article is about just that.
Rattle Toys
Rattle toys are essential for children, as they can help significantly in various aspects of the development of the child.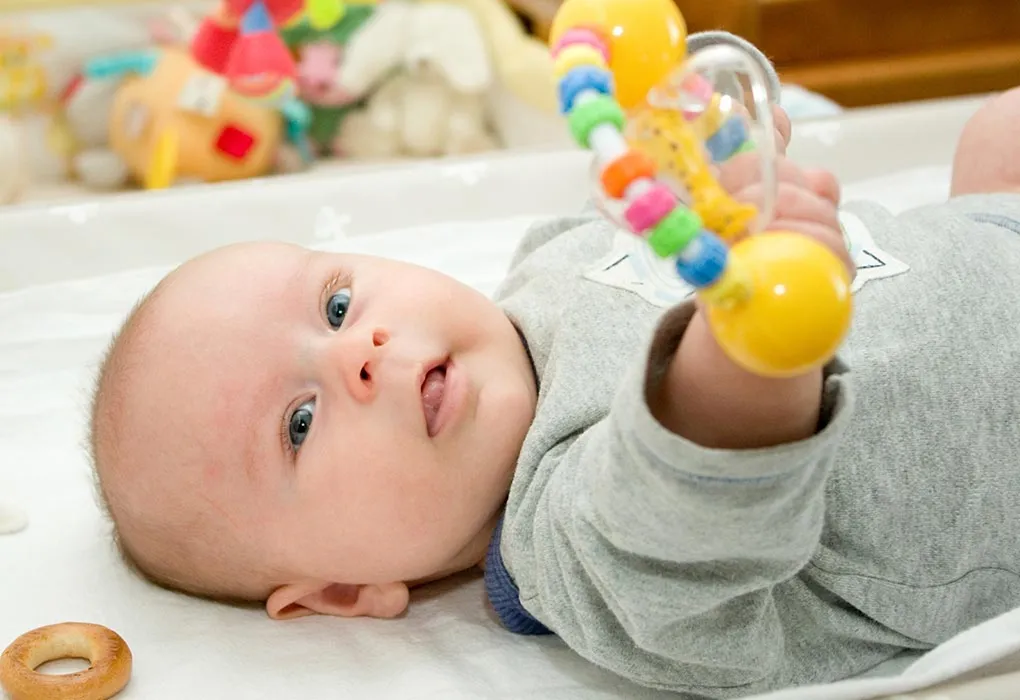 1. Skills Development
With rattle toys, the motor skills of the baby improve greatly. You can place the rattle in the hand of the child, and shake it gently. Your baby is sure to follow through, delighted by the noises coming out of by shaking the toy.
Coordination skills of the child also improve, if you play with rattle toys well. Place the toys in front of the baby, and make her reach for it. When she does hold it, gently shake it so that she understands that she caused the noise.
Another facet of coordination skills, the close coordination of the baby can be improved with a rattle which is large enough to be held by both hands. Make him hold the rattle with one hand, and then let go- this will help the child pass the rattle from one hand to the other.
2. Recommended Toys
Twist & Turn Grapes
Teethe 'n Rattle Trumpet
Corn Popper Rattle
Teething Toys
Teething is another important part of the development of any baby. These toys will also be a great pastime for the child.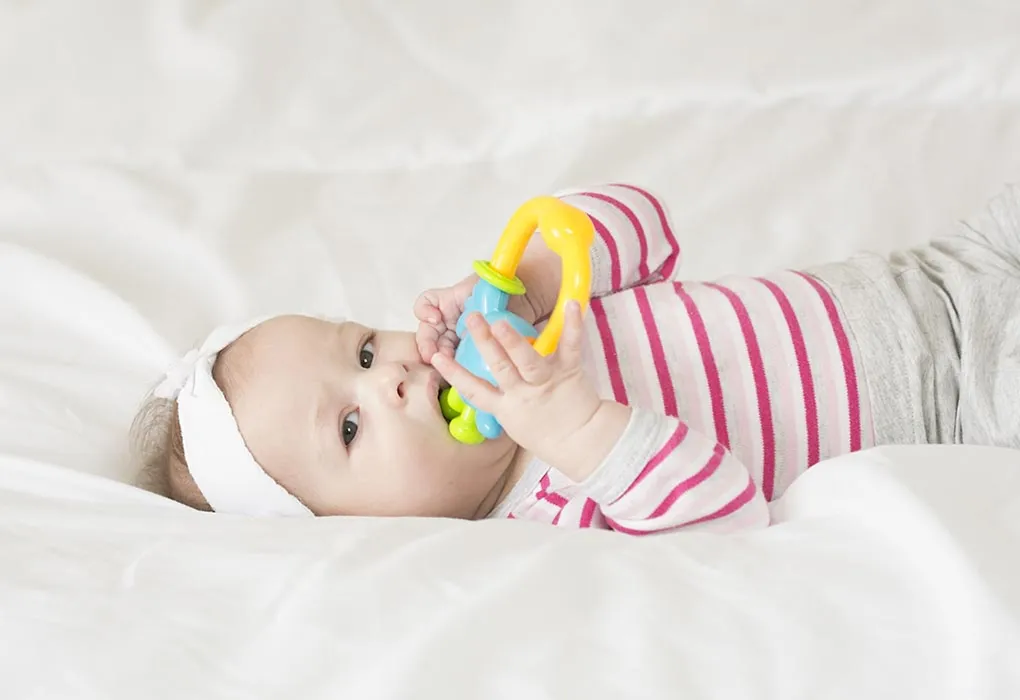 1. Skills Development
Teething toys improve the coordination of the baby, as well as his sensory skills.
If they are bright coloured, babies are naturally attracted towards the toys- since the toys are easy to hold, they will likely hold onto it for a long time.
The process of teeth growing in the mouth of a baby is a painful one, and you will find the baby crying more often at this age. By biting onto a teething toy, the pain can be alleviated greatly.
These toys also promote the transition from nursing to chewing, so are essential for the babies so that they get used to chewing.
2. Recommended Toys
Zig Zag Kid Musical Cow Soft Plush Baby Rattle with Teether
Fruit-themes Teether Toys
Nuby Silicone Teethe-EZ Teether with Bristles, with a Hygienic Case
Mobile and Music Toys
Music is a mainstay in the life of any child- it helps him understand how to interpret sound and get the basics of rhythm right.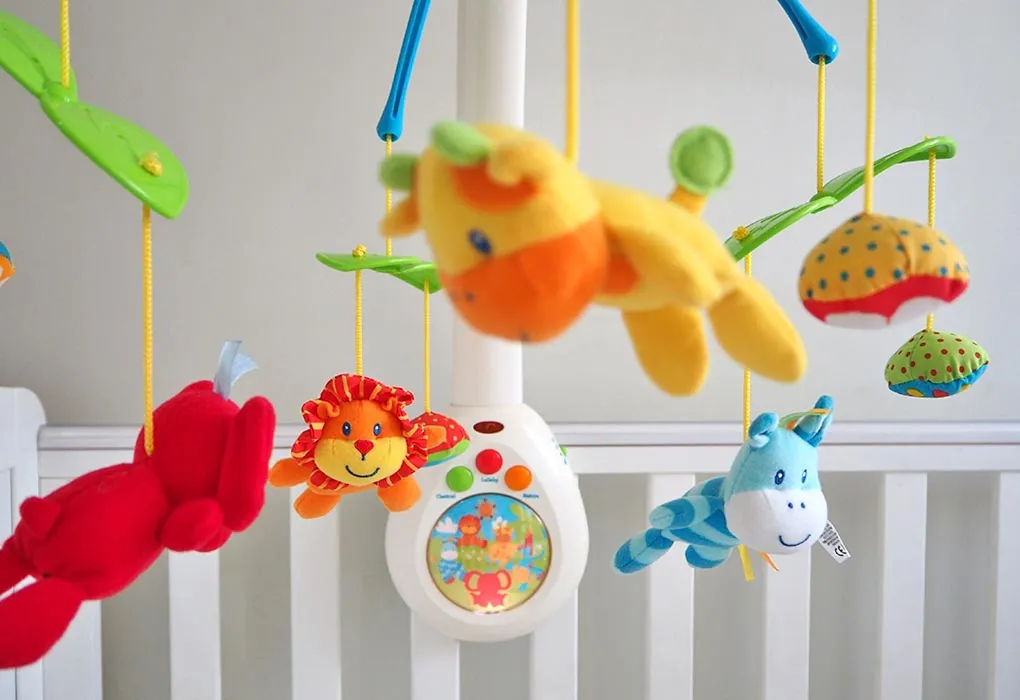 1. Skills Development
Mobiles which play music are available for children, which can help your baby listen to music all the time- this improves their hearing ability.
You will find that your baby becomes more vocal too, trying to sing or hum along with the music.
It also helps the baby understand the concept of cause and action, as she realises that the songs are coming from the mobile and that pressing a few buttons will result in different voices and tones.
2. Recommended Toys
Music and Lights Elephant
3-in-1 Soothe & Play Seahorse Mobile
Woodlands Friends 3-in-1 Musical Mobile
Rainforest Grow-with-me Projection Mobile
Soothers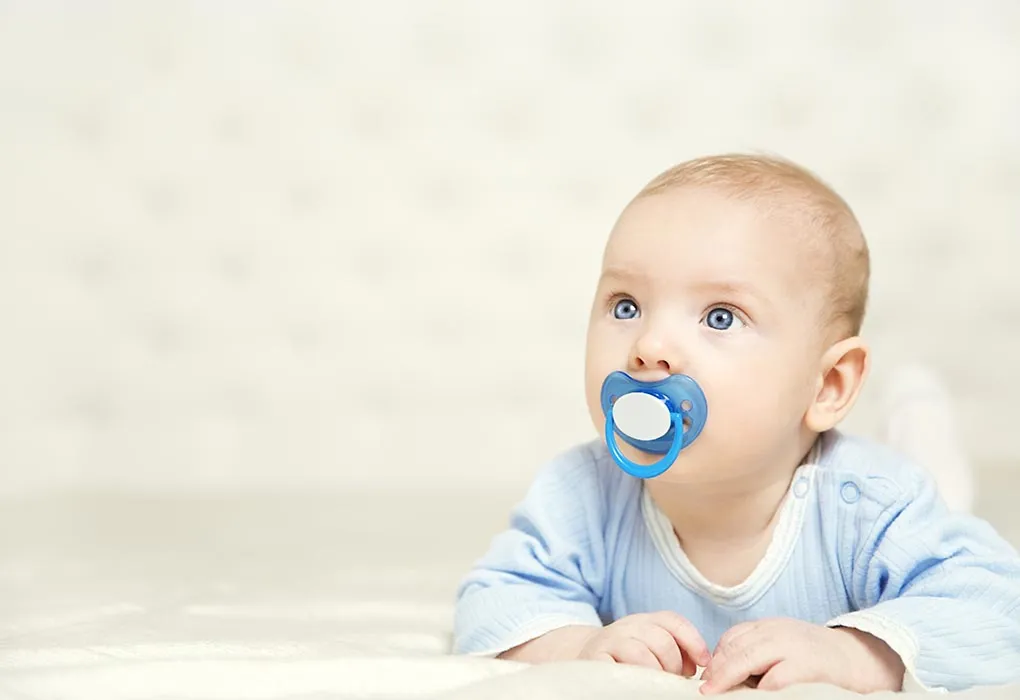 More often than not, you will observe that your baby is agitated. At such times, you will find that the soother toys for 4-month-old baby boys and girls can help greatly.
1. Skills Development
Soothers teach babies one of the most important aspects of life at a young age – self-regulation.
A soother toy with music, sights and gentle sounds can help the baby wind down and understand when it is time to go to sleep.
The various lights and colours of the soothers will also help the child understand and differentiate between various colours and appearances.
When the baby soothes and drifts off into sleep, it can also help you unwind and relax after a tiring day.
2. Recommended Toys
Infant to Toddler Rocker
Baby Musical Bouncer
Mastela Soothing Vibrations Bouncer
Portable Toys
Of course, every child and her parents need portable toys– otherwise, it can be really hard to manage your child. If you travel frequently, you will require a few toys which you can carry easily so that your child is never agitated.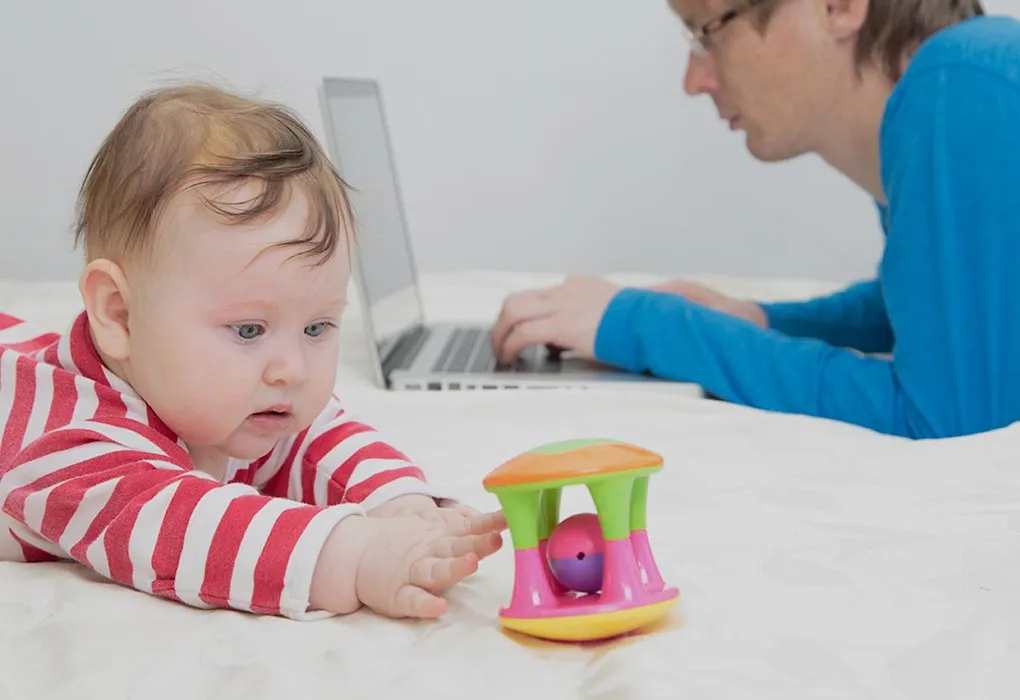 1. Skills Development
Portable toys are of various types so that they can be of great use in the development of the various aspect of the baby's bodily functions.
Most portable toys have amazing, vibrant colours and contrasting patterns- this is a great way to stimulate the visual sense of the baby.
She can also improve on the aspect of switching focus, and listen to different sounds from the toys.
2. Recommended Toys
Honey-bee Teether
Alligator Teether
3-in-1 Convertible Car Gym
Move 'n Groove Piano
Educational Toys
Even though it might seem to be a bit too early for your baby to start educating herself, some of these educational toys for four months old girls and boys can help improve the functions of their brains.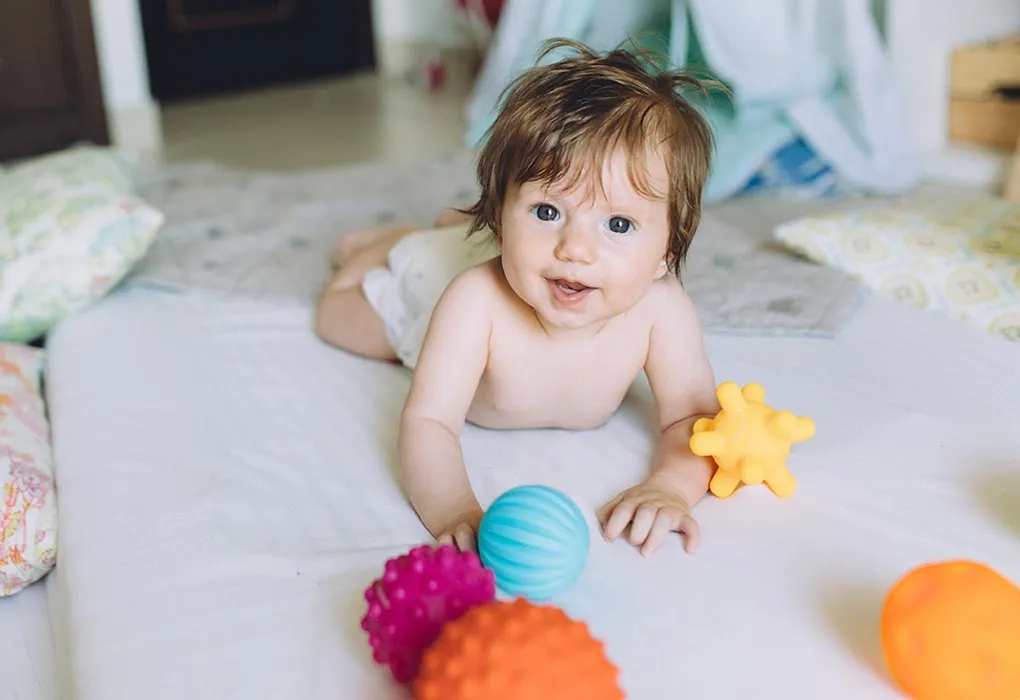 1. Skills Development
By pointing out the various patterns and number on the toys, you can give the baby an idea about how they differ and help her recognise the figures as she grows up.
2. Recommended Toys
Dancing Stand Colourful Rocking Giraffe Wooden Toy for Kids Intelligence
Landfox Animal Puzzle Cloth Book Baby Toy Cloth Development Books
A-Store Lala Baby Portable Cognitive Crawling Game Mat
Activity Toys
Activity toys are helpful at young ages, as they help your baby keep busy and burn off some energy through activities that help her develop.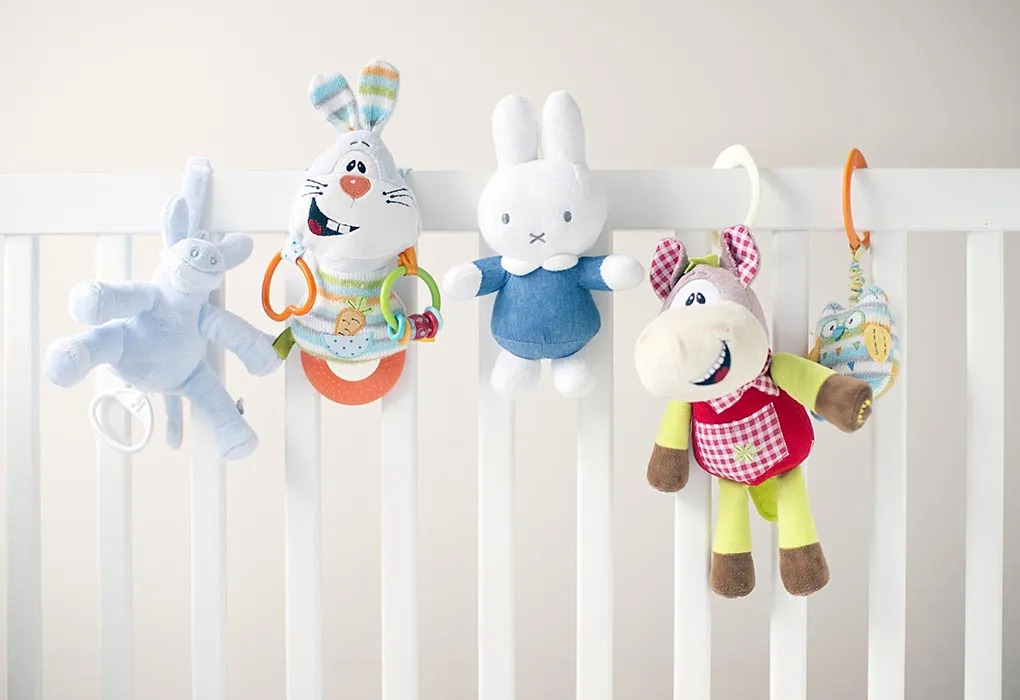 1. Skills Development
Imagination and creativity of the baby are stimulated, through such activity toys.
Motor skills, like grabbing and pinching also improve greatly.
Animal toys can help her differentiate between different living things, and her knowledge also increases.
2. Recommended Toys
Cotton Animals Magical Blocks for Infants
Musical Caterpillar Toy
Fisher-Price Rattle and Rock Maracas Musical Toy
Crib and Stroller Toys
Your baby might end up in the stroller for at least a part of the day, so it is important that she remains engaged at this time- these toys can ensure that your baby causes minimal problems when you are outside.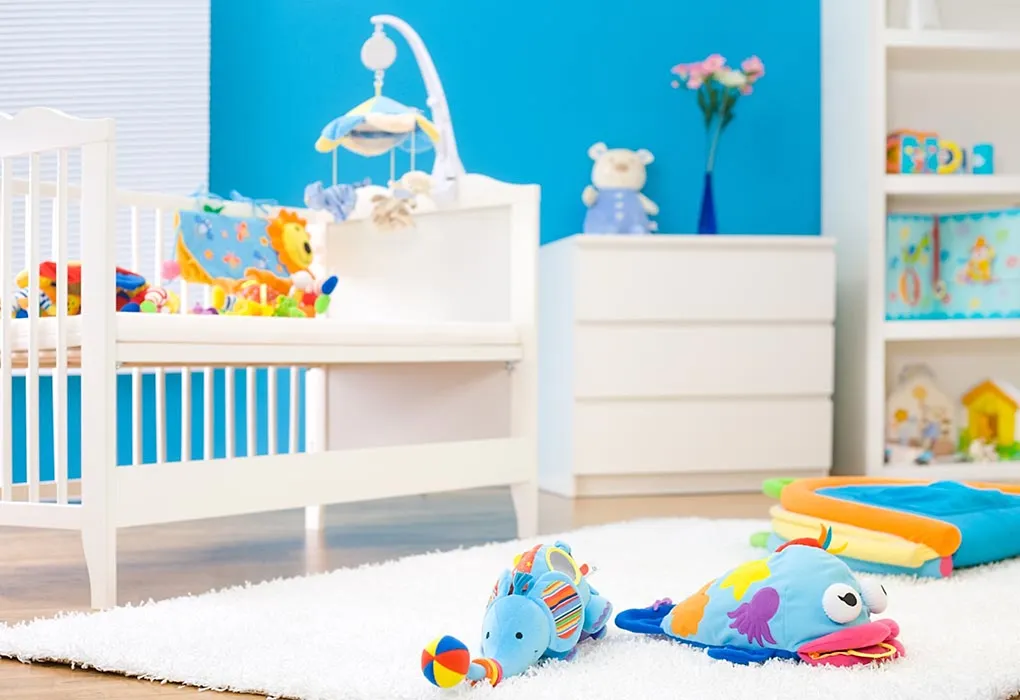 1. Skills Development
Crib toys are usually safe, creative and promote the sensory development of the baby.
They help in the early visual development and display high-contrast images which help the baby differentiate between shapes and forms.
Some toys also have music, which keeps her busy and develops her auditory senses.
2. Recommended Toys
Shiloh Baby Developmental Crib Toy with Arm and Musical Mobile Blue Sky
Manhattan Toy Wimmer-Ferguson Infant Stim Mobile To Go Travel Toy
Skip Hop Baby Silver Lining Cloud Rattle Moon Stroller Toy, Multi, Clouds
What Does Age Recommendation Labels on Toys Mean?
Age recommendation labels on the toy are only a general guideline for parents.
They help the parents see whether the baby can fully understand the toy and whether it can help them.
Most babies can use toys which are meant for older babies- however, educational toys cannot be used for babies younger than the label, in most cases.
Safety Tips for Babies
Here are some safety tips to consider before buying toys for kids.
Avoid toys with small detachable parts, as the baby is at risk of choking at young ages.
In the case of teethers, you will have to check whether the toys are made of safe, hazard-free chemicals.
Buy teethers made of biodegradable substances, to prevent any harmful effects on the child.
How to Help Your Baby Learn While Playing?
Helping your baby learn through toys in the best way to teach. Here's how you can do it.
Interact with your baby as much as possible, so that she at least tries to understand what is being pointed out to her.
You can talk to her when she tries to understand something new- she will have an attachment to your voice, and this will help her differentiate between your voice and other sounds.
Encourage her to do things for herself, like reach out and hold toys- do not always place what she wants into her hands.
How to Choose Best Toys For Your 4 Month Old Baby?
Here's how to choose toys for your little one:
Choose only toys that she might need, not whatever she wants.
Do not buy a toy which works on button batteries. Your baby might end up swallowing them, so you would constantly have to be on the lookout.
Buy wooden toys with child-friendly dyes so that it is okay for her to bite into her toys.
Think of your baby's age while buying toys for her.
Do not buy toys which have parts smaller than 1.5 inches in width, height or length- they are choking hazards.
Buying the right toys for your baby can go a great way in helping her develop her skills and abilities- however, you need to think of the safety aspect too, when you get her a toy.
?>