Beautiful Rainbow Themed Baby Shower Ideas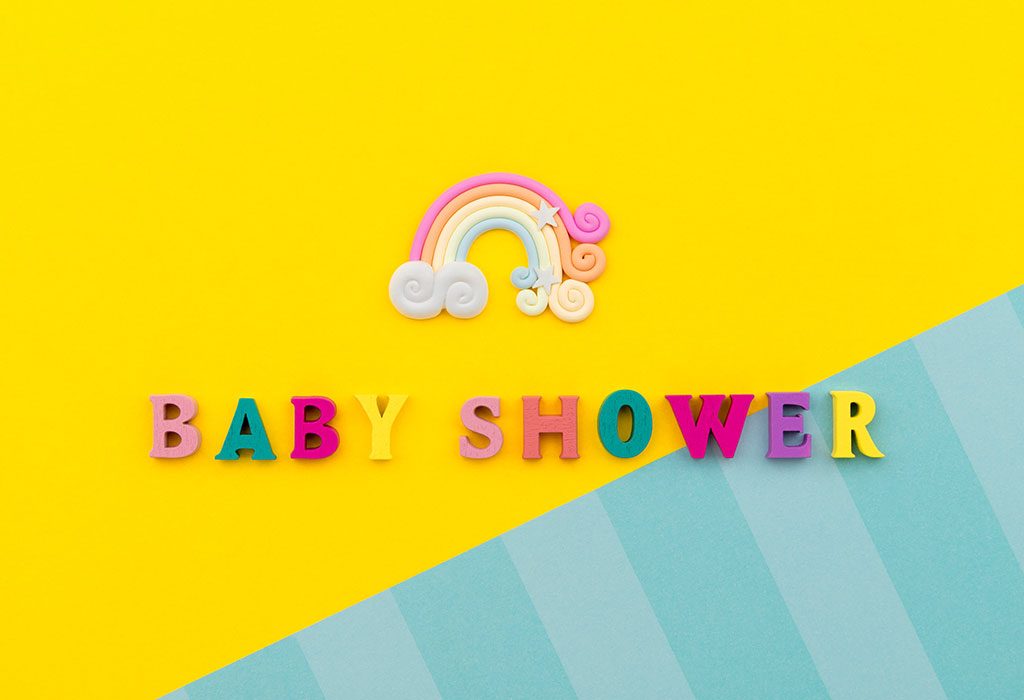 Baby showers are a time when family and friends gather to have fun, share delicious food, play games, and give gifts to help prepare the parents-to-be before the little angel arrives! While it sounds like a lot of fun, planning the baby shower can be extra tough, especially when you do not have a theme at hand. If you are looking for a few ideas, read on to find out why you should consider going for a rainbow-theme and how to plan the perfect rainbow-theme!
Why Choose 'Rainbow' As a Theme for Baby Shower?
A few reasons why you should consider the Rainbow theme are:
1. The Colours!
Rainbow has so many cheery and bright colours and those will be incorporated in your decorations when you choose this theme! The colour palette will look stunning no matter which rainbow theme you go for – the bright rainbow theme or the pastel rainbow baby shower theme!
2. It Is Gender-Neutral
For parents who are looking for a gender-neutral theme, the rainbow-themed baby shower is perfect! It features all the colours so you could not have to worry about leading anybody on to the gender of the little one!
3. Great for a Spring Baby Shower
If you are hosting the baby shower in spring, then the rainbow theme is perfect because of its cheery and sunny vibes.
4. Perfect If You Are throwing a Baby Sprinkle
The rainbow theme is perfect for people planning a baby sprinkle shower. This is usually reserved for the third or the second baby and is an idea worth considering!
5. Symbol of Miracle
If the parents-to-be have suffered a loss before this pregnancy, then the rainbow baby can be considered a symbol of miracle after having gone through an infant loss.
Tips and Ideas to Throw a Rainbow Baby Shower Party
Check out these amazing ideas and tips to host the perfect Rainbow Baby Shower party your guests have never seen!
Rainbow Baby Shower Invitations
Source: Pinterest
A colourful rainbow invitation is not just beautiful but it will also allow the guests to the theme of the baby shower! A few popular ideas are:
Rainbow wash
Rainbow letters
Rainbow cloud
Rainbow Baby Shower Decorations


Source: Pinterest
While there are so many rainbow baby shower decoration ideas online, you could consider the following ideas for your baby shower:
1. Doorway Rainbow: To create a whimsical rainbow effect over a doorway, you could purchase a few coloured streamers, twist them, and paste them at both top ends of the doorway. Add a cluster of white balloons at the end to give it a cloud effect.
2. Rainbow Photo Booth Backdrop: You could procure plastic curtains or cloth curtains in all the rainbow colours and hang it in order on one of the walls. For a more magical touch, you could paste small starry stickers on the curtains and a few cloud stickers on the rainbow baby shower backdrop.
3. Rainbow Balloon Centrepiece: A balloon rainbow baby shower centrepiece will look impressive and super professional. You can do this on your own with a few balloons, wires, and other items present in your local store. Place a Rainbow diaper cake near this balloon centrepiece to make it look more related to the baby shower!
4. Rainbow Pom Pom Table Décor: With the rainbow flower on a stick idea, using coloured tissue papers and a cup containing coloured pom-poms, you are going to have the best table decoration at the party! The layers of the craft tissue paper stack help you create a festive look and will add colour to your tables!
5. Rainbow Rain Cloud Decorations: DIY Rainbow Rain cloud decorations will make your venue look dreamy. You will need a few white tissue papers to act as the clouds, coloured card stock paper to be the raindrops, and some wire to hang them from the clouds. You could either hang them all around the venue or hang them over the gift table.
6. Rainbow Balloon Arch: The balloon arch has a festive touch and is perfect for the wall behind the food table. All you will need are some coloured rainbows and white balloons to be the cloud. Moreover, a balloon arch is easier to clean up at the end of the baby shower.
7. Rainbow Flowers: To decorate the entryway as guests come in or the window sill, you could put to use the rainbow flower decorations. Take a few transparent glasses, fill these in water, add food-colouring in each glass to create a rainbow and add white flowers to the glasses.
Rainbow Baby Shower Cakes, Foods, and Drinks
Source: Pinterest
When you are planning a baby shower, coming up with the perfect food and drink options is as important as choosing all the theme-related decorations for the baby shower. While there are so many options, from rainbow baby shower cookies to rainbow cupcake towers, you could consider these easy-to-make ideas for food and drinks!
1. Skittles and Marshmallow Rainbow Cake: The skittles and marshmallow rainbow cake is very easy to make and is the perfect way to turn a normal cake into a 3D rainbow cake. For the cake, you could get a plain white cake, a bag of marshmallows, and a bag of skittles. For the two clouds at the two ends, arrange the marshmallows to form the clouds and arrange the coloured skittles to form a rainbow from one cloud to another.
2. Rainbow Veggie Platter: You could get a few rainbow-coloured fruits and vegetable to arrange these in form of a rainbow; this would form a healthy snack, sticking completely to the theme! This would be the perfect healthy attraction at your party!
3. Rainbow Cupcake Tower: If you are an expert in cooking in cupcakes, you could create your own beautiful tower of cupcake rainbows! Arrange the cupcakes from the bottom to the top like a pyramid with violet at the bottom to red cupcakes at the top! This could also act as an amazing centrepiece at the party and be a delicious addition!
4. Rainbow Deviled Eggs: While traditional deviled eggs often disappear too soon form the platter, a few homemade rainbow deviled eggs for your rainbow-themed baby shower is something your guests will definitely talk about for many years! You can check the recipe out online and with some food colouring, you could arrange it on a tray to form a rainbow!
5. Rainbow Punch: A rainbow-themed baby shower must have a rainbow punch in its drink menu because is there a better way to welcome a sweet baby? The punch will have layers of the rainbow colour and you can check out the recipe online!
6. Rainbow Layer Cake: No rainbow-themed party is complete without a rainbow layer cake! The six-layer rainbow cake is very easy to make or you could order it at your local pastry store! People are definitely going to love this delicious and artistic treat at your baby shower!
7. Rainbow Cheesecake Dip: What is better than a delicious rainbow cheesecake dip for a wonderful rainbow themed baby shower? There are many healthy rainbow cheesecake dip recipes online and these are so delicious that you will definitely have to make an extra batch.
Rainbow Baby Shower Games and Activities
Source: Pinterest
With these fun games and activities, you and your guests will surely have a lot of fun at the party!
1. Balloon Baby Shower Game: Instead of traditional baby shower games, go for something new at your party and try the rainbow coloured balloon baby shower game! All you have to do is gather a few common supplies like a large foam core band, rainbow coloured balloons, ruler, tape, pencil, and pins from your local store. Then on the foam core band, mark grids of equidistant dots (7 horizontally and 5 vertically) using the ruler and the pencil and cut a small triangle hole. Fill the balloons with prizes, blow the balloons, and tie the balloons to the holes. Let everyone try to pop the balloons using pins!
2. Rainbow Baby Bingo: Give all of your guests rainbow coloured bingo cards of their own and let them guess and write down the gifts they think the mother-to-be will receive. They can mark off their card as the gifts are being opened and the first one to get bingo will win!
3. Guess the bump size: Provide your guests with rainbow coloured ribbons and let them cut a length that they think would fit the bump. The closest one will win the prize!
4. What is in the basket?: Fill a basket with baby products and showcase them for about 60 seconds. Ask everything to write down the products they remember seeing in the basket and the first one to get the maximum number wins the prize!
5. DIY Onesie Station: Give your guests a few white onesies, fabric markers, and painters tape to make their own rainbow-themed creation for the little one!
Rainbow Baby Shower Favours
Source: Pinterest
Party favours are the best way to thank your guests for being part of a wonderful occasion but you could make it a bit more fun by including your theme into the favour. Moreover, a rainbow-themed party favour will help your guests always remember the fun they had at your party and will be something your guests will always cherish. For the baby shower, you could consider the following:
Rainbow bubble bar party favour
Raindrops party favour
Sprinkle votives
Rainbow Chocolate covered pretzels
Rainbow soaps party favour
There are so many other amazing rainbow ideas out there, but no matter which one you go for, you are definitely going to plan the perfect bright and cheery rainbow-themed baby shower to welcome the little one!
Also Read:
Amazing Co-Ed Baby Shower Ideas
Baby Shower Invitation Wordings Ideas
Amazing Baby Shower Poems