Banana Walnut Pancakes Recipe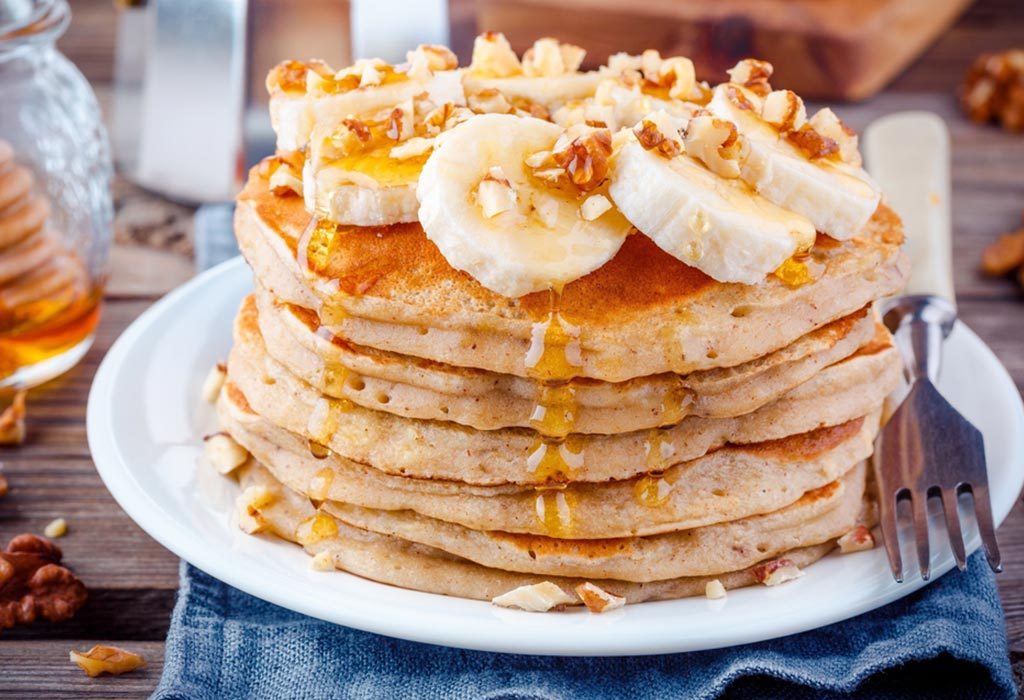 In this Article
Banana Walnut Pancakes prove to be a good choice to introduce your baby to finger food. These are soft, easy to chew and to grab. Also, these are good sources of proteins, potassium, and other essential nutrients and prove to be the perfect food for baby-led weaning. They are free from gluten and refined sugar and are easy to make. Pancakes made by following this simple Banana Walnut Pancake recipe are surely going to be loved by your little one.
Cooking Time
| | |
| --- | --- |
| Type | Time (hh:mm:ss) |
| Preparation Time | 00:05:00 |
| Cook Time | 00:05:00 |
| Total Time | 00:10:00 |
Cooking Method: Gas
Type of Meal: Ovo-vegetarian (contains eggs)
Suitable For: Babies from 14 months onwards
Meal Schedule: Breakfast, Mid-Morning Snack, Lunch or Evening Snack.
Recipe Type: Main Dish
Ingredients
| | |
| --- | --- |
| Type | Quantity / Volume |
| Egg | 1 medium-sized |
| Banana (ripe) | 1 medium-sized and ripe |
| Butter | 1 to 2 teaspoon |
| Oats | ¼ cup |
| Walnuts (either crushed or powdered) | 2 tablespoons |
| Honey (Optional) | 1 to 2 teaspoons |
Instructions
Follow these step by step directions to make delicious and healthy banana walnut pancakes:
Peel a perfectly ripe banana and mash it nicely using a fork, making sure no lumps are left. You can also make a fine puree using a blender.
Take a deep bowl, break the egg into it and whisk it until frothy.
Put the mashed banana in the beaten egg and mix it thoroughly.
Now mix oats and walnut powder to this banana mixture and whisk properly to get a lump-free mixture.
Take a shallow pan and heat it over medium heat.
Grease the pan with butter before pouring the pancake mix on it.
Gently spread a small amount of the mixture on the pan.
Cook the pancakes for about 2 minutes from both sides until they turn golden brown.
Repeat the process till all the pancakes are prepared.
Serve warm and drizzle some honey to add more flavor.
Recipe Tips
Use walnut only if the baby is not allergic to it. You can use it in small chunks if your baby likes it that way otherwise powdered form is preferred to provide her with the goodness of walnuts.
These pancakes can be stored for later use. But make sure that you store them in an airtight container to keep them fresh and moist.
Using honey in this homemade Banana Walnut Pancakes recipe is optional and you can serve pancakes to your munchkin without adding honey as banana also makes them sweet.
You can also add chopped banana slices to the recipe if your baby can chew properly.
Always wash your hands well before cooking any meal for babies. All of the utensils should also be properly washed and cleaned before using them for babies.
Peel bananas just before you start making this recipe.
This recipe does not require additional sugar as ripe banana itself adds sweetness but if your baby has a sweet tooth, drizzle a little amount of honey after preparation.
Walnuts pose allergy risk and must be given to babies after a 3-day rule. Give walnuts to your baby only if he/she has completed 12 months and tested other nuts too.
Nutrition Information (Per 100 Grams)
| | |
| --- | --- |
| Type | Value |
| Carbohydrates | 31 grams |
| Sugar | 4.3 grams |
| Calcium | 44 milligrams |
| Iron | 2.4 milligram |
| Protein | 7.4 grams |
| Fat | 8.5 grams |
| Dietary fibre | 5 grams |
Health Benefits
These Banana Walnut Pancakes for babies/ toddlers are not only delicious but are full of health benefits. Here are few of the health benefits of Banana Pancakes for babies:
Bananas and oats both are full of fiber and helps indigestion.
They both keep the baby full for a longer duration.
Bananas and walnuts are packed with essential nutrients including potassium, calcium, vitamins, etc. and helps in weight gain and growth.
Oats are also a rich source of vitamin B-6, K, E, folate, niacin, riboflavin, etc., and contain antioxidants that enhance the immunity.
The presence of essential nutrients like calcium and potassium in banana makes it good for weaning babies.
If your baby doesn't like a lot of texture in these pancakes, blend oats and walnuts to make a smooth powder.
Buying Guide
Make sure all the ingredients are fresh, and if possible, opt for organic products.
Choose only ripe banana as the raw banana will spoil the taste of pancakes.
Now you mommies out there know how to make Banana Walnut Pancake. So, what are you waiting for? Just gather the ingredients and start preparing a healthy and delicious meal for your munchkin.