Baby Care in the Monsoon Season – Useful Tips for New Parents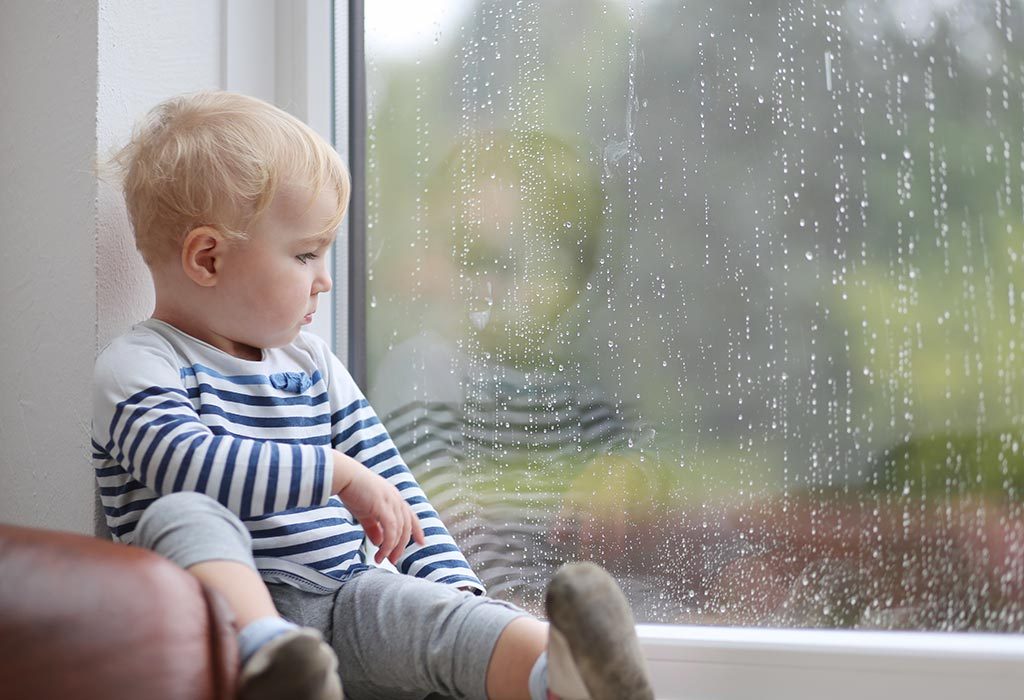 Staying in our country makes everyone look forward to the monsoons; the moment the first showers begin marking their presence in the weather maps. For many new parents, this might be the first monsoon for your baby and, if he's of the appropriate age, the experience of seeing rain might bring immense happiness to him. But everyone knows that the rains bring uninvited guests in the form of disease-spreading germs and mosquitoes that have now become ubiquitous with the arrival of the monsoons. Childcare in the rainy season needs to be stepped up a notch in such cases.
Video: Baby Care In Rainy Season – Useful Tips For New Parents
How to Take Care of Your Infant in the Rainy Season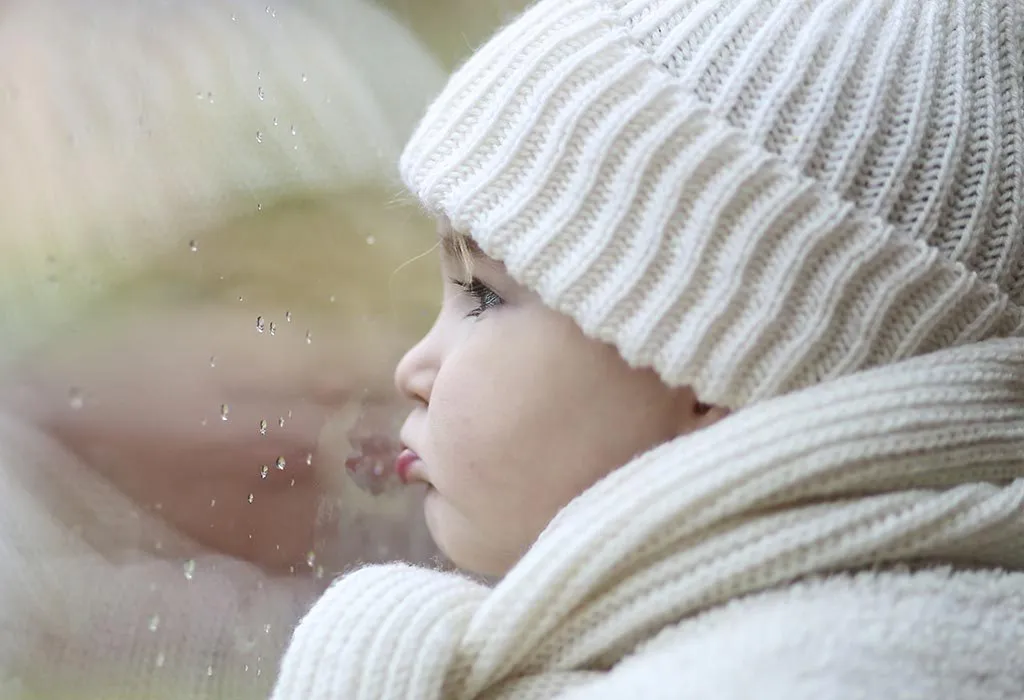 For a little toddler, the rains will get him towards the windows and the balcony and watch the falling drops with delight. There are a couple of things that need to be taken into account to keep him safe. Some of them are to be applied while travelling outside, while others need to be taken care of within the home itself.
Indoor Care
Some cautions to take within the home are,
1. Cleanliness of the home
Take a look at different areas of the house, including gardens, bathrooms or adjoining balconies, and check for signs of water puddles, and damp and dark corners, as they can give rise to mosquitos and fungal infection. Clean up all your drains to avoiding clogging and overflowing. Electric accidents are common in rainy seasons, so keep unused power plugs covered and secure any loose electric wires that might be dangling.
2. A healthy diet for breastfeeding mothers
Opt for breastfeeding as often as possible since it provides your child with the antibodies and nutrients like vitamins and minerals he needs to stay protected. A good diet ought to be followed by you, too, since those nutrients are what will essentially be given to your child via your milk.
3. Nip the infections in the bud
Fever, body ache, sneezing, and so on are classic symptoms of typical monsoon-induced illnesses and could even indicate the onset of viral diseases. Contact your doctor right away and take the measures necessary to combat the infection in its nascent stage.
4. Keep mosquitoes away from yourself and the baby
Mosquito bites can be quite painful for the baby and leave red swellings in various areas. Choose a mosquito net for your baby's crib so that he sleeps without disturbance. Opt for fully-covered clothes whenever it is evening. If you have a mosquito repellent made from natural ingredients, those can be utilised as well.
5. Regularly change nappies or go nappy-free
Letting wet nappies could give your child a cold or lead to a diaper rash, as it turns into a breeding ground for unhealthy bacteria and fungal infection. Check the nappy more frequently than before and change it immediately, or let him be nappy-free for a while.
6. Wear dresses that are warm and breathable
When monsoons dawn upon us, the atmosphere undergoes two major changes. The rains bring down the temperature of the surrounding area and let the trapped heat escape. This also consequently increased the humidity in the air. This is a weird combination that makes you feel cold and hot at the same time. In such cases, it is best to let your child wear clothes made out of cotton that is thick, or light fabrics made partially from wool. These not only keep him warm but allows his skin to breathe, too.
7. Make sure the clothes are totally dry and a tad warm
Nappies can be changed quite often but the humidity in the air makes it difficult for them to dry rapidly, even usual clothes. This ends up in nappies that are slightly damp or clothes that have residual moisture and are generally cool when worn. Rather than being counterproductive and making it even colder for your child, use a nice hot iron to run over these clothes before storing them. This will remove the moisture as well as make the clothes slightly warm, making them extremely cosy to wear.
8. Keep your hands clean at all times
Hands are the direct gateway through which germs find their entry into your and your kid's body. Keep hands clean by disinfecting them prior to engaging with your baby. Do the same for your little one's hands too, especially if he keeps roaming around. Try your best to keep nails short. Try and keep all the toys and instruments which the baby can reach dry and clean on a daily basis.
9. Food should always be freshly prepared
For slightly grown-up babies who have begun solids, it is necessary to make fresh food for them for each meal. Formulas ought to be prepared in water that is boiled to remove any possibility of infection. All utensils used by the baby should be sterilized after each feeding.
10. Keep your baby clean in the first place
No point in keeping surroundings clean, if all the germs are on your baby. Wipe the baby repeatedly in a day, since the humidity will make him sweat. Armpits, ears, genitals and other areas can hold moisture and lead to infections. Keep them dry.
Outdoor Care
Here's what you can do to ensure proper care outside your home.
1. Avoid dirty areas
Don't go to areas where there are a lot of puddles and mud if you can avoid them. Stroll closer to your home or in the vicinity of your house itself. Avoid areas with dense shrubs or overgrown grass as there is a risk of mosquito bites and sometimes even snake or scorpion bites.
2. Stay away from crowds
Any places with a lot of people have a higher chance of people carrying the infection to be present as well and spreading it further. Stay away from these for you and your baby's well-being.
3. Opt for a portable sanitiser
Since you can't always find clean water when you're outside, make sure you carry a small bottle of sanitizer and use it to clean your hands whenever handling the baby.
4. Mosquito protection is a must
As evenings dawn, mosquitoes can quickly bite kids. Go for full-sleeved shirts and pants for your baby and use mosquito creams to keep them away, too.
5. Playing outdoors responsibly
If your child wants to enjoy the rains, let him do so for a stipulated period of time. Advise him to keep away from dirty areas and have fun in the vicinity of your home. Let them dry up as soon as they are back.
6. Vaccinations are the best protection
Many doctors recommend getting a flu booster shot when the monsoons are around. A single shot of typhoid vaccine and hepatitis A vaccine also helps from preventing water and foodborne infections like typhoid or hepatitis. If your child is yet to finish his schedule or has a low immunity than others, getting a booster vaccine can be quite beneficial.
7. Carry safe and healthy food options along
Any food available outside cannot be judged on hygienic preparation techniques and storage. Always carry a bottle of boiled water from home, and some formula or solids, which you can give to your baby safely.
8. Avoid the rains if you have a cold
This is a little difficult when your child loves rains a lot. But keep him away from rains as much as possible and try alternating it with a nice warm water bath instead.
How Often Should You Bathe Your Baby During Monsoons?
Since a baby is primary indoors, he doesn't need a daily bath. Giving a bath two to three times a week, and especially around humid times, can give your baby relief from the heat as well. If your child has been outside, definitely give him a nice, warm water bath.
Monsoons quite literally paste a smile on children and babies. Playing in the rain and setting down paper boats are what most childhood memories are made of. By taking the right baby care tips in monsoon, little toddlers can make the best of the weather as well and you can be assured of their health and safety, too.
Also Read:
Newborn Baby Care
Room Temperature for Newborn Baby
Common Monsoon Diseases in Babies and Children
?>