Health Benefits of Using Olive Oil for Babies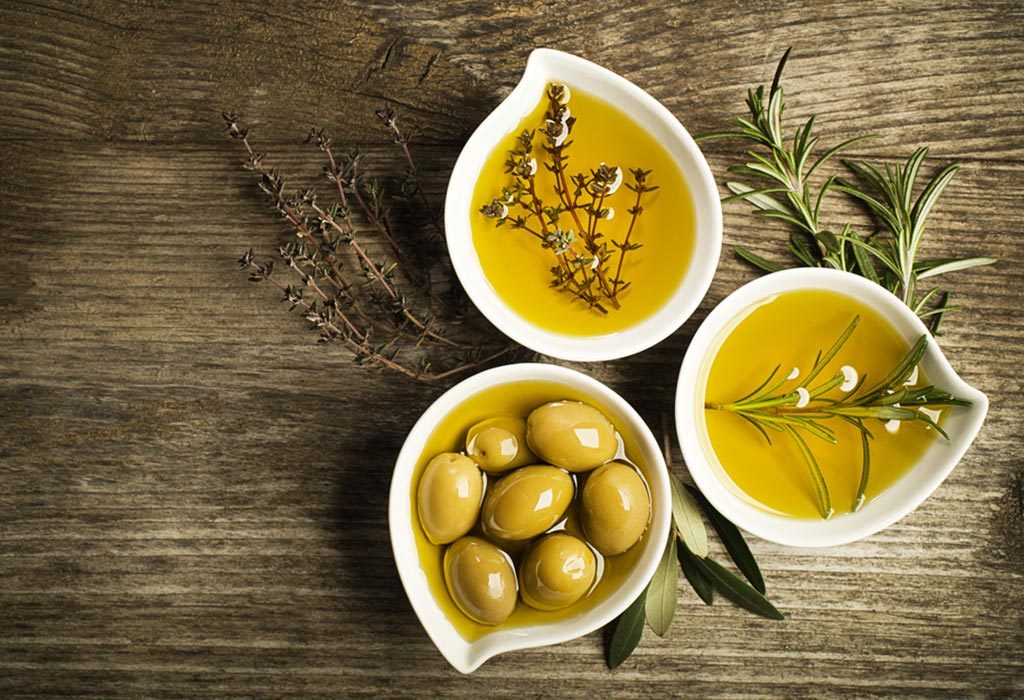 Olive oil is known for its hydration properties and is one of the best oils for baby skin. Besides being used as a natural skincare product, this oil is primarily used for massaging babies' little feet, thus allowing improved sleep and helping them calm down as well. This article explains how to use olive oil for baby massages and what benefits it offers young ones.
What is Olive Oil?
Olive oil is divided into two types – virgin olive oil and extra virgin olive oil. Virgin oil is processed by mechanical means while extra virgin olive oil comes straight from the fruits of olive trees. Extra virgin olive oil is, by far, the purest of different variants of olive oil due to its unadulterated and pure extraction process. However, it is important to keep in mind that some sellers dilute olive oils with other oils, such as canola and sunflower oils, and label them as extra virgin. Therefore, always buy from a genuine and reputable seller to verify the authenticity and purity of the extra virgin olive oil you purchase.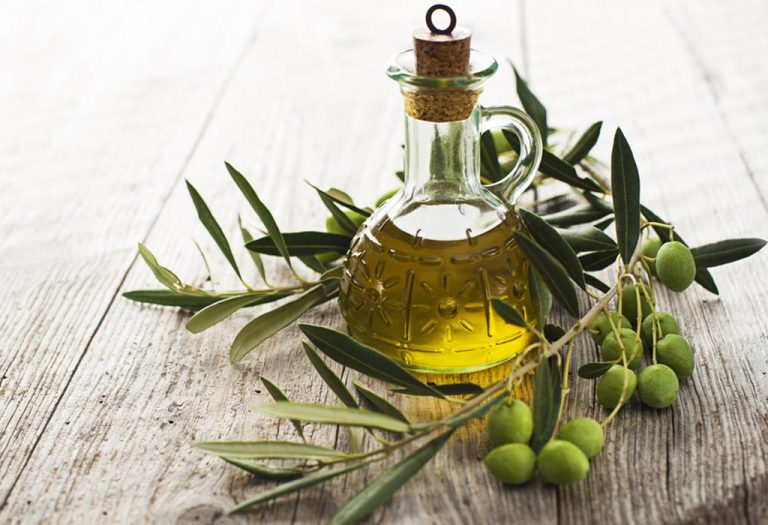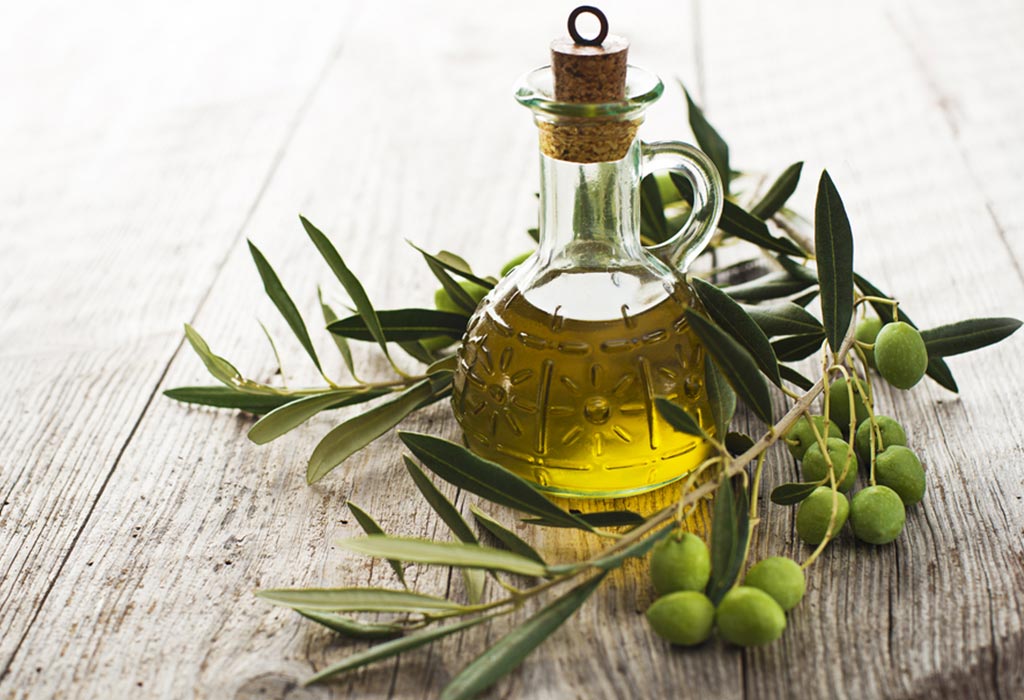 Nutritional Value of Olive Oil
Olive oil is high in antioxidants and phenolic compounds, all fruitful for the skin. Vitamin E, K, and many heart-healthy fatty acids are also found in olive oil. This is the nutrient content you get in every 100g of extra virgin olive oil:
72% of the RDA of Vitamin E
75% of the RDA of Vitamin K
7% of Omega-6
76% of Omega-3
73% of Monounsaturated fat
8% of saturated fat
Amazing Benefits of Olive Oil for Babies
Some of the amazing benefits of olive oil for babies are as follows:
1. Ideal for Massages
When it comes to massages, olive oil is a great massage oil that can be used for calming babies and promoting their growth and sleep. From improving skin tone to acting as a great moisturiser, olive oil has a regenerative effect on the tissues of the skin and is loaded with healthy fats, oleic acids, and squalene. The best part? It can be used in any season!
2. Provides Nutrition
Since olive oil has a healthy dose of monounsaturated fatty acids (MUFA), it can be used in babies' diets after they turn 6 months old. These monounsaturated fatty acids (MUFA) promote cardiovascular and pancreatic health. A good rule of thumb where serving sizes are concerned is to use a quarter teaspoon of olive oil for every 56 grams of baby food.
3. Treats Constipation
If your little one feels constipated, olive oil is an effective remedy for his constipation problems. It is used as a laxative for preventing gastric problems too.
4. Eliminates Diaper Rash
Diaper rash causes discomfort and when left untreated, leads to infections. Olive oil acts as an emulsifier and treats diaper rash effectively. Simply add two tablespoons of olive oil in one tablespoon of water, mix it well, and massage the baby's buttocks and genital area.
5. Cures Cough
When you apply olive oil on your baby's chest after mixing it with two to three drops of eucalyptus and peppermint oils, the mixture works as an effective tonic for cough and promotes better sleep in your little one as well.
6. Helps Reduce Cradle Cap
Cradle cap is a type of dandruff formation that leads to dry, flaky layers of skin on the baby's scalp. Olive oil works as a natural remedy against cradle cap in babies. All you have to do is apply it on your little one's scalp and let it stay for about ten to twenty minutes. If the crust on the scalp is too thick, then allow the oil to stay on overnight. In the morning, just wash and rinse the oil off thoroughly using a blend of lukewarm water and mild shampoo. Be sure to gently remove the loosened crust bits with a comb. Make sure to consult your doctor before using olive oil to treat cradle cap.
Along with these benefits, doctors also recommend olive oil for babies with low birth weights and feeding problems.
How to Massage Your Infant With Olive Oil
You can apply olive oil on your baby's genitals and buttocks to eliminate or prevent diaper rashes. Another way you can massage your infant with olive oil is by gently rubbing it on his chest after mixing it with water. Make sure to mix equal quantities of olive oil and water, and mix it in a jar before using it for massages (also ensure that the water is lukewarm). You can rub your baby's feet and massage them as well to keep his skin smooth and supple or for lulling him to sleep with a relaxing massage.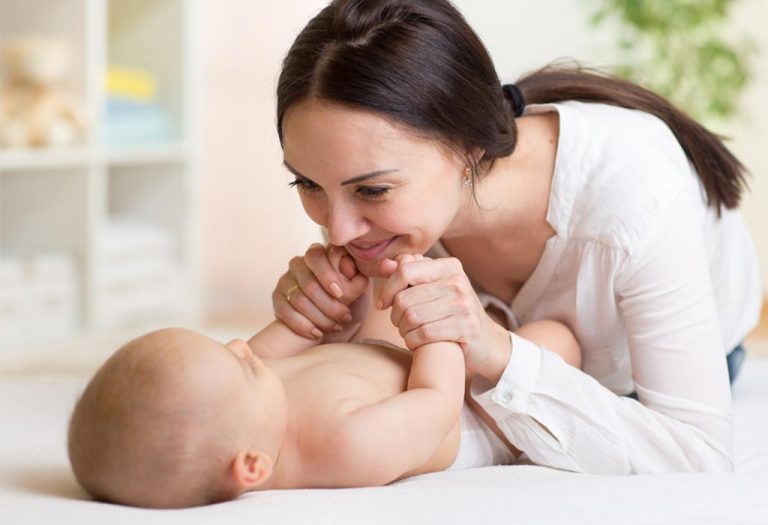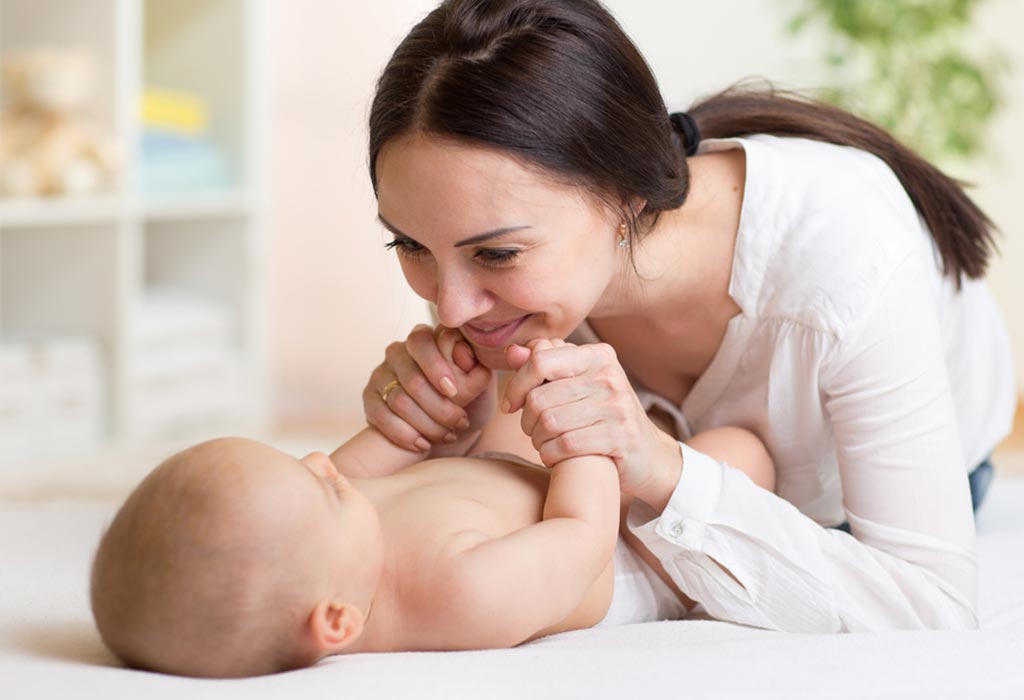 Precautions to Be Taken While Using Olive Oil for Baby Massage
Although olive oil is beneficial for your baby's health, there are a few precautions that must be taken before using it for massages, which are as follows:
Only use olive oil for a massage if your baby is above 4 months of age. Babies younger than 4 months have an allergic reaction to olive oil.
Olive oil is known to worsen eczema and damage the skin barriers for dry skin. If your baby has dry skin, it's best not to use olive oil to massage him.
Excessive olive oil consumption is linked to diarrhoea.
Olive oil is a natural remedy for cradle caps and perfect for baby massages. If you've ever considered using this oil as a natural remedy for your baby's diaper rash or you want to add it to his diet to make him healthier and grow better, then olive oil will come to your rescue. Make sure to use it in moderation and never go overboard with the dosages.
Also Read: Baby Massage Oils: Which One is Good for Your Child?