Awesome Ideas to Throw a Harry Potter Themed Baby Shower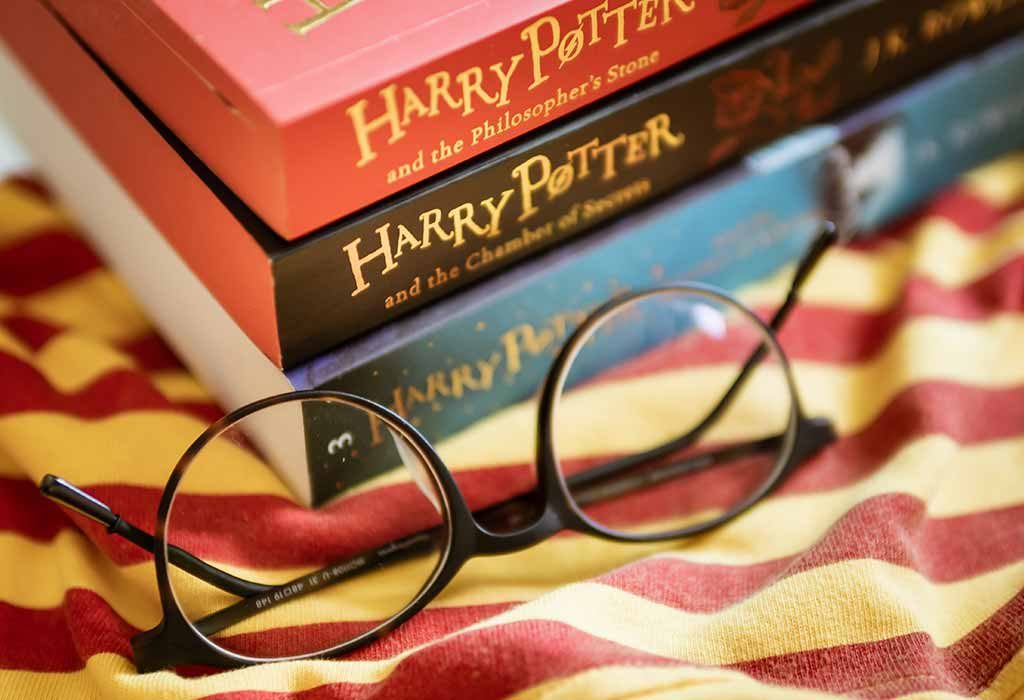 In this Article
Are you planning on throwing a quirky baby shower for a loved one and can't decide on the theme? Well, if the would-be-mommy is a die-hard Potterhead, then throwing her a bash with a Harry Potter theme may be a dream come true and forever etched as one of the best memories! In this post, we will acquaint you with some out of the box ideas that are not only adorable, hilarious but utterly creative and will surely punk up the Harry Potter baby shower you are planning to host!
Best Harry Potter Baby Shower Ideas
Here are some amazing and awesome Harry Potter baby shower ideas to add a magical twist to any baby shower!
Harry Potter Baby Shower Invitations
Give a little peek into what excitement and thrill beckon the guests at the baby shower with a perfect invitation. Here are some invitation ideas that are sure to win hearts and will keep every guest's excitement level pepped up:
Make an invite in Marauder's Map style.
Design the invite in the Hogwarts Ticketing style.
Write the invitation on a paper with either of the Hogwarts Houses printed in the backdrop.
Choose a customizable owl card for writing the invite.
Write an adorable invite by designing a printable wizard onesie with potter spectacles, lightning bolt, and other such adorable signs.
Make a Hogwarts sealed envelope with burgundy or red wax for the seals and slip your invite for the most authentic Harry Potter baby shower invite!
Harry Potter Baby Shower Decoration Ideas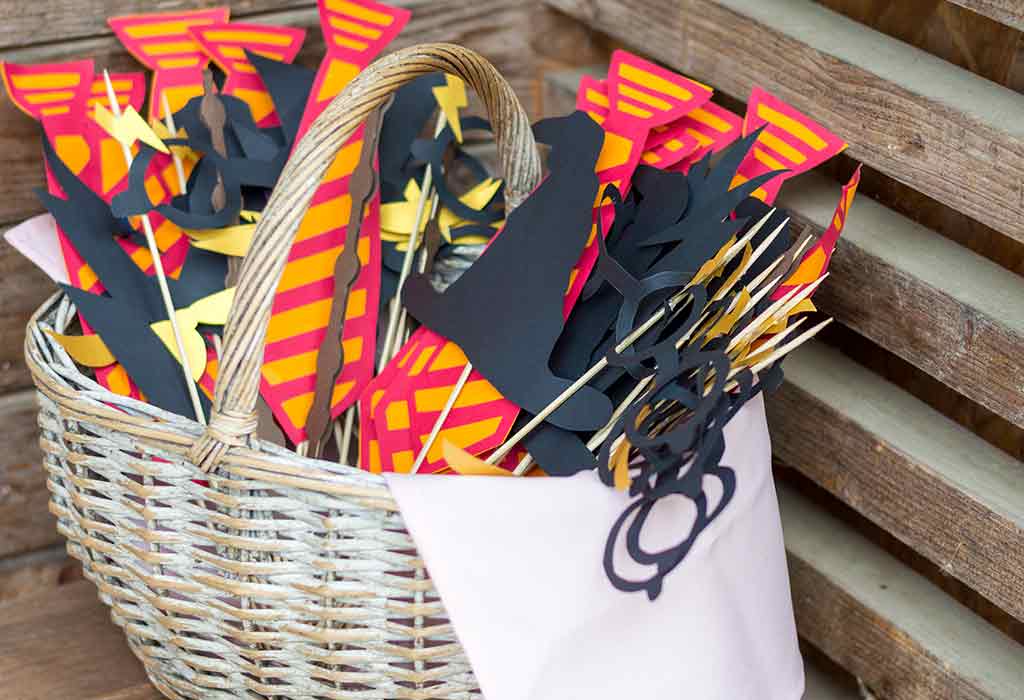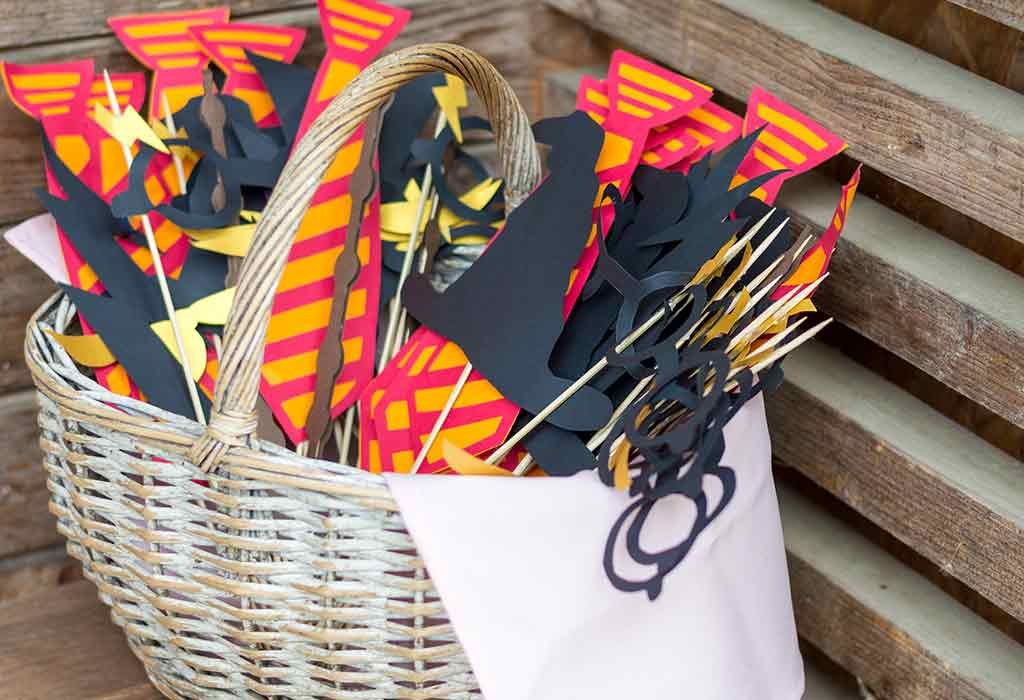 A perfect party begins with the perfect décor that gels with the theme and here are some fascinating décor ideas that will notch up the style quotient of the baby shower:
1. Magical Portions
If you are looking for easy ways of making Harry Potter baby shower centrepieces, this idea will surely come handy. All you need is different sized glass bottles with corks, 4-5 food colours, and sprite. Simply fill (do not fill up completely) all the bottles with sprite and add a few drops of food colour. Use different colours for different bottles and voila! Your magical portion centrepieces are ready! Arrange them in any way you like on the table!
2. Hedwig Balloons
Another interesting décor idea is making Hedwig Balloons and all you require is large-sized balloons and black marker pen, for the activity. Simply inflate the balloons and draw interesting owl patterns, you can hunt for easy-peasy designs off the web too! Make sure you pick large balloons and just a few of these would suffice for the décor!
3. Muggle Banner
A baby shower is incomplete without a banner and this adorable harry potter baby shower banner with "Welcome Little Muggle" written on it will instantly grab everyone's attention. Make sure the letters are cut in an unusual style to keep up with the Harry Potter party spirit. Ideally, go in with the black letter cut-outs, however, if you are working around a colour-theme then you can stick with that colour.
4. Floating Candles
Hang the candles to give the feel of floating candles which will add to the eeriness. You can grab plastic candles that are light in weight, from any craft store, and a transparent string that can be tied around the candles for hanging. If you are worried about guests banging their heads against the candles, you can place these candles over the food table.
Cake, Food and Drink Ideas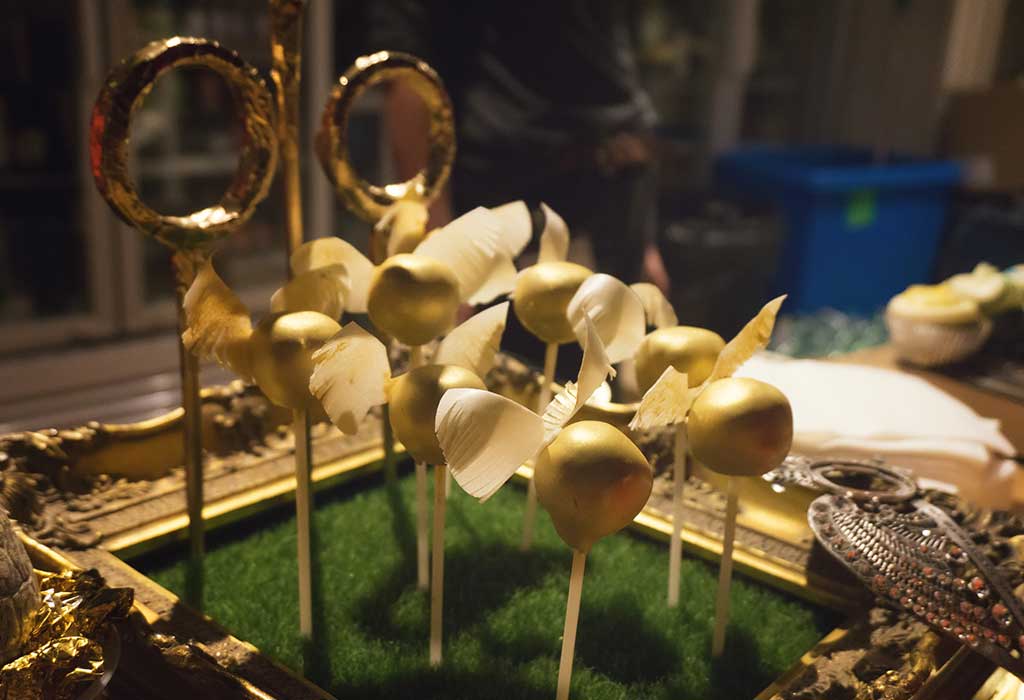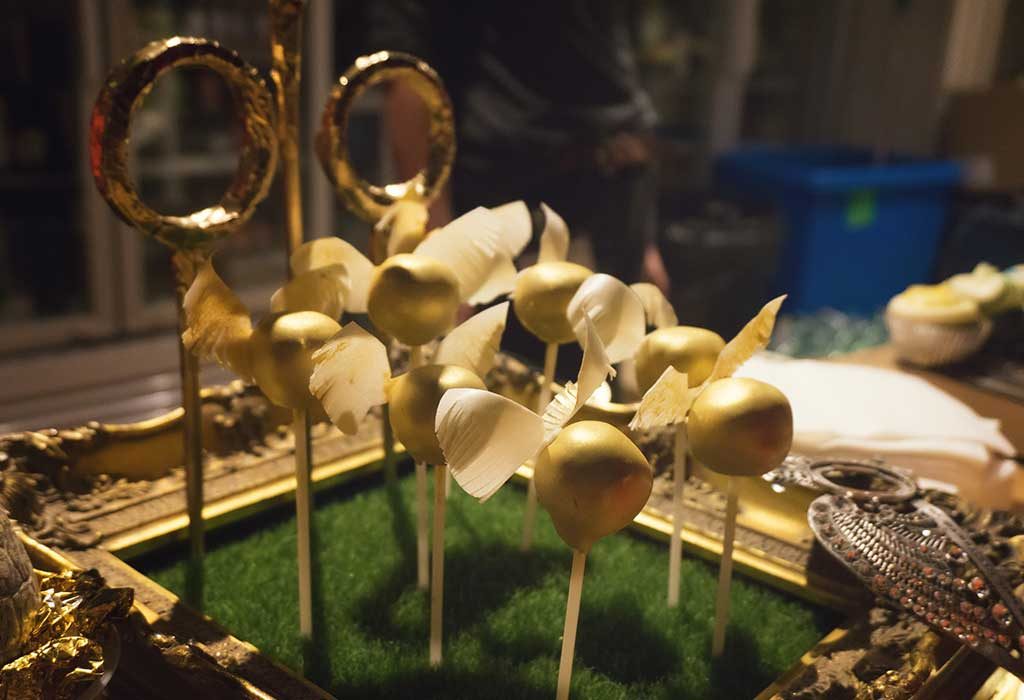 The food that is delectable and in sync with the theme will be a great hit at the party and we have just the kind of food options that will tickle everyone's taste buds!
1. Golden Snitch Cake Pops
When we talk about Harry Potter themed party, is quite unlikely that it goes without the mention of Quidditch in it. We have this golden snitch cake pops idea that will add that magical touch to the party. You need cake pops, melted dark chocolate, chocolate wings (fashioned with melted white chocolate), and some golden sprinkles. Simply dip the cake pops in dark chocolate and coat it with golden sprinkles. Let it dry before sticking (use melted white chocolate) white chocolate wings on both sides.
2. DIY Cupcakes
Simply turn the usual cupcakes into the theme-food by adding Harry Potter themed cupcake tops. You can either make them or get hold of cute ones from any craft store. Choose any cupcakes of your choice and simply add these tops on them!
3. Harry Potter Butter Beer
A perfect drink option for smaller gatherings, this delectable drink will make the guests yearn for more. You need vanilla ice cream, cream soda, whipped cream, and butterscotch syrup to whip up this yummy delight. Simply mix soda and ice cream together, pour the mixture in a beer mug and top it with whipped cream and butterscotch syrup.
4. Deathly Hallow Cookies
Make yummy cookies with Deathly Hallow imprints on them to add more magical charm to the shower. Bake or buy cookies of your choice, use confectioners' sugar, corn syrup, and food colouring of your choice to whip out the icing. Drip the icing on the cookies and once the coating dries, use different coloured icing to make Deathly Hallow imprints on it.
5. Wizard or Witch Cake Top
One of the most fun and easiest harry potter baby shower cake ideas is to simply decorate the cake with an eye-catching cake top! You can go with a pearl white cake frosting and the quirky "Wizard or Witch" cake top written in the same colour or if you wish to heighten the quirk quotient, you can go in for the contrasting colour cake top. You can make one yourself or buy one from the store and decorate it as per your requirements.
6. Deviled Dragon Eggs
This easy to make deviled egg recipe can be made more interesting by adding a little twist. Use natural food colours such as beetroot to colour the boiled egg whites. Scoop the yolks and mix them with herbs, parsley, mayonnaise, and other such ingredients to make the filling. Fill the yummy filling in the coloured egg whites and sprinkle some seasoning on top. Your show stopper appetizers are ready to rock your baby shower.
Apart from some of these delectable recipes, you can try some diaper cake ideas or other such decoration ideas to add more punk to the food table.
Harry Potter Baby Shower Games
To add more fun elements to the baby shower and make it more entertaining for the guests, you can plan some exciting games too. Here are some of our recommendations:
1. Don't Say 'Baby'
It is a fun game that requires the guests not to say the word 'baby' during the shower! Well, the rules are fairly easy to comprehend, you need to hand over a button or pin with goes with the theme, to each guest at the entrance. If anyone says the word 'baby' anytime during the conversation, the button needs to be handed over to the other person in conversation. The idea is to collect as many buttons by the end of the party and the person with maximum buttons will be the winner! If you wish to choose any other word instead of 'baby', you can do that too!
2. Stick the Scar
This is another crazy game that will enthral the guests to the hilt! You need to hand over 'Harry Potter scar' stickers' to each guest. The guests need to come one by one and try to stick the scar on the Harry Potter poster while they are blindfolded. The guest who is close or sticks the scar at the right place will be judged as the winner of the game.
3. The Hogwarts Quiz
Well, a Harry Potter-themed party cannot go without judging the guests' knowledge of Hogwarts. You can download umpteen questionnaires available online or make one of your own. Hand over one to each guest and ask them to answer as many questions they can in a stipulated time. One who answers the maximum correct answers in the time provided will be the winner!
4. Guess the Flavors
This game comes with a yummy twist! Blindfold the guests one by one and ask them to identify baby food flavours. Give a spoonful of each baby food item to the guest and ask them to name the correct flavour. The guest answering all the flavours correctly or with the highest number of correct guesses stands as the winner!
5. How Many Jelly Beans?
Fill a glass jar with jelly beans and stick an interesting Harry Potter themed sticker on it. Ask the guests to guess the number of jelly beans in the jar one by one. The one who guesses the correct number or is closest to the right number will get the jelly beans filled jar as the prize!
Harry Potter Baby Shower Favors
As a good host, you may also want your guests to leave the party with something that will keep them reminding of the great times they had at the shower. Here are some Harry Potter themed gifts or gifting ideas to make your baby shower more memorable for the guests:
You can choose to gift antique key bottle openers.
Pick up a few chocolate frogs from your local confectioner and wrap them to make a detectable shower favour!
You can buy some adorable Harry potter fridge magnets.
Magic wand writing pens will become an ideal shower favour.
DIY bath salt bottles with the name of the magic portions written on them will make for a perfect shower favour.
Harry Potter-themed photo frames, that you can get custom made from your local framing store will make for an adorable personalized shower favour option!
We hope that will incorporate some of these ideas in throwing a Harry Potter themed baby shower. Happy Hosting!
Also Read:
Stunning Nautical Baby Shower Ideas
Outstanding Co-Ed Baby Shower Ideas
Splendid Baby Shower Theme Ideas