Atta Sheera Recipe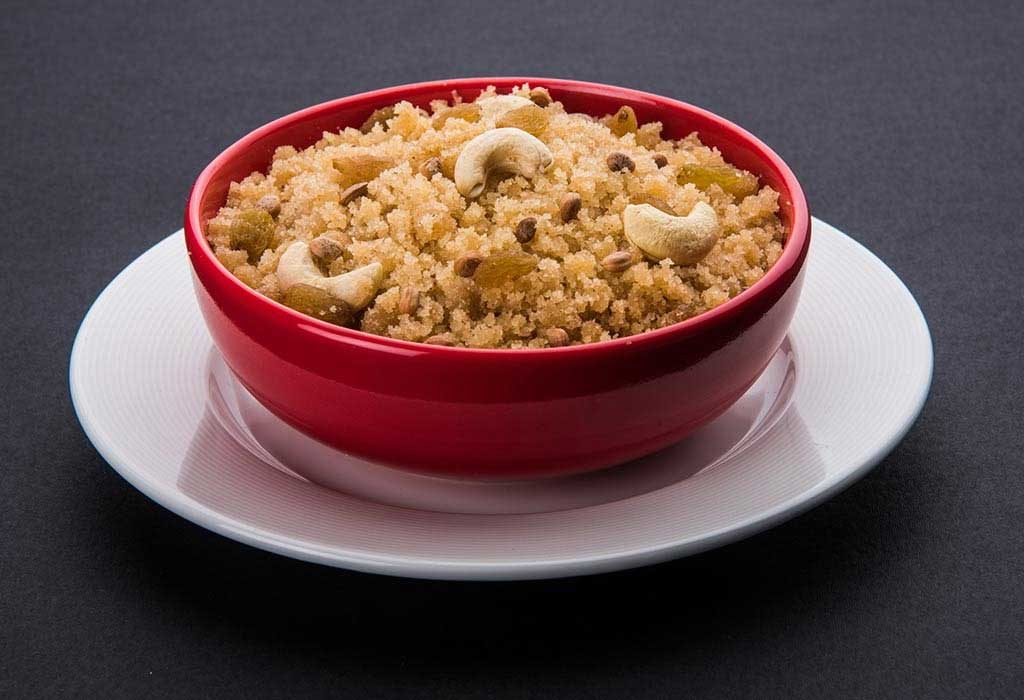 In this Article
Once your baby turns six months of age and starts on solids or semi-solids, it can be extremely difficult for you to decide what to feed your child on a daily basis. You will most likely feed him mashed dal and rice, but then again you'll want to try new dishes for him. If you want some suggestions in food, how about making atte ke halwa for your kiddo? Atta sheera (atta halwa) is a super-hit among babies and toddlers. It is soft and moist and sweet, which is why kids enjoy eating it. Atte ka halwa is also very nutritious. We have a simple recipe for atta sheera that you can try. Your child will relish the taste and to your surprise will wipe his plate clean. So here's the recipe – try it out and serve it warm to your child!
Cooking Time
| | |
| --- | --- |
| Type | Time (hh:mm:ss) |
| Preparation Time | 00:05:00 |
| Cook Time | 00:10:00 |
| Total Time | 00:15:00 |
Cooking Method: Gas
Type of Meal: Veg
Suitable For: Toddlers above 22 months of age
Meal Schedule: Breakfast, mid-morning snack, lunch or evening snack.
Recipe Type: Main dish
Ingredients
| | |
| --- | --- |
| Type | Quantity |
| Wheat flour (gehu ka atta) | 1 cup |
| Pure ghee | ½ cup |
| Sugar or jaggery (shredded) | 1 cup |
| Water | 1 cup |
| Cardamom powder | ½ teaspoon |
Instructions
Here's a simple step-by-step guide that you can follow to make delicious atta halwa.
Heat the ghee in a wok on low flame then add the wheat flour to it. Mix well so that no lumps are formed.
Roast the flour on low to medium flame, stirring it continuously.
Roast it for about 10 minutes or until it turns aromatic and golden. Keep aside.
In a saucepan, boil the sugar/jaggery in water. Let the sugar dissolve completely.
Once the sugar dissolves completely in water, pour this sugar syrup in the wok with roasted atta.
Keep stirring until the wheat flour absorbs the syrup completely. Keep stirring so that no lumps are formed.
Cover the wok with a lid and let the halwa cook for about 5-10 minutes.
Add some cardamom powder, mix well, and serve warm.
Recipe Tips
Here are some tips that you should keep in mind while making atte ka halwa.
Make sure that the halwa is not too thick. You can add more water to it for the desired consistency.
While making atta sheera, keep the flame low or else the halwa will stick to the utensil.
To bring a little variation, you can add milk instead of water while making the halwa.
If your little one is too small, you can also make atte ka halwa in the form of a runny puree.
Nutrition Information (Per 100 Grams)
| | |
| --- | --- |
| Type | Value |
| Energy | 336 kcal |
| Protein | 2.6 g |
| Carbohydrates | 46.5 g |
| Fiber | 2.6 g |
| Fat | 15.7 g |
| Vitamin A | 138.6 mg |
| Vitamin B1 | 0.1 mg |
| Vitamin B2 | 0 mg |
| Vitamin B3 | 0.9 mg |
| Folic Acid | 7.8 mcg |
| Calcium | 10.4 mg |
| Iron | 1.1 mg |
| Magnesium | 28.6 mg |
| Phosphorus | 76.9 mg |
| Sodium | 4.3 mg |
| Potassium | 68.2 mg |
| Zinc | 0.5 mg |
Health Benefits
Atta halwa is a nutritious dish, especially for babies and toddlers. Here's how this tasty Indian dish may benefit your child.
Atta halwa is a rich source of carbohydrates and can provide your child with energy required to carry out physical and mental activities.
Eating atta sheera can improve your child's digestion.
As a rich source of vitamin B and other minerals, it promotes the overall development of the body. The chlorophyll content of wheat can help in purifying blood, along with contributing to your child's mental development.
The calcium and potassium content in atta sheera can promote the growth of your baby's bones and teeth.
Buying Guide
If you're considering making atta sheera for your child, make sure you buy the best quality ingredients. Here's a buying guide for you so that
While buying wheat flour, opt for whole wheat flour. Whole wheat flour is considered to be the healthiest of all.
Prefer wheat flour from organically produced wheat, if possible.
If you're making halwa for your toddler, avoid adding sugar to it, add jaggery instead. And while buying jaggery, go for the organic version of jaggery, which is readily available in stores.
You will also need pure ghee to make atta halwa. Instead of using store-bought ghee, use desi ghee, which is prepared from milk cream at home. It is devoid of any adulteration or artificial agents.
Atta sheera or atta halwa is healthy and your child will love it. So go ahead, try out this recipe and enjoy it with your kiddo!