Anjeer Walnut Ladoo Recipe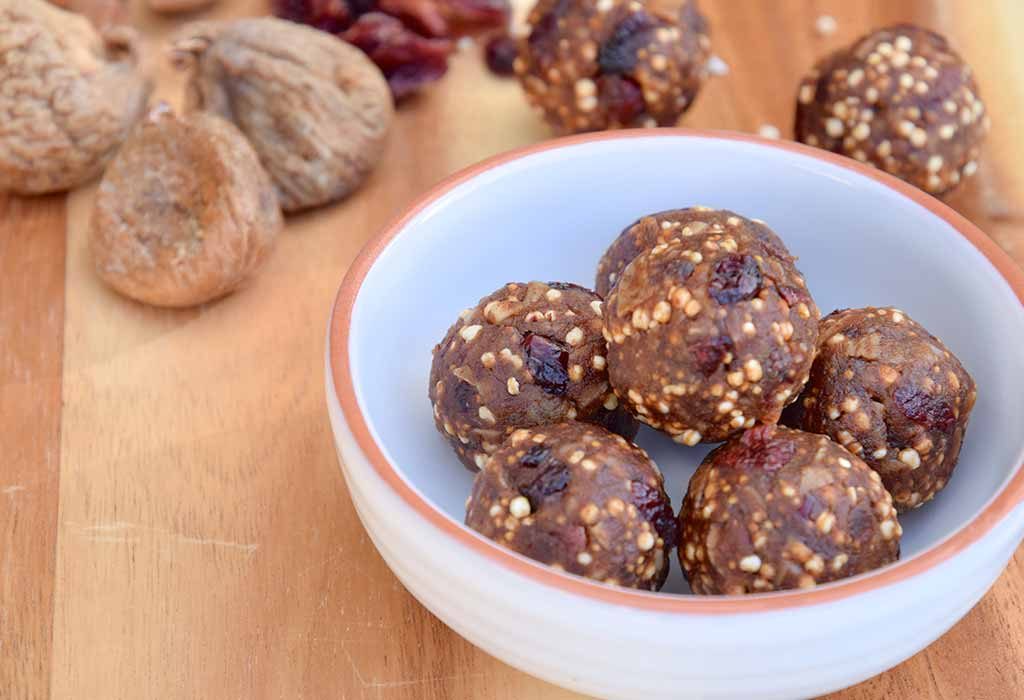 In this Article
Dried fruits are loaded with essential vitamins and minerals. They are a great food option for your growing baby. However, their hard texture may sometimes make it difficult for babies to eat it comfortably. In this post, we shall share an easy to make anjeer and walnut ladoo recipe. You can give this as a snack to your baby any time of the day. Browse this post to master this simple and yummy sweet delight that your toddler may find it hard to resist!
Cooking Time:
| | |
| --- | --- |
| Type | Time |
| Preparation Time | 00:10:00 |
| Cook Time | 00:10:00 |
| Total Time | 00:20:00 |
Cooking Method: Gas Stove
Type of Meal: Vegetarian
Suitable For: Toddlers over 17 months
Meal Schedule: Mid-Morning Snack or Evening Snack
Recipe Type: Appetizers
Ingredients:
| | |
| --- | --- |
| Type | Quantity / Volume |
| Walnut kernels | ½ cup |
| Anjeer or figs | 8 to 10 |
| Dates (deseeded) | ¼ cup |
| Almonds | ¼ cup |
| Milk (as required) | 2 to 3 tablespoons |
| Ghee | 2 teaspoons |
Instructions:
Here is the step by step procedure of making Anjeer Walnut Ladoo:
Take almonds and walnuts; chop them finely into small pieces.
In a heavy-bottomed pan, heat one teaspoon ghee. Roast chopped walnuts and almonds until they turn crispy and fragrant.
Remove from heat; let them cool down before churning them in the blender to make a fine powder.
Take anjeer and dates, cut them into smaller chunks.
Heat one teaspoon ghee in the same pan and roast anjeer and dates until they turn mushy and soft.
Remove from heat, add powdered nuts and mix thoroughly.
If the mixture appears too dry, you can add few spoons of milk to facilitate the binding.
Make small balls or ladoos with the mixture.
Once cold, ladoos are set and ready to be eaten!
Recipe Tips:
When making Anjeer Walnut Ladoo for babies, you may like to try some of the following tips to make yummier and tastier sweet delights for your babies:
For older babies (more than 2 years of age), you can also use nuts such as cashew nuts, pistachios, etc.
You can churn the dates and figs mixture to make smoother ladoos. In case your baby finds it difficult to chew on figs and dates chunks.
If you are unable to roll the dough in the shape of ladoos, do not worry! Heat the mixture on tava or microwave until dates and figs become soft and of mouldable consistency.
You can set the ladoos in the cupcake moulds to make it more appealing to your toddlers.
These ladoos can be stored for a few days if stored in an air tight container or the refrigerator.
Nutrition Information (Serving Per 100 Grams):
Here's what nutritional punch your little one will get from this simple Anjeer Walnut Ladoo recipe:
| | |
| --- | --- |
| Type | Value |
| Calories | 90 |
| Carbohydrates | 11 g |
| Protein | 3 g |
| Sodium | 3 mg |
| Potassium | 150 g |
| Fibre | 3 g |
| Sugar | 7 g |
| Calcium | 30 mg |
| Iron | 2 g |
| Vitamin A | 150 IU |
Health Benefits:
Now, that you have mastered the recipe of how to make Anjeer Walnut Ladoo, this section will get you acquainted with some of the health benefits of including this sweet delicacy in your baby's diet:
Walnuts are loaded with omega-3 fatty acids. It can help regulate blood pressure, reduce inflammation and help in maintaining good heart health in kids.
Figs are loaded with fibre, which is great for promoting good digestive health in kids. This also may help in keeping the digestive issues at bay.
Being a rich source of calcium and phosphorus, including figs in your kid's diet helps in better bone and teeth development in kids.
Buying Guide:
When you are picking up ingredients for homemade Anjeer Walnut Ladoo baby food recipe, here are followings things that you may like to keep in mind:
Pick up fresh-looking dry fruits and make sure you check for the date of expiry.
Always pick up organic dry fruits, which are always a better deal for growing babies
Being a good source of vitamin B1 and B6, walnuts are helpful in the development of brain tissue in kids and also help in promoting nerve health. Anjeer Walnut is a good food which your baby will love to eat in the morning without any fuss.