Amazing Ideas For a Perfect Drive-By Baby Shower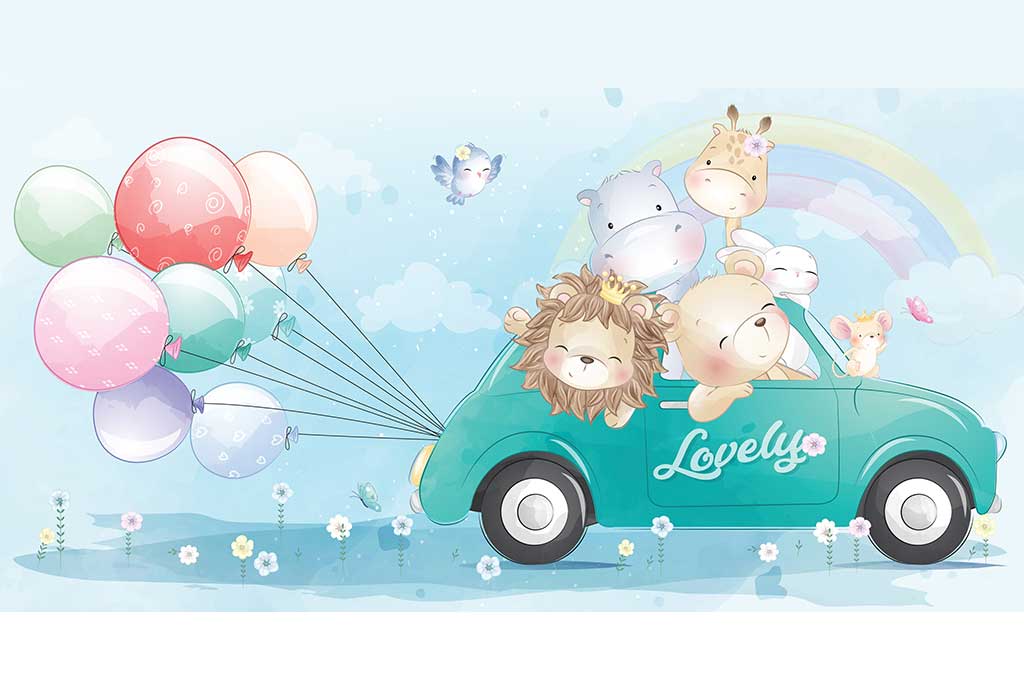 A baby shower is an important milestone in the life of new parents. However, with the current norms of social distancing, it is not possible to celebrate this joyous occasion traditionally. So, get ready for drive-by parties and car parades instead of large gatherings. This will not only allow friends and family to get involved engagingly from a distance but make the new moms feel special.
What Is A Drive-By Baby Shower, And Why Is It Needed?
A baby shower is usually a party in which new parents, along with friends and families, celebrate the journey of parenthood. This customary ritual has different names in different cultures around the world. Many new parents worry about having a baby shower while maintaining the social distancing because of the Covid 19 pandemic. Don't fret, as you're not alone! Planning a celebration during these unprecedented times needs to be creative while ensuring the safety of the mother-to-be and the guests. A drive-by baby shower is a novel and creative way to maintain social distancing while showering love for the mom-to-be. This baby shower involves dropping off gifts and expressing your good wishes when the expecting mom is well into her 28th week or 32nd week of pregnancy. A drive-by baby shower doesn't necessarily have to be impersonal and quick. Driving past the soon-to-be parents in a parade, honking horns, waving, blowing kisses, and wishing them well with a loud cheer even from a distance is definitely more fun than a virtual shower. While some mothers can be embarrassed by the attention, the main objective of this drive-by baby shower is to provide the necessary support and boost the morale of the Mom-to-be for the upcoming delivery. It is a very positive way to let every new mom know that they have the sincerest love, care, and affection of their near and dear ones.
Drive-by Baby Shower Ideas
Even when all the odds are stacked against us, we can still keep our social traditions alive in their new form to bring good into the world. It just needs some creative thinking, imagination, and a fresh perspective to share the excitement and joy of having a baby with your loved ones. Whether you're organizing drive-by baby shower ideas for a boy or a girl, here are some unique ideas to make it a meaningful moment with minimal effort and coordination.
Drive-by Baby Shower Invitation and Invitation Wording
A well-crafted invitation is a perfect way to start your baby shower. Invitation wordings can be both simple and elaborate. When guests respond with their RSVP, the first step is to convey important information to help them know what to expect. This includes clearly specifying drive-by baby shower signs, time to stop by, and reminders about social distancing, wearing a mask, and not exiting the vehicle. Assure them that you'll be there waiting to greet them. If applicable, provide vehicle parking information. Allot 10 to 15-minutes for each guest, which should allow them enough time to stop by without creating traffic jams. However, if you have a long list of guests, consider doubling up the guests to ensure your mom-to-be doesn't have a long and tiring day. Here are few ways to craft your invitation:
"The countdown to welcome our bundle of joy has begun. So join us in showering the gorgeous mom in a new social distancing-friendly way." Alternatively, 'Let's meet up at Hyde Park on Sunday at 3 pm and drive to the D'Souza's and surprise Margaret! Individually packaged, COVID-safe snacks and drinks would be provided. P.S Wearing masks is mandatory! You may also add the no-gifts rule. Do not forget to mention if it's going to be twins or the specific gender of the baby.
Drive-by Baby Shower Themes and Decoration Ideas
A baby shower can be your best opportunity to flex your creative muscles and personalize this celebration with appropriate decoration and the right theme.
1. Drive-By Baby Shower Themes for Boys and Girls
Whether you go by the classic ideas or think out of the box, the theme should reflect your interest. You could consider a nature-inspired, mermaid, unicorn, wonder woman theme for drive-by baby shower ideas for girls, cars, lumberjack, cowboy, space, or nautical theme for boys.
2. Decorating the Venue
Decorating the whole house with a theme-based color scheme is an integral part of hosting a baby shower. It would lift the mood and liven up your front yard, driveway, or home to create the perfect setting for a drive-by shower.
3. Display Items
Helium balloons, paper lanterns, diaper wreaths, yard signs, flowers, garlands, and banners would create a vertical display. Balloons with the face of a boy or girl could be a nice way to reveal the gender of the baby, so try including them in your drive-by baby shower car decorations.
4. Decorated Cars
Guests can decorate their cars with bows, hanging streamers, and ribbons to keep in tune with the theme of the baby shower party.
5. Dressing Up For The Baby Shower
The guest of honor can get dressed up in a special party outfit to match the baby shower theme.
6. Elaborate Design
If you want an elevated design without the hassle of having to do it yourself, you can contact event management companies that offer drive-by décor packages. They offer rugs and seating to backdrops that look most appealing.
7. Outdoor Setting
Keeping in mind the weather, get an outdoor umbrella to ensure the mother sits on a comfy chair under the shade during a summer party. You can move a loveseat or chaise lounge outside and provide a table for drinks and snacks.
8. Photo Backdrops
You can put up a large photo backdrop or backdrop stand so that guests can see them easily from the car.
9. Display Table
One should keep a well-decorated display table with baskets at a hand's reach for guests to drop off the thank you gifts or pick up the party favors.
10. Balloon Garlands
Large balloon garlands matching your party's color scheme are an easy and inexpensive way to decorate the venue.
Drive-By Baby Shower Food Ideas
Individually packaged treats wrapped in a grab-and-go bag with a "thank you" message for the guests provide a finishing touch to the event while avoiding any cross-contamination. Choose cookies, cupcakes, themed sweets, and snacks that work best as portable finger foods in individual containers. Organize for a food truck that serves sandwiches, burritos, or French fries with forks. Guests would highly appreciate an ice-cream truck for warmer months and coffee or hot cocoa for colder months.
Drive-by Baby Shower Games
You can print a poster-sized calendar and let guests guess the baby's delivery date or use a poster board to let them guess the little one's name. Write the guest's name on the delivery day the mom picks so that she doesn't have to leave the driver's seat. You can set up the baby shower at an undisclosed location, hand over a map with clues to guests, and let them search for the treasure, which can be the mom-to-be. Guess the tune, lullabies, or popular song can be played where your guests can mute themselves at the beginning of each round. Play a small snippet of the song for your guests. The first person to answer or type it in the chatroom wins a point!
Drive-by Baby Shower Favors
A special goodie bag thanking attendees will make your guests happy and the event a memorable one. Choose items that look fabulous, carry a message, useful and timely. Bottled water with a baby shower labeled theme, breath mint with a baby shower sticker, a baby shower party planner with face masks in either pink or blue, hand sanitizer with a message as 'spread love not germs' are all gift ideas to consider.
Tips for a Drive-Through Baby Shower
A new baby is the best excuse ever for a celebration. The tips and advice listed in this complete baby shower guide are sure to get you to make it an unforgettable event of your lifetime.
If guests have gifts to drop off, they can do so on the designated spot on the sidewalk, at the curb, or in a crib. As the organizer, be prepared to pick up the gifts once they're dropped off or designate someone to grab the gifts and take them to a safe place. In the case of the "No Gift" policy, guests can drop off a card with a note of encouragement too.
Sending an invitation to guests and getting a confirmation helps track the number of guests and make the necessary arrangements. Be specific about the details and include cute designs on the card that would entice guests to join the fun. You can send out an email invitation too.
Balloon arches or yard signs help set the mood. Themed decorations revealing the gender of the baby also add to the celebration.
Bid goodbye to your guests with a little sweet treat in goodie bags that they can relish after reaching home.
Post-event virtual games or games from a distance can be a real ice-breaker for the party.
Guests can meet in a parking lot or designated place ahead of time so that all can arrive as a parade together. With the neighbor's consent, play a song or have guests play the mom's favorite music on their car radio.
Organize a surprise sprinkle baby shower for parents welcoming their second baby to boost their happiness quotient.
A zoom session for a gift unwrapping party can be the best time to catch up with friends and relatives, discuss their views of the party, and above all, thank them personally for attending the event.
When it's time to pamper new moms, a drive-by baby shower will help to lift the spirits during these unprecedented times. Remember that even though this coronavirus outbreak is stressful and overwhelming, your child's future is sure to be shining bright…
Also Read:
Rainbow Themed Baby Shower Ideas
Diaper-Themed Baby Shower Ideas
Amazing Mexican Themed Baby Shower Ideas