8 Month Old Baby Feeding Schedule, Recipes And Tips
If your little one turns eight months old, they must have already started having foods other than breast milk. By this time they also have found some favourite food, which they enjoy more than others. The little one is by now easily swallowing soft foods like mashed potatoes and chewing some semi-soft foods. However, kids still take most of their calories from mother's milk or formula milk.
Video :
8 Month Old Baby Feeding Schedule, Recipes And Tips
What to Feed an 8-Month-Old?
Young parents sometimes do need advice on what foods to give 8 months old, when to feed and how much to feed to their eight-month. They need advice on what healthy and wholesome diet to feed to their kids. The diet should have the correct or adequate quantity of protein, minerals, carbohydrates, and vitamins to aid in the proper growth of the child. So, the food items have to be chosen which have the correct mix of all the nutrients.
The 8-month-old food ideas menu should have the following foods:
1. Fruits/Vegetables
Fresh fruits having a variety of minerals, vitamins, and micro-nutrients.
Ensure fruits are fresh and cut into small cubes.
Get local fruits/vegetables or the fruits/vegetables that grow in the region as they lower the risk of an allergic reaction.
Vegetables can be cut into small pieces and then steamed to feed the baby.
2. Non-Vegetarian
3. Other Food Items
Ensure they are made from pasteurized milk.
The cheese can be Cheddar or Cottage.
Include the cheese cut into small cubes for easy feeding.
Blue cheese and brie cheese are soft, so avoid them for now.
The baby can be introduced to bread and muffins in her/his meal.
Nicely boiled, soft pasta cooked with cheese is also a good meal option.
How Much Milk Is Enough for an 8-Month-Old?
The quantity of milk an eight-month-old can have should be no more than four milk feeds in the day. The baby should be breastfed on demand and offered up to 600 ml equivalent of infant formula. If the baby is on infant milk formula, then the quantity should not exceed 600 ml divided into four servings in a day. Though as the baby starts increasing the quantity of other solid food, his/her intake of milk might decrease, so don't get worried about it.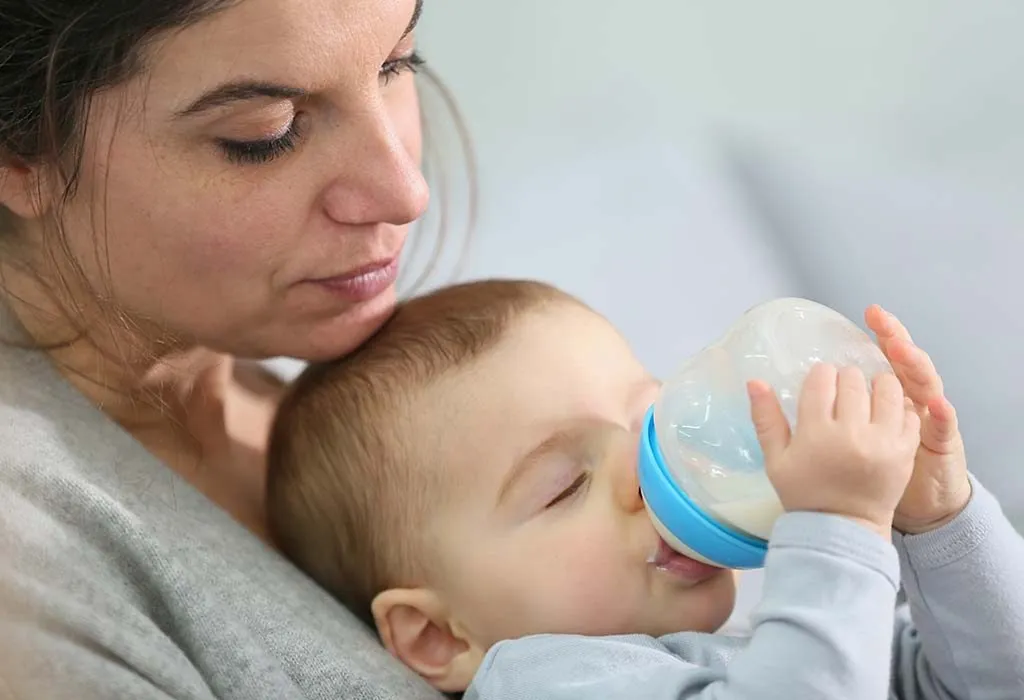 8-Month-Old Feeding Schedule
The parents of an eight-month-old baby need to make an eating schedule. The feeding schedule depends on the eating habits of the child and might differ from one child to another. As the child grows, the parents know more about what the child likes and dislikes and develop a schedule for them for their activities like playing, sleeping, and eating. Hence, to make a feeding schedule for an eight-month-old baby, the diet planner should also include these basic things:
The kid should be fed solid food at least two or three times a day. Along with the solid food, feed 25 to 32 ounces of formula milk or breast milk.
Slowly increase the variety and quantity of solid food in your kid's food chart.
If possible, try to feed the kid soup or pureed food through a sippy cup.
The kid should ideally sleep for about 13-14 hours, including the daytime and night naps.
A sample meal plan for an eight-month-old will be as follows:
Meal Times
Food Items with Quantity
Breakfast

Cereal ¼ to ½ cup or mashed egg yolk-1
Seasonal fruit – ¼ to ½ cup, cut into small cubes
Mother's milk or formula milk – 4 to 6 ounces

Morning Snacks

Mother's milk or formula milk or water– 4 to 6 ounces
Cooked fresh vegetable or cheese cut into small cubes – ¼ cup

Lunch

Mother's milk or formula milk– 4 to 6 ounces
Yoghurt, cottage cheese or meat or fish- ¼ to ½ cup
Yellow or orange vegetables – cooked- ¼ to ½ cup
Mother's milk or formula milk or water– 4 to 6 ounces

Evening Snacks

Seasonal fruit diced or yoghurt – ¼ cup
Teething biscuit or whole-grain cracker -1

Dinner

Mother's milk or formula milk – 4 to 6 ounces
Meat or Tofu – diced into small pieces-1/4 cup
Boiled potato, pasta, rice or noodles- ¼ cup
Green vegetables, cooked – ¼ to ½ cup
Seasonal fruit diced– ¼ cup

Before Bed

Mother's milk or formula milk or water– 6 to 8 ounces
Foods to Avoid for an 8 Months Old Infant
There are some foods which the parents should avoid for their eight-month-old. They are:
Cow Milk
Raw vegetables in excess quantity
Peanuts
Popcorn
Baby Food Recipes 8-Month-Old Babies
The parents are always wondering how to make nutritious food for their eight-month-old child or what dinner recipe to make. So here are some eight months baby food recipes that are easy to make and have all the essential nutrients.
1. Sweet Potato Porridge
Ingredients
How to Prepare
Mash the sweet potatoes.
Remember to take out the thread-like fibre.
Heat milk in a pan.
Add mashed potatoes and cinnamon powder.
Add jaggery. Mix.
Switch off the heat.
Let it cool.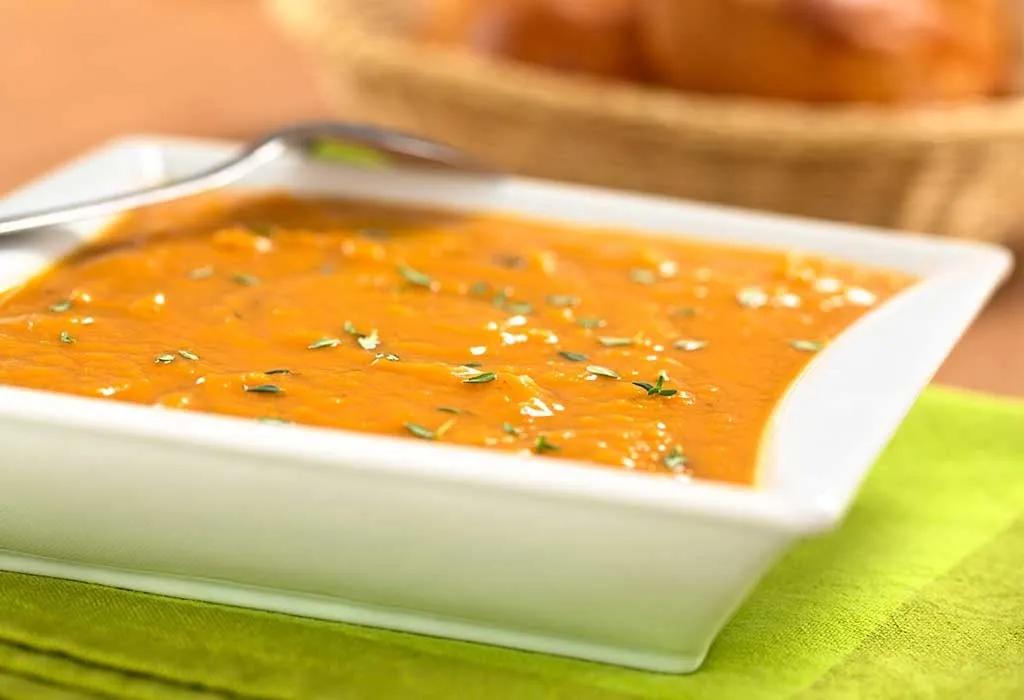 2. Carrot and Apple Soup With Potatoes
Ingredients
Apples –chopped- ½ cup
Carrot– diced, peeled – 2 tbsp
Potatoes– chopped – ¼ cup
Oil- 1 tsp
Onion– finely chopped- 1 tbsp
Water – 1 cup
How to Prepare
Pour oil into a cooker, add onions to it and sauté.
Add all the other ingredients and cook till three whistles.
Blend and serve warm.
3. Potato Beans and Pea Puree
Ingredients
Sweet potato -1
Water – 3 to 4 cups
Rice– ¼ cup
How to Prepare
Peel and cut the sweet potato into cubes.
In a pan, add the potato, water, and rice. Boil them.
Cook for 35-40 minutes till it blends completely.
Serve warm.
Feeding Tips for Parents
While feeding the eight-month-old kid, parents need to remember these feeding guide tips:
To know how much solid food to feed the kid, remember the kid needs 750-900 calories per day. Out of these, 400-500 calories should come from mother's milk or formula milk.
Ensure whenever you feed the baby, stick to one feeding position and feed the baby at one location. This helps to make the kid understand the relationship between food and place.
Keep the consistency of the food somewhat grainy. Don't mash it completely.
Don't add sugar or salt to the meals or finger food.
Feed your eight-month-old using these easy to make recipes and feeding schedules. These will help the young parents make a feeding schedule and help them understand what their little one can eat. They will also know what food items to avoid and what feeding guides to follow.