7 Easy to Overlook Travel Essentials You Must Pack When Out With Your Baby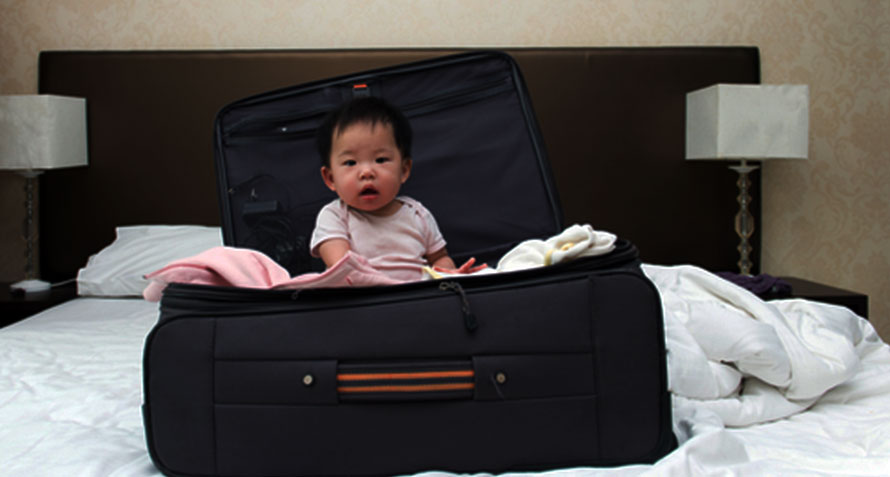 When your baby finally comes into your world, after the long months of pregnancy, it is hard to contain your excitement. All this while, you had been carefully keeping your little one snug inside you. But now that she is out, you can't wait to show her the world. You can't wait to share beautiful moments with her, and introduce her to your favourite parts of the house, the backyard and the garden. Yes, opinions differ on whether or not to take babies outside before they are one year old. But many mothers and doctors now agree that keeping the baby in ultra-sanitised surroundings is not good for their immune system. Taking the baby out for a short stroll, or for a vacation with the family, can be a great idea to introduce them to nature and also give their immune system a chance to develop.
That said, the thought of travelling with your baby remains unnerving for most new mothers. After all, the outside world has factors your baby may not be ready for, including climate changes, pollution and dryness. Especially now, with a full-blown winter at hand, we need to be extra careful to keep our young ones protected and comfortable when taking them out.
Travelling with your bundle of joy means that you have to carry many other "bundles" of things that may be needed along the way! Babies require multiple essentials during the course of the day, to cater to their feeding, pooping and sleeping needs, among other things. When it's winter, you need to be even more thorough, especially when it comes to skincare. It is best to stick to moisturising and gentle care for your baby's skin, while staying away from any harsh chemicals or products that lead to excessive dryness. A reliable option is the newly launched Baby Dove range, which goes beyond mildness to actively replenish lost moisture and nutrients into baby's skin. In addition, all the products by Baby Dove are dermatologist and paediatrician tested, hypoallergenic, pH neutral and gentle to the eyes. Another key aspect is odour and Baby Dove takes care of that with a mild and caring fragrance specifically developed for delicate baby skin. This lets you extend the trustworthy and gentle care offered by Baby Dove to your little one, both when outdoors as well as indoors.
While all of us mothers understand the need to be prepared while travelling, not all the essentials may be obvious to us. But overlooking something important becomes a problem when you are actually out of the house and find yourself wishing you had packed this when you could have! Let's take a look at the absolute must-haves when out traveling with the love of your life, your little one:
1. Feeding Gear
If you are breastfeeding your baby, you will not need to carry much by way of feeding gear. However, it is a good idea to take a slip with you, in case you need to feed in public and want the privacy. You should also carry a breast pump, feeding bottles and material for sterilising the bottles. This will let you express and store milk so others in your family can feed your baby if required. If you are formula feeding your baby, you will also need to carry extra formula in case you don't find the one you use at your destination. If your baby is older, carry along favourite utensils and snacks to provide comfort and familiarity. Travelling can make babies cranky and averse to eating and seeing their well-loved stuff from home is a relief at this time.
2. Baby Wipes
Spitting up food, a diaper leak, and spilling something all over their clothes are the easiest things to do in a moving car! If babies need frequent cleaning while at home, they need even more of this when outside. This is why many moms vouch for alcohol-free and hypo allergenic (proven to minimise allergy risks) baby wipes as their best friend while travelling. Baby wipes not only clean your baby's bum but also other spills you may encounter. Pack Baby Dove Rich Moisture Baby Wipes that provide all this and more. These wipes effectively remove impurities while instantly moisturising a baby's delicate skin. The Baby Dove wipes are as gentle as water and suitable for all-over use.
3. Extra Clothes
It is winter and you can never be sure about your baby's tolerance to weather changes. It's therefore best to carry spare sweaters, jackets, socks, caps and mittens to make sure your baby is safe from any harsh weather or sudden changes. Extra sets are also helpful because babies are unpredictable with the mess they can create. Carry extra clothes for yourself too – you will be glad you did when your baby has just had a particularly messy day! ||
4. Baby Lotion
Before venturing out, we always make sure that our baby's skin is moisturised and supple. However, the winter air can be severely drying, baby skin being the most susceptible due to its thinness. This means your child may need to be moisturised again during the day, to protect the skin from getting itchy and irritable. Carry with you a good quality lotion like Baby Dove Rich Moisture Baby Lotion that soothes dry skin from the first use and locks in the moisture for 24 hours. It keeps the baby's delicate skin soft and supple for the entire day and also has a very pleasant fragrance.
5. Blankets and Towels
While these may seem like overkill if you are travelling to a place near home, babies may require extra blankets or towels for emergencies. If you need to swaddle your baby in the car, a quilt or blanket will help you comfort your baby. You may also need these if you are travelling in an airplane, as the temperatures can get quite cold. As for the towels, mothers know the umpteen situations that demand cleaning and drying!
6. Bibs
Bibs can come in really handy during travelling as they protect clothing from accidental food spillage. You can also opt for a burp cloth that you will need after feeding your baby. With a bib or burp cloth around the neck, your baby can stay clean and warm throughout the journey!
7. Diaper Rash Cream
You will obviously carry lots of extra diapers along on your journey. You never know how frequently or when your baby soils his diapers. But what you also need to ensure is that, after a change, the diaper area is thoroughly cleaned and moisturised. Travelling can create a change in your baby's routine, including his pooping and peeing habits. This makes him more vulnerable to diaper rashes unless you take extra care. Carry Baby Dove Rich Moisture Diaper Rash Cream to apply on your baby's diaper area after changing. It is easier to spread compared to other diaper creams. The Baby Dove Diaper Rash Cream creates a protective barrier that shields baby's delicate skin from the causes of irritation and also neutralizes pH in seconds.
While this checklist will help you pack all the critical stuff for your baby, every baby's needs are different. So there will be a few things your baby may need that only you can adjudge. That fluffy teddy bear in blue, a favourite snack, or the red onesie? Let your mommy instinct be the ultimate deciding authority when you are packing for your darling. Shield your baby in your loving care, follow your gut instinct, and voila, we can already foresee the wonderful trip that the two of you will have!