50 Cool Names for Grandpa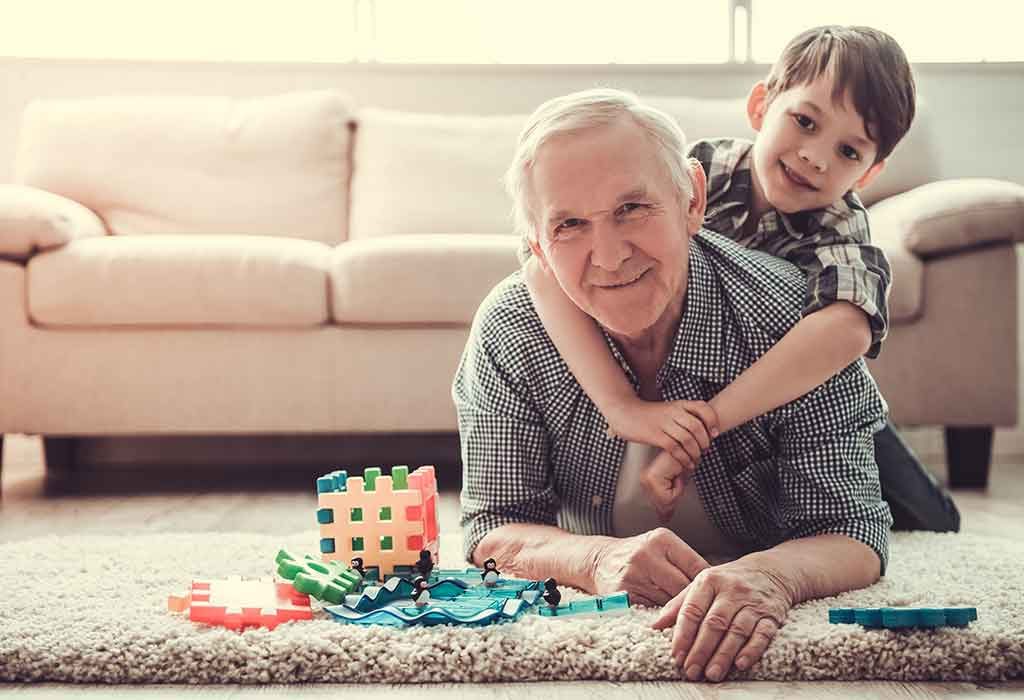 In this Article
Grandparents are one of the best pairs of people in our lives as they teach us important lessons and raise us with love and care. Modern grandfathers are often just as involved as grandmothers in the children's lives and many children call their grandfather with non-traditional nicknames to show their love to them!
Cute Names for Grandfather That Kids Will Love
Here are a few cute and funny grandpa names your children will find easy to pronounce.
Baba is a term for father figures and is used all around the world, but in Ukraine, it commonly refers to grandpas. An alternative to this name is 'Dada.'
2. Geepa
This is a very short form for the English word 'grandpa.' Another simpler abbreviation is 'Gpa.'
3. Gramps
Gramps is an American classic name that most children use to call their grandfathers. A very cute alternative is 'Grampy.'
4. Granddaddy
'Granddaddy' is another alternative for the word 'Grandfather' and is commonly used by children to call their granddad.
Lolo is a nice Filipino term to call your granddad. This is a wonderful, unique, and traditional name you can use to call your grandfather.
6. Nonno
In Italian, the word 'Nonna' or 'Nona' means grandmother and the masculine version of this ethic name is 'Nonno.'
Opa is the German word for calling Grandfathers. Though Opa and Oma originated in Germany, these names are cute enough to be used anywhere.
8. Papa
Little ones find this simple and short name easy to pronounce because of the repetitive syllables.
9. Pappy
Pappy is another Southern favorite and is a short and sweet name that goes great with Paps or Grandpappy.
10. Paw-Paw
Paw-Paw is a popular nickname in the South and goes great with words for a grandmother like Memom, Meemaw, or Maw-Maw.
11. Pépé
Just like we have grandpa for grandfather in English, 'Pépé' is an informal version for grandfather in French.
12. Pop-Pop
Pop-Pop is another cute and a little more modern name to call grandfathers. Many little children find it easier to pronounce this name.
Poppy is also a common word for grandfathers. Your kids will definitely catch this one very quickly.
Saba means grandfather in Hebrew. Another alternative to use is the Yiddish word Zayde.
15. Tutu
Tutu is used for calling both grandparents in Hawaii. However, the formal term for calling granddads is Kuku Kane is Hawaiian.
Other Nationalities Grandpa Names
Here are more names for your grandpa in other languages:
1. Abuelo
Abuelo is a common term for the word grandfather in Spanish. It is a unique grandfather name that you could use to call your grandfather and it goes great when you pair it up with 'Abuela.'
The word 'Afi' has an Icelandic origin and it is used to call grandfathers.
3. Athair Crionna
Derived from the Irish culture, the meaning of this word is the grandfather. The other nickname for grandfathers in Irish is 'Athair mor.'
4. Avo
Avo is a Brazilian term to call granddads. The other variation includes 'Avozinha.'
In Swahili, Babu is a nice nickname used for calling granddads. 'Baba' is a variation of the word and these words can be used by anybody around the world as it is easy to pronounce.
6. Bedstefar
Children call their grandfather 'Bedstefar' in Danish culture. An alternative for the word includes 'morfar.'
7. Buyuk Baba
In Turkish, children call their grandfathers 'Buyuk Baba.' The word is similar to saying big baba. Another Turkish word for grandfather includes 'dede.'
8. Dada Abba
In Urdu, the word for grandfather is Dada Abba. Sometimes, only dada is used to call grandpas.
9. Dada ji
'Dada ji' is a common word for Grandfather in Hindi. Alternatives for grandfather include 'Maathamah,' 'Pithamah,' or simply 'dada.'
10. Daideo
This word is used for calling grandfather in the Irish Culture. It is a wonderful name though it is a little tough to pronounce.
11. Dedushka
In Russian, Dedushka is a nickname for grandfathers. This word goes great with 'Babushka,' meaning 'grandmother.'
12. Dziadek
This is a Polish nickname for the grandpa, and it is pronounced as 'jah-deck.' Sometimes, it is spelled as 'dziadzio,' pronounced as 'jah-goo.' Variations include 'Dziadzi' and 'Dziedzko.'
13. Farfar
Swedish children call their grandfather 'farfar' but the word is a nice nickname for English grandparents as well. This is also used by Norwegians. An alternative includes 'Morfar.'
In Ukrainian, 'Gigi' is a nice nickname to call grandfathers. This can also be used by the English as well and is easy to pronounce. 'Didus' is also a word for grandfather in this language.
15. Grandpere
This is a French nickname for the word 'grandfather' and it resembles the 'grandpa' in English. This is an easy nickname for the English to use.
16. Hal-abeoji
'Hal-abeoji' is a Korean name for the word 'grandpa' and is a unique nickname to call your granddad.
17. Inupiaq
This is a great nickname for grandpas and Eskimos use this term.
18. Jid
In Arabic, Jid is a word for calling 'grandfathers' and is easy to pronounce. This is a very different name for grandpa as it sounds unique.
19. Jitto
Jitto is a commonly used word for grandpas and is used mostly in the Syrian culture.
20. Kuku Kane
Kuku Kane is a Hawaiian term for Grandfather and is a unique option. An alternative of the word is 'Kupunakane.'
21. Muthachan
'Muthachan' is a Malayalam word for 'grandfather.' An alternative for grandfather in Malayalam is 'Achachan.'
22. Naikah
The Pashto people call their grandfathers 'Naikah.' This is a wonderful nickname for grandpa.
This word is used for calling grandfathers in Urdu and can easily be pronounced by children.
In the Punjabi culture, the word is used to call grandpas, though it is not very popular.
25. Nonno
Nonno is a ladino word for grandfathers and is mostly used in the Hebrew culture.
26. Papi
Papi is a sweet and short Spanish nickname for your granddad. Though it is commonly used for fathers, a few children call their granddads 'Papi.'
27. Pappous
Pappous is a cute option for your granddads and it is derived from the Greek language. The word definitely sounds loving and unique!
28. Pitamaha
In Bengali, the word refers to grandpas and it can be easily pronounced.
29. Seanathair
In Irish culture, this word is used to call grandparents and is a wonderful option that anybody can choose.
In Sri Lanka, Siya is used to call grandfathers and is derived from the Sinhala language.
31. Sofu
Sofu is a Japanese word for Grandfathers and is an easy-to-pronounce word.
32. Vovo
Vovo or vovu is a good choice for calling grandfathers and it is from the Portuguese language.
33. Yeye
Yeye is a Chinese word for grandfather and can be easily used by anybody.
This is a sweet and short nickname for the word grandfather in Hebrew. It is a nice and unique option for your granddad.
35. Zufu
Many Chinese children call their grandfathers 'zufu' and is a fun option.
These unique names are a great way to show your affection and love for your grandfather. You could also choose more than one nickname as it will be fun to call them with different names each time.
?>