Every article that we publish, confirms to stringent guidelines & involves several levels of reviews, both from our Editorial team & Experts. We welcome your suggestions in making this platform more useful for all our users. Write in to us at parenting.care@firstcry.com
At FirstCry Parenting, our aim is to give you the most elevant, accurate and up to date information.
Last Updated on
Whenever you try feeding broccoli or spinach to your kid, he wrinkles his nose and pleads to you with his innocent eyes that you give him noodles or pizza instead. Does that sound like your kid? Well, you are not alone! Feeding healthy food to their child is a constant battle of all the mothers…which you fight every single day but hardly taste the bite of success. Kids are picky eaters and to get them to eat vegetables and lentils is a challenge for moms of this generation. But have you ever looked for a solution for the same…a trick or a secret perhaps that will make your picky eater to gobble all the vegetables that he usually despises? If you have found no solution yet then read this article. We have some amazing healthy meal ideas for picky kids and worry not because they won't say 'No' to these.
Video: 5 Healthy Meal Ideas for Fussy Kids
How to Make Meals Healthy for Fussy Eaters
Here are some ways that you follow to help you picky eater eat healthy meals:
1. Practise What You Preach
If you want your kid to eat a certain vegetable, it is important that you eat it too. Do not expect your kid to relish something that you don't eat or not like.
2. Offer a Snack of His Choice Later
It is very normal for a child to not eat something that he does not like. If your child does this daily, then no doubt you will be angry. But calm down and try to think of a way to get him to finish his meal. If your child likes something, in particular, tell him that he will have to finish his meal if he wants what he likes. If your kid likes chocolate shake, you can give him in snacks but for that tell him that he will have to finish his meal first.
3. Cook His Favourite Food
Whenever you plan to make your kid some dish that he does not like, you can also make his favourite food as a side dish or include his favourite food item as one of the ingredients in the dish. For example, if your kid is fond of eating cheese and you want him to eat broccoli soup, you may either add some shredded cheese in the soup or give him cheese fingers as a side dish.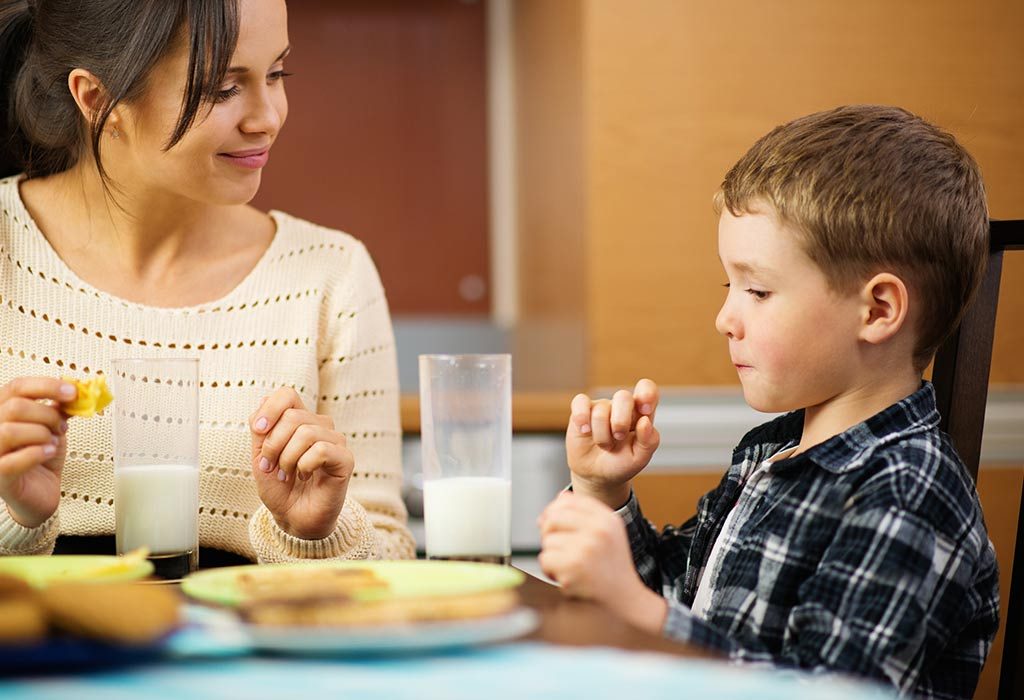 4. Do Not Be Rigid
If you have tried enough and your efforts are going in vain then stop force-feeding those items to your child. Instead, look for alternatives to that food item. It is not all about eating vegetables, fruits, cereals, nuts etc. It is all about getting nutrition. If one way fails in providing a certain kind of nutrient, you should look for other foods that supplement that nutrient.
5. Experiment
Do not go by the set rules, make your own rules..or better don't follow any. Kids like creativity so give it to them. If your kid likes to have a certain food that is supposed to be served as breakfast but he wants in lunch, then give him. Also, hide vegetables in their favourite dish. If your kid likes to eat a roll, you can offer him a chapati roll, add cheese and sneak in vegetables. Garnish with ketchup and grated cheese and he will eat it in no time.
Healthy Meal Recipes for Picky Eaters
Here are some easy to make healthy meal recipes for your picky eater:
1. Mix Vegetable Parantha
Most kids love to eat stuffed parantha, and mixed vegetable parantha adds a yummy twist to the usually made stuffed paranthas. This may be a very healthy meal choice for your kiddo. You can serve it with curd, butter, or even with dal.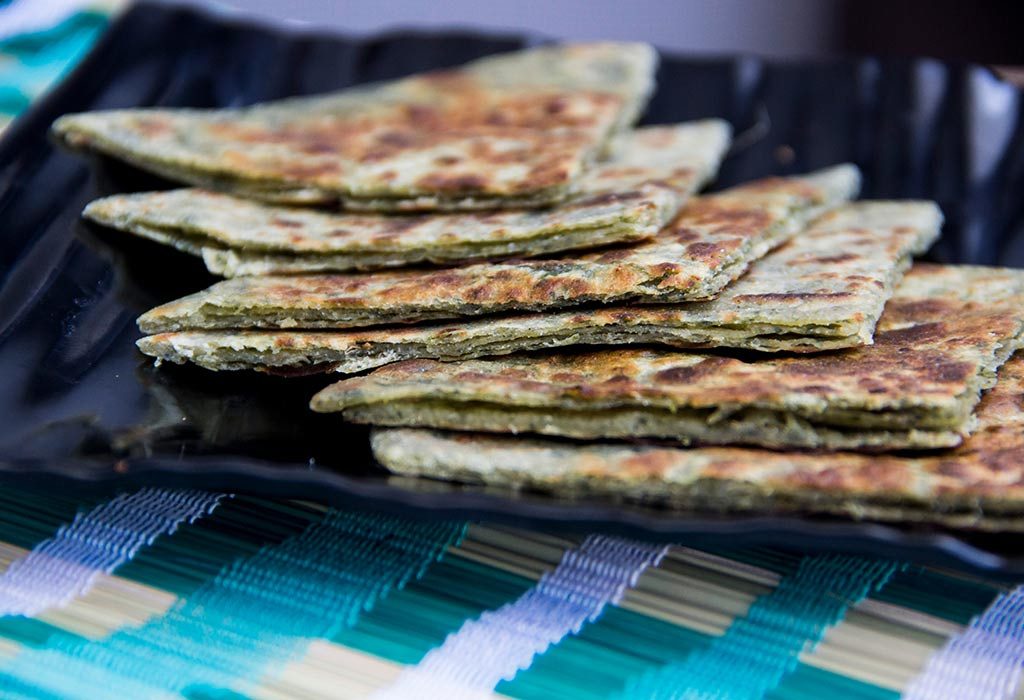 Ingredients
1 ½ cup whole wheat flour
1 cup mixed boiled vegetables like bottle guard, spinach, pumpkin, cauliflower, etc. (you may pick vegetables of your choice)
Salt
Any seasoning of your choice
Some oil or ghee for pan frying
Method
Knead the soft dough and keep aside.
Mash the boiled vegetables nicely.
Add salt and seasonings to the mashed vegetables.
Take a small ball of the dough, flatten it a bit and add filling to it.
Roll the small ball of the dough slowly.
Heat the pan and cook parantha from both the sides or till it turns golden brown. Apply ghee for making the paranthas crispier.
Serve with butter or curd.
2. Red Fried Rice
Red rice has many benefits for your child as it contains more fibre than the usual white rice and it is one of a great option for kid-friendly meals for picky eaters.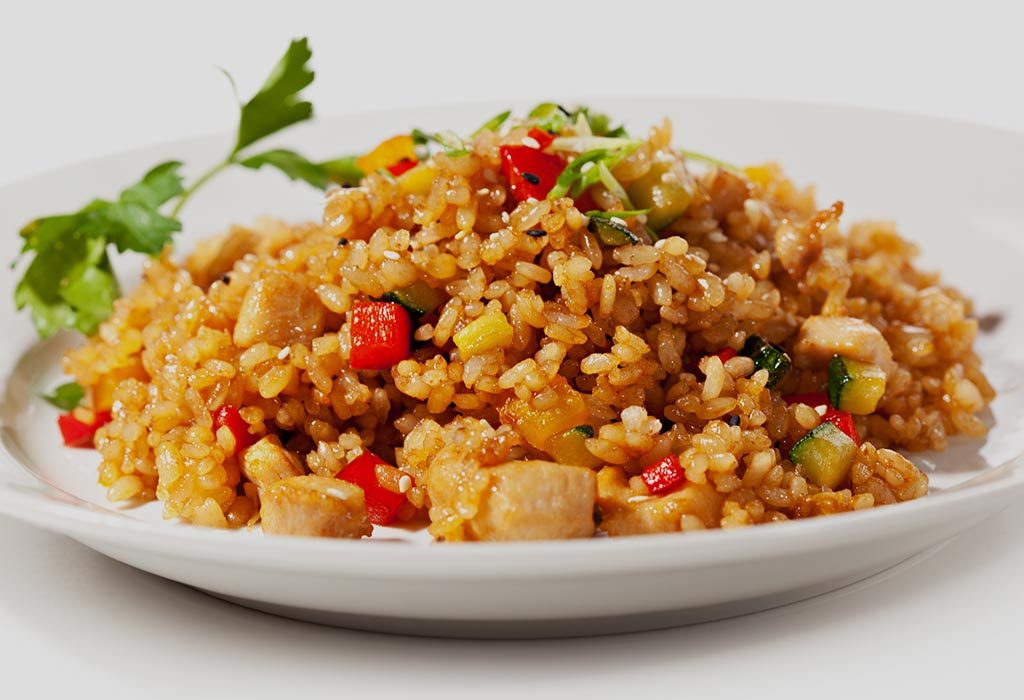 Ingredients
1 cup red rice
1 cup finely chopped vegetables such as capsicum, beans, carrots, etc.
1 medium-sized tomato, finely chopped
1 medium-sized onion, finely chopped
¼ tablespoon mustard seeds
3 -4 tablespoons raw peanuts
Few curry leaves
Oil/ ghee
½ teaspoon turmeric powder
¼ teaspoon red chilli powder
Salt to taste
½ cup freshly chopped coriander leaves
Method
Cook the rice and keep aside.
Heat oil in the pan and fry peanuts till they turn golden brown. Take the peanuts out once done.
Add mustard seeds and curry leaves in the hot oil.
Add chopped onions and cook till they turn golden brown.
Add tomatoes and chopped vegetables.
Add turmeric powder, chilli powder, and salt.
Cook till all the vegetables are done.
Mix the rice in the vegetable mixture and garnish with coriander.
3. Yummy Vegetable Pasta
Kids love to eat pasta, and you may add some finely chopped vegetables to their favourite dish and increase its nutritional value.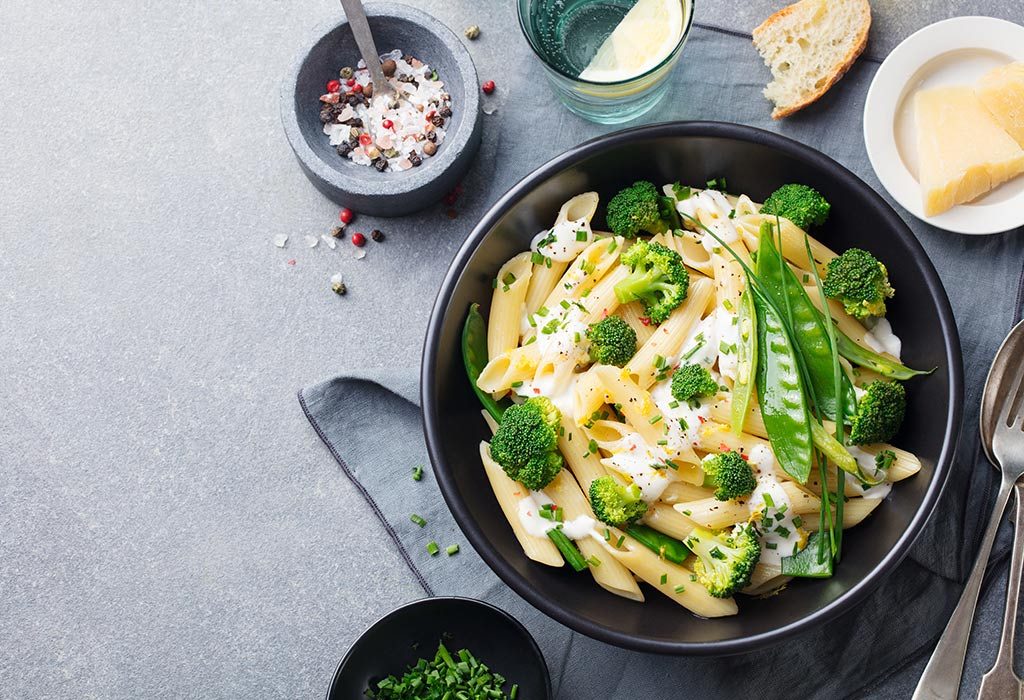 Ingredients
1 cup whole wheat pasta of any shape that your kid likes.
1 cup finely chopped vegetables like broccoli, carrots, beans, baby corn, etc.
1 medium-sized onion, finely chopped
½ cup homemade salsa sauce
3 to 4 tablespoon tomato sauce
Few garlic pods crushed
Pasta seasoning to taste
Salt to taste
1 tablespoon butter
Method
Boil and keep the pasta aside.
Heat butter in a pan.
Add crushed garlic and sauté for a minute.
Add chopped onion and cook till they turn golden brown.
Add vegetables and cook until they are done.
Add salsa sauce, tomato ketchup, salt, and pasta seasoning and cook for a minute.
Add the cooked pasta to the vegetables.
Later serve with whole wheat garlic bread.
4. Delicious Vegetable Pizza
Kids love to eat pizza, and you may sneak in some vegetables in their favourite dish and turn it into a healthy snacking option.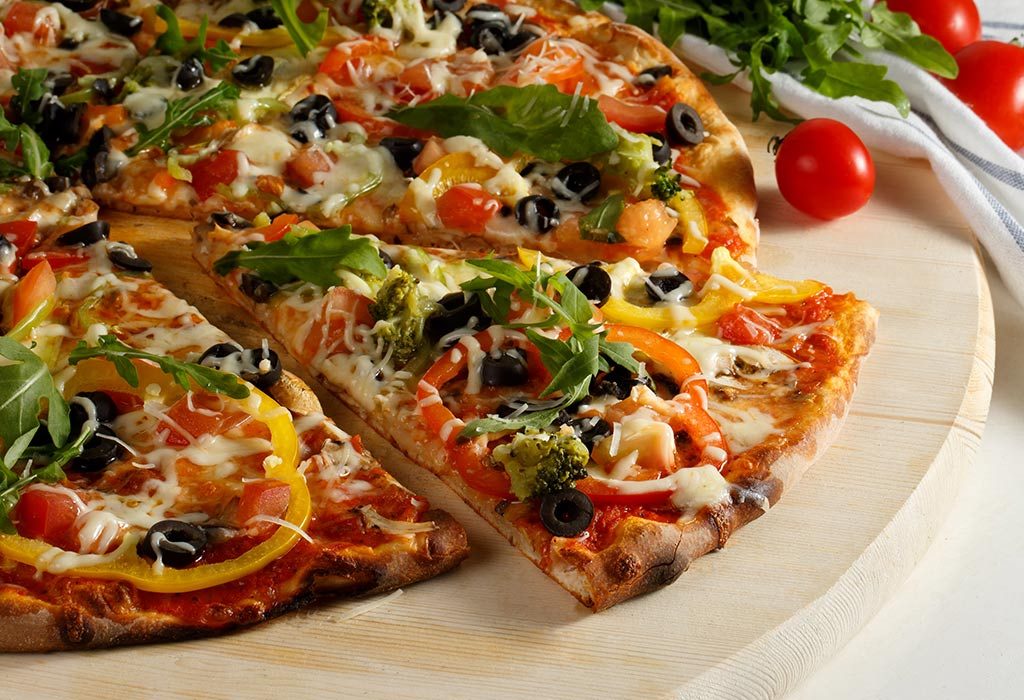 Ingredients
1 pizza base
1 cup thinly sliced vegetables such as capsicum, mushrooms, onions, etc.
2 to 3 tablespoons homemade salsa
½ cup Mozzarella cheese
Pizza seasoning
Butter for greasing
Method
Preheat the oven to 180 degrees.
Grease the baking dish and keep aside.
Take the pizza base and slather salsa sauce on it.
Add sliced vegetables on top.
Cover the vegetables with shredded cheese.
Cook in an oven for 15 minutes or till done.
Garnish with some pizza seasoning.
5. Jaggery or Gur Parantha
If your kid has a sweet tooth, he will enjoy this sweet treat and it is also one of the great toddler lunch box ideas for picky eaters.
Ingredients
1 cup whole wheat flour
1 cup jaggery
½ teaspoon fennel seeds
Ghee or oil for frying paranthas
Method
Make soft dough and keep aside.
Grate the jaggery and add fennel seeds to it.
Roll a ball of dough and fill jaggery in it and roll it gently.
Heat the pan and cook parantha.
Add ghee to make it crisp.
Serve it with homemade white butter.
The above-mentioned foods are some easy-to-make healthy recipes that you can make for your kid. You may make a few changes as per the preferences of your child. Food has an indelible role in your child's overall growth and development, therefore, make sure he eats a well-balanced and nutritious diet.