5 Easy DIY Baby Headbands for Your Little Bundle of Joy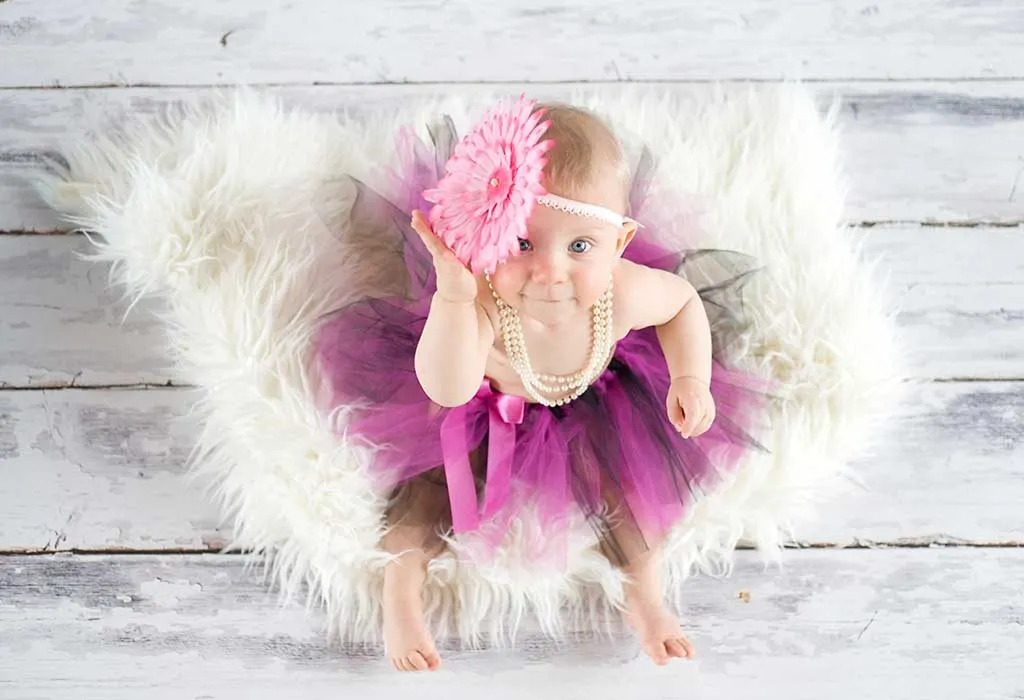 Baby headbands look just too cute and make your little one all the more adorable. Today, we are going to show you how to make DIY baby headbands from the comfort of your home. You don't need any sewing experience for making some of them and all you will need is some material that is lying around the house.
So, what are you waiting for? It's time to get your creativity flowing and see what you can come up with. We're sure you're going to have tons of fun making them. These headbands are perfect as gifts too!
Baby Headband Size Chart
Before making the baby DIY headwrap, you must first measure your baby's head. The head circumference will determine how to make headbands that fit. You want to make sure it's not too snug or tight but just comfortable enough. Here is a baby headband sizing chart for your reference below.
| | | |
| --- | --- | --- |
| Age | Head Circumference Size | Headband Size |
| Newborn | 12-inches to 13-inches | 12-inches |
| 0 to 3 months | 13-inches to 15-inches | 13-inches |
| 3 to 6 months | 15-inches to 17-inches | 15-inches |
| 6 to 12 months | 16-inches to 18-inches | 16-inches |
Beautiful DIY Baby Headbands That You Can Make At Home
1. Cute Floral Headband
Floral headbands aren't just cute, they make your baby look divine. Lucky for you, it's not that hard to make them. We'll tell you how to go about it.
Things You Will Need
Here are the things you need for making this headband:
Ruched elastic
Star trim and daisy trim
Scissors
Glue gun
A fabric flower
Instructions
If you're wondering how to make baby headbands with flowers the easy way, this cute one is your answer. Here are the steps:
Cut a strip from the ruched elastic in the length equal to the circumference of the baby's head. Add an extra half-inch more if needed.
Create a floral appliqué pattern using the daisy/star trim. Make sure the flowers are clustered together for smaller trims. Glue them properly on the ruched elastic.
Keep an inch of space for a bigger flower in between the daisy clusters.
After sticking the daisy/star trim clusters, glue the large fabric flower.
Connect the ends of the ruched elastic using a dollop of glue and let it sit for a while
Your cute floral headband is done and now you can put it on your adorable baby's head!
2. Trendy DIY Baby Headband
Have a few old T-shirts lying around the house? Don't throw them away! You can make a trendy baby headband using them. Here's how you do it.
Things You Will Need
Before you begin, make sure you collect these materials:
Old T-shirt or a recycled fabric
Sewing supplies
Any pattern
Instructions
This is one of the simplest and the most popular how to make infant headbands tutorial when it comes to creating something trendy. Here's how you do it:
Cut out a strip of fabric from an old Tshirt. You can use any old Tshirt that's lying around the house. Make sure you cut out the fabric from near the center of the Tshirt.
The length of the cut should be almost twice as big as the width of your baby's head to ensure a comfortable fit.
Make sure you have a sewing machine ready. Fold the fabric end-to-end and sew the ends with the right sides coming together. You can customize the design by stitching in additional patterns, elements, or styles on top.
Turn it inside out and smooth out your headband using an iron. Put it on your baby's head, and you're done!
3. Mini Turban Headband
A mini turban headband is one of the easiest things you can make for your baby. If you're looking for how to make baby headbands with big bows, you can modify this too.
Things You Will Need
You will need the following essentials:
Ruler
Needle
Hair doughnut
Thread
Any fabric that has a four-way stretch
Instructions
Here's how you get started:
Cut two strips of desired length and width from the four-way stretch fabric.
Keep one strip right side up on a flat surface.
Fold it lengthwise from the middle (you have the wrong side of the fabric on the outside now).
Now, sew it lengthwise.
Follow the same steps of the second strip.
Now, turn the two strips to get the right side of the fabric on the outside.
Place them in a cross on a flat surface.
Pick the right end of the bottom strip, fold it over the top strip and bring it to the left and hold it in between your fingers.
Now, bring the top and the bottom end of the vertical strip to the right and hold it tightly in between you fingers.
You should get a turban knot in the middle.
Now, sew both the ends together to form a loop.
Flatten out the raw edges and wrap it around a doughnut.
Secure it with pins and then hand sew it carefully.
Your mini turban headband is ready.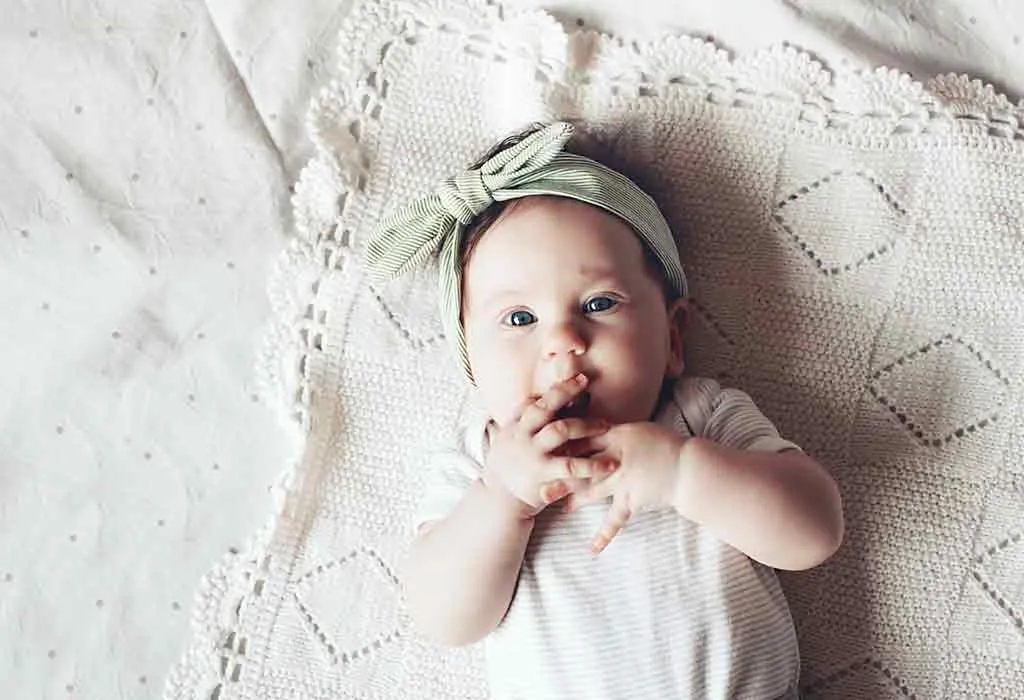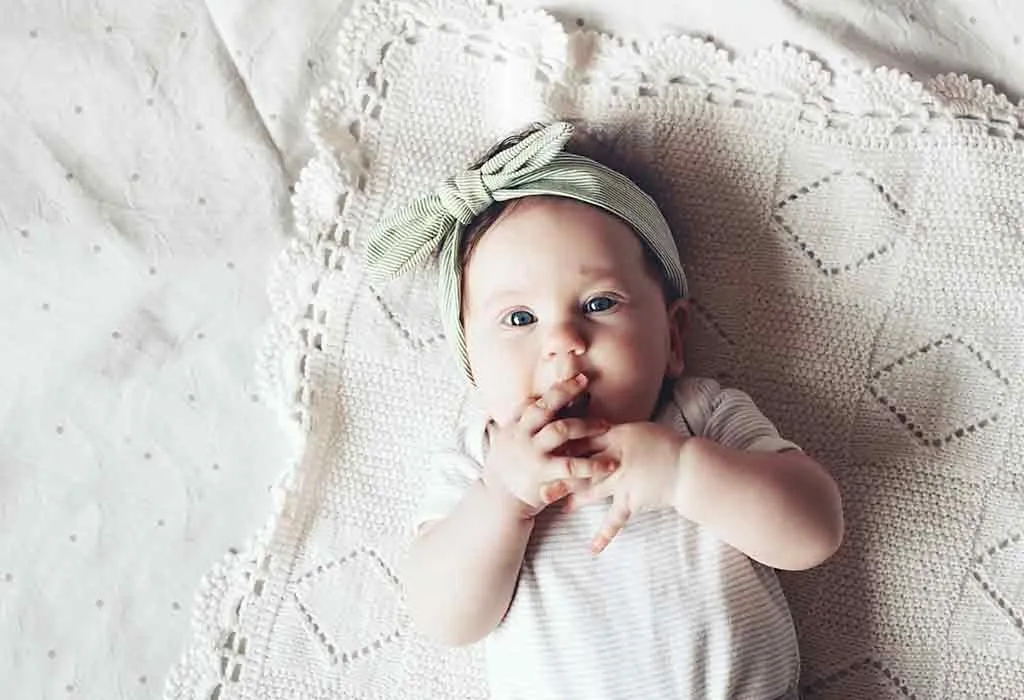 4. Knitted Fabric Headband
This colourful knitted fabric headband is a hit among mothers. It's easy to make and looks adorable on all babies.
Things You Will Need
You can make these as gifts for your baby. Here's what you'll need:
Knitted Fabric
Old shirts or maxi skirts
Cutting board
Instructions
This cute little headband doesn't require any sewing. We've added another variation below for your convenience, but let's start with this one for now.
Measure your baby's head.
Tie a loose bow leaving a loop the size of the baby's head. Use safety pins for determining the placement of the knot.
Pull the loose ends to make a bunny loop and make a tight knot.
Trim out any excess fabric around the loose ends and make sure they are twice as long.
Take the loose end, and using your fingers, pinch to gather and fold the fabric.
Locate a crease that goes all along the back of the bow.
Use hot glue to secure that crease in place.
Insert the bow into the crease and press it flat. You're done
5. DIY Baby Headbands No Sew
These adorable floral baby headbands require no sewing. They are very easy to make and all you need are a few minutes.
Things You Will Need
Here are the things you need:
Elastic
Hot glue gun
Scissors
Fabric flowers
Instructions
Before you begin cutting out the elastic, make sure you account for your child's head size. Use the baby head reference chart above to determine that. You don't want to cut out in a way that it doesn't fit and becomes too tight
Cut out a 5 to 8-inch fold over elastic. You can use glittery elastic, skinny elastic, regular elastic, or any elastic of your choice. Leave about 1 to 2-inches extra for the other types of elastic, especially if you are using lace elastic or anything tighter.
Keep about 2 inches for the overlap and an extra 1.5-inch for covering it up.
Connect the ends of the elastic and use hot glue to secure the overlaps in place. You can cover the seam by sticking an extra layer of elastic over the overlap with a tiny dot of hot glue
Add the flower-fabric to the seam/overlap by using a dollop of hot glue. Secure it gently and make sure you add the glue to the shinier side of the elastic so it's hidden by the seam
Let it dry and when that's done, you can put it on your baby and make her look beautiful
Now that you know how to make these cute DIY baby headbands, it's time to get your creative juices flowing. Be sure to take your time and visit your local arts and crafts store to gather the material. You can use recycled fabric for some of these in different patterns and make your very own version. Because when you're making headbands for your baby, you want to make sure they're extra special. And, that means creating pieces that are exclusive, original, and something you can't get from any designer stores. Hopefully, the DIY easy headbands above will help you get started. Good luck and let us know how it went.