15 Best Potty Training Books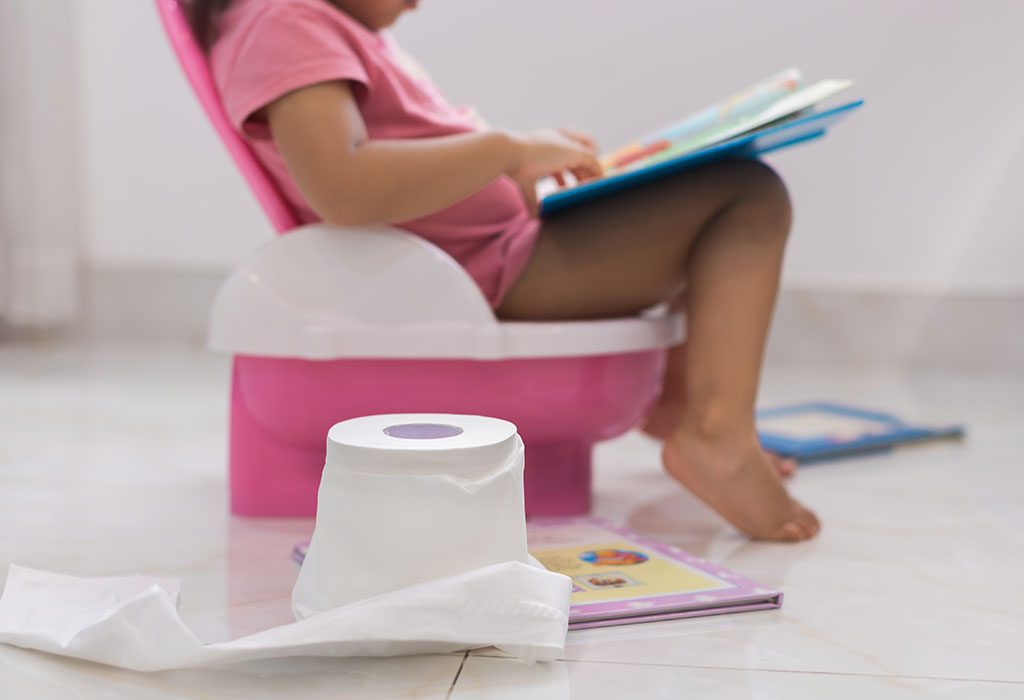 In this Article
Potty training is perhaps the most necessary evil that exists in the parenting world. No matter if you are the CEO of a multi-million-dollar company or a popular sports superstar, you will find yourself singing potty rhymes and celebrating this milestone in your baby's life.
Best Books to Ease the Potty-Training Process
Here's a list of some awesome potty-training books for parents with tips and tricks to potty train your little one. The illustrated and colorful potty-training books for kids provide step-by-step guidance to make the potty-training process easy. Keep them engaged with rhymes and special books on this sensitive subject. Make a small potty-training basket with colorful illustrious books, toilet paper rolls, reward stickers, colorful underpants, fragrant soaps and more to help the little one overcome the fear of potty time.
There are special potty-training books for toddlers to make the pooping time less stressful for mommy and more exciting for the baby. Say bye-bye to diapers and hello to pooping like a big baby.
1. A Potty for Me!
Written by – Karen Katz
What's Good About It
Ease in the idea of using the chamber pot for pooping with this interactive children's books about potty training. The playful rhymes, detailed lift-the-flaps instructions narrated from a child's point of view make it easy to explain the little one about this important body function.
2. Big Boy Underpants
Written by – Fran Manushkin
What's Good About It
There are special books for boys to help them upgrade from the diapers to the undies. The idea of being able to pick their own pants is a pretty grown-up feeling for the pre-schooler.
3. Big Girl Panties
Written by – Fran Manushkin
What's Good About It
This one is among the most popular potty-training books for girls. Motivate the young lady to step out of her diapers and get on with big girl pants like mommy. Let her choose her dresses and panties, and say no to wearing diapers.
4. Dinosaur vs The Potty
Written by – Bob Shea
What's Good About It
The potty dance moments when the toddlers resist sitting on the throne till the last minute are hilarious. This super fun dinosaur book drives away from the fear of potty time.
5. Everyone Poops
Written by – Taro Gomi
What's Good About It
Reassure your little one that pooping is a natural process. Everyone got to eat and everyone got to poop. There is nothing embarrassing about what happens inside the diapers. And sooner or later, the little one will accept the pot too.
6. Mommy I have to Go Potty!
Written by – Jan Faull
What's Good About It
Everything that a parent needs to know about potty training their little one. There are practical tips and tried and tested strategies for easy transition from the diaper days to the pot.
7. Once Upon a Potty!
Written by – Alona Frankel
What's Good About It
This best-selling book is available in boy's and girl's versions. The simple language and anatomically correct illustrations explain how Joshua and Prudence overcome the fear of using the potty.
8. P is for Potty
Written by – Sesame Street Series
What's Good About It
Everyone loves Elmo and Albie. This super interactive book has over 25 flaps to flip and explore the mystery around potty training. Keep your little one occupied as they sit on the big people's pot and understand the basic routine of making poop and cleaning it. Learn about the toilet paper, running water, washing hands, wiping the bum with potty training experts of Sesame Street.
9. Potty
Written by – Leslie Petricelli
What's Good About It
Your little toddler's mind has hundreds of questions about the potty. This classic book on potty-training will have mom and baby chuckling and giggling every time the baby makes the poop. Find answers to the questions like, "Should I go in my Potty?", "Where do kitty and doggy go potty?" and "Why no diaper anymore?". Soon you will reach the stage when baby says "Mommy, I did it!"
10. Potty Training in 3 Days: The Step-by-Step Plan for a Clean Break from Dirty Diapers
Written by – Brandi Brucks
What's Good About It
Written by a former nanny, this book offers a three-day concrete plan to potty train your little one. Potty training need not be a long and tiring process that goes on for months together and bring tons of unwanted stress to the baby and the parents.
11. Potty Training in 3 Days: The incredible Potty-Training Guide to De-stress Results in just 3 days
Written by – Lisa Karr
What's Good About It
Potty train your baby like a professional with this e-book that offers practical solutions to all your queries related to potty training. While there are tons of illustrated books for babies, this one is exclusively for parents to overcome the stressful period of transition from diapers to the toilet.
12. The Potty Book
Written by – Alyssa Satin Capucilli
What's Good About It
Available in gender-specific versions for boys and girls, the writer takes us through the story of Henry's and Hannah's journey of graduating from diapers to pants. Let the kids know it's okay to have a potty accident, but you gotta keep trying.
13. The Princess and the Potty
Written by – Wendy Cheyette Lewison
What's Good About It
Story of a spoiled Princess who refuses to shed her diapers and keeps rejecting the fancy potty seats. Eventually, the baby will accept the bathroom routine.
14. Uh Oh! Gotta Go! Potty Tales from Toddlers
Written by – Bob McGrath
What's Good About It
A well-illustrated book with humorous captions to helps kids and parents cope with potty-training challenges.
15. Tinkle-Tinkle Little Star
Written by – Chris Tougas
What's Good About It
The colorful book with cute rhymes teaches baby potty and pee etiquettes. This fun book will have you and the baby singing in unison at potty times:
"Tinkle-Tinkle little tot, there you sit upon the pot.
Any second you will see, sprinkle, splash as you pee.
Tinkle-tinkle little tot, there you sit upon the pot."
Go diaper free with the help of these awesome books and see your baby cross the potty-training milestone with ease.
Also Read:
Best Potty Training Games for Toddlers
How to Potty Train Toddler with Underwear
Potty Training Tips and Tricks for Toddlers