9 Simple Potty Training Tips to Help Children Poo/Pee in the Toilet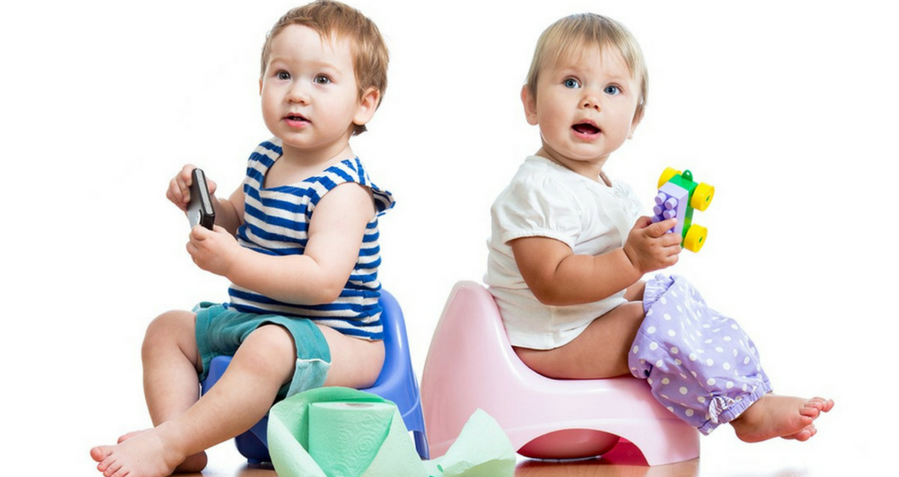 Somewhere between the ages of 1 and 2 years, a child starts showing signs of readiness for toilet training. It's important for parents to understand these signals and introduce them to the concept of toilet training. It can be a challenging transition and there will be accidents along the way…But there are some tricks that can help teach the little ones when and how to pee/poop in the toilet. Here's a potty training guide to help you out.
As a child becomes a toddler, parents have the next big challenge to deal with – potty training! Teaching a toddler to take control of his bowel and bladder movements is not an easy task, but a very important one. We have put together for you some potty training tricks through which you can teach potty training and bowel movements to toddlers. Be prepared though, you will need a lot of patience and perseverance!
How to Potty Train Your Child
Here is a step-by-step approach to understand how to potty train your child. All the best!
1. Understand 'Ready' Signs
For potty training to be successful, it is crucial to start at the right time – not too early, not too late. According to a study conducted by the Robert Wood Johnson Medical School, the period between 24 and 32 months of age is the most effective time frame for parents to begin toilet training. The study also indicated that the right timing is more important than the specific training method used. This means, no early potty training tips will work unless your child is ready!
Experts recommend that it is best to start when your child starts showing these signs:
Insists on dressing himself up. He may start to pull his pants up and down too
Points to his diaper or nappy before or after he's urinated/defecated
Cries out loud when he feels wet or soiled
Shows an interest in bathroom visits and enquires about your visits
Starts understanding and following basic instructions
He wakes up in the middle of the night with a dry nappy
Watch How This Mom Understood the Signs & Toilet Trained Her Toddler in 7 Days!
2. Introduce Him to the Toilet Pot
It's important for your child to feel comfortable about using the bathroom or the potty seat before teaching him bowel training techniques. Make him familiar with his potty seat. Allow him to sit and get up at his will. Don't force him to use the pot.
Tip: You can either choose a standalone potty seat or a toddler-size potty seat that can be placed on top of your toilet seat. If you choose the latter, keep a stepping stool in the toilet so your child can reach the seat comfortably.
3. Choose the Right Clothing
Let him first sit on the pot while fully clothed and gradually make him sit without his diaper. When you are toilet training your child, it is best to make them wear clothes which can be instantly taken off, dropped to the ankles and kicked off immediately. Refer to this guide for more tips for appropriate potty training clothing.
4. Accompany Your Child
One of the best toilet training tips is to give your child company while he is learning. Stay with him when he's on the potty chair. Relax him by talking or reading to him.
5. Demonstrate How the Pot is Used
The simplest of all potty training methods is to let the child see how the pot is actually used. You can throw stool from a dirty diaper into the bowl and flush it. Let him flush the toilet and watch the water get flushed. Children see, children do – so this is one of the most effective potty training tips!
Note: You may be wondering how to potty train a boy as they need to learn to pee standing up. You can start off by teaching them to pee sitting down first. Then, ask your husband or an older sibling to demonstrate to the child. How to potty train a girl is considered an easier question to answer as many moms feel that girls learn quicker. It is estimated that girls can learn to use the potty almost 3 months earlier than boys!
6. Understand His Potty Routine
How do children develop bladder and bowel control? Once their eating habits become regular, their bowel movements follow suit. If your toddler has his meals at pretty regular intervals, you can soon expect him to be ready for toilet training. Most children have a bowel movement once a day, usually after a meal, so make him sit on the pot at this time.
Tip: You can make your child sit on the potty about 30 minutes after meals. At this age, the body has a tendency to have a bowel movement after eating.
7. Understand His Pee Routine
Toddlers usually have bladder movements every 2 hours or immediately after having a large drink. You can take him to the pot during this time. Many moms feel that understanding the pee pattern and going by it is one of the best potty training tips that actually worked for them.
Did You Know: Parents in Vietnam Use the 'Whistling' Method for Potty Training
While understanding your baby's pee routine is a good idea for potty training, mothers in Vietnam go one step ahead – they decide the peeing schedule once the baby turns 9 months old!As per a survey published in the Journal of Pediatric Urology, mothers in Vietnam simply whistle when they want their babies to pee. They whistle at certain times, say, after napping, and the whistle acts as a cue to make the baby pee/poop. The mothers use this method till they no longer have to remind their children to use the toilet. Best part – most of the kids studied in this survey were toilet trained by 24 months of age!
8. Praise & Encouragement
Praise him for using the pot and don't scold him if he wets or soils himself. It is a good idea to offer small rewards like stickers. You can even let them pick out new big-child underwear to wear.
9. Don't Lose Patience
This is perhaps the most important (though difficult!) potty training advice. Teaching a toddler bladder and bowel control can be time-consuming. It could even take up to 6-months to properly toilet train your child. You need to be patient and supportive during this important period. Scolding him and forcing him to go won't help and will only backfire.
Paediatrician's Advice for Potty Training
One final word – many paediatricians give an important advice about toilet training that works for many moms. They recommend parents to use a non-absorbent liner or cloth nappy instead of diapers. This means your child can feel the wetness. The resulting discomfort acts as a trigger to use the toilet.
It is also recommended to consult the paediatrician if your child is approaching his third birthday and you have been struggling with potty training for a long time. Remember that it is normal for different babies to reach this milestone at different times. However, the doctor will be able to diagnose if there are any underlying issues with bladder control.
Watch Dr. Varsha Saxena discuss tips for toilet training children

Is your child toilet-trained yet? Do share stories of toilet training your children!