15 Amazing Halloween Toys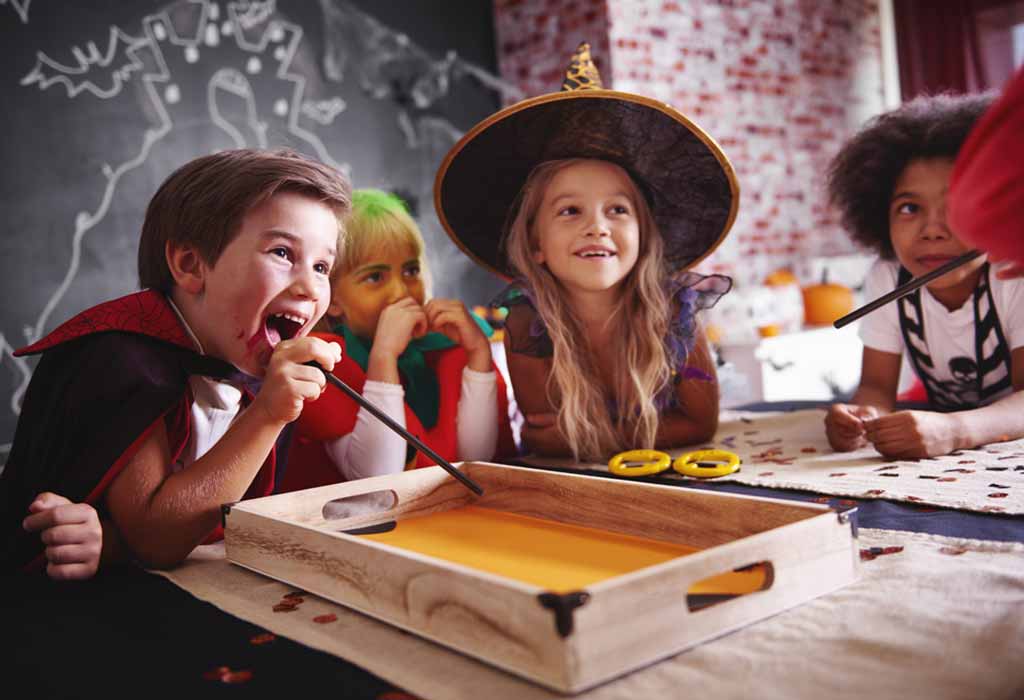 In this Article
Halloween, a celebration of all things spooky and scary, is one of the wackiest festivals loved and celebrated worldwide. However, it is prevalent among children! Be it trick-or-treating or crazy costumes, Halloween is a fun-packed evening awaited by kids of all ages. If you're looking to help your child understand the importance of Halloween and embrace the spooky season, you can choose from a variety of thrilling and age-appropriate Halloween toys.
Best Toys to Gift Someone This Halloween
Though contemporary Halloween celebrations are associated with jack-o'-lanterns and sweet candies, its grim origins are seldom discussed. Originally named All Hallows' Eve and celebrated on the eve of All Saints' Day on 31 October, this annual festival was commemorated as a homage to the saints and ward off evil spirits. Marking the end of a thriving summer, Halloween has its origins dating back to 2000 years when the Celtic people celebrated Samhain (a pagan festival) to repel the otherworldly forces that damaged their crops caused loss of human life during the cold dark winter. Nonetheless, from being an eerie night of superstition that involved howling at the most witching hour, this holiday has evolved to be a more joyous occasion. Today the celebrations include activities like lighting bonfires, apple bobbing, thematic costume parties, painting pumpkins, telling scary stories, watching horror movies, playing divination games, visiting haunted attractions, and above all, exchanging gifts. Most of these Halloween-themed toys are economical enough to be given out as party favors and offer educational and developmental benefits. Some of them are board games that your children can enjoy along with the rest of the family. These toys and games make excellent alternatives to not-so-healthy bags of candies. Having said that, your children might not like it if you take sweets off the equation entirely. Here are some of the best Halloween toys for kids that would enrich their minds and will have them scream with excitement and laughter.
1. Beanie Babies Soft Toys
Halloween Beanie Babies are a craze among youngsters ever since they first hit the shelves in the early 1990s. Starting with a modest collection of nine Beanie Babies, today you can find many of your favorite Disney, Pixar, Nickelodeon, DreamWorks, and Marvel characters in their Beanie versions.
2. Black Cat
Halloween stuffed animals, especially a black cat soft toy, can be a topical gift for children of all ages. Not just for infants or toddlers, a black cat's ominous association with death and witchcraft makes it a perfect companion with a witch's costume for a Halloween party.
3. Michael Myers Action Figures
Maybe not young children, but many teenagers are huge fans of the Halloween movie franchise, and the Michael Myers action figures or props can be a great addition to their collection. These horrifying-looking masked psychopath figurines come with Halloween-inspired accessories like masks, costumes, head knives, hammers, jack o' lantern interchangeable hands, and other horror collectibles.
4. Make A Pumpkin Sticker
Although pumpkin-carving sessions are a great Halloween engagement, it is not safe for toddlers to be working with sharp tools. Alternatively, you can buy these pumpkin stickers for your kids and let them "carve" their stick-on pumpkins with several sets of facial features that come in the pack. These can be displayed on the fridge door, study room, or class pin-up board.
5. Haunted House Set
Another great idea for a Halloween gift is the Haunted House set. Your child can carry it to a party or break it open at home. They come with scientist figurines, spiders, monsters, vampires, coffins, skulls, and magic potions, ideal for pretend play or your Halloween home décor.
6. Pumpkin Play Set
What could be more appropriate than a pack of tiny Halloween collectibles for your infant or toddler? The Pumpkin Playset comes with cute and cuddly soft toys like a spider that rattles, a ghost that squeaks, candy corn that crinkles, a cat that meows, and the titular pumpkin that are perfect for your child first Halloween.
7. Pumpkin Sensory Chew Necklace
If your infant or toddler is going through the irritable teething phase, this skin-soft silicone necklace can bring some much-needed relief. These are also great for differently-abled children who often find crowds or parties challenging to handle and grow anxious around strangers.
8. Star Wars Yoda Candy Holder
Another movie figurine from the cult series Star Wars, this Yoda candy holder can be a great gift that the entire family can enjoy. 1.5 feet in height, this lightweight figure can be a great crowd puller during trick-or-treating or a Star Wars-themed Halloween party.
9. Halloween Puzzles
Worksheet puzzles or jigsaw puzzle sets with mysterious characters and bright witchy designs can help develop essential skills such as patience, visual-spatial reasoning, shape recognition, goal setting, concentration, and a sense of achievement in children. Halloween-themed crosswords can test their knowledge of this traditional festival and make them future Halloween experts.
10. Halloween Board Books
Let your kids discover the joy of reading and discover the exuberant spirit of Halloween with colorful Halloween-themed board books. These books are often fitted with special audio effects such as witches cackling and ghosts wailing in sync with the stories creating an environment suited for a Halloween night. Some of them are highly interactive with bright festive illustrations, lift flaps, touch and feel textures, entertaining mirrors to spark curiosity, charming die-cut masks for little readers to peep through and try on as they dress up for Halloween.
11. Lego Halloween Building Kit
Lego games are eternal and a great calming activity for hyperactive kids. This Halloween Building Kit comes with mini model parts, bricks, and an instruction manual that not only throws light on the uniqueness of this festival but also helps boost fine motor coordination, constructive problem solving, organizational skills, and lateral thinking in kids. A purple vampire, witch, or a black bat, these spooky constructions can be displayed throughout the fall season and beyond.
12. Halloween Stamps
Kids often want to help with decorations during festive seasons. Instead of worrying about what bizarre artwork they might come up with, gift them these super easy Halloween stamps that make creepy crawlers and spooky characters with precision. These can then be a part of your house decor, keeping your kids happy and engaged.
13. Light-Up Halloween Bubble Blower
This 13.5-inch wand can easily brighten up your kid's Halloween evening. The glow of LED lights adds to the magic of beautiful bubbles creating a mystical atmosphere that your children will love.
14. Remote Control Creepy Crawlies
A moving spider or a bat can become the center of all the excitement on a Halloween eve, especially if your naughty child can control it. These remote-controlled creatures make exciting gift toys.
15. LED Skeleton Gloves
Light-up gloves can be an epic Halloween costume idea. Available in six colors, they are battery-operated with a control button on the wrist. As the light passes through the clear reflective material cut-out in shapes of bones and knuckles, you can scare the wits out of anyone in the dark. There are no harmful dyes or additives, making the gloves safe to be used for a long time.
Though the origins of Halloween are founded in superstition and simple thinking, today, it stands for much more than that. It symbolizes the human capability of overcoming their fears. It brings in children a sense of community, harmony, and trust. Though for most kids and teenagers, it's just another fun-filled evening of candies and gifts, as adults, we can instill these qualities in them early on. By putting in thoughts and efforts in choosing the right kind of Halloween gifts for children, you can not only ensure safety but provoke qualities like empathy and family bonding in your children. Right from creating Halloween costumes to making your home festival-ready, it is a great time to spend time and collaborate with your children, not to mention keeping in mind their interests when you pick up Halloween toys for them.
Also Read:
Halloween Crafts for Children
Halloween Movies for Children
Halloween Costume Ideas for Children