12 Indian Breakfasts You MUST Try to Lose Weight After Pregnancy!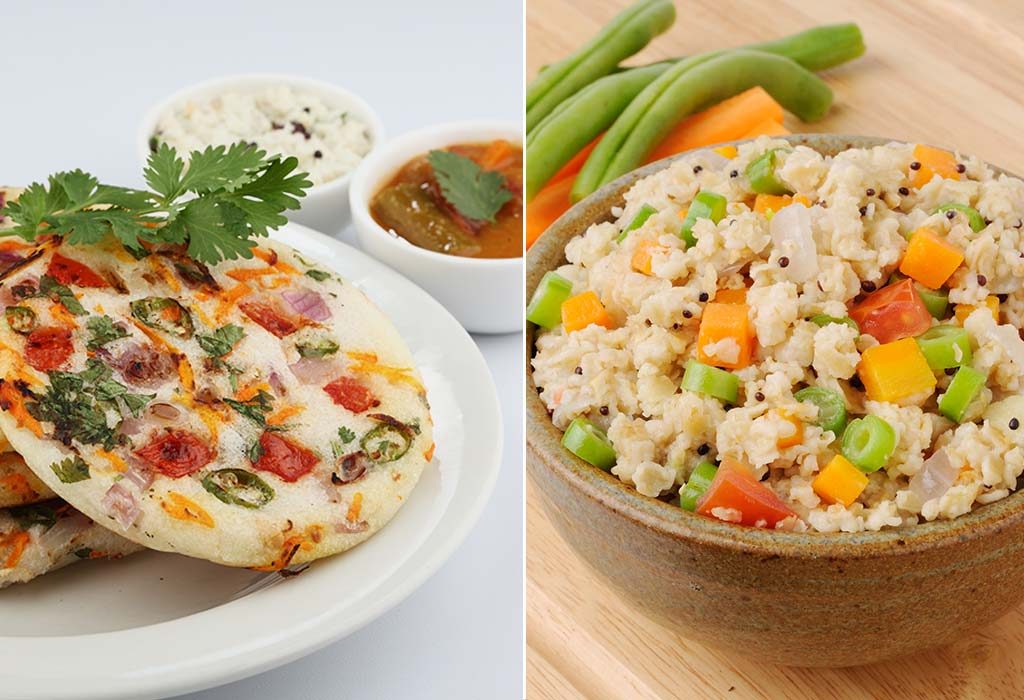 Let's be honest – we Indians love to eat! A lot of our social gatherings and functions are based around food – we never celebrate a festival without cooking up a feast to go with it. However, obesity is fast becoming a significant health concern in modern India. Under such circumstances, it is imperative that you take care of your health, especially after just delivering a baby. Pregnancy often marks a period of immense change for the body, during which we put on several extra kilos. While this is healthy and essential when expecting, losing the extra weight after delivery becomes a major concern for many of us.
Food has always been a major part of the Indian culture, and different parts of the country have a variety of tastes, textures, and ingredients to offer. When we talk about the day's meals, breakfast is often said to be the most important meal of the day. And no, this is not a cliché! What you choose to have for breakfast does have long-lasting effects on your entire day, your lifestyle, and your weight loss plans.
Traditional Indian Breakfast to Include in Your Postpartum Weight Loss Plan
Presenting 12 Indian breakfast ideas for you to lose weight after delivering your baby, but without compromising on health and taste! Remember, you can customise these recipes according to your tastes and preferences and based on any instructions your doctor may have given you regarding your postpartum diet.
1. Sprouts
Rich in proteins, Vitamin B-complex, and Vitamin C, sprouts have always been a part of the traditional Indian diet. They do the body a world of good. However, the most important fact to know here is that the body burns more calories in the process of eating and digesting sprouts than it derives from a serving of sprouts. Sprouts, thus, create a calorie deficit in the body. That's why sprouts make you lose weight. You can consume sprouts in the form of a salad or bhel. You can also grind them, add salt and spices, and make delicious moong dal cheelas. These delicious 'Indian pancakes' form the ideal breakfast for weight loss.
2. Paneer
Paneer is one of the few vegetarian sources of a good amount of protein, calcium and Vitamin B12. Cottage cheese is one of the foods that have a high satiety level; it means it keeps you full for a longer period of time. This means you will be able to control your snacking urges quite efficiently. Not only that, but paneer will also keep you strong through the lactation phase, which is a big concern for all new moms! Paneer can be had in grilled form, like a sandwich. Try this grilled paneer sandwich recipe that will be ready in less than 15 minutes. This is one of the best and tastiest Indian breakfasts for weight loss.
3. Ragi
Packed with iron, calcium and vitamins, ragi helps maintain healthy levels of insulin in the blood, which in turn aids weight loss. There is a good reason why ragi is sometimes called the 'wonder grain'. The most significant benefit of ragi comes from the fact that it is too small to be polished. Ragi, hence, retains the outer covering or 'chhilka', which contains a lot of good dietary fibre. It is also loaded with calcium and has just the right amount of carbohydrates. Ragi uttapam can make a light, yet fulfilling and nutritious breakfast.
4. Spinach
Spinach is one of the top low-calorie foods that are also rich in fibre. Much like sprouts, spinach is another food that is very low in calories. There are only about 7 to 8 calories in 1 cup of spinach! It is, hence, an ideal option to include in your post-pregnancy weight loss diet. Finally, the nutrient value of spinach is very high – spinach is one of the best sources of iron; it also contains other essential minerals like magnesium and calcium (which are beneficial for a nursing mother), and is also rich in antioxidants. Palak paratha is a traditionally renowned Indian breakfast for weight loss. It can be a healthy and yummy way to include spinach in your diet. You can even add a stuffing, like mashed paneer, to make a healthier and more filling dish.
5. Beetroot
Beetroot is loaded with antioxidants, which helps speed weight loss. It also makes for a great low-calorie snack. It has a nice crunch which satiates your snacking pangs, and keeps you well-hydrated, because of its high water content. Beetroot also has an excellent number of carotenes, folic acid, and Vitamin B-complex (B1, B2, B3 and B6) – all of which present plenty of benefits for your body, especially in keeping strength during lactation. Beetroot can be consumed raw in sliced form, or as a salad. If you want something healthy and fulfilling, give this delicious beetroot hummus a try. The best part about this hummus is that it can be used as a yummy spread for sandwiches. So skip the sugar-laden jam sandwiches for breakfast and spread some healthy hummus onto your slices of bread!
6. Bananas
High in calcium and fibre, bananas are the ideal pre-workout snack. Many mommies would want to get back to their exercise routines after having been close to inactive for several months. If you're going to hit the floor, make bananas your best friend. This fruit can make a great pre-workout snack. Bananas are rich in calcium and magnesium, which will not only benefit you but also your child through your breast milk. While bananas can be had as a meal by themselves, you can increase their nutrient content by making this banana milkshake with a twist.
New-age Indian Breakfasts to Lose Weight
Indian breakfasts and the overall Indian diet itself has undergone a lot of changes. Indians now have better exposure to the world than never before, and one of the offshoots of globalisation has been the diversification of our diet and our palate. The following breakfast items are not traditionally Indian; however, they are now a standard part of the Indian kitchen. What's more, they are great to include in an Indian diet plan to lose weight after pregnancy.
1. Eggs
Eggs make for a quick-fix breakfast that is nutritious and energy-packed. Did you know that one egg contains about 6g of protein? This makes eggs an ideal high-protein breakfast that is bound to keep you full for an extended period of time. What's more – several studies indicate that having eggs for breakfast makes you feel so satiated that you will have fewer urges to binge or snack through the day. The period right after giving birth to a baby is emotionally and physically taxing for the mother. Eggs will help you maintain your strength during this period, while also helping you with your post-pregnancy weight loss. There is no limit to how you can have eggs – boiled eggs, scrambled eggs, poached eggs, sunny-side-up, etc. However, if you want to try something different, we recommend you give this fluffy omelette a try! Don't worry if it looks a bit too large for you to finish by yourself, we're sure there will be plenty of takers for this yummy dish. Just ensure that the eggs are cooked thoroughly and that you do not get any raw portions.
2. Muesli
Muesli will keep you feeling full for a long time. It is the favourite breakfast item of many people because it provides instant energy – perfect to have during the first meal of the day, especially if your days are going to be activity-intensive. Muesli typically contains up to 5 different grains – oats, barley, corn flakes, wheat flakes, rye flakes, and other ingredients like nuts, dry fruits, honey, etc. Muesli is the ideal breakfast for the busy mom – it requires no cooking time. All you have to do is dunk it in a bowl, add milk, and voila! Your healthy nutritious breakfast is ready! You can make a bowl of this Bircher Muesli (a Swiss recipe) additionally healthy by adding fresh fruits to it.
3. Rolled Oats / Steel Cut oats
The high fibre content in oats will keep your system clean and healthy. One essential and oft-neglected aspect of weight loss is having a robust digestive system that is clean and can absorb all the nutrients from the food you consume, in its fullest. To this effect, oats make a very healthy breakfast item. Not only will they keep your system clean, but they will also help you shed those post-pregnancy pounds real fast! Oats are another versatile breakfast item that can go into a lot of recipes – cakes, muffins, cookies and what not! To get your foodie-fix in time, give this delicious oats upma a try.
4. Tofu
Tofu is leaner than cottage cheese and cooks quickly. Made from soya milk, tofu in itself has a lot of benefits. However, tofu is recommended over soya milk, especially when it comes to weight loss. It looks exactly like paneer but is a healthier, low-fat alternative. Tofu can replace paneer in any paneer recipe, to bring down the calorie content of the recipe significantly. You can roast tofu or add a twist to the traditional Indian breakfasts for weight loss. This tofu sandwich can be a leisurely, quick-fix breakfast that is nutritious, filling and healthy.
5. Multigrain Flour
Multigrain flour makes up for deficiencies of all kinds. Crepes and pancakes have been a part of the Indian breakfast for a long time. However, you can give them a twist to make them more nutritious by adding more than just one ingredient. The critical thing to remember is that while making the flour, the proportion of cereals to pulses has to be 2 is to 1; i.e. 2 cups bowls of cereal and 1 cup pulses. You can include bajra, jowar, whole moong, ragi, rice and wheat in the flour. Multigrain flour can be used to make parathas, rotis, pancakes, crepes, and a host of different breakfast recipes. This multigrain dosa can turn out to be a delicious breakfast item and will help speed up your weight loss.
6. Yoghurt
Yoghurt requires no preparation time and it packs all the goodness of milk. It is better (and safer) to make curd at home because store-bought yoghurt is low on the good bacteria – or probiotics – which are the primary ingredient that makes yoghurt healthy. Yoghurt can be had as it is. However, it also makes for a very versatile base ingredient for smoothies. If you want to try something unique, give this fruit-yoghurt smoothie a try!
Soups: An Underrated Breakfast Item
Perhaps one of the most underrated foods that will help speed up your post-pregnancy weight loss is soups. There are several 'magic soups' like Chicken Noodle Soup, Lentil Soup With Rice Balls, etc. that you can try that will improve your metabolism and help you lose weight fast. Here are some more reasons to include soups in your post-pregnancy weight loss diet:
Soups are not time-consuming to cook.
Soups are versatile; they can be made very healthy with the right additives and ingredients.
They can be carried easily in a shaker and can be consumed on-the-go.
They can be incredibly filling and allow for a no-mess breakfast.
Being fluid, they also keep you well hydrated through the day.
Soups can be consumed without heating too. In fact, some soups – like gazpacho – are meant to be had cold!
Why You Should 'Breakfast Like a King' to Lose Weight
We all grew up hearing our elders and teachers say that one must 'breakfast like a king', and for the more substantial part of our childhood, we followed this (or at least our mothers saw to it that we did!). However, come adulthood, women get conscious of their bodies, and start cutting down on the food they eat. But it is a known fact that you must indeed breakfast like a king if you want to lose weight!
According to the study published in the Journal of Behavioral Medicine, increasing the amount of food consumed during breakfast, while keeping the frequency of eating through the rest of the day same led to better weight-loss in people than that observed in people eating less during breakfast.
Not only that, but it was also observed that reducing the frequency of eating throughout the day led to additional weight-loss when combined with a filling breakfast. Isn't that great news? This is especially important for breastfeeding moms, as producing breast milk is a calorie-intensive process that drains a lot of energy from the body. Mothers can now have a sumptuous breakfast, guilt-free!
So there you have it – a list of healthy Indian breakfasts that will help you lose weight after pregnancy. Why wait? Give them a try and spice up your daily meal.
Also Read:
Effective Tips for Losing Weight After Pregnancy
Indian Foods to Eat After Delivery
Diet After Cesarean Delivery: Foods to Eat and Avoid
?>