Post-pregnancy Weight Loss Diet Plan That Works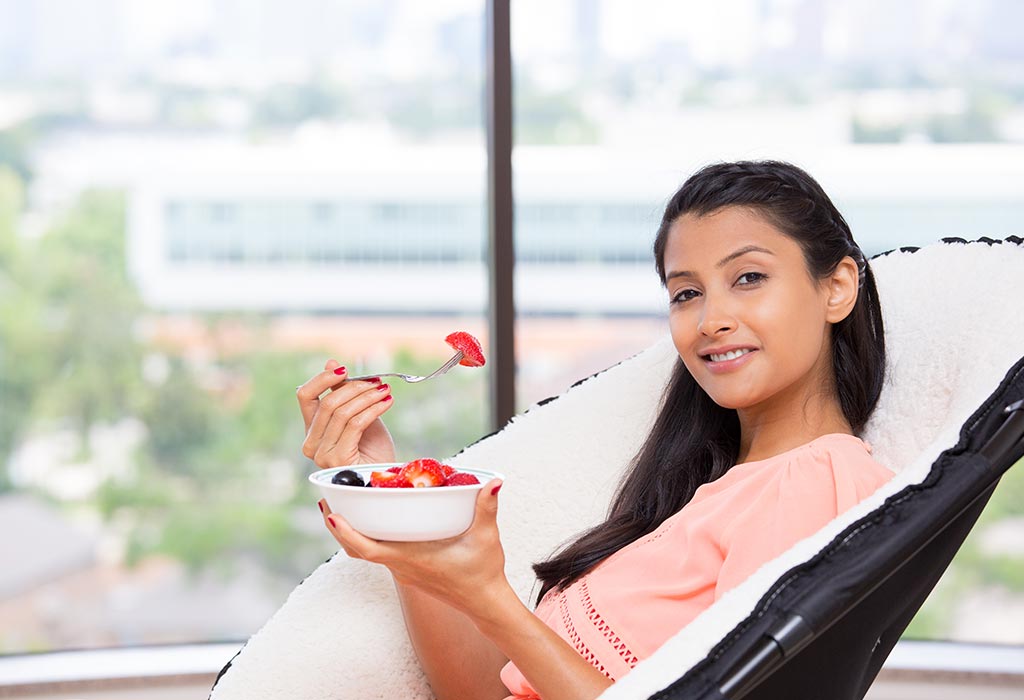 Diets are a tricky thing. If followed properly, they can ensure that you lose weight and stay healthy. But if you don't follow them properly, they can affect your health than do any good. Before you opt for a particular diet, you must understand the logic behind it, its nutritional value, and the benefits or harm it may cause. If you are thinking of dieting post-pregnancy to lose weight, there are several aspects to consider. Read this article to know more about post-pregnancy weight loss.
Video: What to Eat After Delivery to Lose Weight (Post Pregnancy Weight Loss Diet)
How Soon Can You Start Dieting After Pregnancy?
One of the most important things to consider before you start a diet after delivery (a healthy well-balanced diet with all vital nutrients) for losing weight is if your body has had the appropriate time to recover from the delivery itself. You should always consider the requirements of your body before starting a diet of any kind. You must ensure that your body has enough nutrition to support both you and your baby. Therefore, you must consume a well-balanced diet that consists of all vital nutrients in proper portion size.
Remember, you are responsible for the nutrition of two people at this point. Starting a diet too soon and relinquishing the nutritional requirements of either can affect your and your baby's health. A new mother should not even consider starting a diet until her first postpartum checkup (done at six weeks). She can start having a normal, well-balanced diet with all vital nutrients in the proper amount as she has to continue providing for both, herself and the baby. Sugary and deep-fried foods must also be restricted.
Most people say new mothers should wait for at least two months post-delivery to make any dietary changes. However, you must consult your physician and a dietician to better understand what your body needs and follow a plan that benefits you and your baby's health. Mothers need at least 500 kcal above their overall vitals to provide good nourishment to the baby and for recovery after delivery.
When you consult experts to chart a weight loss diet plan for you, it is important that you know certain things to ensure you do not risk your health. Weight loss can be achieved if calories and other nutrients are taken in a proper amount. Calories are measured and can be customised with the help of dieticians. The rules and guidelines given below will help you manage and understand the basis of your diet when your dietician charts one for you.
Rules You Should Follow When Starting a Weight Loss Diet
Losing weight after pregnancy should be done with care. Most women lose half of their baby weight by six weeks after childbirth. The rest most often comes off over the next several months. A healthy diet with daily exercise will help you shed the pounds. Breastfeeding can also help with postpartum weight loss. Here are a few more points you should keep in mind while starting a diet with the help of a dietician after your delivery.
Have realistic goals in mind.
Give yourself appropriate time to meet your goals.
Don't give up as failure is a part of success. It's okay to have a cheat day.
Don't overcompensate; it is important to let go of the failure and move towards success.
Nutrition is the single most important part of a diet; consult a specialist and ensure that you get enough nutrients, minerals, and vitamins that are essential for you and your baby.
To lose weight post-childbirth, you can follow a diet plan, but diet alone won't help; you will have to exercise, too. Begin an exercise regime after recovery and ensure it is not intense right when you start. Light activities after complete recovery can help you build strength and slowly move forward in your weight loss journey.
Don't starve yourself; eat moderately and frequently.
Take it slow; don't try losing more than a kilo a week at most; a safer goal would be 300-500 grams a week.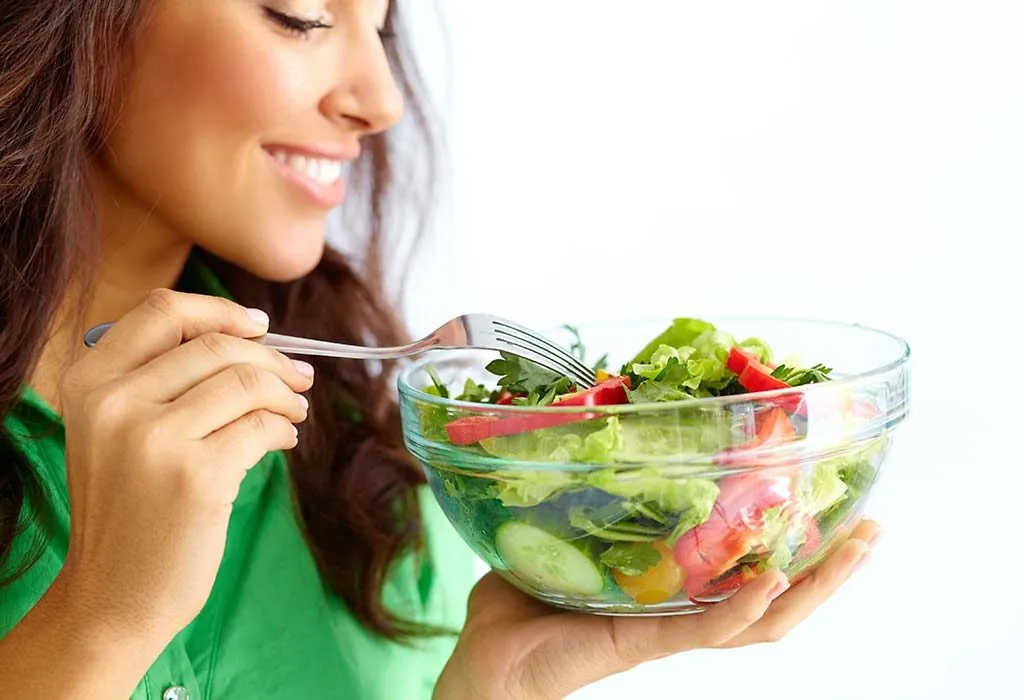 Guidelines to Help You Achieve and Maintain a Healthy Weight After Pregnancy
It is important to have guidelines that help you understand what kind of weight loss is healthy, especially when a woman is trying to lose weight after delivery. Here are a few guidelines that will help you shed the pounds while making sure you stay healthy and safe:
Avoid drinking aerated beverages while on a diet. They are full of sugar and have empty calories. They provide no nutrition, so they are best avoided.
Befriend fibre. Try eating meals that are rich in fibre to ensure digestive health; this makes it harder for you to put on weight and still keeps your nutritional balance intact.
Carbs are good. Eat healthy carbs which are known as complex carbs. This is because carbohydrates are what gives you energy throughout the day. They break down slower in the day, ensuring you have a steady amount of energy.
Keep yourself hydrated. Drink around 2-3 litres of water in a day. Water will help purify your system, and will also prevent you from snacking at odd hours of the day.
Remember that not all fats are bad for your health. Incorporate foods that are rich in unsaturated or polyunsaturated fats, as they can keep your body healthy. Almonds are rich in healthy fats and play an important role in cardiac health. So, do not ditch the fats completely.
Monitor your portion size. Keep your meals small, frequent, and packed with nutrition.
Snacking is important in any diet, but it has to be healthy. Therefore, munch on healthy snacks, such as almonds, carrots, or fruit, and avoid oily and sugary snacks, such as chips and candy.
Talk to a dietician to understand your body's needs and modify your diet accordingly. You need to keep a watch on your nutritional requirements and then work around them as often as possible.
What Else Can You Do for a Healthy Weight Loss after Delivery?
Diets alone won't help one lose weight. Here are a few activities you should do to lose weight, apart from following the diet of course.
Exercise: It is important to have a solid workout plan that makes the most of your diet and supports healthy weight loss. Whenever you exercise, do not exercise with a mindset of losing weight, exercise with a mindset of getting fit and staying healthy.
Rest: Regardless of the diet or the exercise routine, resting is what helps your body recover and adapt to the new regime. Ensure you get plenty of rest post workouts and during the day. Make sure you sit down when you're tired and recuperate the lost energy levels.
Sleep: Get enough sleep. When you sleep, your body slows down, and that helps recovery and keeps your energy levels up.
Talk to your healthcare provider for more advice on routines you can implement to ensure healthy weight loss.
How Can You Lose Weight While Breastfeeding?
It is a known fact that women who breastfeed actually lose weight much quicker. This is because the lactation process burns a lot of calories. This should be kept in mind when making a weight loss diet while breastfeeding and additional calories should be taken for providing appropriate breast milk supply.
As mentioned earlier, women who breastfeed are recommended to consume at least 500 calories more than other women due to the energy required to breastfeed. It is best to approach any diet while breastfeeding with some level of leniency as the amount of energy spent during a feeding session depends on how much your baby consumes during the session. Eat during regular intervals, and try to modify your diet based on your energy levels.
When Will You Get Your Pre-Pregnancy Weight Back After Delivery?
The time it takes to get back to your pre-pregnancy weight after delivering your child largely depends on your eating habits before and during the pregnancy, and your body's metabolism. For some women, it may take as little as a few months to get back to their pre-pregnancy shape, while for others, it may take a year or two. Be patient and stay strong, stick to the routine and remember weight loss is a process.
Factors That Could Impact Weight Loss Process Negatively
Some factors that could impact your weight loss process negatively are mentioned below:
Morning sickness – morning sickness is common during pregnancy, and although rare, it is not unknown for nausea to persist after childbirth, especially if one has been severely ill. Excessive morning sickness/nausea causes lack or loss of appetite (anorexia), dehydration and excessive weight loss. More severe conditions like Hyperemesis Gravidarum (HG) may cause severe vomiting and loss of nutrients, too. Therefore, morning sickness should be addressed by a doctor immediately.
Food aversions – Food aversions also lead to inadequate nutrition and dehydration in some instances, affecting post-partum health negatively.
Delivery method – C-sections can complicate weight gain or loss.
Talk to your doctors and trainers about any concerns you may have regarding the routine or diet you are following. Consulting them for more information regarding other factors that slow down weight loss after pregnancy is also can be beneficial.
Post-pregnancy Weight Loss Diet Plan
Post-pregnancy weight loss needs more thought than one might think. If you have been thinking about losing weight after delivery, remember to talk to specialists regarding your diet and health. Also, get regular checkups for your baby and yourself. Here is a post-pregnancy weight loss diet plan that you may use as a starting point, but only after consulting your doctor or nutritionist:
| | | | | | | | |
| --- | --- | --- | --- | --- | --- | --- | --- |
| Day/Meal | Monday | Tuesday | Wednesday | Thursday | Friday | Saturday | Sunday |
| Early morning | 1 cup low- fat or skim milk/ fresh apple juice without added sugar | 1 glass of fresh carrot juice with lemon and a little honey/ 1 cup skim milk | 1 cup skim milk/ 1 glass fresh, unsweetened orange juice | 1 glass of dry fruits smoothie made with skim milk | 1 glass of banana-strawberry smoothie made with low-fat milk | Fresh watermelon or musk melon juice/ 1 cup of skim milk | Fresh lime juice/ 1 glass almond smoothie made with skim milk |
| Breakfast | 2 ragi-onion dosas with coconut chutney | 2 slices of whole wheat bread with avocado butter and a boiled egg | 1 serving of oats upma with vegetables served with tomato chutney | 1 whole-wheat bread slice with an omelette | 1 serving of wheat upma with vegetables | 2 rava idlis with vegetable sambar | 2 palak or methi parathas with plain yoghurt |
| Mid-morning | 1 glass of buttermilk with hing, cumin powder and a pinch of salt. 2-4 oatmeal crackers with slim cheese | 1 glass of jal jeera water. 1 cup of sprouts salad or sprouts bhel | 1 glass of ginger lemonade sweetened with a little honey. 1 cup of sweet corn bhel or salad | 1 glass of tender coconut water. 1 cup of tomato, cucumber, carrot, and onion salad. | 1 glass of sugarcane juice/ watermelon juice. 2-4 low-fat crackers with slim cheese | 1 glass of lassi with 1 tsp sugar. A few bajra and methi khakras | 1 glass of buttermilk/ lassi/ fruit yoghurt. A cup of roasted makhanas with cucumber and tomato slices |
| Lunch | 1 cup of rice with egg curry or 56 g grilled chicken | 1 cup of rice with sambar and beetroot curry or 56 g grilled fish | 56 g of meat/ dal with 1 cup rice and okra curry. | 56 g of roasted chicken with mixed vegetable curry and 1 cup of rice | 1 cup rice with rasam and aubergine curry | 1 cup vegetable/chicken/mutton pulao with cucumber, tomato, onion, and carrot raita | 1 cup beetroot or carrot rice with soya or chicken curry |
| Tea | Fresh fruit slices and green tea | Light masala chai with skim milk and 1 tsp sugar with low-fat biscuits | Black mint- lemon tea with khaman dhokla | Masala chai with skim milk and 1 tsp sugar. Ragi-oats crackers | Green tea with channa dal and cabbage tikki | Masala chai. paneer and corn sandwich made with brown bread | Mint and lemon tea with besan chillas |
| Dinner | 2-3 phulkas with matar paneer | 2-3 phulkas with baingan bharta | 2-3 phulkas with chicken/egg/soya curry | 2-3 phulkas with palak paneer | 2-3 phulkas with aloo gobi masala | 2-3 phulkas with fish curry/ mixed vegetable curry | 2-3 phulkas with sprouts curry and pineapple raita |
| Bedtime | 1 cup skim milk | 1 cup skim milk | 1 cup skim milk | 1 cup skim milk | 1 cup skim milk | 1 cup skim milk | 1 cup skim milk |
Losing weight can be a challenge, especially after giving birth to a child. It is not easy; it is a tiring process. Remember to stay strong and follow the diet religiously. If you veer away from your diet for a day or two don't be too hard on yourself and overcompensate; just get back to your schedule. Working on a diet with other mothers or your spouse or partner can help make the process less of a grind. See if there are others around you to work with you on the weight loss and remember, the work you put in will see results with time. Therefore, give yourself the time for those results to sink in.
Also Read:
Indian Foods to Eat after Pregnancy
Diet to Follow after C- Section
Tips to Lose Weight after C- Section