12 Beautiful Rangoli Designs for Diwali (With Videos)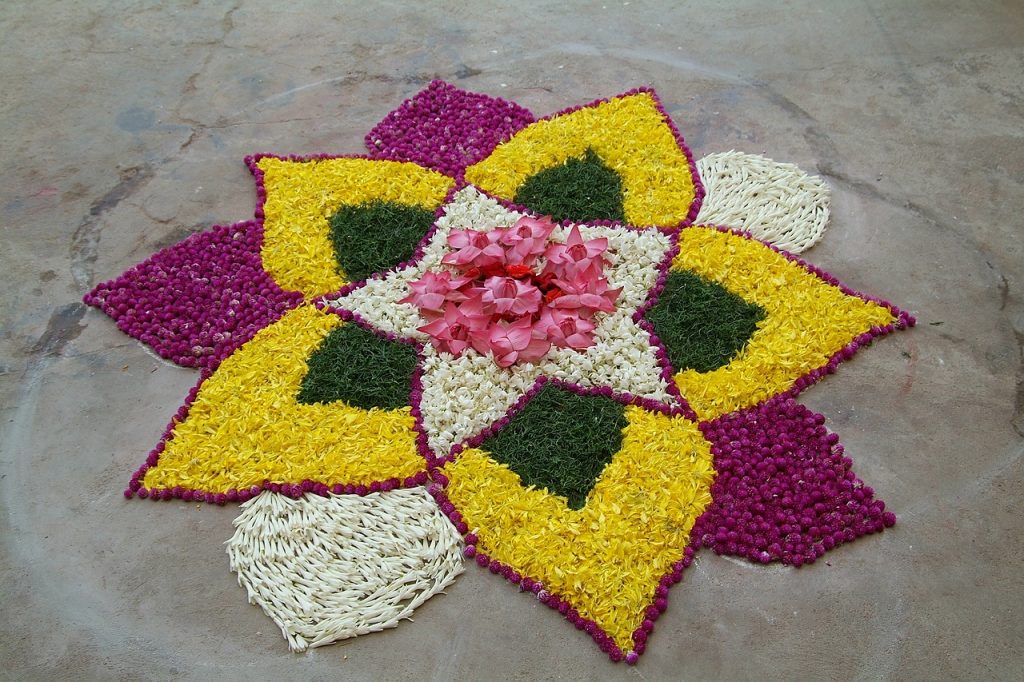 In this Article
Diwali is around the corner, and you must be all geared up to celebrate it with your friends and family. By now, you must have completed most of your Diwali-related tasks, if not all! But the festival of lights would be incomplete if you don't make a beautiful rangoli. Do you know what rangoli you are going to make this year? Yes, we know you have got enough time to think about it but it's good to have everything planned in advance, don't you agree? If you want some suggestions in rangoli designs for Diwali, we are here to help! Whether you are a beginner or an expert – we are sure you will love these easy-to-make rangoli designs.
Beautiful Rangoli Designs for Diwali
The term rangoli is derived from the Sanskrit word 'rangavalli'. Although the purpose of making rangoli is decoration, it is believed to bring good luck. On various occasions and festivals, people make rangoli. And on Diwali, rangoli is made to welcome the Goddess of wealth. If you want to make a beautiful rangoli this year, take our help! We bring to you some of the latest rangoli designs for Diwali – try the one you like and surprise everyone with your creativity.
1. Triple-Layered Flower Rangoli
This is a classic design and might we say, it is one of the easiest rangoli designs you will find. If you are a beginner and not so adept at using rangoli colours, this rangoli pattern is for you! All you have to do is arrange three types of flowers in concentric circles. You could pick petals of gendha (marigold flower) and chrysanthemum for the filling and rose petals for the outline. Make the circles using a piece of chalk and fill them with the petals of flowers.
2. Intricate Rangoli
If you are adept at drawing intricate patterns, you can try one of these splendid designs: concentric circles with checks in them and a large lamp in the centre, a large diya with glowing flame, or peacock feathers and Ganpati surrounded by flowers. Choose the pattern based on the level of complexity you are willing to dabble with!
3. Diya Rangoli
You light lots of diyas in your house during Diwali, so why not make a diya rangoli? A large diya rangoli will look stunning near your front gate or door. To make a diya rangoli you can use either use bright rangoli colours or flower petals. If you go for flower petals, choose marigold flower,white chrysanthemum,or white roses. This diya design might be basic, but it never goes out of style!
4. Fairy Lights Rangoli
Fairy lights enliven your living space, we agree, but they can also add life to your rangoli. If you have never tried making rangoli with fairy lights, try it this Diwali! Use colourful fairy lights to create a dazzling rangoli on the floor. You will need adapters/multi-plugs and wire clips to keep the layout neat, but trust us, your efforts won't go waste, because in the end you will have an illuminating rangoli. You can create simple designs such as circles, lamps, or even the face of lord Ganesha!
5. Dot Rangoli or Kolam Rangoli
Dotted rangoli designs or kolam rangoli designs are geometrically symmetrical and look beautiful, but it is not easy to make them. Use a piece of chalk to draw the outlines first, and then use rangoli colours. Some kolam rangoli designsthat you try are flower and star pattern, flowers and leaves design, dotted peacock kolam, star kolam rangoli, etc. Choose a design which you like the best and create a masterpiece!
6. White Rangoli
If you want your rangoli to look simple and classy, keep it plain white. Make a design of your choice using white rangoli colour and place a diya in the centre of the rangoli or around it! Your rangoli will look simply beautiful!
7. Floating Rangoli
Floating rangolis are very easy to make! If you have never made a rangoli before, we are sure you will love to make this rangoli pattern. To make this rangoli, you will need a deep vessel (a wok-like vessel), some water, a rangoli stencil and 2-3 tealights. To understand better how you can make this rangoli, watch the video!
8. Lotus Rangoli
Welcome Lakshmi ji, the Goddess of wealth in your house, by making a beautiful lotus rangoli. Lotus rangoli is very easy to make. Using a piece of chalk, draw a lotus flower on the floor and fill in the petals with soft pink rangoli colour.
9. Square Rangoli
Now this is a rangoli design which you can make in no time. Draw two squares – one square should be inside the other square. Fill the inner square with the colours of your choice, then write 'Happy Diwali' with white rangoli. Colour the area between the two squares with a dark rangoli colour and your rangoli is ready!
10. Sanskar Bharti Rangoli
Sankar Bharti rangoli is very popular in Maharashtra. In Sanskar Bharti rangoli, three to four fingers are used to make a design. This rangoli is very intricate, and you should try this rangoli, only if you are expert at making rangoli. If not, then stick to simple designs.
11. Glitter Rangoli
Diwali is a festival of lights, so everything you do and decorate should sparkle and have a life to it. Yes, even your rangoli too! To make your rangoli shine, add some glitter powder to your rangoli colour. Draw your favourite design and colour it with glittery rangoli colours.
12. Swastika Rangoli
The Swastika symbol is considered very auspicious. When making a Swastika rangoli, you can be creative and experiment with colours. Keep the symbol intact and draw leaves, flowers, and other designs around it.
There you have it – 12 beautiful rangoli designs for Diwali. Try out one or more designs from the above list of Diwali rangoli designs and make a beautiful rangoli on Diwali! Your rangoli is sure to be the talk of the town when guests come over to celebrate!
?>