10 Yummy and Healthy Lunch Ideas for Kindergarteners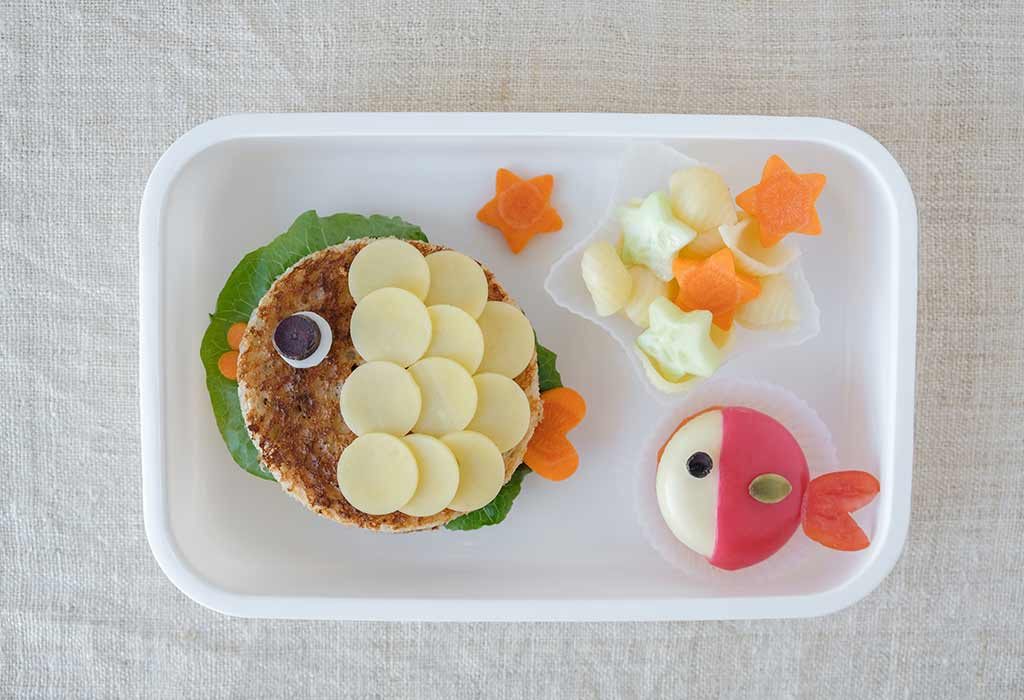 In this Article
Every academic year, parents are not just fussing over uniforms and books but lunch box ideas too. They unite on one common ground – nutritious food because they want their kids to eat healthy meals at home and in school, too. The real dilemma is when kids are used to making unhealthy food choices and don't find the healthy lunch boxes appealing. What can one do to include some nutrition and make sure that the lunch boxes come empty?
With busy work schedules and picky eaters, parents need some lunch ideas that do not take a lot of time to prepare, are palatable, healthy, look refreshing, and fill the tummy. Kindergarten kids struggle the most with lunchtime at school. Their little hands are just learning how to eat, and they miss the comfort of their home during mealtimes. It is important to pack them lunches that are easy to eat and nutritious. And, to make it one less thing for the parents to worry about, we have some tried and tested, approved packed lunch ideas, and recipes. Be sure to read till the end for some useful tips that will help you add variety to your child's lunch box.
10 Easy Lunch Recipe Ideas for Kindergarten
Try these 10 easy school lunch ideas for kindergarten to get rave reviews from your kids. Whether you are packing them for their short breaks or lunch, these kindergarten lunches for picky eaters will make sure your tiny tots will gobble them up.
1. Cauliflower Burgers
Do you think your kid will fancy a burger for lunch? Why not? This version with a healthy cauliflower patty is sure to be a winner.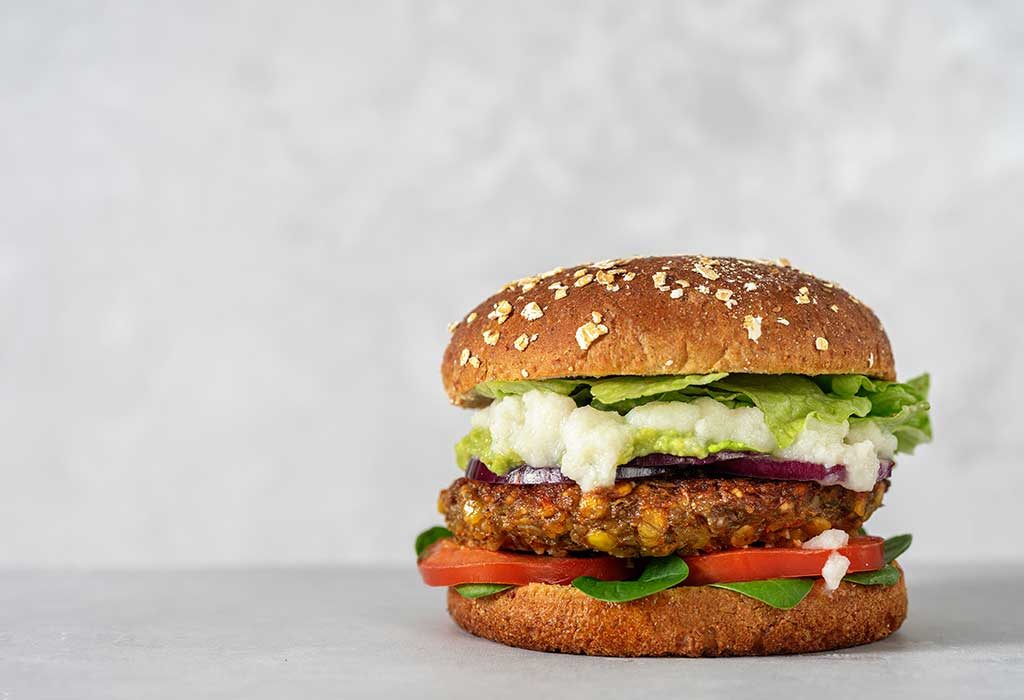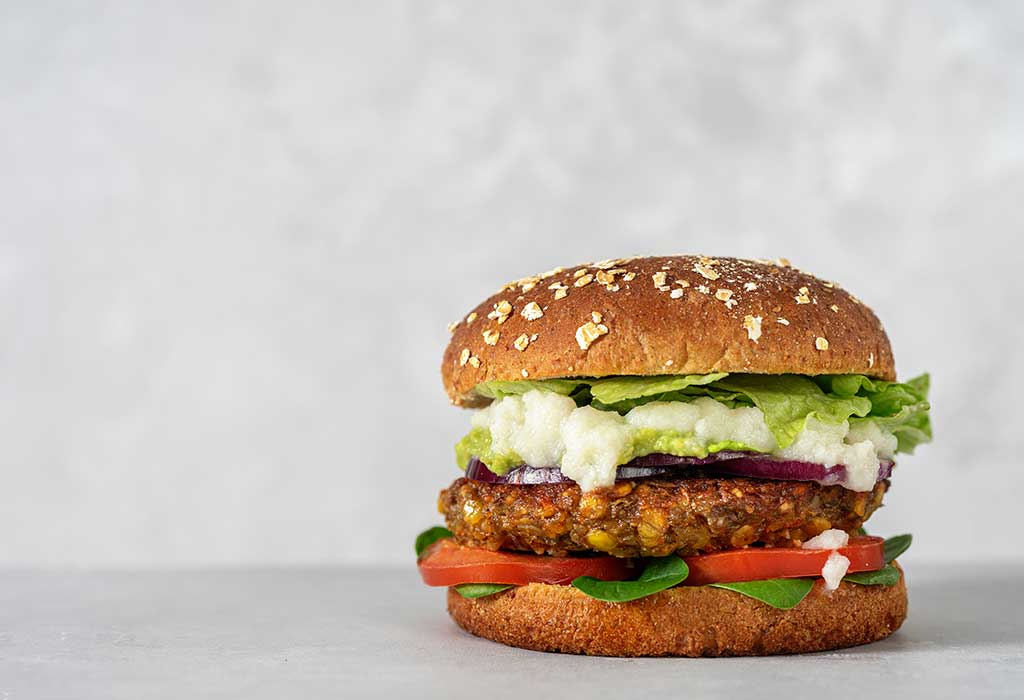 Total Time
30 minutes
Servings
Yields 10 burgers
Ingredients
For the burger –
¾ cup uncooked quinoa
6 cups of cauliflower florets
3 to 4 tablespoons oil
2 to 3 pinches of cumin powder
2 to 3 pinches of chilli powder or cayenne (optional)
2 cloves of garlic
¾ cup breadcrumbs
¾ cup grated cheese
3 eggs
1 ½ teaspoon salt
For burger toppings –
A few drops of lemon juice
½ cup chopped cilantro
½ cup chopped cabbage
Some tomato slices
A sauce of choice
½ teaspoon of mayonnaise
Burger buns
Method
Cook the quinoa as per the instructions on the package.
Season the cauliflower florets with the cumin powder, chilli powder/cayenne, and some oil.
Roast them in an oven on a baking tray for about 20 to 30 minutes at a temperature of 400°F (205°C). Once cool, pulse it coarsely to resemble a crumble.
In a bowl, combine the roasted cauliflower, cheese, egg, quinoa, garlic, and mix well.
Make about 10 patties.
Brush some oil in a non-stick pan and cook the patties from both sides. Set the patties aside on a paper towel.
Take a burger bun and spread some mayonnaise on one half, and a sauce of your choice on the other bun.
Keep one patty on the bun, drizzle some lime juice, top it with some cabbage and tomato slices. Then, place another bun to complete the burger. Repeat the last two steps to make more buns.
2. Mac and Cheese
This dish is an all-time favourite with kids and is a great lunchbox option too. It's the cheese that makes it a hit among kids, so go generous with it.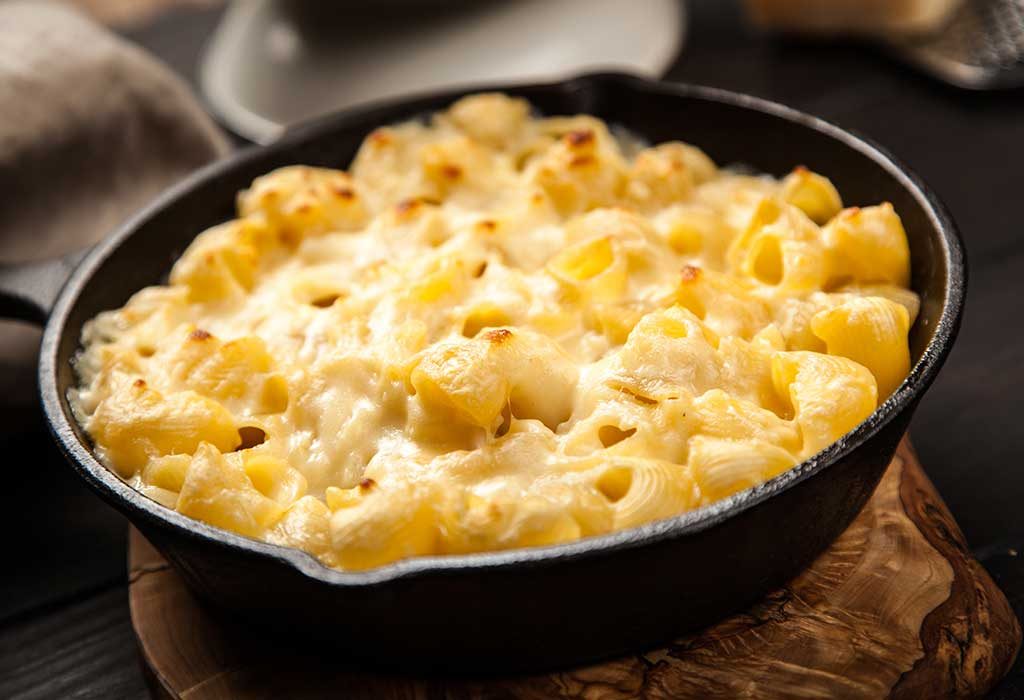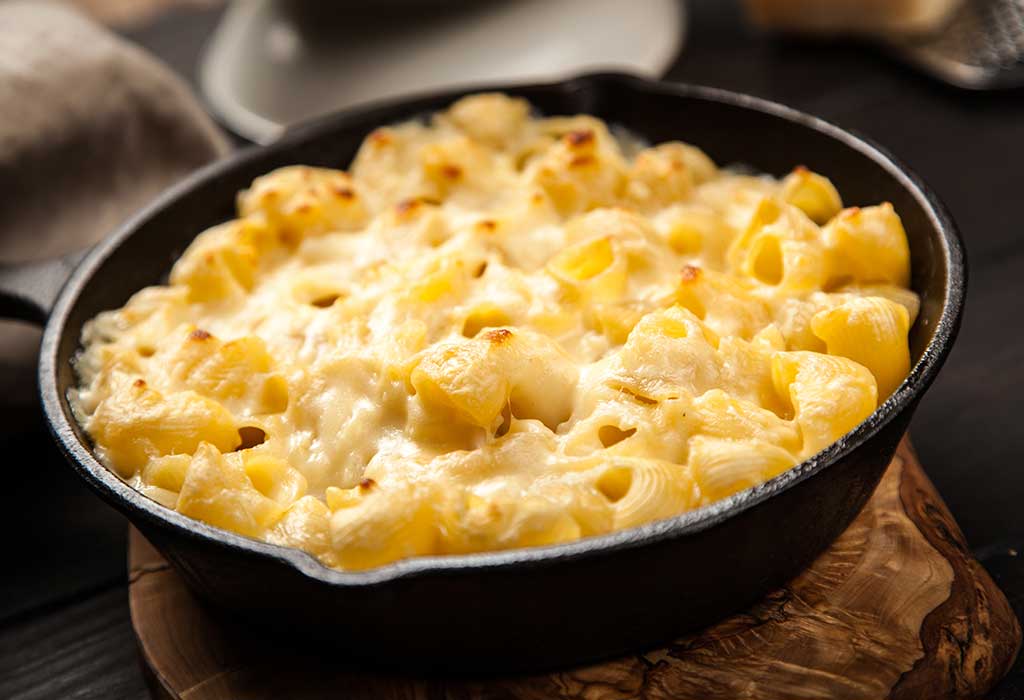 Total Time
25 minutes
Servings
6 servings
Ingredients
2 cups of uncooked macaroni
3 to 4 medium-sized carrots, thinly sliced
1 cup of peas
2/3 cup milk
¼ softened cream cheese
1 cup of grated mozzarella cheese
1 teaspoon dried basil
1/8 teaspoon salt
1/8 teaspoon pepper
Method
Cook macaroni in boiling water for 3 minutes.
Add the carrots and peas and cook until the macaroni and the vegetables are tender and cooked.
In a deep bottomed pan, take the milk and the cream cheese. Stir until the cream cheese melts.
Add the mozzarella cheese, some salt, and pepper to it and give it a good mix.
Pour this over the cooked pasta and gently mix it.
3. Pizza Mini Quiches
Pizza mini quiches can be a fun addition to any preschooler's lunchbox and a perfect lunch for picky eaters.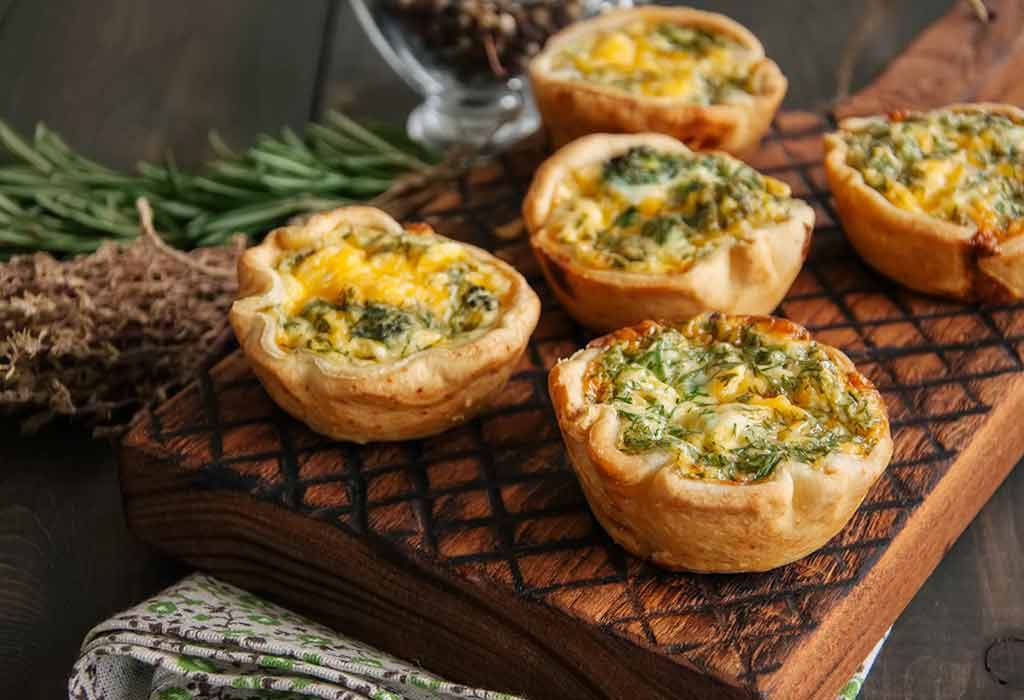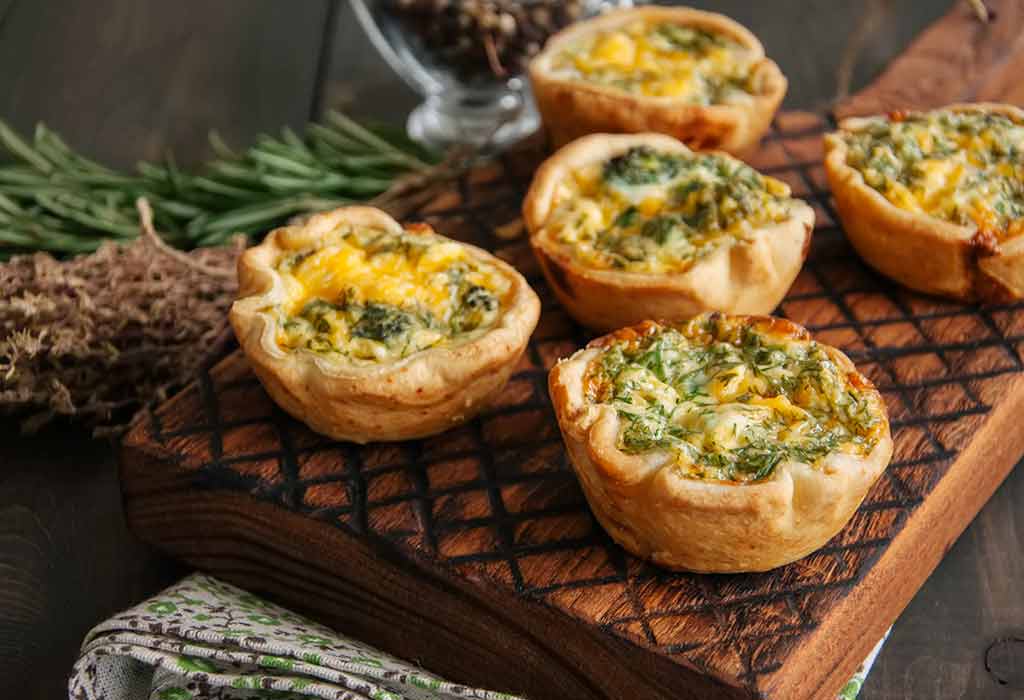 Total Time
30 minutes
Servings
Yields 24 muffins
Ingredients
6 eggs
3 tablespoons milk
¼ cup pepperoni slices
1 cup shredded mozzarella cheese
2 sliced apples
2 cups baby carrots
2 to 3 tsp of melted butter or oil
Method
Preheat an oven to 350°F.
Coat a 24-count mini-muffin pan with some butter or oil.
Whisk the eggs and milk in a large bowl.
Add the pizza toppings and shredded cheese to it and give it a good mix.
Pour it into the muffin pan slots.
Bake it in the preheated oven for about 15-18 minutes or until the eggs are completely cooked and the muffins rise well. You may check if the muffins are cooked by dipping a knife in the muffins. If the knife comes out clean, the muffins are cooked.
Remove the muffin tray from the oven and let it cool for some time.
Then, remove the quiches with the help of a knife or a spatula.
When packing the lunchbox, pack some fruit and vegetable slices also along with the quiches.
4. Raspberry Energy Bites
With a handful of ingredients, these bright pink energy balls make a great lunch box idea. Whipped in less than 10 minutes, these pack a whole lot of nutrients for healthy eating.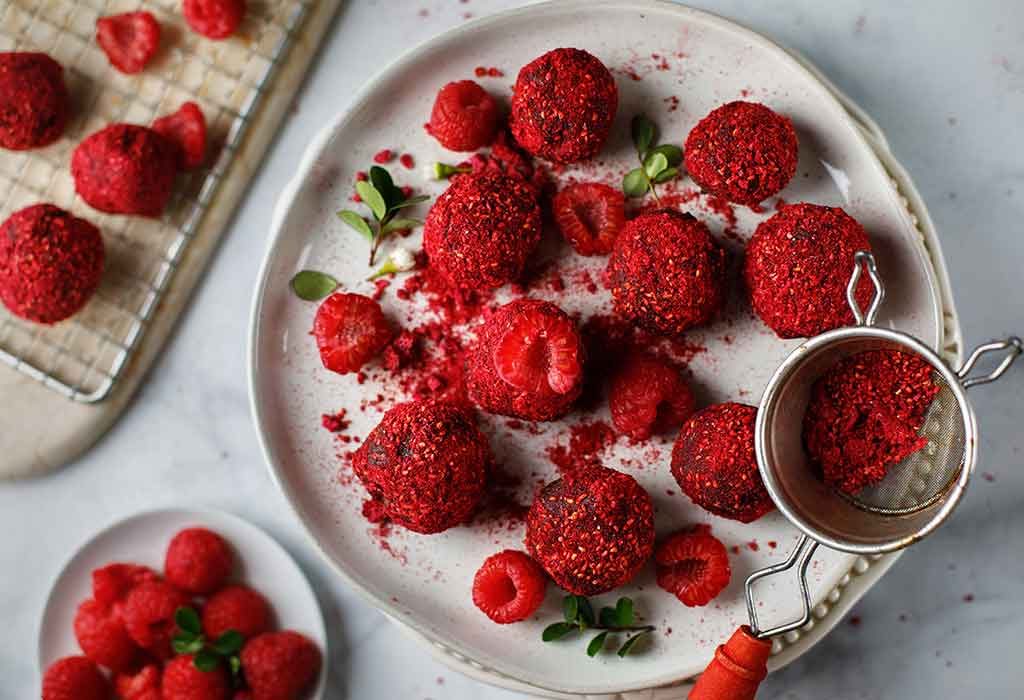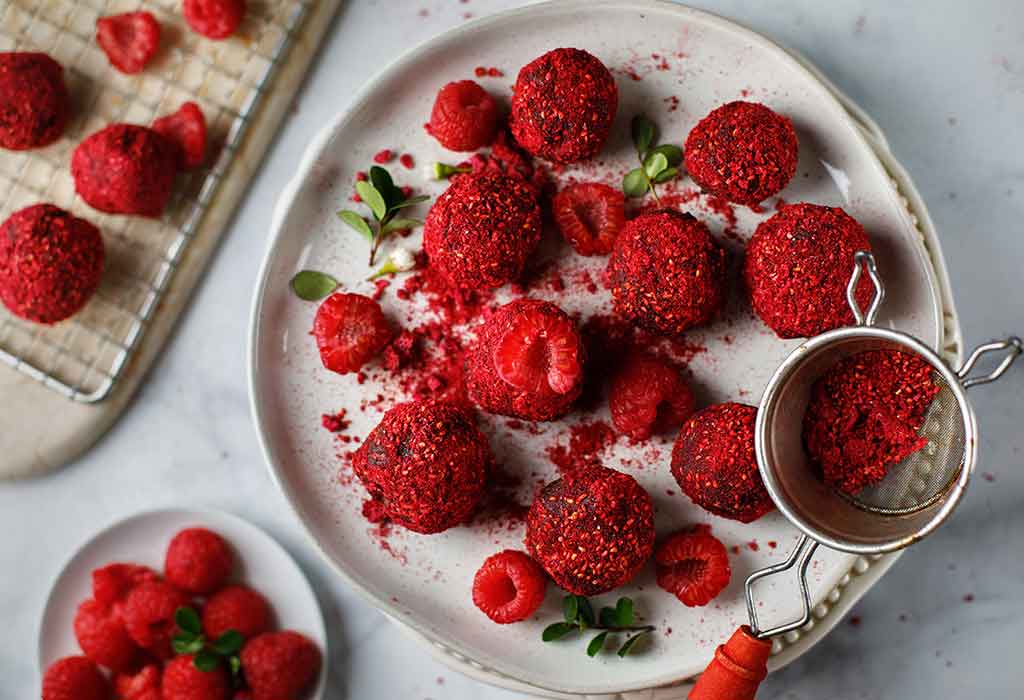 Total time
5 minutes
Servings
20 balls
Ingredients
1 cup of frozen raspberries
2 cups of desiccated coconut (unsweetened)
1 cup cashew nuts
½ dried dates
1 teaspoon vanilla extract
¼ teaspoon salt
Method
Blend the desiccated coconut, cashew nuts, and dates in a food processor.
Add in the vanilla extract, salt, and frozen raspberries to it and pulse the mixture until it breaks down and combines well.
Transfer the contents to a bowl.
Then, using your hands, shape the mixture into medium-sized balls. If you wish you can roll it in some desiccated coconut, too.
Place the balls in the fridge for about 30 minutes to set.
When packing raspberry energy bites, you can pack each in an aluminium foil or butter paper and place them in the lunchbox along with a savoury food item.
5. Cheesy Pepperoni Buns
This open-faced sandwich is a kid-pleaser and a great variation in the pizza category.
Total Time
25 minutes
Servings
12 servings
Ingredients
1 pound lean ground beef
2 cups pizza sauce or pasta sauce
1 package of sliced pepperoni, chopped
4 slices of American cheese, chopped
12 split mini buns
2 cups shredded skimmed mozzarella cheese
Method
Cook the beef in a large skillet on medium heat until it is pink for 5-7 minutes.
Break into crumbles and drain.
Stir in the pizza sauce, pepperoni, and American cheese for about 5 minutes or until the cheese melts.
Preheat the oven to 350°F.
Place the buns facing upwards on a baking tray. Spoon the mixture on the buns and spread some mozzarella cheese.
Bake until the cheese melts (for 5 minutes approximately).
6. Grilled Cheese Dippers
Grilled cheesy bites, pair these with some warm tomato soup and add a zingy twist to the lunchbox.
Total Time
15 minutes
Servings
Yields 4 strips
Ingredients
2 slices of whole-grain bread
2 slices of grated cheddar cheese
Butter for grilling
Method
Slather butter on one side of the bread slices.
Keep the buttered side of one bread slice on a skillet on medium flame.
Place 1 cheese slice on the bread on the skillet.
Keep the second slice of bread on the cheese (buttered side up).
Grill the sandwich for about 2 to 3 minutes or until the bread turn golden brown on both the sides.
Let the sandwich cool down and cut it into narrow strips. Serve with some warm tomato soup.
7. Loaded Apple Nachos
This is a fantastic recipe to make lunch interesting for your little one.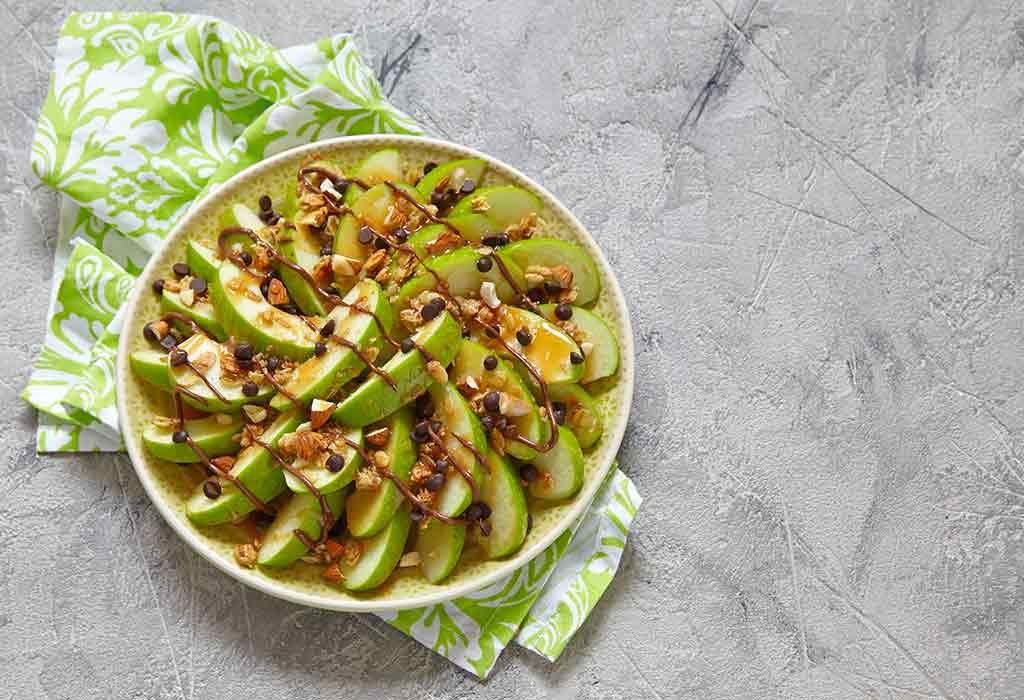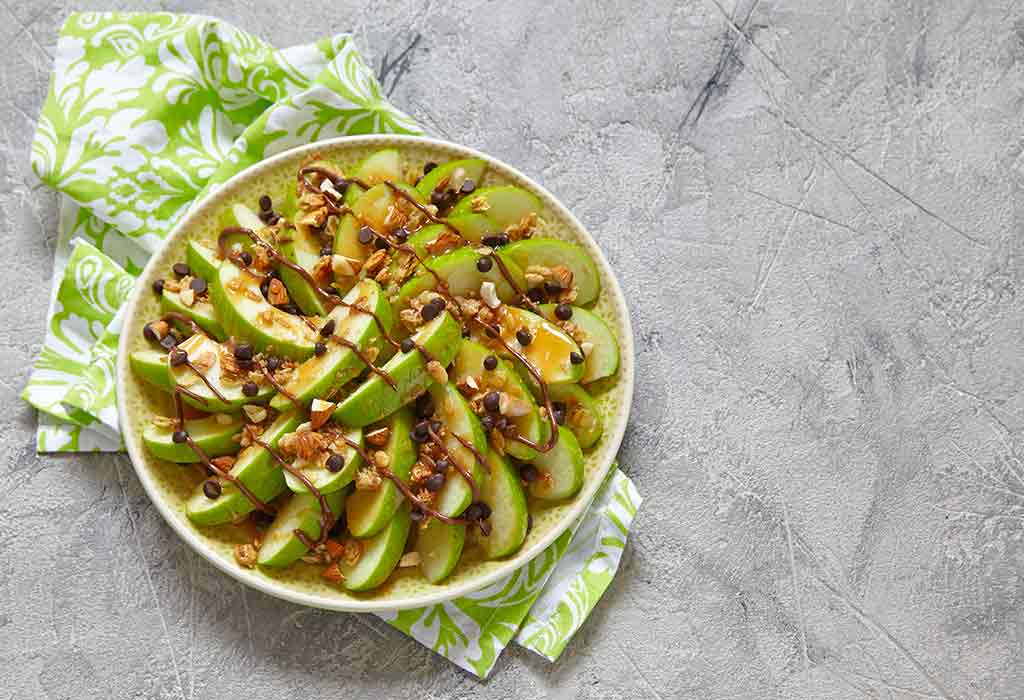 Total Time
10 minutes
Servings
Yields 1 wholemeal
Ingredients
For the Drizzle –
3 tablespoon creamy nut butter
1 tablespoon coconut oil
½ teaspoon maple syrup
For the Toppings –
Coconut flakes
Hemp seeds
Shaved chocolate
Pecans
Cinnamon
Method
Cut the apples into half-a-centimetre thick slices.
Combine all the ingredients mentioned above to make the drizzle in a small bowl.
Spread the apple slices in the lunchbox.
Sprinkle toppings generously over the slices.
Drizzle the creamy nut butter, oil and maple syrup mixture over the apple slices.
8. Apple and Peanut Butter Stackers
These sandwiches will pique your little one's interest and also liven his taste buds. Packed with the goodness of apples and exciting fillings, they make a great lunch box idea and are healthy too.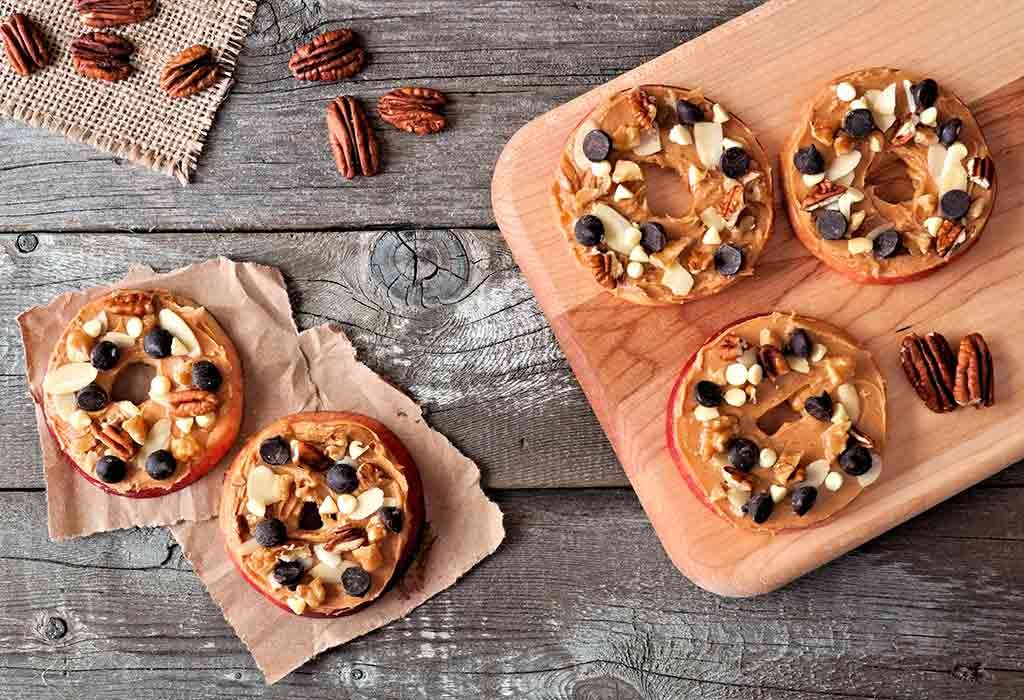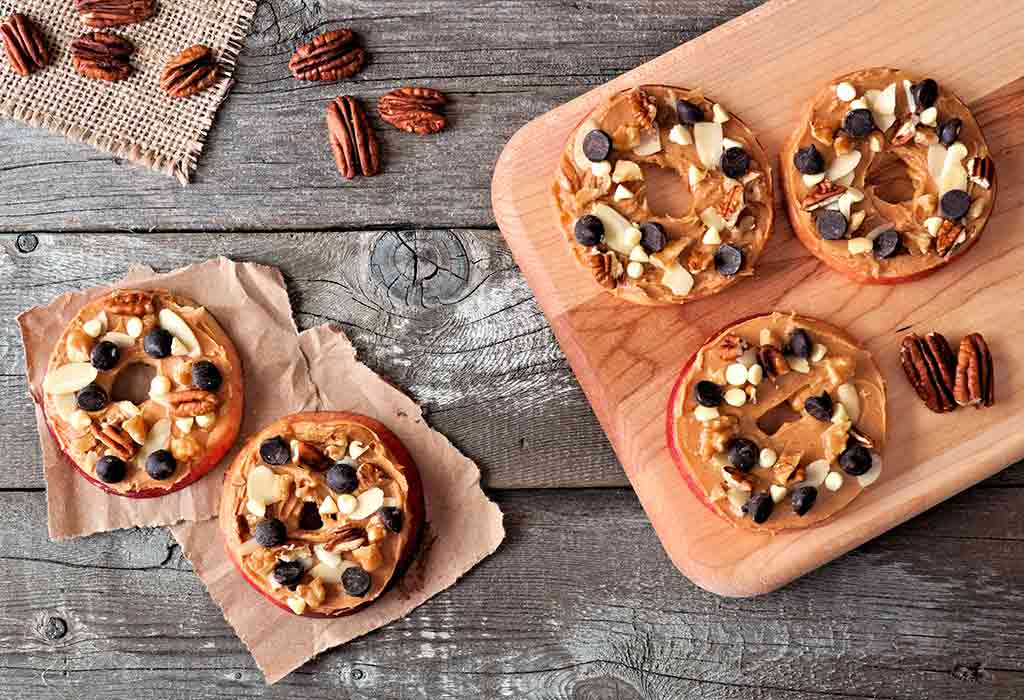 Total Time
10 minutes
Servings
6 servings
Ingredients
2 medium-sized apples
1/3 cup chunky peanut butter
Optional fillings: almonds, chocolate chips, or pecans
Method
Core the apples.
Cut each apple into six slices.
Spread peanut butter over the six slices.
Place the slices on a tray and sprinkle the toppings.
Place the remaining apple slices on each one to make it look like a sandwich.
9. Pasta Salad
Pasta salad is a healthy salad that your child will eat with delight at lunchtime. Pack this tasty salad in your child's tiffin and he will return with empty lunchbox!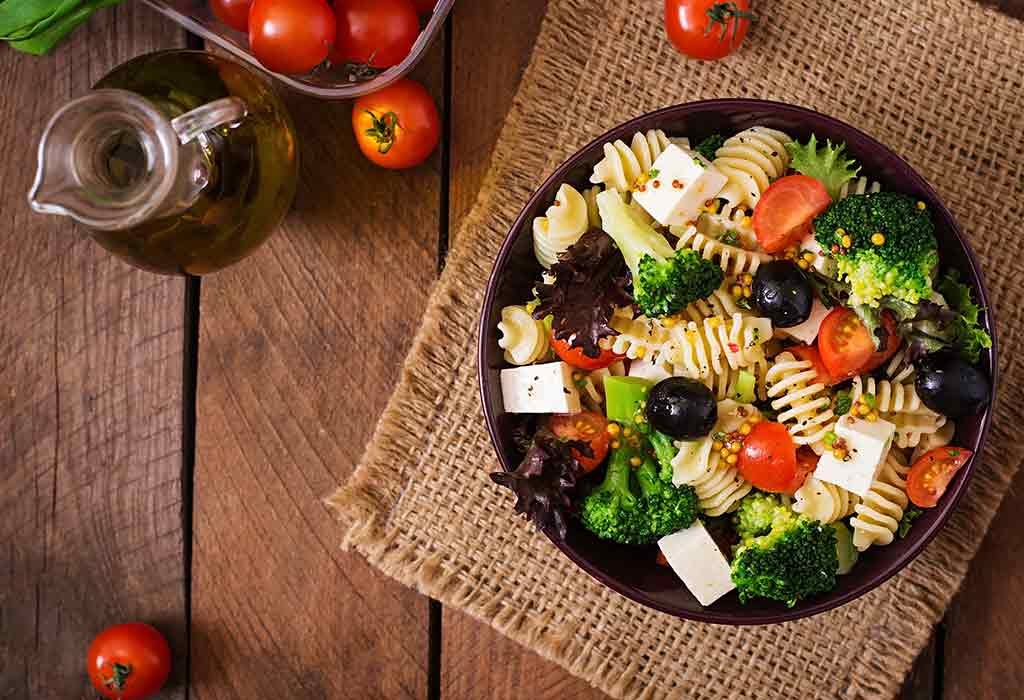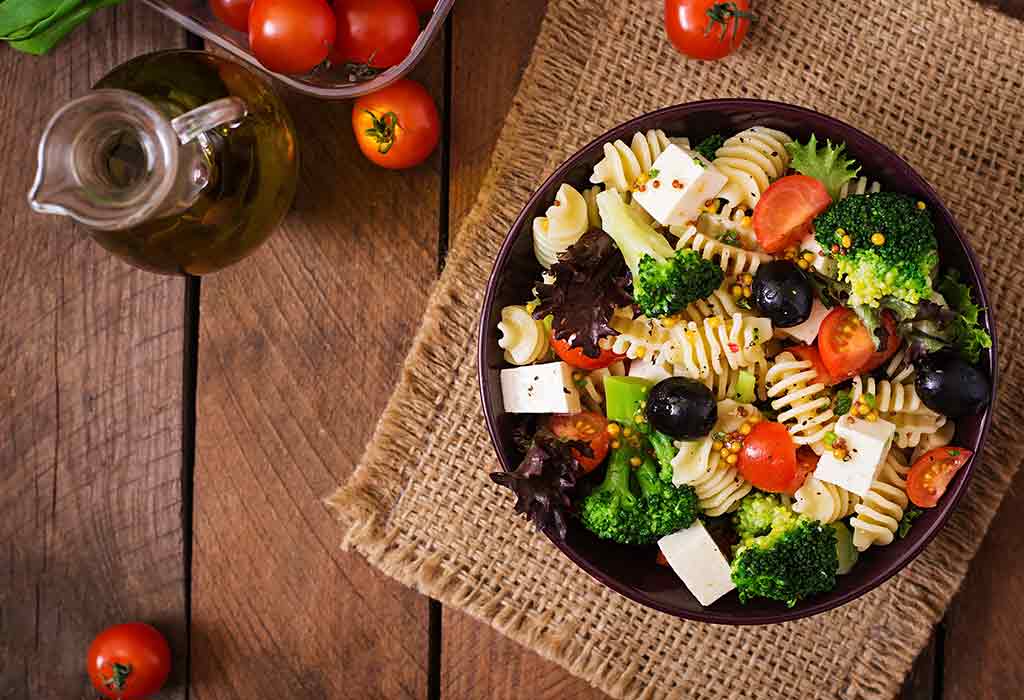 Total Time
15 minutes
Servings
Makes 2 servings
Ingredients
1 cup of cooked pasta
1 ounce of sliced mozzarella cheese
1 cup broccoli florets
Pepperoni slices quartered
3 to 4 sliced black olives
3 to 4 halved cherry tomatoes
1 to 2 tablespoons of dried Italian herbs
A pinch of salt and pepper
Method
Combine all the ingredients in a bowl and mix well.
Adjust the seasoning or quantity of ingredients as per preference.
You can pack this salad right fresh or refrigerate overnight for next day's lunchbox.
10. Burrito Bowls
Burrito bowls can be made in no time with leftovers. You just need to combine a few ingredients and can be modified to suit your child's unique taste.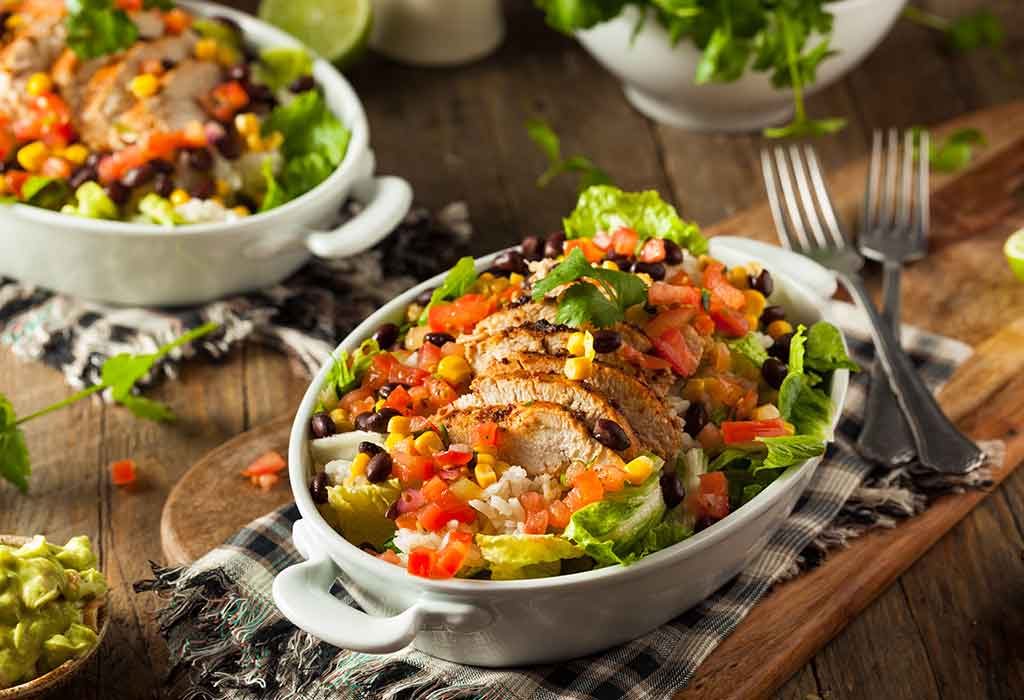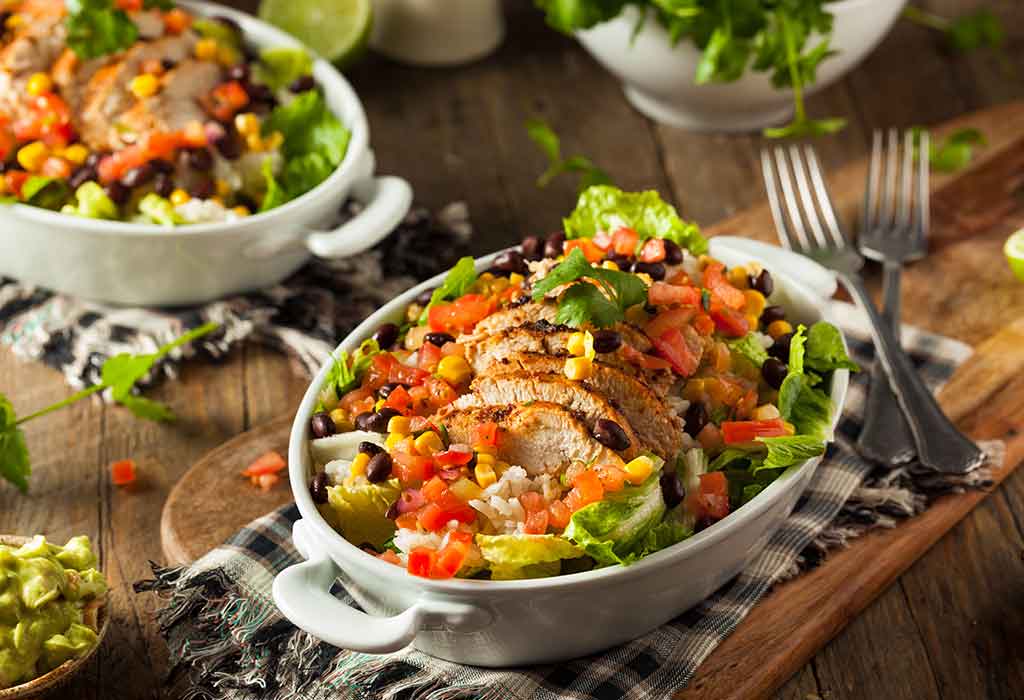 Total time
15 minutes
Servings
Yields 6 bowls
Ingredients
For the bowls
2 cups uncooked rice
1 rotisserie chicken
8 ounces salsa
For toppings
Black beans
1 ½ cups shredded cheddar cheese
Guacamole
Sour cream
Method
Cook the rice on a gas stove or a rice cooker.
Prepare the burrito bowl toppings by mixing all the ingredients given above for the topping.
Heat the rotisserie chicken. Shred the meat into pieces using forks on a chopping board.
Fill the serving bowls with cooked rice, top them with shredded chicken, salsa and the toppings mixed together to.
Making healthy school lunches for your little one will no longer a task with these quick-fix recipes. Most of them can be whipped in no time and need very less preparation and planning. To top it all, they are loaded with the goodness of nutrients, vitamins and minerals. Go ahead and give these recipes a try. You can also get a little more creative and replace or add ingredients to ensure your little tot comes home with a broad grin and an empty lunchbox.
Also Read: Food Guide for Preschoolers