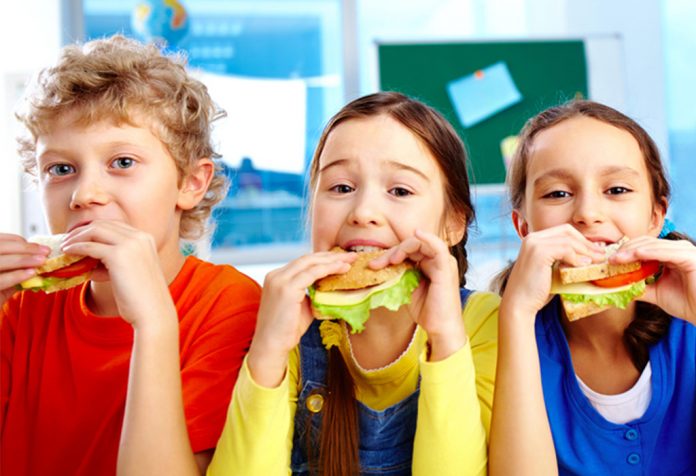 Sandwiches are easy to make and prep up. If you're planning meals for the week, it's good to throw in a couple of those goodies in your kid's school lunches or even dinners. Heck, they can have sandwiches for breakfast too! Check out these simple sandwich ideas for kids and start whipping some tasty treats for those hungry tykes. They'll love them!
Easy Sandwich Ideas for Children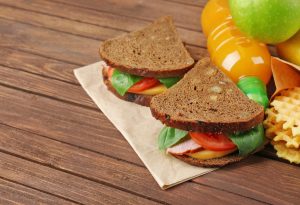 Below is a compilation of the 20 most popular bread sandwich recipes for kids. Try these out, and your kids will feel fully satisfied by the end of their meal.
1. Club Cheese Sandwich
The all-time classic kids love to munch on, here's a slightly modified version of our delicious Club Cheese Sandwich for those hungry little monsters.
Ingredients Needed
Thin strips of smoked bacon
Slices of whole wheat bread
Grated carrots
Sliced tomatoes
Sliced cucumbers
Soft cheese
Lettuce leaves
How to Make
Spread out slices of whole wheat bread on a platter and top them with bacon. Make sure you've grilled the bacon for five minutes (alternating sides in between) and removed the crust portions of those bread slices. Mix the cheese and carrots and lay on top of those slices of bread. Now, add tomatoes to the other slices along with cucumber and top them with cheese. Add slices of smoked bacon to the remaining slices of bread and cover up the with the rest.
Serve the sandwiches and make sure you use a toothpick to secure the toppings in place before letting your kids eat them.
2. Smoked Gouda and Roasted Bell Pepper Sandwich
If your kids love gouda and muenster, we've got a special treat for them!
Ingredients Needed
Half-inch slices of Pullman Bread
Smoked Gouda that is thinly sliced
Slices of Muenster Cheese
Roasted Bell Peppers
Arugula
Soft butter (unsalted)
How to Make
Spread the gouda, muenster slices and chopped/sliced bell peppers over the bread slices and add a thin layer of Arugula followed by one more layer of smoked Gouda. Close off the sandwiches with the remaining slices of bread and make sure to evenly spread the butter on both sides.
Place these sandwiches over a medium flame on a nonstick frying pan and cover it with a lid. When you see your sandwich turning golden brown, flip it over and continue to cook till the other side looks the same. Repeat this with the rest.
3. Mozzarella Cheese Sandwich
Kids love a cheesy snack, and this one's really simple to make.
Ingredients Needed
White Sandwich Bread
Mozzarella Cheese
Butter
Basil or Oregano
Marinara Sauce or ketchup
How to Make
Apply the butter on the bread slice. Heat up your pan and place the slices with buttered sides down. Top the slices of bread with mozzarella slices and close off the sandwich with the remaining bread slices. Spread out butter on the top of the bread slices and cook for a few minutes until the bread turns golden brown on all sides. Cut up into equal triangles and serve with a dash of marinara sauce or ketchup.
4. Salami and Cheese Sandwich
A sandwich that barely takes ten minutes to make and serves as a quick and wholesome snack for your little munchkins.
Ingredients Needed
Bread
Salami
Cheese Slices
Mayonnaise
Butter
Lettuce Leaves
Sliced Tomatoes
How to Make
Preheat the pan and place the bread slices on them after buttering their sides. Top it with the cheese and allow it to melt. When the cheese melts, take the slice off and layer it with salami and sliced tomatoes. Add lettuce leaves between the salami and tomatoes and complete the sandwich by covering it with the remaining bread slice on it. Best served during lunchtimes and snack hours.
5. Apricot, Cheddar and Cheese Sandwich
Variety is the spice of life and nutrition as well. This sandwich takes the cake and is very easy to make.
Ingredients Needed
Shredded Rotisserie Chicken
Bibb Lettuce Leaves
Sourdough Bread Slices
Dried Apricots
Sour Cream
Mayonnaise
Chopped Pistachios
Sliced Tomatoes
Sliced Sweet Onions
Honey
Stone-ground Mustard
Horseradish
Salt
Pepper
How to Make
Lay apart the bread slices, onion, tomato and lettuce leaves. Take the remaining ingredients in this list and mix them well. Layer the mix on the bread slices and top them with tomato and onion slices. Cover with lettuce on top and close off the sandwich with the remaining bread slices. Press firmly, cut diagonally and serve with a dash of crisps.
6. Cheese 'N' Greens Sandwich
A great option for fussy eaters. This recipe exemplifies simplicity and can be prepared within a few minutes.
Ingredients Needed
Bread slices
Broccoli florets
Olive oil
Salt
Unsalted butter
Crushed black pepper
How to Make
Take an oven sheet and layer it with olive oil, salt, pepper and broccoli florets once you preheat your oven. Let this mix bake for ten minutes and keep it aside. Layer a bread slice with butter and place it in a skillet with the buttered side down. Add a layer of cheese and layer broccoli florets and another layer of cheese on top. Once the cheese melts, cover it with a bread slice and continue cooking both sides of the sandwich for approximately 5 minutes each until the cheese binds the slices together. Cut the sandwiches and halves and serve with sauce.
7. Apple, Cheese, and Ham Sandwich
Sometimes kids crave a fruity treat, and this one delivers exactly that.
Ingredients Needed
Multi-grain bread
Cheddar Cheese
Ham Slices
Grated apple
Light mayonnaise
Mustard
Honey
How to Make
Spread over the bread slices a mixture of honey, mustard, and mayonnaise. Top the slices with cheese and layer with ham and grated apple. Close off the sandwiches with the rest of the slices and slice in halves. Serve with a garnish of leftover ingredients to your kids.
8. Cucumber Cream Cheese Sandwiches
Say goodbye to summer heat with these delicious cucumber cream cheese sandwiches. Here's how you make them.
Ingredients Needed
Whole Grain Bread
Cream Cheese
Sliced Cucumbers
Lemon Zest
Fresh Dill
Salted Butter
Black Pepper (ground)
Salt
How to Make
Dry the cucumber slices using a thin paper towel by tapping them and set aside. Take the cream cheese, dill, lemon zest, salt and mix well. Add butter to one side of the bread slices and layer with the mix. Top the remaining slices of bread with the cucumber and close off the sandwich with leftover bread slices. Remove the edges, cut into equal triangles and serve.
9. Grilled Pear Sandwiches
Who says pear and sandwiches don't go hand-in-hand? Try out this recipe and see for yourself.
Ingredients Needed
Slices of French Bread
Brie Cheese Slices
Sliced Pears
Softened Butter
Fresh Thyme Leaves
Salt
Pepper
How to Make
Start a medium flame and heat a skillet on the stove. Butter up the slices of bread on one face and face them down on the skillet. Add the brie cheese slices on the bread and sprinkle some thyme. Once the cheese melts, add the pear slices on top of the cheese and add salt and pepper for a garnish. Close of the sandwich and flip it over, continuing to cook for two to three minutes. Cut diagonally and serve hot.
10. PB Carrot Sandwiches
Kids love peanut butter, and by adding carrots to the spread, you introduce protein to nutrition. Here's one of our most popular Indian sandwich recipes.
Ingredients Needed
Creamy Peanut Butter
Shredded Carrot
Apricot Marmalade
Raisins
How to Make
Take the peanut butter, raisins, carrot and marmalade and mix thoroughly to make a generous spread. Layer the spread on sandwiches, pita bread, buns and tortilla rolls for a nutritious snack.
11. Boiled Egg Sandwich
You can turn a boiled egg into a delicious evening snack with this recipe below.
Ingredients Needed
Boiled Egg
Sliced Bagel
Large tomato slices
Lettuce leaf
How to Make
Bring the bagel to a taste and cut the egg into slices. Add the sliced egg, lettuce leaf, and sliced tomatoes and one-half of the bagel and close it off to complete with another half on top. Serve for a hearty breakfast or lunch.
12. Egg Mayo Sandwich
A classic among classics, this sandwich is for those times when you want to treat your little one like a king (or queen!). Please note this is high in fat and is a great option if you want your child to gain weight.
Ingredients Needed
Boiled eggs
Mayonnaise
Chopped green onions
Yellow mustard
Paprika
Salt
Pepper
How to Make
Remove the shells and place the boiled eggs in a bowl. Pour the mayonnaise, green onions, mustard, paprika, salt, and pepper in the bowl with eggs and mix well. Spread the mix and use it as a filling in your sandwiches and serve.
13. Cold Cut Sandwich
If you're looking to add some protein to your child's diet, meat is the way to go. Here's our signature favourite cold cut sandwich recipe.
Ingredients Needed
Corned Beef Cold Cuts
Rye Bread Loaf
Sauerkraut
Thousand Island Dressing
Butter
Swiss Cheese
How to Make
Butter up the rye bread loaves and place them on a baking sheet. Add some thousand island dressing and follow up with a dash of sauerkraut. Layer the cold cuts on top and add the cheese on top of it. Add some dressing on the other bread slices and close off the sandwich by buttering their tops. Bake for approximately 3 to 4 minutes at 350 degrees Fahrenheit and serve immediately.
14. Grilled Turkey and Parmesan Sandwich
Have some leftover turkey in the kitchen? Then it's time to put it to good use and whip out from it a couple of delicious sandwiches!
Ingredients Needed
Sandwich Bread
Mozzarella Cheese
Grated Parmesan Cheese
Turkey Breast
Marinara Sauce
Unsalted Butter
How to Make
Thinly slice the turkey breast and heat up the skillet on a medium flame. Butter up one side of your bread slices and place them on the skillet facing down. Top them with cheese slices and add some marinara sauce. Make sure to sprinkle parmesan cheese and layer up the turkey slices on them. Add another layer of cheese and complete the sandwich by covering with the remaining bread slices.
15. BLT Sandwich
Every sandwich queen knows that BLT is the king of all sandwiches. BLT or Bacon, Lettuce, and Tomato sandwiches are very wholesome and filling. Here's the recipe.
Ingredients Needed
Bacon
Sliced tomatoes
Slices of bread
Iceberg Lettuce Leaf
Mayonnaise
Cooking Oil
How to Make
Pour oil into a large skillet and place the bacon on it. Cook the bacon while flipping between its sides for approximately 10 mins. Take out the bacon and prep up the slices of bread with bacon, lettuce leaf and sliced tomatoes. Apply mayonnaise and complete the sandwich by covering with the other bread slices. Cut into triangle shaped pieces and serve hot.
16. Peanut Butter and Jelly Bagel
For kids with a sweet tooth, this Peanut Butter And Jelly Bagel recipe will hit the spot.
Ingredients Needed
Plain Bagel
Cream Cheese
Fresh Fruit Jam
Peanut Butter
How to Make
Layer on the bagel with some cream cheese and top with peanut butter. Spread out the fresh fruit jam and close up the bagel with its other half. Ta-da! Your Peanut Butter and Jelly Bagel is ready!
17. Grilled Cheese and Peanut Butter Sandwich
If your kids are all up for trying out new things, why not show off this cool little recipe that leaves them hungry for more? Here's how you make it.
Ingredients Needed
Slices of bread
Peanut Butter
Cheddar Cheese
Margarine
How to Make
Layer the peanut butter on one side of the slices of bread and top with cheese. Cover up with the other slices of bread and add butter to both sides of the sandwich. Cook it in a skillet for a few minutes until you notice the cheese melting. Cut into equal triangles and serve fresh.
18. Fruity Peanut Butter Sandwich
Fruits and peanut butter pack a nutrition powerhouse. Try out this whopping recipe and let your kids surge with energy.
Ingredients Needed
Slices of Bread
Sliced Strawberries
Sliced Green apples
Banana Slices
Sliced Pears
Peanut Butter
How to Make
Toast the bread slices and layer them with a generous serving of peanut butter. Top them with the sliced fruits of your choice and complete the sandwiches by covering up with other slices of bread. Press gently and cut it into triangle-shaped pieces for an instant serve.
19. California Wrap Sandwich
Here is a vegetarian version of the famous California Wrap Sandwich, one of our signature veg sandwich recipes. Enjoy!
Ingredients Needed
Hummus
Whole Wheat Tortillas
Grated Beetroot
Grated Carrot
Fresh Peas
Sprouts
How to Make
Simply take the hummus and generously spread it over the tortillas. Top it with beetroot, carrot, fresh peas, sprouts, and wrap it up neatly to make a delicious and filling California Wrap Sandwich.
20. Turkey and Bean Burrito
Burritos are the avant-garde of dinner delicacies and are filling too. Beans and turkey are rich sources of protein and here's a protein-filled power-packed meal recipe to boot.
Ingredients Needed
Canola Oil
Crushed Garlic Cloves
Shredded Turkey
Pinto Beans
Whole Wheat Tortillas
Sliced Onions
Cumin Powder
Chilli Powder
Diced Tomatoes with Green Chillies
Lime Juice
Green Cabbage
Grated Pepper Cheese
How To Make
Pour some canola oil in a large saucepan and heat it over a medium flame. Throw in the onion slices and follow up with cumin powder, garlic, pepper cheese and keep cooking for a few minutes. Add green chillies, tomatoes and switch over to low flame for 15 minutes afterwards. Now it's time to add the shredded turkey and beans in the mix. Keep cooking it for the next 5 minutes. Cool and spread out the mix by topping it over your tortillas evenly. Top your burritos with cabbage, pepper cheese, make sure to roll and serve fresh.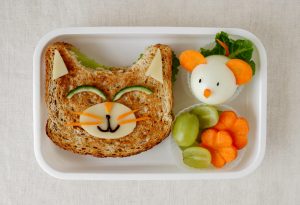 The trick to sandwich making is variety and creativity. Try out these sandwich ideas for kids, give your own creative spin and watch your kid look forward to school time lunches. You won't see your kids being fussy eaters anymore once you give these a try.
Also Read:
Nutritious Snacks for Children
Easy Lunchbox Recipes for Kids